Things to Do in Paracas, Peru
Things to Do in Huacachina and Ica, Peru
Best Place to Stay in Paracas or Huacachina, Peru
Cost of Living in Paracas, Peru
Bus or Flight to Paracas, Peru
Things to Do in Huacachina Peru
[kkstarratings]  This is Dan from Vagabond Buddha. Here are the things to do in Huacachina Peru: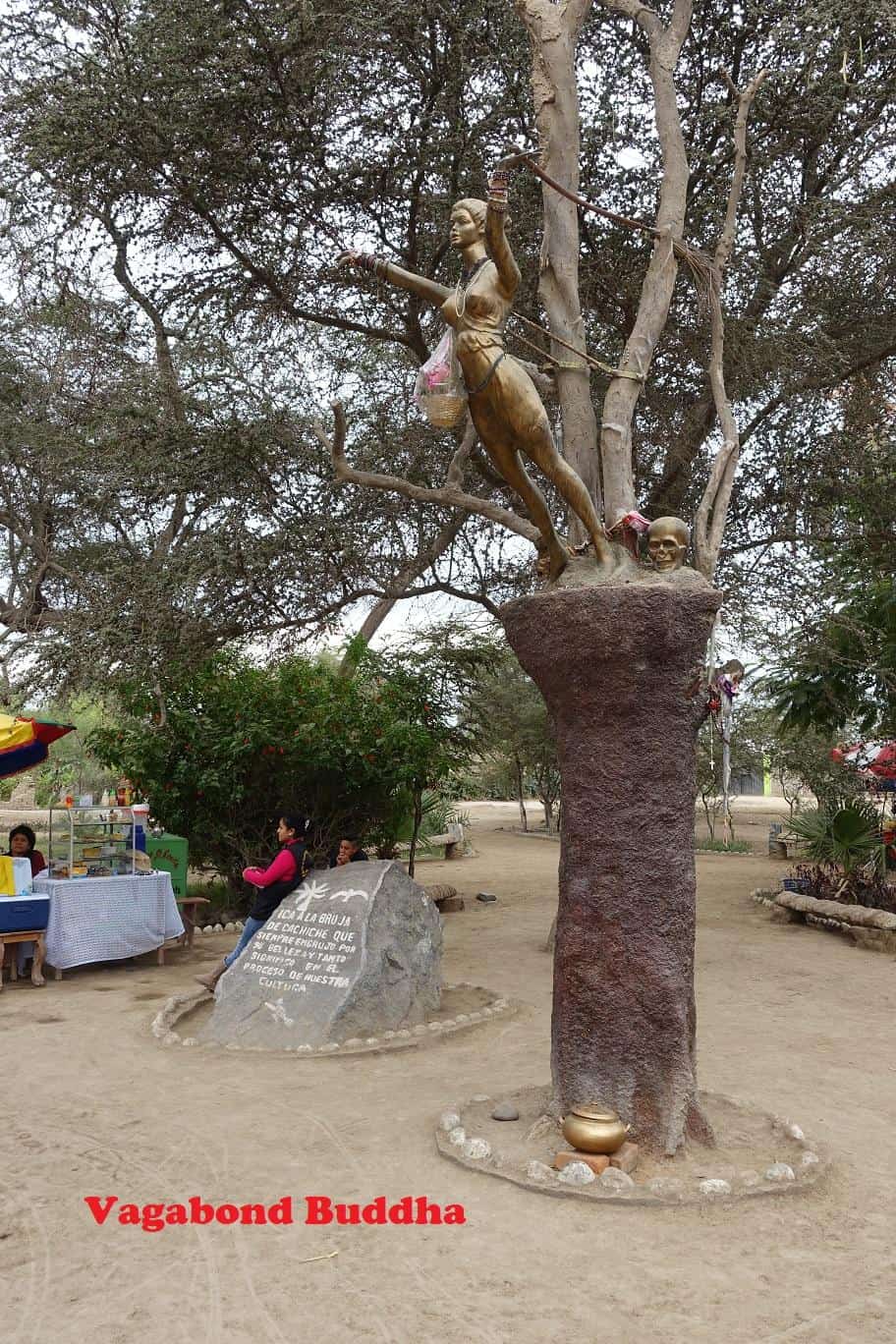 Ica City Tour (Ica, Peru): There is a drive by the Main Plaza and Catedral in Ica, Peru. You don't even get out of the van. Which is good. It is not the most interesting city in the world. Then they take you to an overpriced tourist restaurant without the typical a daily special. You can only order entrees starting at about s/30 or $10 USD. Luckily, you have time to walk one door to the right and eat in the Chinese restaurant for s/10. It includes a starter, an entree, and a juice or tea. If you are vegetarian, just point at one of the specials and say,"Soy vegetariano. Por favor, dame esta comida sin pollo, sin carne de cerdo, sin pescado y sin carne." Or print this sentence and hand it to them as you point to the special. Next, they take you to the above "Witch Park" and the city tour ends with wine tasting, yah!
Wine Tasting (Ica, Peru): You visit the Pampas Winery (Bodega Pampas) in Ica, Peru and taste 3 kinds of wine along with Pisco (the famous Peruvian alcohol). They also tour you around the facility and show you how wines and Pisco are made. Next, you go to Huacachina where you will ride on a dune buggy, slide down a sand dune, and visit a desert oasis.
Huacachina (Ica, Peru): This is a desert Oasis 10 minutes outside the city of Ica, Peru. It was one of the most beautiful and unique experiences of south-west Peru. There is a small lake in the center of towering sand dunes. There are backpacker hostels and hotels, an assortment of restaurants and bars. But mainly you just take pictures of this gorgeous place. You can stay here if you prefer and visit Paracas on a day trip.
Dune Buggy Ride (Ica, Peru): This is just a crazy bumpy dune buggy ride through the desert around the Huacachina desert. If you have any neck or back problems please inform your tour guide so he can put you on one of the slow buggies. This ride is so bumpy it is really only advised for people with healthy necks and backs. Oh, and make sure your seat belt is tight, so you don't bounce up and hit your head. After the ride, you will get a chance to slide down a sand dune on a snowboard. The snowboards do have velcros straps but the velcro on mine was worn out so I had to slide down on my butt. If you are snow boarder, make sure to ask for one with strong velcro before you head out for the buggy ride.
Paracas (Ica, Peru): Grab a tour to Paracas. Paracas has been called the poor man's Galapagos. Our Airbnb host Beatriz arranged our Paracas tours and Huacachina tours for a total cost of s/165 or $50 USD per person. That included transportation and English speaking guides for everything we did in Paracas and Huacachina, but not government taxes which were minor. The service was door to door from our Airbnb apartment in Paracas. The Huacachina tours are described above. For a description of what the Paracas part of the package included, click here: Things to Do in Paracas, Peru.
If you want to learn how to live and work internationally without having a conventional job, please grab a free copy of my Ebook.
If you book a tour I recommend, you will pay nothing extra, but I will make a small commission.
I recommend using either Viator Huacachina Tours or Get Your Guide Huacachina Tours. These are tour aggregators. That means they just publish tours conducted by third parties. Some tours are better than others. So you need to read the reviews. Look for a tour that has at least 5 reviews that sound good, and 2 of those reviews should be within the last few months.
Make sure to buy a Peruvian SIM card (Claro or MoviStar) when arrive in Peru and load it with Internet data, so you can use my Google Maps without paying International roaming rates.
Here is my list of the ==>best live-cheap in paradise locations<== in the world.
If you find any value here, please subscribe, like this post, share on social media, or comment below. Thank you, Dan of VagabondBuddha.com
I am not offering you these prices.  These are just my notes and estimates from the time of my visit and this post.  Your costs will likely be drastically different if significant inflation or deflation occurs or the market changes after this post.  I will not update these numbers until I am on the ground again here, if ever.
Copyrights (c) 2018