Things to Do in Miraflores, Peru
Why come to Lima, Peru?
Best Neighborhood in Lima Peru
Things to Do in Lima Peru (Google Maps Walking Tour)
Things to Do in Barranco Peru (Google Maps Walking Tour)
Things to Do In Miraflores (Google Maps Walking Tour)
Nightlife in Lima (Barranco, Miraflores)
Best Food in Lima Peru
Cost of Living in Lima, Peru
Livability Factors of Lima Peru
Flights and Buses to Lima Peru
Our Youtube Video of Lima, Barranco, Miraflores (Walking Tour)
If you stay in Barranco like we did, you can catch a bus from the Estacion Bulevar station in Barranco, direct to this station in Miraflores for s/2.5 or 0.75 USD. An Uber from Barranco to Miraflores is about s/8 or 2.25 USD.
From the above bus station in Miraflores, you can take this walking tour on Google Maps. It goes to the following places and then drops you at another bus station in Miraflores that you can take back to Barranco.
Parque John F. Kennedy: This is a nice park to go for a walk during the day. On the day we were there, there were artists selling their work in the park. This is also right next to the party area in Miraflores on case you want to dance the night away.
Lacomar: In case you are tired of Peru's low prices, this is a gorgeous shopping center right on the Pacific Ocean. You can pay $10 to $20 for a meal from an American food chain or buy a $100 pair of jeans from a European designer.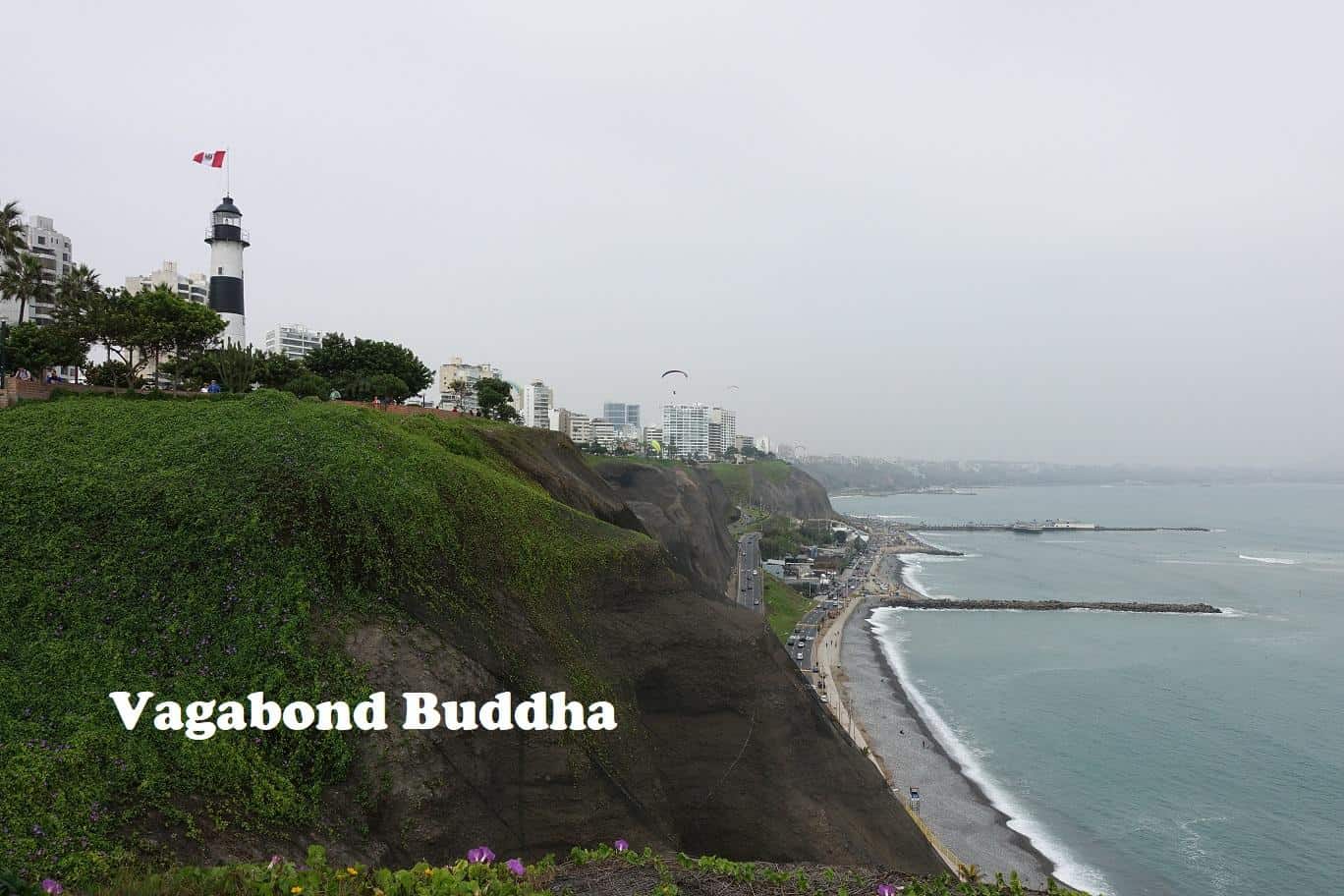 Malecon de Miraflores: This is just a great way to walk along the cliff over the beach in a beautiful area of the world. You can rent a bike if you like, but we just walked. You will see paragliders over your head. There is a natural lift from Pacific Ocean breezes, so they are there most days. Book a paraglider if you like at the below link.
Huaca Pucllana: You may not know that the Americas had advanced cultures at the time other parts of the world were just bashing each other's skulls with rocks. Peru is not all about Machu Picchu anymore. This is an adobe pyramid located in the Miraflores district of Lima. It was built starting in around 200 AD. Stop by here and let the descendants of this culture explain how this pyramid served as an important ceremonial and administrative center for the Lima Culture of its time.
Here is my list of the ==>best live-cheap in paradise locations<== in the world.
If you stay in Barranco like we suggest, this Google Maps walking tour will take you from a Miraflores stop through a Miraflores walking tour. It will then deposit you back at another Miraflores bus station. There, you can catch your bus back to the Estacion Bulevar in Barranco. If there is anything confusing about this, leave a note below so I can fix it for the next victim.
If you use tours I recommend below, you will pay nothing extra, but I will make a small commision. If you would like to learn how live and work internationally without a traditional job, please get a free copy of my eBook.
If you decide to do any tours while in Lima or Peru, I recommend using either Viator Lima Tours or Get Your Guide Lima Tours. These are tour aggregators. That means they just publish tours conducted by third parties. Some tours are better than others. So you need to read the reviews. Look for a tour that has at least 5 reviews that sound good, and 2 of those reviews should be within the last few months.
If you would like to learn how to make money online, or how to live internationally possibly with less money than you spend at home, please subscribe to Vagabond Buddha or get a free copy of my Ebook.
If you enjoyed this content, subscribe, like, leave a comment, or share on social media.
Copyright 2018 VagabondBuddha.com