–>Alor Setar Walking Tour
–>Things to Do Near Alor Setar
–>Alor Setar Nightlife
–>Alor Setar Livability Factors
–>Alor Setar Cost of Living
–>Alor Setar Best Area to Stay, Best Tours, Cheapest Flights
–>Digital Nomads in Alor Setar, Food, Experiences
Best Travel or Retire Cheap in Paradise Locations in the World
[kkstarratings]This is Dan from Vagabond Buddha. This is my Things to Do in Alor Setar Malaysia Guide.
On our way from Kuala Lumpur to Thailand, we spent 5 days in Qiang Hui's village in Malaysia.
The village is called Alor Setar. It is in the state of Kedah, Malaysia. Qiang Hui moved to Kuala Lumpur at the age of 20 to start her modeling career. But she visits her family in Alor Setar once or twice a year.
People are curious about the livability and cost of living in smaller towns around the world. So this post is meant to answer that question for you. These facts are from Wikipedia.
The last census in 2010 estimated about 300,000 people living in Alor Setar. Alor Setar (AR) is on the land route from Malaysia to Thailand, the last stop before crossing into Thailand.
The city is connected to other parts of Peninsular Malaysia by the North-South Expressway, the Shahab Perdana Bus Station and the Alor Setar railway station.
If you would like to learn how to live internationally with less money than you spend at home and how to make money online so you are not geographically restricted by your job, read my free EBook:
We make videos of everywhere we go in the world. Subscribe to our Youtube Channel to see videos from around the world.
Alor Setar Walking Tour (self-guided)
Above is my video of my free walking tour of Alor Setar. If the video looks fun, just click the below map and take the tour yourself.

The below comments are from Wikipedia:
Rumah Kelahiran Tun Dr. Mahathir, No. 18, Lorong Kilang Ais Off Jalan Pegawai Seberang Perak, Kedah, 05000 Alor Setar, Malaysia: This is the place of birth of the Prime Minister Mahathir of Malaysia. It was under renovation while we were here so check before you bother going.
Kedah State Art Gallery, Alor Setar, Bandar Alor Setar, 05000 Alor Setar, Kedah, Malaysia: This has mixed reviews on TripAdvisor. Go if it is free because you can be in and out in 10 minutes and it is right in the middle of the historic center, so not out of your way. The Kedah State Art Gallery was set up with the objective of fostering interest in and an appreciation of art in the state. Its collection includes paintings, photographs, musical instruments, and handicrafts.
Kedah Royal Museum, Medan Bandar, Kedah, 05400 Alor Setar, Malaysia: One visitor called this "This is a well-curated museum with fascinating royalty exhibits."  It is rated as 4.5/5 stars on trip advisor
Balai Besar, Bandar Alor Setar, 05000 Alor Setar, Kedah, Malaysia: The original building was built in 1735 by Sultan Muhammad Jiwa Zainal Adilin II, the 19th Sultan of Kedah. The pillars, roofs, and floors were made of wood.[9] Two Kedah Sultans were officially installed at the Balai Besar: Sultan Ahmad Tajuddin Halim Shah II in 1805, and Sultan Abdul Halim in 1959.
Nobat Tower Alor Setar, Bandar Alor Setar, 05000 Alor Setar, Kedah, Malaysia: This 18-meter-tall (59 ft) three-tiered octagonal tower's sole purpose is to house the royal musical instruments including the serunai (wooden flute), nafiri, gendang (drum) and nobat (gong). The original Balai Nobat, constructed of wood, was among the early buildings already completed when Alor Setar town was officially founded in 1735.
Galeri Sultan Abdul Halim Muadzam Sham, Medan Bandar, Jalan Raja, 05100 Alor Setar, Kedah, Malaysia: The Sultan Abdul Halim Mu'adzam Shah Gallery building originally housed the Alor Setar High Court, before it was moved.
Masjid Zahir, Alor Setar, Jalan Kampung Perak, Bandar Alor Setar, 05150 Alor Setar, Kedah, Malaysia: Zahir Mosque (Masjid Zahir)[15] is the state mosque of Kedah and enjoys a royal history and patronage. Built in 1912, its official opening ceremony was held on 15 October 1915 by the late HRH Sultan Abdul Hamid Halim Shah.
Big Clock Tower, Alor Setar, Bandar Alor Setar, 05150 Alor Setar, Kedah, Malaysia: This clock tower is next door to the Masjid Zahir Mosque.
Aman Central, 1, Darul Aman Highway, Kampung Lubok Peringgi, 05100 Alor Setar, Kedah, Malaysia: This is the largest and most modern shopping mall in the city and is walkable from the things you must see above.
Wat Nikrodharam, Taman Tunku Habsah, 05150 Alor Setar, Kedah, Malaysia: Wat Nikrodharam is a significant Buddhist shrine in the city. It is located at Jalan Teluk Wan Jah, next to the city's primary roundabout. Its architecture reflects strong Thai elements with minor Chinese motifs. It offers a quiet oasis in the city center.
Please subscribe to Vagabond Buddha or our Youtube Channel to find out all the best places to live or visit around the world. I have been to 65 countries so far. I started in 2007.
Things to Do Near Alor Setar
Gunung Keriang (Elephant Rock): While in Alor Setar you should take a drive over to Elephant Rock. It is only about 8 km from the Alor Setar. While there, you can also check out the black swans at this resort (The Puteri Restaurant, Keriang Hill Resort) and the rice padi museum (Kedah Paddy Museum) across the street. There is also a local market on the back side of Elephant Rock where you can eat local foods and fruits.
Penang: The island of Penang is my second most livable city in Malaysia after Kuala Lumpur. Take the bus to visit Penang. Here is my post of things to do in Penang.
Langkawi: Get a Grab.com taxi to Kuala Kedah pier (Jeti Kuala Kedah) and jump on the ferry to Langkawi island. Spend a few days over there. There is a great nightlife, a duty-free shop to buy alcohol, there is a cable car that you have to ride, and a boat trip around the mango jungle that you have to see.
Nightlife in Alor Setar
There is a nightlife here. There is live music at the Sky Garden. A great place to chill with an adult beverage inside the historical center is Terrace 48 (and walk this neighborhood for a few surprises). Head to Bali Bali Hai for the top chill atmosphere in town. Qiang Hui used to work at Bali Bali Hai before she moved to Kuala Lumpur.
Digital Nomads in Alor Setar, Food, Experiences
Here are our best food experiences on this visit.
Jbao Xuan Vegetarian Restaurant: Love this place. The food is next level. $1.75 per meal including a drink.
Restoran Hupsa: We fed Qiang Hui's family of 8 here for 98 RM, $25 USD. That is $3 USD per person. I loved it.
Vagabond Buddha's Kitchen: We were here for only 5 days.  We went out for every meal.
Grab a free copy of my Ebook. You will learn how to save and earn money living internationally.
Alor Setar Livability Factors
Cost of living is just the first question when investigating a place for early retirement. Next, I consider my livability factors. Each factor is rated high, medium, or low, and then the overall desirability of a destination is considered. High means a factor is great.
Walkability: Medium. The city center area is fairly compact and walkable. So you could probably go without a car in AR. But it is more likely you will want to buy a small scooter or used car to get around. You can get a dependable small used car for around $2000 USD or a used motorbike for about $500 USD. Gasoline is about $2.50 USD per gallon today.
Internet: Medium. The Internet can be an issue in smaller towns. Make sure you end up in a neighborhood that has good internet service. Here is a thread that discusses this issue. I am presently in a neighborhood that has poor internet. Luckily the hotspot on my smartphone is working perfectly.
Food: High. On average, groceries are about 30-50% cheaper than in the USA. Alcohol, beer, and wine are easily double. Don't expect all of the same brands and choices as in the USA. The restaurants are about 50% cheaper in AR than Kuala Lumpur. My favorite vegetarian restaurant is a buffet at $2.00 including your drink.
Weather: High. I like the heat. But you will need AC on many nights to get to sleep. March and April have the highest average temperatures of 34 C, 94 F. January is the coolest month averaging 22 C, 72 F. But the average daily temperature (night and day) year round is fairly consistent at 28 C, 85 F. The rainy season is May, September, and October when it averages over 9+ inches, 220+ mm per month.
Things to Do: Medium. This is a sleepy little town. You are going to have to entertain yourself. Go fishing, write a book, join a social club, go for a hike. Go to the movies, go shopping, learn to paint. Go to an outdoor food court in the evening and people watch. There is not much of an expat community. Get to know the locals. Maybe teach English to meet people? There is a nightlife here. There is live music at the Sky Garden. A great place to chill inside the historical center is Terrace 48. Bali Bali Hai is the most chill atmosphere in town.
Social Considerations: See above things to do.
Real Estate: You can easily get a small house in Alor Setar for under $100k USD. Check here. There was even a 2 bedroom condo for sale on the day I checked for about $13k USD. Plus, I do not recommend buying until you have been here for at least 2 years. That same web page had homes for rent for as little as $200 USD per month.
If you are finding any value here, could you please like it, comment, share or subscribe? Your kindness will help us move up in the search rankings so our business grows faster.
Alor Setar Desirability Score: Medium. It is a little small for my taste. But it would be great for someone who likes the feel of a small town. Its also just 20 minutes from the ocean. Not much of a beach scene but fishing is big here.
Alor Setar Cost of Living
The below cost of living numbers are an integration of my own experience and Numbeo. However, if significant inflation occurs or time passes after this post, then update my below numbers using Numbeo.
There are entire houses online you can rent on a lease at about $200-300 USD per month, some even less. If you reduce your rent with a lease at that rate, you would knock about $300 off the monthly high below.
Monthly Cost of Living Alor Setar Malaysia ($USD)
| | | | | |
| --- | --- | --- | --- | --- |
| Expense | Cost | Low | Medium | High |
| Airbnb | $22.00 | 0 | 14 | 30 |
| 1 Br Apt w/lease | $10.00 | 0 | 12 | 0 |
| Hostel/per day | $12.00 | 30 | 3 | 0 |
| High-End Restaurant | $10.00 | 1 | 4 | 8 |
| Neighborhood Restaurant | $3.00 | 30 | 44 | 48 |
| Food Cart | $2.00 | 30 | 12 | 4 |
| Subway/Train/Metro | $0.25 | 20 | 26 | 8 |
| Bus | $0.25 | 20 | 10 | 0 |
| Taxi/Grab | $2.00 | 6 | 10 | 20 |
| Total | Per Month | $542.00 | $689.00 | $934.00 |
| Total | Per Day | $18.07 | $22.97 | $31.13 |
The above numbers are for one person and do not include alcohol, tours, or extras. I do not guarantee these prices for anyone. Here is a link explaining how the table works.
Please book using our links to recommended flights, tours, or accommodations. You will pay nothing extra, but we will earn a small commission. Your kindness will encourage us to keep making these travel guides and videos.
Best Area to Stay in Alor Setar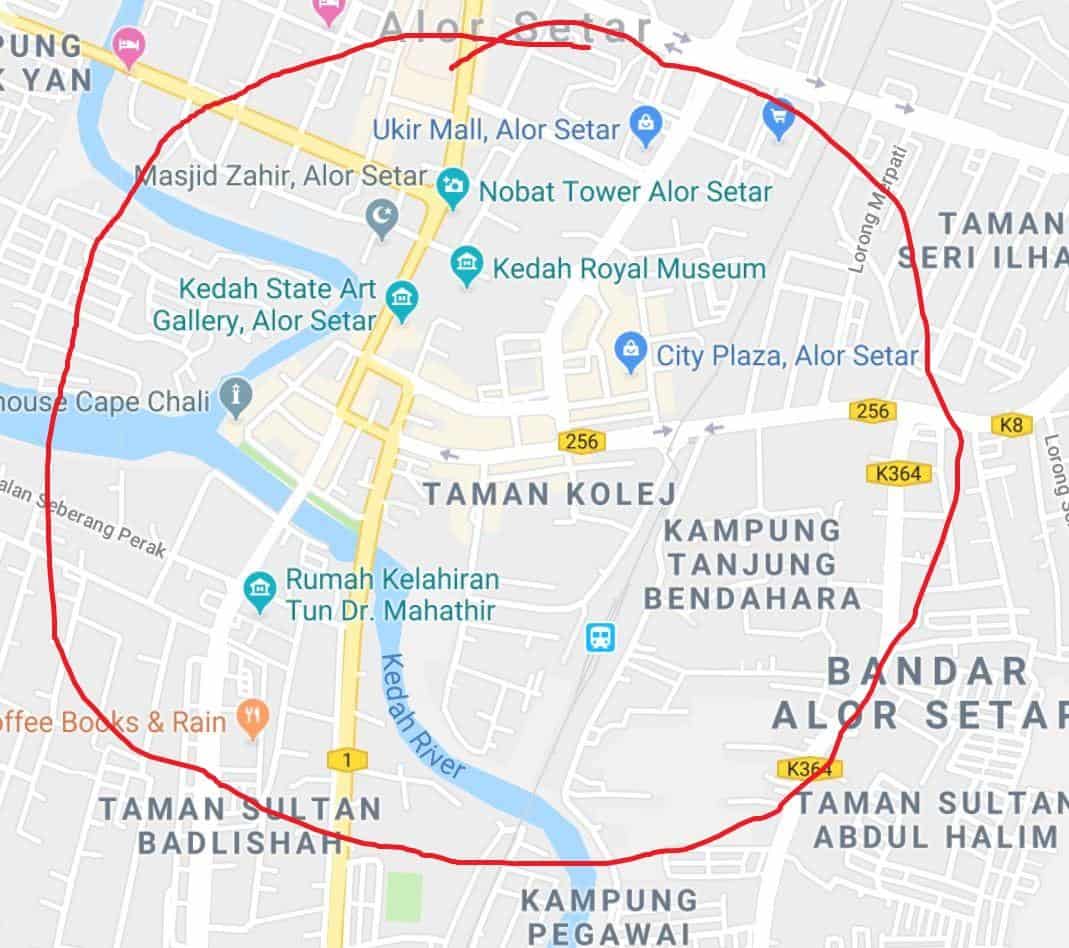 Everything is so close in Alor Setar that you should be okay no matter where you stay. You can get a Grab.com taxi to anywhere in town for a few dollars. The above map is just to show you where you should stay if you want to be within walking distance from the places on our walking tour below.
Here are the recommended places at various price points:
High (beautiful hotel),
Medium (beautiful hotel),
Low (hostel).
Normally we stay in Airbnb places. But this is Qiang Hui's family so we stayed in their home. I do not recommend paying the quoted rate when you are staying for a month in an Airbnb. We make monthly rate offers on multiple properties and one is usually accepted. (If you are new to Airbnb, use this code http://www.airbnb.com/c/dbell50 for a big discount).
If you are enjoying this, could you please like it, share it, comment below, or subscribe? That will rank us higher in search engines so we can keep making these travel guides.
Cheapest Flights
We almost always get our cheapest flights on this Skyscanner. They have a web crawler that is constantly looking for the cheapest prices all over the world. As usual, we found the cheapest flight to Kuala Lumpur on Skyscanner. But we took the train up to Alor Setar from KL Sentral Station.
Best Guided Tours of Alor Setar
There are two tour sources I recommend that have worldwide tours you can take. Neither has any tours for Alor Setar. Just click either below link and see if there are any tours for Alor Setar when you are here. Right now I have them set for Kuala Lumpur tours, but you can Sometimes you will find check anywhere using the search box near the top.
If you are interested in the subject of present moment awareness, my new videos on that subject are now being posted at my new Present with Vagabond Buddha Youtube Channel. The older videos are on the Vagabond Buddha Channel's Presence Playlist.
I started living internationally over 11 years ago. If you would like to learn how to make money online, or how to live internationally possibly with less money than you spend at home, please subscribe to Vagabond Buddha, our YouTube Channel, or get a free copy of my Ebook.
This is Dan of Vagabond Buddha. Thank you for stopping by. The world is your home. What time will you be home for dinner?
I am not offering you any of the above prices. These are just my notes and estimates from the time of my visit and this post. Your costs will likely be drastically different if significant inflation or deflation occurs or the market changes after this post. I will not update these numbers until I am on the ground again here, if ever.