[kkstarratings]


I wrote this Galapagos, Santa Cruz Island, Cost of Living, Things to Do Guide, to save you time and money. This Galapagos, Santa Cruz Island, Cost of Living, Things to Do Guide includes:
Santa Cruz Island: The Animals Don't Run
Santa Cruz Island: How to Get There
Santa Cruz Island: Fun Facts
Santa Cruz Island: Top Things to Do
Santa Cruz Island: Walking Tour
Santa Cruz Island: Accommodations
Santa Cruz Island: Restaurants
Santa Cruz Island: Nightlife
Santa Cruz Island: Livability Factors
Santa Cruz Island: Cost of Living
Santa Cruz Island: Final Thoughts
Santa Cruz Island: The Animals Don't Run
This is Dan from Vagabond Buddha. I last updated this post on April 29, 2018.
I am in the Galapagos! This is a childhood dream for me. I have been to 64 countries so not much surprises me anymore. But the Galapagos have.
You see, I always thought wild animals run away from humans out of instinct. But on this trip, I learned that animals don't necessarily run instinctively. The fight or flee decision seems to be at least partially based upon how other members of your species treated the animal before the moment you arrive. If other humans stab, shot, or kill upon arrival, they seem to remember and react accordingly.
But here in the Galapagos, it is unlawful to kill the animals. The animals are protected by law. In fact, you are not allowed to get any closer to an animal than 1 meter. So the animals seem to learn and react to the evidence that people are not dangerous. For the most part, they will notice you and not react at all to your presence. Can you imagine how nice that is?
Also, in the Galapagos, humans are not allowed to just walk wherever they want. The Ecuadorian government requires that humans only walk on marked trails. Many of the trails even require a government trained naturalist to accompany you as you walk the trails. So as you walk about, you realize you are just a visitor in the habitat that other species call home. You are in their home. And you are only allowed to remain in their home so long as you remain a polite visitor.
It occurred to me that this is a model for relating to nature and the other species, that could be used all over the world. Allowing humans only in approved areas, and trails through human-visitor areas, would be a way society could stop plundering nature and the remaining species. This is how an intelligent species with no other predators could choose to relate to other species and land so as to preserve a legacy for all species. I hope time proves that humans are as intelligent as Galapagos park management.
I share my travels and include affiliate links. If you buy something using an affiliate link, you pay nothing extra, but I make a small commission. If you would like to learn how to (1) make money online, or (2) how to live internationally for less $$ than you spend at home, click here and get a free copy of my Ebook.
Santa Cruz Island: How to Get There
We flew into the Baltra Airport in the Galapagos from Guayaquil, Ecuador. We found the cheapest flight on Skyscanner. The Galapagos are a protected national park of Ecuador. So before boarding your flight to the Galapagos, you have to buy a park entry permit ($20) at the Guayaquil airport. You also need to get a green tag on your checked luggage (free) certifying that you are not carrying anything dangerous to the animals or plants. They will search your luggage. Make sure to register your information before going to the airport, which saves time. Here is the pre-registration link: TCT Galapagos. This beginning of this video will show you how to get your green tags and Galapagos park entry permit.
If there are two of you, one of you should stay in line for getting park entry permits while the other gets the green tags on the luggage.
Once you have your green tags on your checked luggage and your park entry permit, then you are ready to get your airline boarding pass. When you land in the Galapagos, you will need to pay an additional $100 to enter the park. That is rumored to double soon.
From Baltra Airport, once you have your checked bags, exit baggage claim and look for the bus to your right. The bus is free for all airlines. The bus will take you to a dock where you get on a ferry to cross a short channel to Santa Cruz Island. The ferry is $1 per person. Once on the other side, jump on the $5 bus to Puerto Ayora, Santa Cruz. After the bus drops you in Puerto Ayora, the taxi to your accommodations is $1.50. The price is fixed.
Do not bring illegal drugs to the Galapagos. The airports and 100% of the island transfer ferries include drug-sniffing dogs plus humans search the entire content of your luggage. I am not exaggerating.
Before discussing the top things to do in Santa Cruz Island, here are some fun facts from Wikipedia about Santa Cruz Island:
Santa Cruz Island: Fun Facts
Origin of the Galapagos: Santa Cruz Island, like all the Galapagos Islands, was created by volcanic eruptions that flowed from the bottom of the Pacific Ocean from cracks where two tectonic plates slide across the top of each other.
Age of the Islands: Santa Cruz is one of the older islands in the Galapagos. Its last volcanic eruptions occurred about 1.5 million years ago. Newer Galapagos islands such as Isabella rose above sea level just about 700,000 years ago. San Cristobal is estimated to have risen above sea level about 2.4 million years ago.
Theory of Evolution: The Galapagos became famous because of the work of Charles Darwin. Because of the unique nature of the food supplies and animal species that inhabited the islands, was able to gather evidence he later used to support his theory of evolution. Some Christ followers have 'adapted' to include evolution as one of god's tools of creation. Others refuse to adapt calling Darwin a devil messenger and insisting that god literally created the Universe in 7 days.
Endemism: Many of the species in the Galapagos are found nowhere else on earth. 80% of land birds, 90% of reptiles, 30% of the plants, and 20% of marine animals are found only in the Galapagos.
Santa Cruz Island Top Things to Do!
Darwin Research Center: Free. The Darwin Research Center includes exhibits explaining the history of the Galapagos, excerpts from Darwin's publications, examples of research projects underway, discussions of techniques used to understand environmental conditions for animals at risk of extinction, and tortoises in reproductive captivity to increase their numbers before releasing them into the wild. At one time, there were about 200k tortoises roaming about the Galapagos. After pirates discovered that tortoises could survive upside down in the hull of a ship for months before dying, they were almost all captured and eaten into extinction. There are Darwin Research efforts underway on almost all Galapagos Islands to increase tortoise populations.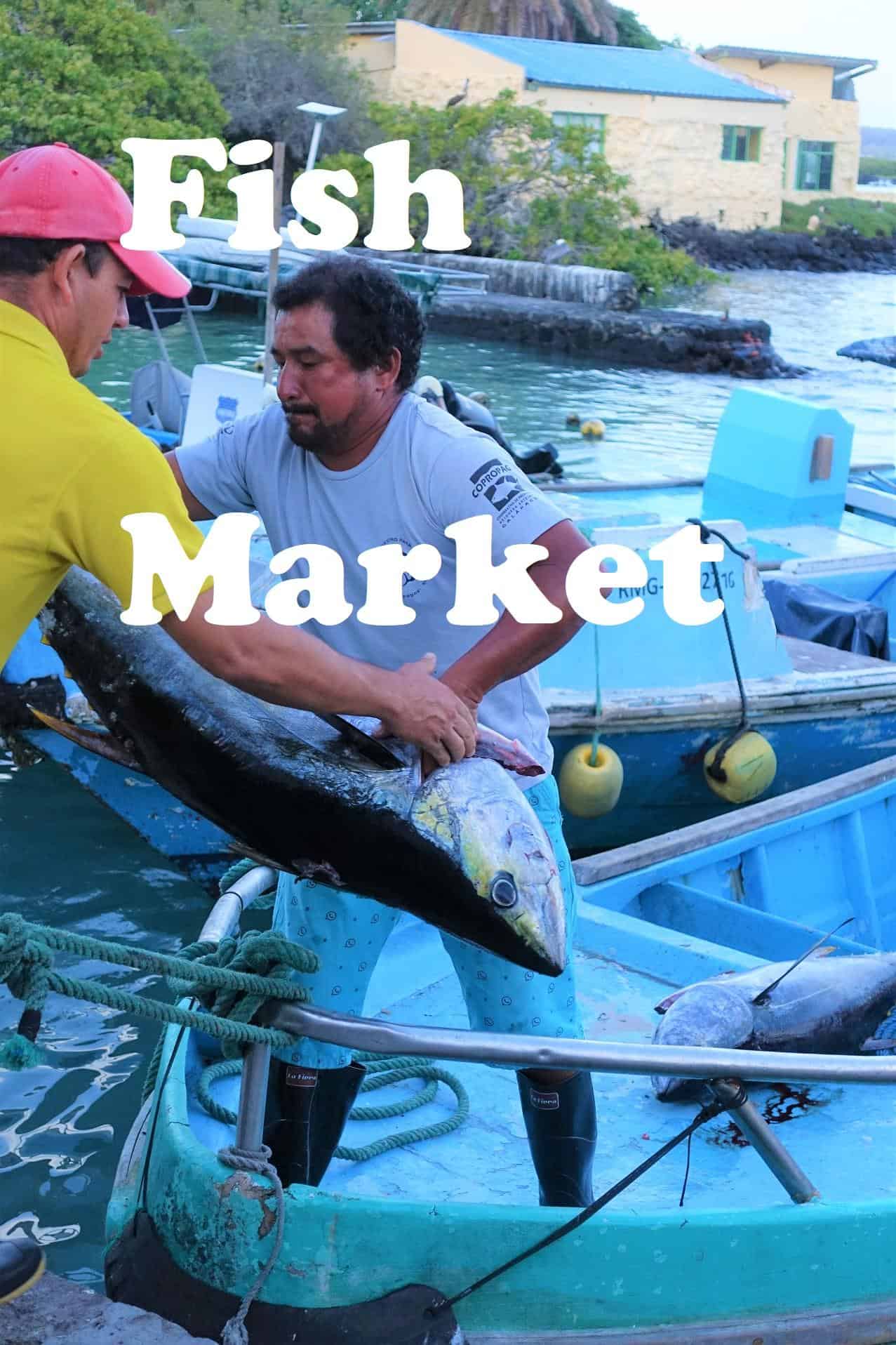 Puerto Ayora Fish Pier: Free. This is a lovely place to watch the fearless interaction between humans birds, and sea lions. The fisherman are there to deliver their catch of the day. The birds and sea lions are there to eat fish scraps. The tourists are there to take pictures of the sea lions and birds as they beg for fish scraps.
Tourist Water Taxi (Gus Angermeyer) Pier: Free. This is the pier where you catch ferries to other islands and water taxis to nearby beaches and the path to Las Grietas. This is also a great place to spend an evening after sunset. The sea lions are laying on the benches sleeping or playing. The Pelicans are there waiting for their favorite meal to swim by.
Tortuga Bahia (Tortoise Bay): Free. This was our favorite white sand beach on Santa Cruz Island. There is a 3 km hike from Puerto Ayora central. Once you get to the white sand beach, make sure to walk all the way to the end. Then turn right and walk through some Mangroves to a beautiful cove where you can swim with baby sharks. We loved this so much we went twice. The best time to go is in the morning so you will be there all by yourself. We arrived at 7am and nobody else was there until about 10am.
Laguna de las Ninfas (Lake of Nymphs): Free. This is right in Puerto Ayora just a few blocks from the tourist pier. There are 4 different kinds of Mangroves surrounding this small lake. There is a raised walkway and many different kinds of birds to see including various Darwin finches.
Las Grietas—The Cracks: Free. This is a deep crack filled with brackish water at the end of a 1 km walk. You get to the trail head by taking a water taxi to from the tourist pier. Just ask for water taxi to Las Grietas pathway. You will walk a beautiful trail past a mangrove forest, a beach, a small salt lake, and a cactus forest before arriving at this deep swimming hole. Bring your snorkel and mask if you want to see down into the deep crevice filled with fish.
Playa El Garrapatero: $40 Grab a taxi in Puerto Ayora and check out this large rocky beach. It will cost you about $40 roundtrip for the taxi to drop you and come back and pick you up. Entry is free. Bring your mask and snorkel, sunblock, a sandwich, and some water. You can also rent a kayak when you get there. There are signs for camping there also, but I didn't see anyone in the office so not sure if you need a permit or fee. Upon arrival, make sure to walk all the way to the left as you face the water. There is a cool estuary over there for picture taking.
If you are enjoying this post please click like, leave a comment, or click subscribe below. That simple act will move our posts higher in the Google search results.
Los Gemelos (The Twins): $40 Taxi. You can rent a taxi for $40 to take you to and from Los Gemelos. Entry is free. If you ask, like we did, the same $40 taxi ride includes the next two destinations all in the same package: Los Gemelos, Lava Tunnel, and Rancho Primicias Turtle Reserve. All three took about 3 hours.
Lava Tunnels: This is near the Rancho Primicias Turtle reserve and should be combined into a single excursion for $40. All three can be accomplished in 3-4 hours roundtrip. This is a tunnel where lava flowed to the surface about one million years ago. The tunnel is about 300 meters long.
Rancho Primicias Turtle Reserve: This is one of the many tortoise reserves that you can visit in the highlands of Santa Cruz Island. We can't speak for the others, but we loved this one. There are many large Tortoises living here in this natural habitat among meadows, tall tree-shaded areas, and several small ponds. You will love watching them go slowly about their day in their natural habitat.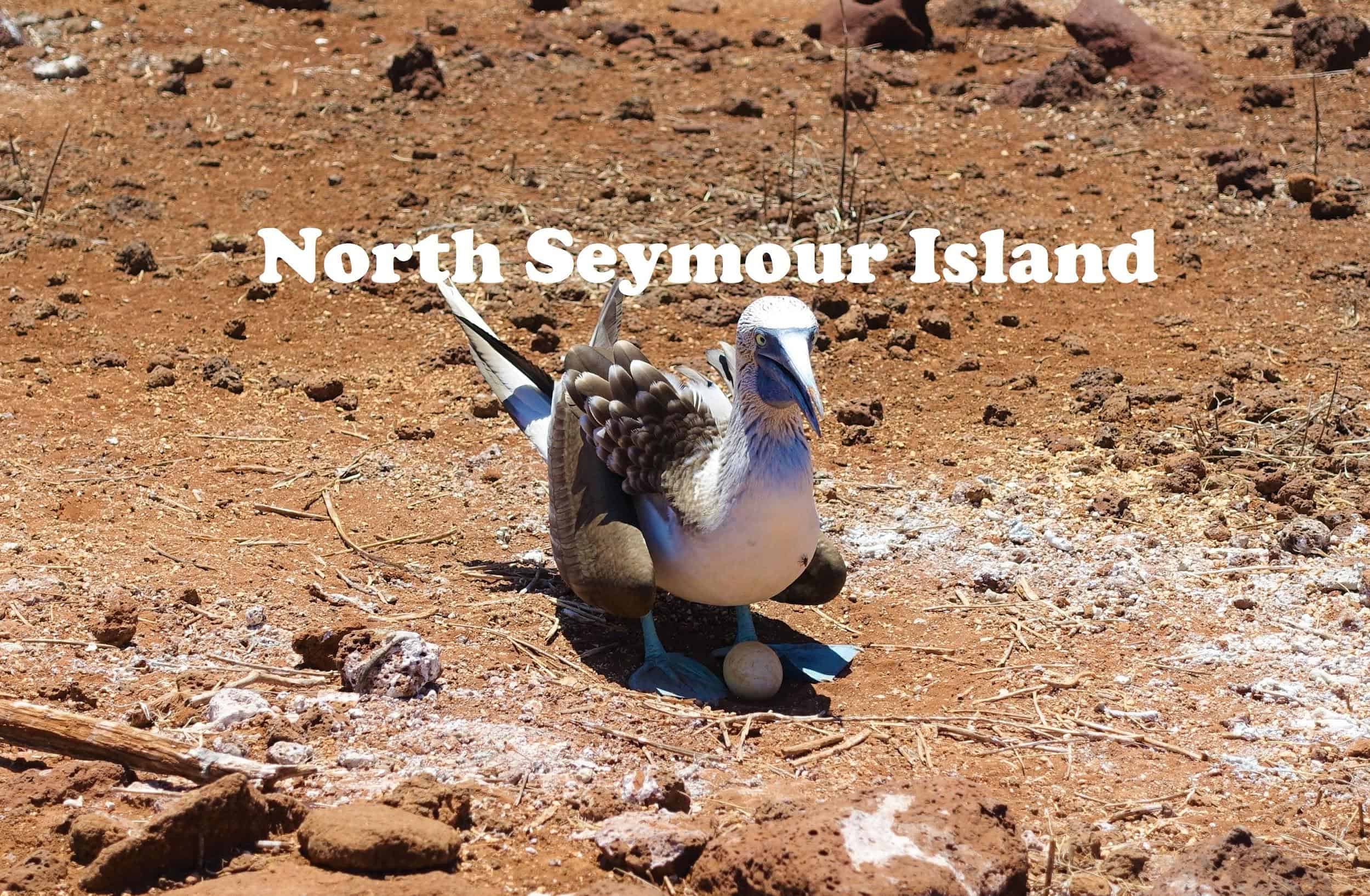 North Seymour Island: $150 per person.  Here is our youtube video of this tour.  This was our favorite day tour that we took while on Santa Cruz island. We got to watch Blue-Footed Boobies doing their mating dance and a Blue-Footed Boobie Male protecting an egg. There were Frigatebirds, large male yellow Iguanas, sea lions. Then you go to a large white sand beach and swim with sea lions. They serve a tablecloth lunch on the cruise back to the pier. This tour is not available daily so make sure to book it upon arrival.
The two tour companies I promote, GetYourGuide.com and Viator.com don't presently have tours for the Galapagos.  But you should try them sometime for other destinations:   GetYourGuide.com, Viator.com.
Santa Cruz Island: Walking Tour
You can visit the places in my "Things to Do" list using my below google map for a walking tour. Here is the walking path I created on Google for you. Just click this map and it will guide you to each place. When Google Maps opens, click "get directions" then click "from my present location." Make sure to buy a local Claro 4G SIM in Guayaquil before boarding your flight to Galapagos and load it with Internet data so you aren't paying international roaming rates, when you start clicking the links to all of my suggestions.
Here is the embedded map:
Santa Cruz Island: Accommodations
Most people who come to Santa Cruz Island stay in Puerto Ayora. Here are my recommendations based upon your style and needs. For the lowest prices on accommodations, we suggest Booking.com and HotelsCombined.com.
Huge Gorgeous Villa: If there are 6 of you and you are looking for a high-end experience on Santa Cruz Island, this gorgeous villa on a Mangrove pond is for you. I found this place in my walk to Las Grietas and it is extremely gorgeous. This is a fully equipped designer home.
Gorgeous Suites: This is a gorgeous flowered quiet hotel with suites along the short flowered road to the Lagoon of Nymphs.
Hotel: This is a moderately priced place with everything you need in a great location.
Airbnb Apartment: This is a small 1 bedroom Apartment with Wifi and AC. There is also a kitchenette with refrigerator, microwave, gas stove, and usable pots and pans. It is about 10 blocks outside the touristy area but the price reflects the extra walk. A taxi to and from the tourist area is 1.50 USD one way. The markets here are way cheaper if you like to cook. If internet is important to you, request to be placed on the ground or second floor. The internet is weak on the third floor. The host is very kind and knows much about the Galapagos. This is where we stayed. (If you are new to Airbnb, use this code www.airbnb.com/c/dbell50 for a discount).
Price Check: Once you have selected where you want to stay, then use HotelsCombined.com to find the agency offering the lowest booking price for that property.
Santa Cruz Island: Restaurants
El Eldin Park: On the day we arrived in Santa Cruz we decided to walk to Darwin Research Center. We walked through this city park and saw a sign that said "Vegetarian Lunch $5." This is excellent traditional Ecuadorian food: Vegetarian, Fish, or Chicken. It was our favorite meal of the Galapagos.
Pizza Italia: There is an Italian making pizza in a small place called Pizza Italia which is right behind this expensive tourist restaurant. This pizza is delicious and it will fill you up for $4 USD. They also have some hot chilli flakes you can add to the top.
Empanadas: Two young woman (above picture) are making and selling fresh empanadas in a food court at the corner of Gral Rodriguez Lara and Calle No. 55 in Puerto Ayora. They are one half a block north of this Mercado on Calle No. 55. Once Qiang tasted these for the first time, we went back almost every night. Make sure to slice the empanada open and cram in spoonfuls of the various sauces they have. $1 USD per Empanada.
Santa Cruz Island: Nightlife
If you are looking to party in the Galapagos, you might be disappointed overall. You could try walking down Charles Darwin at night and listen for music. You might get lucky. This place says it is a discotech (Panga Disco), but it seemed sleepy when we walked by at 10pm.
Santa Cruz Island Livability Factors
Walkability: Puerto Ayora is totally walkable. The middle of the day can be sunny and hot so take a taxi at that time or wear a hat.
Internet: The Internet at our Airbnb was okay. But not really fast enough to run most internet based businesses–frustrating.
Food: Grocery store food costs are outrageous compared to most anywhere in the world. Restaurants all over the typical Ecuadorian lunch special for about $5/person. For dinner, you will pay US prices. We ended up buying sandwich rolls and making sandwiches to take with us on day trips when we were going to be away from town. There is an expat style grocery store here (expensive!), but you can save a little buy shopping in markets 3-4 blocks off of Charles Darwin. Here is an area where the locals shop.
Weather: The weather is gorgeous! It can get hot in the middle of the day but cools down at night so you can sleep. Think … hat, sun block, sunglasses, and even a bandana you can cover your neck with when the sun is on your back.
Desire to Move Here: None. It is too small. There is nothing to do but serve tourists. Once you have done all the hikes 10 times, you will want to leave. Plus, although many foreigners are retiring in places like Quito and Cuenca Ecuador, it would be almost impossible for you to retire here, from what I hear. Even Ecuadorians are being asked to leave the islands because the population is now too large for the habitat.
Santa Cruz Island: Cost of Living
Below is the estimated cost of living one month in Santa Cruz Island as a temporary visitor. Some of the estimates could be reduced as a long-term visitor, or full-time Expat. We saw a 2 bedroom furnished apartments for $750.00
| | | | | |
| --- | --- | --- | --- | --- |
| Monthly Cost of Living, Santa Cruz Island, Ecuador ($USD) | | | | |
| Expense | Cost | Low | Medium | High |
| Airbnb (1 Bedroom Apt) | $30.00 | 0 | 14 | 30 |
| Moderate Hotel | $50.00 | 0 | 12 | 0 |
| Backpacker Hostel | $25.00 | 30 | 3 | 0 |
| High End Restaurant | $18.00 | 1 | 4 | 8 |
| Neighborhood Restaurant | $5.00 | 30 | 44 | 48 |
| Food Cart | $2.00 | 30 | 12 | 4 |
| Subway/Train/Metro | $0.00 | 20 | 26 | 8 |
| Bus | $0.30 | 20 | 10 | 0 |
| Taxi/Uber | $2.00 | 6 | 10 | 20 |
| Total | Per Month | $990.00 | $1,431.00 | $1,332.00 |
| Total | Per Day | $33.00 | $47.70 | $44.40 |
When the medium costs of living is more than the high cost of living, that is typically because the cost of an airbnb apartment (cost to high-end traveler) is less than a moderate hotel room in the area. For more information about how the above "Cost of Living Monthly Multiplier" works, please visit the bottom of this page at Vagabond Buddha. It does not include alcohol, excursions, or extras, and it is for one person. Some of the expenses remain unchanged when you add another person.
Final Thoughts on Santa Cruz Island
This is one of the most enjoyable places in the world to visit if you enjoy seeing fearless wild animals walking along beside you. The diving is also incredible. But there doesn't seem to be many of the other cultural or historical amenities that would attract me to stay for a year or two.
The world is your home. What time will you be home for dinner?
If you would like to start living internationally or learn how to make money online, whether you can travel or not, please grab a free copy of my book.
If you have enjoyed this post please leave a comment below and subscribe!
I am not offering you these prices.  These are just my notes and estimates from the time of my visit and this post.  Your costs will likely be drastically different if significant inflation or deflation occurs or the market changes after this post.  I will not update these numbers until I am on the ground again here, if ever.
VagabondBuddha.com, Copyrights, (c) 2018