–>Hue Vietnam Livability Factors
–>Hue Vietnam Cost of Living
–>Hue Vietnam Best Area to Stay, Cheapest Flights
–>Hue Vietnam Old Town Walking Tour
–>Hue Vietnam Temple Scooter Tour
–>Hue Vietnam Nightlife Tour
–>Digital Nomads in Hue Life and Food
–>Hue Facts and History
Best Retire Cheap in Paradise Locations in the World
This is Dan from Vagabond Buddha. This is my Hue Vietnam Retire Cheap post.
We are in Vietnam right now looking for our favorite retire cheap destination.
I have been traveling the world investigating the best low-cost paradise locations since 2007. I have been to 65 countries so far.
Vietnam is one of my favorites since I first came here about 4 years ago.
I am not sure where you were born, but that doesn't mean you have to live the rest of your life there. I am an advocate of the idea that you get to design your life.
The best possible life for you has many factors to consider such as your favorite kind of weather, your favorite kinds of food, lifestyle considerations, and the cost of living.
If your favorite place to live in the world costs half as much money, that means you can retire much earlier than you thought. Maybe you can retire now?
Many people have been struggling since the world economy crashed in 2008.
We provide information that helps people find their retirement dreams on a budget.
Click this link to see if we are still running a special promotion for our members-only access to retire cheap reports and retirement planning action guides worldwide.
Today, we are talking about the former capital and the Imperial city of Hue Vietnam.
Should you consider Hue Vietnam to Retire Cheap?
Hue Livability Factors
Walkability: High.  High means Hue is very walkable. Why is Hue so walkable? Because both the old city and the new city have places you can stay that are central and you can get almost everything you need within walking distance.
Internet: High. The Internet should not be an issue for you in Hue Vietnam. I was able to upload Youtube videos rapidly. Also, there is very little delay in real-time applications like Skype calls and Google searches.
Food: Medium. They have Vietnamese food here down perfectly, as you would expect. But there is not as much diversity in foreign foods as you would experience in larger towns like Hanoi or Ho Chi Minh. That said, the vegetarian and vegan choices here are better than expected because this is the former capital of the Nguyen Emperors and they were big fans of Buddha.
Weather: Medium. Average highs range seasonally from F75/24C in December to 95F/35C in July. Average lows (at night) range seasonally from 64F/18C in January to 78F/25C in June. The rainy season is September through December when at least some rain falls in 16 or more days of the month. The rain is very strong in October and November. I like warmer weather so this would be High for me.
Things to Do: High. Beaches, Pagodas, Imperial City, Ancient Emperor Tombs, Royal Museum, DMZ Zone, Live Music, Big C Mall, Wet Markets, International Restaurants in Tourist Zone, and Bach Ma National Park. One of the most interesting things to do is to rent a scooter for $4 USD per day and drive around the outskirts of Hue with no destination in mind at all. Stop or turn to explorer … what is that(?) … whenever you see something interesting, unexplainable, or wanting to share it on whatever social media you are addicted to.
Social Considerations: Medium. If you are looking for a taste of home this may not be right for you. This is the real Vietnam here. There is no break from immersion in a culture that is unique and steeped in tradition. There are expats here, but they have integrated into the culture. There are tourists here, but they are passing through. The tourists are here for a day or two and then heading off to the next cultural immersion. This is a deep cultural experience. The tourists are here to eat Vietnamese, drink Vietnamese, and listen to Vietnamese. At night in the Tourist area (see below Nightlife Tour), you will hear locals playing top 40s international music from yesterday and today. But otherwise, you are almost entirely in Vietnam. Luckily there is still a place in Vietnam to experience Vietnam. Let's hope the rest of the world figures out how to keep their culture. What would be the point of travel otherwise?
Expats: Medium. The number of Expats in Hue seems moderate. But there are a few to help you get started if you are considering Hue as a temporary or permanent retirement place. There are two Facebook pages for you to join and ask questions. Facebook 1. Facebook 2.
Real Estate: High. Based upon a few places we saw walking around Hue, we estimate a 1 bedroom apartment would rent for $300 to $500 per month USD. The utilities would be another $80-100 USD per month including the Internet. Do not buy real estate in Vietnam, just rent. Do not bank in Vietnam either. Just pull money out as needed using your ATM. You will be able to pull more cash out at international ATMs than local banks. The fee is often the same so you will be paying lower fees by pulling out more per ATM visit.
Visa Requirements:  Low.  Vietnam has been making changes to its visa programs over the last few years, and it is not as friendly to Americans and other preferred nations as it used to be.  Currently, many passport holders are only being issued 30-day single-entry visas which must be obtained before entry to Vietnam.  So, unless the rules become more favorable to foreigners, it might not be the best choice for long stays or retirement.  But it is still one of my favorite countries in the world.   Additionally, more changes are likely to be coming soon as the Tourism sector in Vietnam is still struggling in these post-pandemic times.  At the time you read this, I suggest you view one of the websites that update the entry requirements every 30 days or so, or visit the Vietnam Embassy Webpage in your home country.   I am usually already in SE Asia when I am going to Vietnam.  The travel agents around SE Asia know how to get tourist visas with very little trouble.  But if you decide you want to stay longer than a month or two, you should talk to a visa agent.  I suggest using a visa agent recommended to you by ex-pats that are members of various Facebook Expat Groups.  
Air Pollution: High. The air was clean in Hue. We came to Hue after 2 weeks in Hanoi and the difference was amazing.
Hue Desirability Score: Medium. If you like more rural feeling areas and are interested in total integration with fewer expats around you, Hue would be rated "High" overall desirability. Otherwise, Hue is medium desirability.  You should definitely consider Hue Vietnam to retire cheap.
If you are finding any value here, could you please like it, comment, share or subscribe? Your simple act of kindness will move us up in the Google and Youtube search rankings so our business grows faster.
If you would like to learn how to fire your boss and live in paradise for peanuts, grab a free copy of my EBook:
How to Fire Your Boss and Travel The World
Hue Vietnam Cost of Living
| | | | | |
| --- | --- | --- | --- | --- |
| Expense | Cost | Low | Medium | High |
| Airbnb/per month rate | $22.00 | 0 | 14 | 30 |
| 1 Br Apt w/lease | $18.00 | 0 | 12 | 0 |
| Hostel/per day | $7.00 | 30 | 3 | 0 |
| High-End Restaurant | $10.00 | 1 | 4 | 8 |
| Neighborhood Restaurant | $2.00 | 30 | 44 | 48 |
| Food Cart | $1.00 | 30 | 12 | 4 |
| Subway/Train/Metro | $.30 | 20 | 26 | 8 |
| Bus | $0.30 | 20 | 10 | 0 |
| Taxi/(Grab is 30% more) | $3.00 | 6 | 10 | 20 |
| Total | Per Month | $340.00 | $725.80 | $902.40 |
| Total | Per Day | $11.33 | $24.19 | $30.08 |
This estimated cost of living for one month, for one person as a temporary visitor. It only includes rent, 2 meals per day, and local transportation. I usually have oatmeal for breakfast in my room, so I don't count that.
Never move anywhere until you have visited first personally to verify the living costs for your lifestyle and needs. I am not guaranteeing these prices. These are just my notes and estimates from the time of my visit and this post. Your costs will likely be drastically different depending on lifestyle and the time since this post.
The above numbers are for one person and do not include alcohol, tours, or extras. Here is a free report explaining, "How The Cost of Living Table Works."  Hue Vietnam retire cheap is possible with these sorts of living costs.
If you buy anything using our links such as flights, tours, or accommodations, you will pay nothing extra, but we will earn a small commission. Your kindness will encourage us to keep making these travel guides and videos.
Best Area to Stay in Hue
Here are a few suggestions:
Hostel: Great location and ratings
Medium Priced Hotel: Mid-range, great location and ratings
Expensive Hotel: Where we stayed … great location and Ratings.
Airbnb: Next time we would probably stay longer and get this Airbnb so we could cook some meals at home. If you are new to Airbnb use this code http://www.airbnb.com/c/dbell50 at checkout to get a big discount.
Cheapest Flights to Hue
We almost always get our cheapest flights on this Skyscanner. They have a web crawler that is constantly looking for the cheapest prices all over the world.  However, we took the overnight train to Hue from Hanoi.  We are slow travelers.  That means we like to see the countryside when we shift between cities.  Here is where you catch the train to Hue from Hanoi.  The overnight sleeper train cost 2.5 million dong ($108 USD) for two people and took 16 hours.  See the below Digital Nomad Life and Food Video.
Hue Old Town Walking Tour
If the above video looks fun, click ==>this link<== or the below Google Map and start walking.
Meridian Gate (Ngo Mon): This middle door of the main gate was reserved for the Emperor. The viewing platform above the main gate was reserved for the Emperor and his court during important ceremonies and military exercises below.
Palace of Supreme Harmony (The Throne Palace): The place was built in 1805 by Emperor Gia Long, it was the Emperor's favorite spot for important ceremonies. The building was almost completely destroyed by American bombs.
Mandarin Buildings: Behind the Throne Palace, the buildings surrounding the plaza, were the administrative buildings for governing the Empire.
Royal Forbidden City: Behind the Mandarin Buildings, on a grassy area, is where the Emperor's private quarters. They were completely destroyed by American bombs.
Royal Reading Room: The only building in the Imperial Palace to survive both the French and the American Wars. It was built by Emperor Khai Dinh in 1847.
Dien Tho Palace: This was the Queen Mother's home built in 1804. It experienced extensive damage during the wars but was mostly rebuilt in 1998.
Phuoc Tho Temple: This was the Queen Mother's personal Buddhist Temple.
Dong Ba Market: This is the largest wet market in Hue Vietnam.
Perfume River: The final stop will walk you by the dragon boats and a large local party area.
Hue Vietnam Scooter Tour
These are places too far to walk. So the first stop on this tour is where we rented a scooter for $2 (for half-day).  Just driving this course would take 1.6 hours. Including stopping at each place and exploring could take about 5 to 6 hours.
If the above video looks fun, click ==>this link<== or the below Google Map and start your tour. The stops are listed below the map with a few facts for each.
Chùa Từ Hiếu (Thích Nhất Hạnh Home Temple): Users of the Chrome browsers can right-click on any page to translate into English. This Buddhist Temple built in 1894 and the King attended its coronation. It also happens to be the home Buddhist Temple of one of the most celebrated Buddhist Monks in western culture, Thích Nhất Hạnh. If you are interested, here is a great read for you.
Royal Tomb of Khai Dinh: There are a number of Emperor Tombs you can visit in Hue. If you can only see one, we recommend this one. It is the most opulent and over the top. There was even an unsuccessful uprising because he taxed the citizens 30% to pay for the tomb. He was a wildly unpopular Emperor also because he was considered too friendly to the French government in Paris. He became the Emperor in 1916 and the Tomb took 11 years to build starting in 1920.
Pagoda of the Celestial Lady: This temple was built in 1601 on the order of Lord Nguyễn Hoàng of Huế. Hoang was told of the local legend in which an old celestial lady dressed in red that foretold that a lord would come and erect a pagoda on the hill to pray for the country's prosperity. Upon hearing this, Hoang ordered the construction of a temple at the site.
Hue Vietnam Nightlife
I am not recommending the places on the map, I am just using them as reference points to make sure you walk in a way that puts you in front of all the fun places.
If the above video looks fun, click ==>this link<== or the below Google Map and start walking.
Digital Nomads Hue Life and Food Experiences
Hue is known for having more vegetarian dishes than other parts of Vietnam. It is rooted in local Buddhist traditions.
One of the most famous Buddhist Monks in the world, Thich Nhat Hanh is from Hue. After a long term in exile, he was given permission to return to Hue in 2005. Now, he is spending his remaining days in his root temple, Tu Hieu, near Hue. He has published over 100 books and is active in the peace movement. He also practices veganism as a means of nonviolence to animals.
Click ==>this link<== to see if any of the best vegetarian restaurants are near you.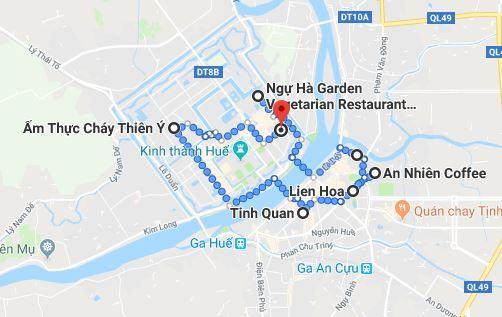 Favorites in Order:
#1 QUÁN CHAY THANH LIỄU, 50 Nguyễn Công Trứ, Phú Hội, Thành phố Huế, Thừa Thiên Huế. Tofu Hot Pot 40 Dong, $1.75 USD.
#2 Ba Minh Vegetarian Restaurant, 4 Hàn Thuyên, Phú Hậu, Thành phố Huế, Thừa Thiên Huế. 4 courses shared by 2 people was 60k Dong, $2.60 USD.
#3 Veggie Restaurant in Parkview Hotel (Not on the above map).
Qiang Hui's Favorite Food Carts
Noodle Crab Meat 35k Dong, $1.40 USD. Food cart across the street from Madame Thu.
Grab a free copy of my Ebook. You will learn how to save and earn money living internationally.
Hue Facts and History
Here are some interesting facts about Hue Vietnam (link) according to Wikipedia.
Hue was the capital of the Dang Trong Dynasty from 1738 to 1775 and the capital of the Nguyen Dynasty from 1802 to 1945.
About 460,000 people live in Hue today.
It is a big tourist attraction in Vietnam because of its moat and imposing thick stone walls.
Hue was also the site of one of the bloodiest battles during the Vietnam War with South Vietnam and the Americans.
But I am getting ahead of history.
The oldest ruins in Hue date back to the 4th century AD located at Long Thou Hill. There are also 9th-century ruins nearby in the ancient city of Hoa Chau.
In the late 16th century, Nguyen Kim, the leader of the Le Dynasty loyalists, was poisoned. This allowed Nguyen Kim's son-in-law Trinh Kiem to take the leadership role. Trinh Kiem then had Nguyen Kim's eldest son Nguyen Uong assassinated to secure his leadership position.
Nguyen Hoang, a younger son of the poisoned leader Nguyen Kim, pretended to have a mental illness to avoid being assassinated.
Nguyen Hoang then asked his sister Ngoc Bao, who was married to Trinh Kiem, to ask her husband for a governing appointment in southern Vietnam. Trinh Kiem consented. Trinh Kiem allowed the younger brother Nguyen Hoang, to fight rebels in Than Hoa, a southern part of Vietnam.
After success in southern Vietnam, Nguyen Hoang and his heir Nguyen Phuc won the hearts and minds in southern Vietnam. So they rose up against the Trinh Kiem Lords creating a civil war between Trinh Lords and Nguyen Lords.
By the 17th century, the Nguyen Lords had established themselves militarily with citadels in central and southern Vietnam which the Tranh Lords were unable to breach.
In the 18th century, the citadel in Phu Xuan (now called Hue) became the capital of the central and southern Vietnam after Lord Nguyen Phuc Khoat proclaimed himself King.
In the early part of the 19th century, all of Vietnam was united under the first Emperor of the Nguyen Dynasty, Nguyen Phuc Ah, in 1802. The first Emperor established Hue as the capital of united Vietnam.
In the late 19th century, the French conquered Vietnam but left the Emperors in place to reduce the appearance of unwelcome colonization. During the French colonial period, Hue was a protectorate of Annam.
The Nguyens ruled as figureheads following orders from Paris, until 1945 when the government was turned over to Ho Chi Minh in Hanoi.
In 1945, Ho Chi Minh declared Hue as part of the Democratic Republic of Vietnam with the new capital returning to Hanoi.
During the Vietnam War, Hue was vulnerable to attacks because it was near the border between north and south Vietnam.
In the Tet Offensive of 1968, Hue lost considerable prestige because of the Americans bombed all of the historical buildings and because the communist Viet Cong army (VC) killed or abducted over 4000 Hue residents perceived as friendly to the Americans.
Hue is now seen in a more favorable political light in Hanoi and is currently being revived as a center for tourism in central Vietnam.
Present Moment Awareness
If you are interested in the subject of present moment awareness, my new videos on that subject are now being posted at my new Present with Vagabond Buddha Youtube Channel. The older videos are on the Vagabond Buddha Channel's Presence Playlist.
Please Subscribe
Please subscribe to VagabondBuddha.com or our Youtube Channel to watch us move around the world. 65 countries so far.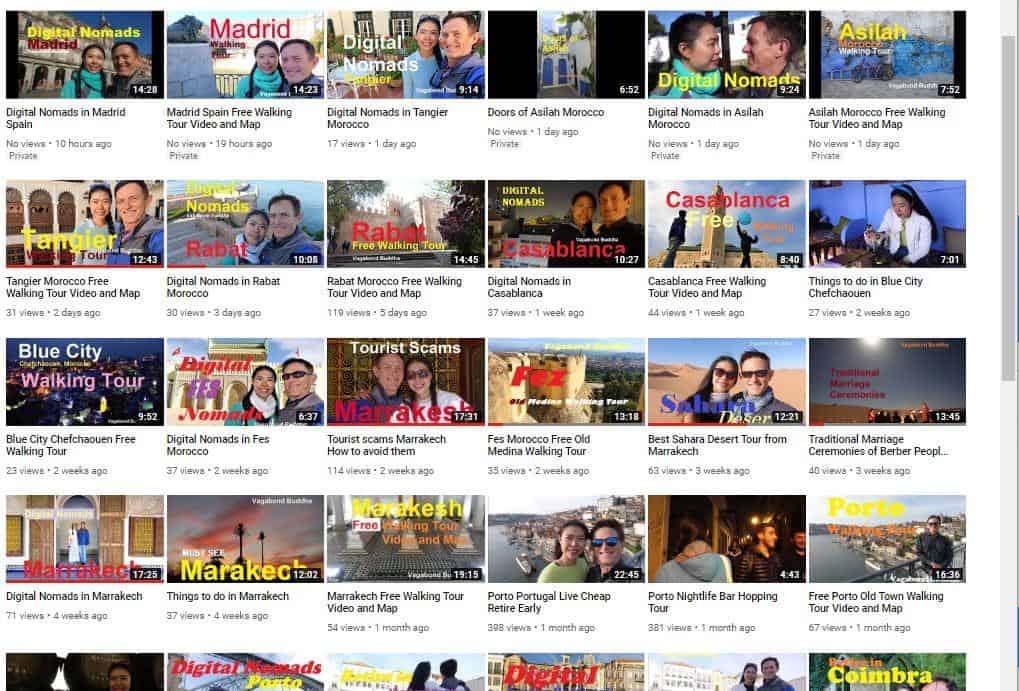 This is Dan of Vagabond Buddha. Thank you for reading Hue Vietnam retire cheap.  The world is your home.  What time will you be home for dinner?