–>Malacca Malaysia Livability Factors
–>Malacca Malaysia Cost of Living
–>Malacca Malaysia Best Area to Stay, Best Tours, Cheapest Flights
–>Malacca Malaysia Old Town Walking Tour
–>Malacca Malaysia Nightlife (Bar Hopping) Tour
–>Digital Nomads: Food and Experiences
–>Malacca Facts and History
Best Retire Cheap in Paradise Locations in the World
This is Dan from Vagabond Buddha. This is my Malacca Malaysia retire cheap guide. I was last here about 3 years ago.  This time, Qiang Hui of Hoboventures.com is here with me. You can follow her on Instagram at #QiangHui.
We came to Malacca from Kuala Lumpur (KL), Malaysia. Malacca is about about 60 minutes by bus from KL. Here is the bus station (Terminal Bersepadu Selatan) in Kuala Lumpur. The bus costs 10 RM ($2.50 USD) per person. The hotel we stayed at in Malacca included a free shuttle service that picked us up from the bus station.
Honestly, I was thinking I would visit Malacca as a courtesy to you. From my memory of my visit 3 years ago, I didn't think I would want to live here. My memory was that there wasn't enough going on here to keep me interested for more than a few months per year.
So I was surprised by how much more I am interested in Malacca after this visit. I think I could live here now. We just arrived last night, but I have been pleasantly impressed by all of the colorful art along the waterfront and the increased number of places embracing the sidewalk cafe culture. It seems that Malacca has figured out what makes a place interesting to foreigners.
Malaysia has been considered a top retire-cheap in paradise country for years. Malaysia is known for spicy foods and charming colonial-era buildings with a rich cultural heritage. All of that is true in Malacca also. Malacca also includes a focus on the arts and culinary choices, and as such, is growing up to be a distinct competitor for Penang and KL, the other two big tourist spots in Malaysia.
Of course, there are many other cool little spots in Malaysia, such as Sabah, Langkawi, and the Perhentian Islands. More on that later.
KL also remains popular for many reasons. KL continues to hold its own for people that prefer a larger international city with all the diversity and choices that implies. There are a few other Malaysian destinations worth considering that I will be reporting to you in the coming weeks.
All of my reports on the best retire cheap in paradise locations in the world are located here.
I am a digital nomad investigating the best retire cheap in paradise locations in the world. If you would like to learn how to live in a paradise location for possibly less money than you are spending at home, or the various ways people make money online, grab a free copy of my EBook:
How to Fire Your Boss and Travel The World
I also recently published a report of the "Best 10 Countries to Retire Cheap." You can get that report free here:
Best 10 Countries to Retire Cheap
Malacca Livability Factors
There are certain factors I consider when thinking about whether or not I could live somewhere. Each Factor is assigned High, Medium, or Low. High means good, Medium means okay, and Low means unacceptable.
Walkability: High. The interesting areas of Malacca are all within walking distance of each other. Check out our walking tour map below. If you need to go anywhere else, they do have public transportation, but we didn't use it since everything we wanted to see was in walking distance. Grab Car is the equivalent of Uber in this part of the World. It is super cheap. A Grab car from the bus station to our hotel would have been 8 RM ($1.75 USD), but our hotel (link below) included pick up and drop off included. Stay away from the Taxis in Malacca. Most of them are nice people, but a few will charge you an outrageous price. The Taxi stand at the bus station even yelled at us when they heard we were using the free hotel shuttle. When you use Grab Car, make sure you are not right next to any Taxi drivers when you use the Grab application.
Internet: High. The nomadlist.com says that Malacca has 13Mbps Internet speeds. This probably means that the results I experienced in my hotel, as follows, were not typical for the area. In our hotel, the first test showed 4 Mbps download and 0.5 Mbps upload speed, not great. The AT&T Speed Test based in the USA wouldn't even register test results.
I tested the hotspot on my Samsung Smartphone. My smartphone (Hotlinks Sim Card) was 5.5 Mbps download and 4.3 Mbps upload speeds. I bought my smartphone card at the KL airport when I landed for 80 RM ($20 USD) for one month service for 10 GB at 4G speeds.
The second week in Malacca we stayed at an Airbnb. The internet was lightning fast there, 12 Mbps download speed and 47Mbps upload speed. No, I didn't get those backward. Obviously, if speed is required for your business, you will need a high-speed internet router in your Airbnb.
Food: High. We decided to get a cheap hotel while in Malacca in the middle of the action (link below) and eat in local restaurants instead of getting an Airbnb and cooking at home. This turned out to be a good decision. We have both been to Malacca before so we came here just to create this retire cheap information for you. Since we were only here for 4 days this visit we decided we needed to gather restaurant data for you. Just like in Penang (Malaysia), we were able to find Mama's local restaurants with delicious cheap food. I will cover this more fully in the restaurant's section below. We had a south Indian breakfast today with tea for 10RM ($2.50 USD) for both of us. Last night, we had Chinese food for 18RM ($4.50 USD) for two people. These are local restaurants with local prices. If you eat in tourist restaurants you will pay about 80RM ($20 USD) for two people, and the food will not be as good. Several vegetarian restaurants had buffet meals for $1.50 USD per person. See the restaurant list below.
Weather: High. The year-round average high for the day ranges from 32.6C, 90.7F in March down to 30.9C, 87.6F in August, not much variance. The year-round average low for the day ranges very little from 22.5C, 72.5F in January up to 23.4C, 74.1F in April. The rain season is September through November. The dry season is January and February The rest of the year is moderate rain. We find ourselves living the siesta lifestyle here in Malaysia. Do outside activities in the morning and evenings and rest at home during the heat of the day.
Things to Do: Typically medium-sized town stuff. Movies, malls, long walks, some live music, many restaurants to check out. Beautiful old architecture to admire and a bunch of really nice people. There are two large outdoor markets here including the biggest on Jonkers Street.
Social Considerations: There are a bunch of English speaking people here. We saw signs for cooking classes, art classes, and dancing classes. The Facebook Malacca webpage has 69 members but is not very active.
Real Estate: You can get a beautiful newer home here for about $100k USD.
If you are finding any value here, could you please like it, comment, share or subscribe? Your simple act of kindness will move us up in the Google and Youtube search rankings so our business grows faster.
Malacca Desirability Score: High. This would be a great place for people that are most comfortable in a medium-sized city.
Please subscribe to Vagabond Buddha or our Youtube Channel to find out all the best places to live or visit around the world. I have been to 65 countries so far. I started in 2007.
Malacca Malaysia Cost of Living
| | | | | |
| --- | --- | --- | --- | --- |
| Expense | Cost | Low | Medium | High |
| Airbnb/per month rate | $25.00 | 0 | 14 | 30 |
| 1 Br Apt w/lease | $12.00 | 0 | 12 | 0 |
| Hostel/per day | $6.00 | 30 | 3 | 0 |
| High-End Restaurant | $10.00 | 1 | 4 | 8 |
| Neighborhood Restaurant | $3.00 | 30 | 44 | 48 |
| Food Cart | $1.50 | 30 | 12 | 4 |
| Subway/Train/Metro | $0.50 | 20 | 26 | 8 |
| Bus | $0.50 | 20 | 10 | 0 |
| Taxi/Grab | $2.00 | 6 | 10 | 20 |
| Total | Per Month | $357.00 | $740.00 | $1,024.00 |
| Total | Per Day | $11.90 | $24.67 | $34.13 |
This estimated cost of living is for one month, for one person as a temporary visitor. It only includes rent, 2 meals per day, and local transportation. I usually have oatmeal for breakfast in my room, so I don't count that. For a full understanding of what it would cost you to live here, visit Numbeo.com and add any items you spend money on.
Never move anywhere until you have visited first personally to verify the living costs for your lifestyle and needs. I am not guaranteeing these prices. These are just my notes and estimates from the time of my visit and this post. Your costs will likely be drastically different depending on lifestyle and the time since this post.
The above numbers are for one person and do not include alcohol, tours, or extras. Here is a free report explaining, "How The Cost of Living Table Works."
Please book using our links to recommended flights, tours, or accommodations. You will pay nothing extra, but we will earn a small commission. Your kindness will encourage us to keep making these travel guides and videos.
Best Area to Stay in Malacca
If you are a cultural explorer, your first stay in Malacca should be in the big red circle above. This is where most of the action, history, and places of interest are located. I have marked where to stay on the above Google map.
We only came to Malacca for 4 nights this time. So we didn't want to spend any time in Taxis or local buses. We got a cheap local hotel for just 60RM ($15 USD) per night that was very close to everything. It has AC, WIFI, and free tea/coffee, but no breakfast. It was so close to everything, we walked everywhere. For us, it was totally safe, night and day. Plus, the red circle was full of delicious cheap food, both veggie for me and meat for Qiang Hui.
I have made a recommendation below at each price point. The following recommendations go from most to least expensive. After that, I will tell you where we stayed.
Here are recommended places at various price points: High (beautiful hotel), Medium (hotel in a great location), Low (hostel near everything). We stayed here.
We ended up staying another week since we were enjoying life here. We stayed in this Airbnb for 11 days. I do not recommend paying the quoted rate when you are staying for a month in an Airbnb. We got our place for about $20 USD per night. We make significantly lower offers (20-30% discounts) on 10 different properties and one or more of those are usually accepted. If you are new to Airbnb, use this code http://www.airbnb.com/c/dbell50 for a big discount.
If you are enjoying this, could you please like it, share it, comment below, or subscribe? That will rank us higher in search engines so we can keep making these travel guides.
Cheapest Flights to Malacca
We almost always get our cheapest flights on this Skyscanner. They have a web crawler that is constantly looking for the cheapest prices all over the world. As usual, we found the cheapest flight to Malacca on Skyscanner.
Best Guided Tours of Malacca
There are two tour sources I recommend in Malacca. These are tour aggregators which means almost anybody can put their tours on here. So in addition to price, you should see how many reviews a tour has and read the customers comments before deciding which tour is best. You should also check both links below before making a final decision. Sometimes you will find significant savings on any given day for similar tour quality.
Malacca Old Town Walking Tour (self-guided)
As usual, the oldest part of Malacca is the most interesting. It is full of colonial-era buildings, street art, and history. The above video is us taking this walking tour. Just ==>click here<== or the below Google Map on your smartphone to get started on your walking tour.
Cheng Hoon Teng Temple: This is Malaysia's oldest functioning temple. Taoism, Confucianism, and Buddhism perform their religious rituals here. This temple, built in 1645, follows the Chinese principles of feng shui.
Baba & Nyonya Heritage Museum: Here you will learn about the Peranakan culture of Malaysia. This residence built in 1861 housed 4 generations of the Chan family before it was converted into a museum in 1985. The arts and artifacts of the Peranakan culture combined Chinese, Malay, along with British influences.
Jonker Street: This is the heart of Malacca's China town. There are shops of antiques, souvenirs, foods, textiles, along with bars, cafes, and restaurants. If you are there on the weekend, stop by in the evening after 6 pm to enjoy the night market. This will be some of the best people watching you do while in Malaysia.
Malacca River: The many historical and architectural landmarks lining its banks of the Malacca River along with the abundance of street art, will provide plenty of photographic opportunities. Jump on one of the water taxis passing by to enjoy the river cruise.
Red Square (Dutch Malacca): This is ground zero for Malacca World Heritage. The Red Square was constructed in the later 17th century showcasing the colonial Dutch style, the clock tower, and the church. Malacca was handed over to the British in the late 19th century. This square includes a fountain honoring Queen Victoria. The red church is the oldest functioning protestant church in Malaysia.
St Paul's Hill and Church: This is the oldest church in SE Asia, built by the Portuguese in 1521. This stop showcases the colonial Portuguese and Dutch architecture. Here you will also find the best panoramic view of the city and coast. In 1548, St Francis Xavier, a Jesuit, built the first modern school here. This church was the home base for Xavier's missionary work in China and Japan. When the British occupied Malacca they used this church as a gunpowder magazine.
Make sure to buy a Malaysian Hotlink SIM card for your smartphone at the airport when you land. Then you can use all of these links in Malacca to 0ave time and money. International roaming rates on your home country SIM can cost 20 times as much as local rates.
Malacca Nightlife Tour (Bar Hop)
If the above Malacca Nightlife video looks fun, then click this Interactive Google Map on your smartphone and start walking the map as shown below.
Digital Nomads Life and Food Experiences
Here are our best food experiences in Malacca this visit. These are ranked most favorite on top.
Green House Vegetarian Restaurant: $$
Vagabond Buddha's Kitchen: The food was so cheap here we only cooked about 5 meals during this 2-week visit. We shopped at this Tesco and the Aeon across the street. The Aeon had better produce. The Grab Taxi was about $2 USD each way.
Grab a free copy of my Ebook. You will learn how to save and earn money living internationally.
Malacca Facts and History
Here are some interesting facts about Malacca Malaysia according to Wikipedia.
Malacca became one of the earliest states in what we now call Malaysia.
Originally, it was a simple fishing village inhabited by the Orang-laut. They lived and traveled on their boats and inhabited the coasts from Myanmar down to Singapore.
A Hindu ruler named Parameswara showed up here in about 1402. He established Malacca at that time. The history of the area is a bit murky, but either Parameswara or his eldest son converted to Islam after taking an Islamic wife. However, historians seem to agree that Islam was the official religion established by law in Malacca by the 1440s.
Parameswara established relations with the Ming Dynasty of China in 1403. The Ming Dynasty provided protection from Siam (Thailand) and Majapahit (Java). This alliance established Malacca as a major trade port worldwide.
The Vietnamese attacked Malacca in 1469. They killed many Malaccans and castrated and enslaved the young. The Malaccan's did not fight back because they knew the Vietnamese were also a Ming Dynasty protectorate. Word did not reach the Ming Dynasty for over one year. At that time, the Ming Dynasty warned the Vietnamese to leave Malacca alone and gave Malaccans consent to defend themselves should the Vietnamese attack again.
Malacca continued to grow in trade and world stature. Eventually, 80 languages were spoken in Malacca and it was known as the Venice of the East. That wealth eventually drew the attention of the Portuguese.
The Malay Sultanate rule ended in 1511 when the Portuguese arrived and murdered all of the Muslims living here at the time. This was during the period when Christians and Muslims were murdering each other in many parts of the world. The Portuguese allowed the other ethnicities to continue with their life. The Portuguese rule was successful but they were unable to sustain the worldwide economic trade. The trade was dispersed to other ports in the region as bitter warfare continued in the area.
The Dutch were able to take Malacca from the Portuguese in 1641 with the help of the nearby Malay Sultan of Johor. The Dutch ruled Malacca from 1641 to 1798 but continued using the Dutch port of Batavia (Jakarta) as their trade center. The Dutch landmark Stadthuys survives today in Malacca.
The Dutch exchanged Malacca for Bencoolen of Sumatra with the British in 1824.
The British ruled Malacca from 1824 to 1942. Singapore and Penang were added in 1832 when the British took additional land from a local chief. The British rule of Penang, Singapore, and Malacca became known as the Straits Settlement at that time.
The Japanese occupied the Straits settlement during World War II when the British fled Southeast Asia to fortify their power in Europe to fight Germany.
After World War II, the Malacca and Penang became part of the Federation of Malaya in 1948. This eventually led to the independence of Malay in 1957. Malacca was named a World Heritage site by UNESCO in 2008.
If you are interested in the subject of present moment awareness, my new videos on that subject are now being posted at my new Present with Vagabond Buddha Youtube Channel. The older videos are on the Vagabond Buddha Channel's Presence Playlist.
Please subscribe to VagabondBuddha.com or our Youtube Channel to watch us move around the world. 65 countries so far.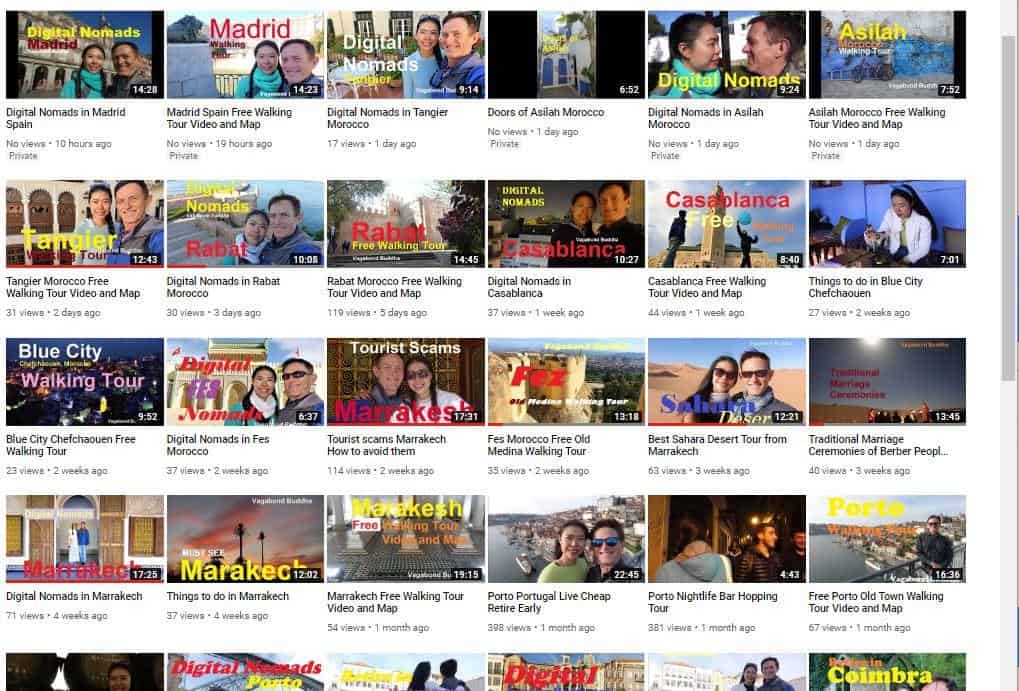 This is Dan of Vagabond Buddha. Thank you for stopping by. The world is your home. What time will you be home for dinner?