Merida Mexico Best Retire Cheap Paradise
Merida Things to Do!
–>Merida Free Old Town Walking Tour
–>Merida Day Tours
–>Merida Best Restaurants
–>Merida Nightlife (Bar Hopping) Tour
–>Merida Best (and) Cheap Places to Stay
–>Merida Flights, Buses, Trains
–>Merida Livability Factors
–>Merida Cost of Living
Best Travel or Retire Cheap in Paradise Locations in the World
Merida Mexico Best Retire Cheap in Paradise
This is my Merida Mexico Best Retire Cheap in Paradise guide.
I have been traveling the world since 2007. I have been to 65 countries so far in my life.  Based upon your requests I am recording this video again speaking much louder.
I am cataloging the best retire cheap in paradise locations in the world. I just toured 18 potential places to retire early in Mexico. I visited them in this order, from start to finish: Mexico City, San Miguel, Guanajuato, Guadalajara, Chapala, Ajijic, Puerta Vallarta, Morelia, Pátzcuaro, Querétaro, Cuernavaca, Puebla, Oaxaca, San Cristóbal, Campeche, and Merida.
My initial thoughts on the top four places to retire cheap in paradise considering only Mexico are as follows:
Merida
Oaxaca
Queretaro
Guanajuato
That was just my initial findings.  Later I dropped Merida from the top 5 because it is just too hot in the summer months.  Click the link in the notes below this Youtube video to get my updated Best Places to Retire in Mexico for Cultural Explorers, Action Adventures and Rural Self-Reliance.
I continue to show you pictures of Merida while I explain why Merida is one of the most amazing places to live in Mexico.
If you would like to learn how to live internationally possibly with less money than you spend at home, please grab a free copy of my Ebook, How to Fire Your Boss and Travel the World.
Merida Mexico Facts
Here are some interesting facts about Merida. I am here now as I type these words. 🙂 It is super fun and beautiful. Click on this Google Map to zoom into Merida.
Merida is the largest city and the capital of the Yucatan State of Mexico. Just over one million people were counted in the Metropolitan area in the 2015 census.
60% of the people are indigenous of Mayan descent.
Merida is 36 kilometers from the coast on the Gulf of Mexico.
There were three conquistadors named Francisco de Montejo in Mexico. The eldest was called the "Lieutenant," his son called "el Mozo," and the nephew called "el Sobrino."
Although colonial Merida was built over the existing Mayan city of T'ho, the history books say Merida was "founded" by the Francisco de Montejo, el Mozo (the son).
The truth is, that T'ho had been one of the centers of Mayan culture. T'ho might be the oldest continually occupied city in the Americas.
The Spanish destroyed T'ho to build the churches and colonial mansions that you now see in Merida central.
Merida was a walled city intended to protect the Peninsular and Creole from the indigenous population. A Peninsular is a Spanish born person living in the Americas. A Creole is a person born in America with pure, or nearly pure Spanish blood. So Merida was originally built to protect the violent invaders from the retaliatory indigenous population. Luckily, the Spanish invaders were unable to completely eradicate the Mayan culture in this region. The Mayan culture can be seen in daily life here in speech, dress, and expression, both oral and written history.
In the 19th and 20th centuries, Merida became one of the wealthiest cities in the Americas because of its henequen plantations. Henequen is a sort of cactus that can be used to create strong fibers for rope and other commercial uses. The wealth created by this industry can be seen today in the mansions along Paseo de Montejo.
Even the Merida historical center is undergoing a silent renaissance of sorts as people (mostly Americans and other expats) move into dilapidated colonial mansions and restore them to their former glory.
Merida is in the Chicxulub crater. A large asteroid about 12 kilometers (7 miles) wide hit the Earth about 66 million years ago. It created a crater that is 150 kilometers 93 miles wide and 20 km, 12 miles deep. The force was the equivalent of several million nuclear weapons and it caused an "impact winter" that stopped photosynthesis on earth and caused mass extinction. 75% of all species on earth vanished.
Merida Free Old Town Walking Tour and Map
Here is the Youtube video of our Merida Mexico Free Old Town Walking Tour.
Click the interactive Google Map on your smartphone to be guided on this tour.
Museum of the City of Mérida: This museum in the former post office building (next door to the downtown market) houses important artifacts from the city's history, as well as an art gallery.
Templo Expiatorio de Nuestra Señora de la Consolación (1596): The construction of the monastery and temple began in 1596. When completed, the first nuns came from Mexico City. There were two novels written that mention the convent.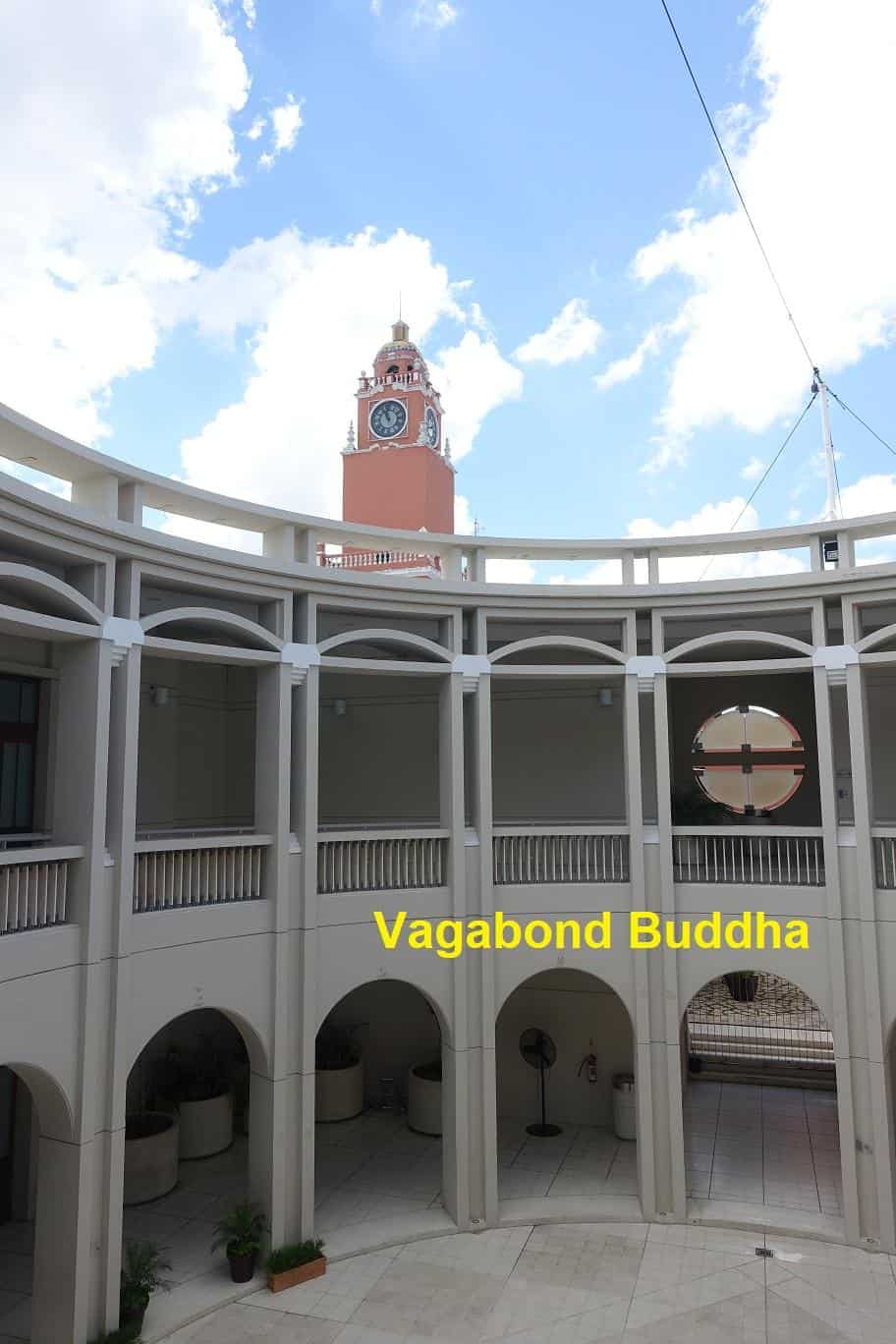 Olimpo Cultural Center (Centro Cultural Olimpo): On display here are recent works of regional artists. Admission is free. Photos are allowed without flash. It takes about one hour to visit all three galleries.
If you are enjoying this, could you please like it, share it, comment below, or subscribe? That will rank us higher in search engines so we can keep making these travel guides.
Museo Casa Montejo (1549): The house was completed in 1549 by Francisco de Montejo as the family residence on the zocalo in Merida Mexico. It is the only example of a family home built in the 16th century in the Plateresque. Francisco founded Merida in 1542 and reserved one side of the principal plaza for his home. He used stones taken from destroyed Mayan temples to construct the home which was completed by 1549. His descendants retained possession of the home until there evicted upon completion of Mexico's independence.
MACAY Museum: The MACAY Museum in Mérida exhibits a new sculpture installation each year, with works from Mexico and one other country.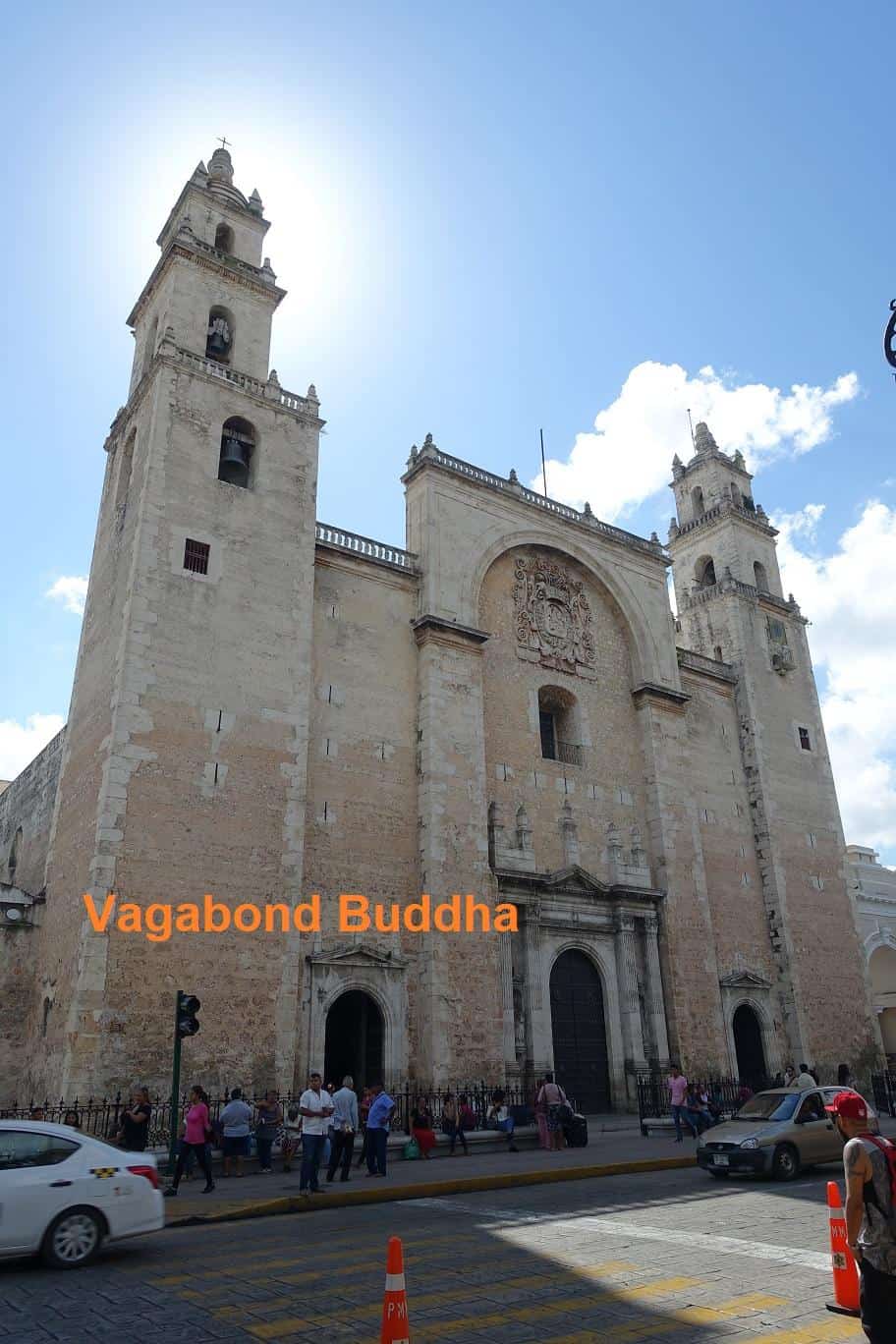 Catedral de San Ildefonso (1598), this is the first Cathedral built in the continental Americas. However, the Cathedral was sacked by revolutionary forces during the war of independence, and its invaluable art collection destroyed. Shouldn't the first thing they teach in military school be to not destroy world heritage? If you are being oppressed, evict the oppressor, but don't destroy cultural heritage and architecture.
If you would like to learn how to make money online, or how to live internationally possibly with less money than you spend at home, please subscribe to Vagabond Buddha or get a free copy of my Ebook.
Palace of Government (1892): Although this building is only 130 years old, it is on the walking tour because of the 27 murals painted on the inside by Fernando Pacheco depicting the history of the Yucatan State.
Capilla de Santa Lucía (1542): This is the oldest church in Merida, Mexico. It was reserved for blacks and mulattos brought by their Spanish masters as servants. Since 1965, the corner of the colonial park has a stage where traditional Yucatecan serenades of troubadour trios are performed.
Quinta Montes Molina (Mansions along Paseo de Montejo): Starting from the Francisco de Montejo Monument to this mansion, the wealth accumulated during the great henequen boom in Yucatán can be observed. A wealthy Cuban named Don Aurelio built this house on land given to him my his father in law.
If you book my recommended flights, tours (Viator Tours, Get Your Guide Tours) or accommodations, you will pay nothing extra, but we will earn a small commission.
Best Merida Day Tours
Guided Tours
Pink Lake, Flamingos, El Corchito, and Progresso Beach Day Tour: Qiang Hui had read the post by Feather and Wind that they had spent 450 Pesos (23 USD) on their do it yourself (DIY) tour. Qiang started bargaining with local tour guides in Merida and was able to acquire us a guided tour for just 550 Pesos (28 USD). We decided it was worth $5 USD more per person to just relax all day and let the tour guide navigate the minivan and boats.
Normally we are do-it-yourself-ers because of the rich experience it gives you living as a local in paradise. But we felt like taking it easy this time. If the above video looks fun to you, see if you can get the same deal we did at the travel agency next door to this link at the Zocalo in Merida.
Self-Guided (Cheap Bastard) Tours
If you are an adventurous sort, you should try one of my self-guided (cheap bastard) tours.
Cheapest Cenote Tour from Merida Mexico. Catch the Collectivo to Homun here at Calle 67 at Calle 50. The collectivo's are white minivans with "Merida-Homun" on the front. They cost 30 Pesos each way per person and it takes about 1 hour to arrive in Homun. Ask the driver to drop you in Homun at Restaurante El Cenote. Ask for Moto Taxi driver Francisco when you jump out of the collectivo. Offer Francisco 200 total, not per person, but tip him at least 50 Pesos. Here are the three cenotes we visited. Cenote 1–Yaxbacaltun, Cenote 2–Canunchen, Cenote 3–Chel Pak. You can visit up to 5 cenotes for that price. The cenotes charge you 30 Pesos each. Here are two more you can see if you like: Cenote Hool Cozon and cenote Los Tres Oches. When you are ready to go home ask Francisco to drop you at the collectivo to Merida.
Mayan World Museum of Mérida (Gran Museo del Mundo Maya): On Calle 58 between Calle 59 and 61, catch the bus to Gran Museo del Mundo Maya.
Merida Best Restaurants, Street Food, and Surprise Experiences
I am still on a vegetable juice fast and Qiang Hui has felt more like cooking this week than eating out. But we still managed to visit all of these places and are recommending them to you.
La Tratto Santa Lucía: Crazy delicious pizza and arugula salad. Veggie choices.
Las Vigas: Cheap and delicious authentic Mexican food.
LoQueHay Cafe: Delicious veggie and vegan choices in an amazing setting!
Dadaumpa: Decent Italian food at reasonable prices. Veggie options.
Mercado 60: A bunch of foreign food choices and live music all in one place. Try the veggie burger in the back. OMG, so good.
Los Platos Rotos De Frida: Colorful, delicious, and reasonably priced. Veggie and vegan options.
Vagabond Buddha's Kitchen: Qiang cooked many of her favorite meals while we were in Merida. Here is the market where we shopped. I cooked some spicy marinara for Qiang once. I have been on a partial juice fast, still.
Best Merida Nightlife (Bar Hopping) Walking Tour and Map
There is actually a fairly robust and diverse nightlife here in Merida. There are many choices that I am not going to talk about here. For newbies, I am suggesting a fairly limited nightlife walking path. But if you move here, you will find there is much more that you can safely do. Just walk the below path on a Thursday, Friday or Saturday night from 9 to 11 PM, and listen for music that suits your fancy. Here is a video of this walking tour at night and below this video is an interactive Google Map so you can take this walking tour.
Just click the below interactive map or ==>this link<== on your smartphone to start your tour. Stay on the below blue dots.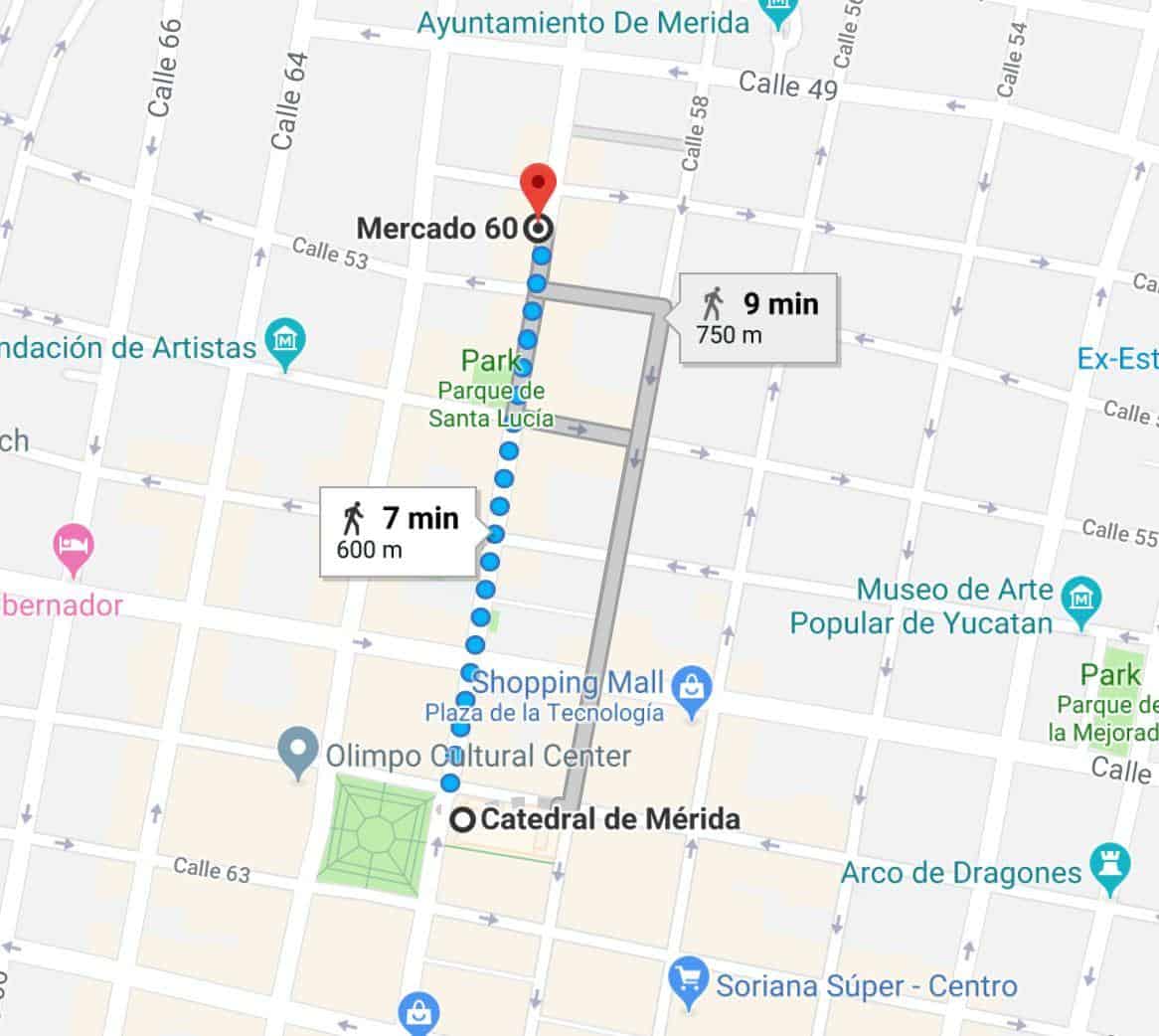 Merida Best (and) Cheap Hotels
You should stay in the old town area of Merida, if possible. The following recommendations go from most to least expensive.
Mansión Mérida On the Park (It doesn't get any nicer than this, amazing location.)
Hotel La Misión de Fray Diego (This is in the above digital nomad video, great location)
Hotel Caribe Merida Yucatan (Swimming Pool, great location)
Hostel (Boutique Hostel, crazy good ratings)
Airbnb House Share (Where we stayed): This is a house share on Airbnb. It is gorgeous and has a dipping pool. To see our video of this place, click the above digital nomad food and life video. We have our own bedroom and our own bathroom, and we share the kitchen and the Internet. (If you are new to Airbnb, use this code http://www.airbnb.com/c/dbell50 for a big discount).
Merida Flights, Buses, Trains
Buses: We took the ADO bus from Campeche to Merida Mexico. Right-click in your chrome browser to get an English translation. The trip was 3 hours and cost 140 Pesos per person. Buy your ADO tickets at least one week in advance to avoid their last-minute gouging. As the seats fill up, they raise the price as much as 30% per ticket.
ETN and Primera buses often have better prices than ADO. But as we have headed further south-east in Mexico it seems ADO has a monopoly on travel. You will need to check ETN and Primera web pages to see if they have a bus from your city to Merida.
Merida International Airport (MID)): You can fly into MID and take an Uber to your accommodations in Merida. It takes about 20 minutes and costs about 70 Pesos, $4 USD. I have provided a list of 5 places to stay in old town Merida, see above.
Flights (International or Domestic): I always use Skyscanner to book domestic and international flights. If you allow a range of dates to fly and return, you can sometimes save hundreds of dollars. Get a Mexican SIM card for your smartphone when you land in Mexico. Get your phone unlocked before leaving your home country.
Train: There is still a train through Copper Mountain but it does not go to Merida. That is the only train in Mexico still. Otherwise, you need to take buses and flights.
Merida Mexico Livability Factors
This is Dan from Vagabond Buddha. Here are the factors I use to decide if I would want to live somewhere. I call them my livability factors.
Livability Factors: Food choices, walkability, internet reliability, social considerations, cost of living, things to do, real estate prices, weather, and expat opportunities.
Merida Desirability Score: Merida has my highest desirability score. Merida is presently in first place for my personal rankings of the best retire cheap in paradise location in Mexico. Here are my top four places to live or retire cheap in paradise, in order: Mérida, Oaxaca, Querétaro, and Guanajuato. If you would like to learn how my next stop compares to my existing top 4, please subscribe to our YouTube Channel or Vagabond Buddha. We head to a new place tomorrow.
Walkability: High. Merida is totally walkable. It doesn't have as many pure walking streets as other places, but it is still compact enough to live here without a car.
If you would like to learn how to be a digital nomad, make money online, or how to live internationally possibly with less money than you spend at home, please subscribe to Vagabond Buddha or get a free copy of my Ebook.
Internet Reliability: High. The WIFI in our Airbnb was 17.1 MBPS download speed and 2.1 MBPS upload speed. Speed Test. That is the wireless connectivity within our room. It is totally suitable for my purposes.
Food: High. The food diversity is great because there is strong foreign currency here chasing a diverse food palate.
Weather: Medium or Low. May is the warmest month with an average high of 97F, 36C, and it only cools down at night to 71F, 22C. This means your house is too warm to sleep without AC. January is the coldest month with an average low of 63F or 17C at night, but it warms quickly in the day to 87F or 31C, so no heat is needed. The rainy season is June through October when it rains about 5 to 7 inches per month (140 to 180 mm). Because the average high for the day is 91F, 33C or above for 8 months of the year, I am labeling Merida as merely medium. But this could be labeled low for you if you are allergic to heat. You must have AC here just to survive.
Things to Do: High. It is 40 KM from the beach, there are cenotes everywhere, and you are just a few hours from Cancun, Playa del Carmen, and Tulum. There is classical music, jazz, rock, hip-hop, theatre, movies, malls, museums, diversity in restaurants, and a decent nightlife with a diverse set of live music. There are world-class archaeological sites within an hour or two.
Social Considerations: High. You might be able to get away without learning Spanish here, but your experience will be more limited.
Expats Penetration: High. Mérida has been attracting expats over the last decade because of the tropical climate, beautiful beaches, low cost of living, cultural diversity, and colonial homes that are fun to renovate and occupy. There are various expat websites and blogs that you can contact for a soft landing in Merida. Keith, Facebook, Exchange, Tips.
Real Estate: High. Homes in Merida start at about $50,000 USD. I do not recommend buying until you have lived here for at least one or two years.
Merida Mexico Cost of Living
If you try to rent over the Internet speaking only English, you will be quoted only Gringo prices. If you are here, you can speak directly to landlords. I guestimate $425-625 USD for a decent 1 bedroom apartment in the old town area of Merida, Mexico.
Monthly Cost of Living, Merida, Mexico ($USD)
| | | | | |
| --- | --- | --- | --- | --- |
| Expense | Cost | Low | Medium | High |
| Airbnb House Share | $25.00 | 0 | 14 | 30 |
| Moderate Hotel | $30.00 | 0 | 12 | 0 |
| Backpacker Hostel | $10.00 | 30 | 3 | 0 |
| High End Restaurant | $10.00 | 1 | 4 | 8 |
| Neighborhood Restaurant | $3.00 | 30 | 44 | 48 |
| Food Cart | $2.00 | 30 | 12 | 4 |
| Subway/Train/Metro | $0.20 | 20 | 26 | 8 |
| Bus | $0.20 | 20 | 10 | 0 |
| Taxi/Uber | $2.00 | 6 | 10 | 20 |
| Total | Per Month | $480.00 | $963.20 | $1,023.60 |
| Total | Per Day | $16.00 | $32.11 | $34.12 |
The above table is just my notes from my time here. The above numbers are for one person and do not include alcohol, tours, or extras. I do not guarantee these prices for anyone.
For more information about how the above "Cost of Living Monthly Multiplier" works, please visit the bottom of this page at Vagabond Buddha.
Please subscribe here or on our Youtube Channel if you would like to receive the costs of living estimates for our next Mexico stop, or for other countries in the world.
This is Dan of Vagabond Buddha. Thank you for stopping by. The world is your home. What time will you be home for dinner?
Warning: I am not offering you these prices.  These are just my notes and estimates from the time of my visit and this post.  Your costs will likely be drastically different if significant inflation or deflation occurs or the market changes after this post.  I will not update these numbers until I am on the ground again here, if ever.