–>Marrakech Free Walking Tour Video and Map
–>Marrakech Best Area to Stay
–>Marrakech Nightlife
–>Digital Nomads in Marrakech
–>Marrakech Facts and History
–>Tourist Scams in Marrakech: How to Avoid Them
–>Best Sahara Desert Tour from Marrakech
Best Travel or Retire Cheap in Paradise Locations in the World

This is Dan from Vagabond Buddha. This is my must see in Marrakech guide.
Must See in Marrakech
If you are short on time, you must see at least the Saadian Tombs, Bahia Palace, Jemaa El-Fna Square at night, and the Souk. If you have more time, then also see the YSL Museum and Jardin Majorelle. Just click the below free Google Map walking tour, remove the places you don't have time for, and start walking. If you have a full day, and you are full of energy, you should be able to finish my entire free walking tour.
Marrakech Free Walking Tour Video and Map
Here is my Marrakech free walking tour video and map. Each stop on the tour is described in order below. Plus, you can use my free interactive Google map to take the tour. Above is the video of us taking this Marrakech Old Town Walking Tour. Make sure to buy a Morocco SIM card at the airport so you are not paying international roaming rates. We do not guarantee that Google maps will take you through the same route it sent us during our visit to Marrakech. Click the interactive Google Map on your smartphone to be guided on this tour.
The red lines are the city walls. Just click the above map for links to each of the following places:
Yves Saint Laurent Museum: This museum is dedicated to the life work of the designer YSL. He is credited with giving rise to couture after a hippy fashion phase of the 60s. His goal was to make woman look comfortable yet elegant at the same time. He created the female tuxedo and was the first in high-fashion to use non-white models. The museum entry fee is 100 Dh (10 Euro). Open 7 days a week from 10am to 4:30pm. You have to visit this area which some call "New Marrakech."
Jardin Majorelle: Jacques Majorelle (1886-1962) was a French painter who remains most well known for this villa and garden. Majorelle built this Cubist Villa and celebrated garden over about a 40 year span of his life. After Majorelle's death the estate fell into disrepair. YSL bought and restored the estate and collected Majorelle paintings in the 1980s. YSL's ashes are scattered here in the garden. You can get a museum bundle discount at either location for both YSL and Jardin Majorelle, which will save you money and time waiting in line.
Medina: The Medina is everything inside the red walls of the Old City of Marrakech. The red walls of the city were built in the 12th century by Ali ibn Yusuf. Ali was the Sultan that expanded Moorish control of some parts of Spain and Portugal. Ali eventually lost his European captured territory back to Alfonso I of Portugal as the reign of the Moors on the Iberian peninsula came to an end.
Ben Youssef Madrasa: This madrasa was rebuilt in 1574. The original madrasa was built by Ali bin Yusuf in the 12th century. It was an Islamic law school and college that also taught literature, science, and history. The school was closed in 1960 and later reopened in the 1980s as a historical center. It remains one of the most important historical buildings in Morocco and one of the biggest tourist attractions in Marrakech.
Souk: The word Souk (Souq, shuk, shooq, sooq) has meant marketplace in Western Asia and N. Africa since about the 6th century BC. Marrakech has one of the most amazing Souks in the world. The souk in Marrakech covers a large area. But if you go from the Ben Youssef Madrasa to Jemaa El-Fna, in either direction, the above Google Map will take you through my favorite path in the Souk.
Jemaa El-Fna Square: This is the main square of Marrakech. During the day, there are snake charmers, storytellers, fortune tellers, Artists, souvenirs, juice sellers, and pickpockets. At night all of that remains, plus a bunch of temporary restaurants pop-up. There are always persuasive tour guides and fake designer goods.
Koutoubia Mosque: The largest mosque in Marrakech was completed by Berber Almohad Caliph Yaqub al-Mansur (1184 to 1199). It has inspired other buildings such as the Giralda of Seville and the Hassan Tower of Rabat. The mosque has a large plaza with gardens, and the minaret is 77 meters (253 ft) high. Make sure to get a photo at sunset. Desert skies make the best photos/videos at sunset. You'll see what I mean in the above video.
Saadian Tombs: These tombs originated during the Saadian dynasty under Sultan Ahmad al-Mansur (1578-1603). The tombs were rediscovered in 1917 and subsequently renovated. Because of their striking beauty rooftop they have remained a sunset to Marrakech visitors.
El Badi Palace: El Badi Palace is a ruined palace located in Marrakech, Morocco. It was commissioned by the sultan Ahmad al-Mansur of the Saadian dynasty sometime shortly after his accession in 1578. The palace's construction was funded by a substantial ransom paid by the Portuguese after the Battle of the Three Kings.
Bahia Palace: The Bahia Palace is a palace and a set of gardens located in Marrakech, Morocco. It was built in the late 19th century, intended to be the greatest palace of its time. The name means "brilliance." The palace was built by Si Moussa in the 19th century and named after his favorite wife. Si Moussa was a black slave who rose to power and fame in the late 19th century. His son Bou Ahmed, who expanded the palace, was effectively the ruler of Morocco because the Sultan he served as grand vizier was just a teenager.
Please book using our links to recommended flights, tours or accommodations. You will pay nothing extra, but we will earn a small commission. Your kindness in return for our shared knowledge is greatly appreciated.
Here are some of the ==>favorite tours<== people take in and around Marrakech.
Marrakech Best Area to Stay
You should stay inside the Medina walls (red circle) in Marrakech, if possible. The closer you stay to the 'must-see' center (yellow circle) the less walking you will need to do. If you have to walk far to, or take a taxi to, the 'must see' places, you are more likely to experience scam behavior. Stay in a Ryad if possible for a traditional Morocco experience.
I recommend the following places at each price point: High, Medium, or Low.
We stayed in a Marrakech Ryad we booked on Airbnb. You will see the inside of it in the below "Digital Nomads in Marrakech" video. But it is too far out for women traveling alone. For that, I recommend staying within 3-4 blocks of Jemaa El-Fna (inside the purple circle above). Most people you encounter will be lovely, but because of just a few, where we stayed is just too far to walk at night. (If you are new to Airbnb, use this code http://www.airbnb.com/c/dbell50 for a big discount).
If you are enjoying this, could you please like it, share it, comment below, or subscribe? That will rank us higher in search engines so we can keep making these travel guides.
Marrakech Nightlife
I am not recommending the nightlife, as such, in Marrakech for newbies to international travel. But I wanted to see the legendary Jemaa El-Fna Square, both day and night, so we did. I considered it more of a cultural experience than a nightlife tour, per se. There are snake charmers, storytellers, fortune tellers, Artists, souvenirs, juice sellers, and pickpockets. Leave everything valuable locked back in your room.
If you drink alcohol, consider having a few drinks inside your room before going out into Jemaa El-Fna Square. That way you avoid paying the 80 to 160 Dm per drink ($8-$16 USD per drink) typically charged in bars. You can find beer, wine, and alcohol in the basement of this grocery store: Carrefour Market.
Digital Nomads in Marrakech: Best Food, Experiences
We were in Marrakech for 7 nights and then headed to the Sahara desert. In general, we thought the food was overpriced in the tourist areas of Marrakech. We learned this because we ate both in tourist areas and a little off the beaten path.
Le Salama: We heard this is a great rooftop place to have to have Moroccan food and drinks while you watch the sunset over the city. We enjoyed a nice evening and the bill was much more reasonable than we expected for such a nice place with a sunset view. This is the place in the above Digital Nomads in Marrakech video with all the plants and candles. It is just about 50 meters off Jemaa El-Fna Square, so you can enjoy the nightlife in the square after having dinner here.
No-Name-Restaurant: There is a restaurant at street level below this Nomad Travel Agency. They had vegetarian for me and fish/chicken for Qiang Hui. It has no name that we could see but it was full of locals at lunch so we gave it a try. It was very good so we kept going back. Qiang had fish and I had lentils, and we shared a Tangiers vegetable dish. Including mint tea, it was 60 Dm ($6 USD) for both of us. We went back 4 times.
We tried a few other restaurants, but nothing worth mentioning. I do not recommend the pop-up restaurants (at night) in Jemaa El Fna Square. The experience can be interesting but the food isn't much to talk about.
Juices: We were drinking fresh squeezed orange juice for 4 Dm (40 cents USD) per glass every day. You can find it at the juice vendors in Jemaa El Fna Square, day and night.
Vagabond Buddha's Kitchen: We cooked one meal per day at home, in our Airbnb kitchen. Breakfast was included, we ate lunch in restaurants, and made dinner at home. We bought our groceries at the Carrefour Market. We are eating for about $2 per person, per meal, here at home.
Grab a free copy of my Ebook. You will learn how to save and earn money living internationally.
Marrakech Facts and History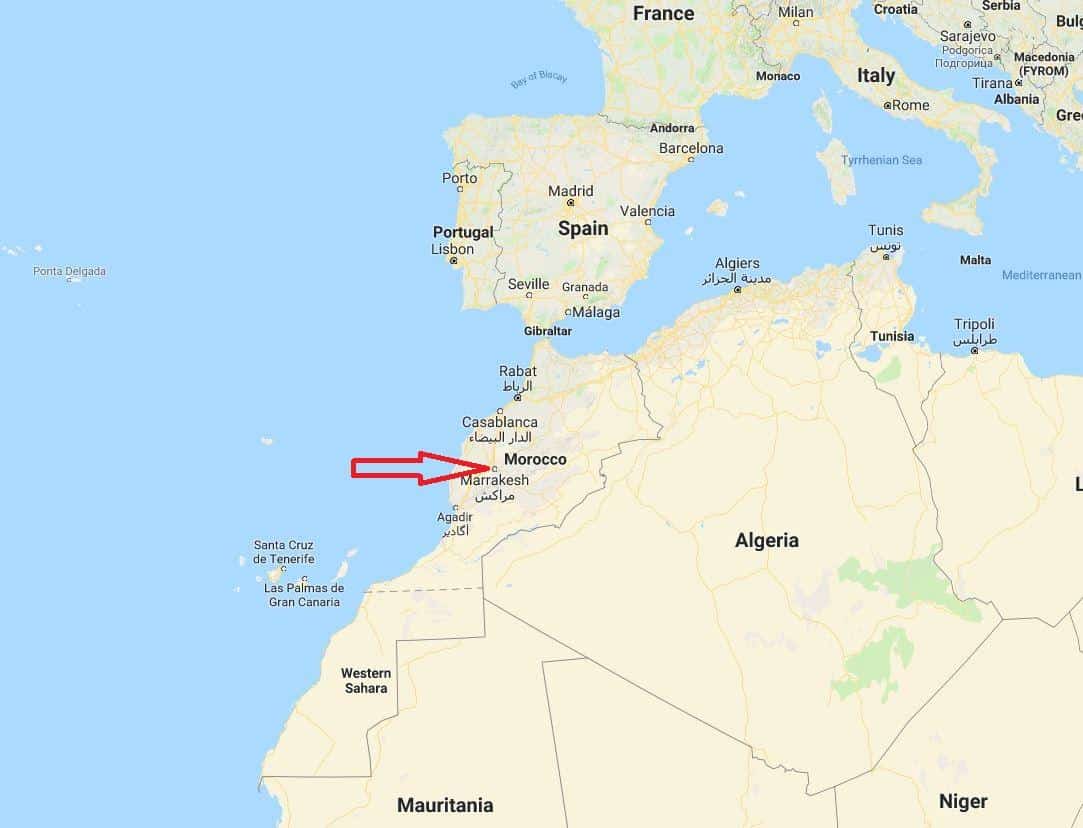 Here is the Google Map of Marrakech. Here are some interesting facts about Marrakech from Wikipedia. I am in Marrakech now.
Marrakech, at about one million people, is the fourth largest city in Morocco after Casablanca, Fez, and Tangiers.
Marrakech was formally founded in 1062 AD, but has seen continuous human habitation by Berber farmers since Neolithic times.
Marrakech is one of the great citadels of the Muslim world. The red walls of the city were built in the 12th century by Ali ibn Yusuf. Ali also expanded parts of the Iberian Peninsula in what is now called Spain. Ali eventually lost them to Alfonso I of Portugal. This allowed Alfonso to proclaim himself the first King of Portugal in the 12th century.
Marrakech suffered a period of decline 13th century when Fez became the capital, but Marrakech was reinstated as the capital in the 16th century. A that time, wealthy sultans such as Abu Abdallah al-Qaim and Ahmad al-Mansur, restored many ruined monuments and built sumptuous palaces such as the El Badi Palace (1578).
The El Badi Palace (1578) is a replica of the Alhambra Palace in Spain.
Jemaa el-Fna is a square and market in old town Marrakech. It is the busiest square in all of Africa for both locals and tourists. Historically the square was used for public beheadings by Sultans who ruled by fear. The square was designated by UNESCO as one of the Masterpieces of the Oral and Intangible Heritage of Humanity. This designates a location with an active concentration of traditional activities by storytellers, musicians and performers. The Jemaa el-Fna square is in the middle of the Moroccan medina, which is designated by UNESCO as a World Heritage site. A medina is an old fortified city packed with vendors and their stalls.
Marrakech was the home of the seven Sufi patron saints. Islamic pilgrims visit the burial tombs of the saints in a specific order. Until 1867, although Eastern European Jews were allowed to enter Marrakech, European Christians were not allowed to enter the city without special permission from the Sultan.
Marrakech was a French protectorate from 1912 until the Moroccan monarchy was reestablished in 1956. Marrakech is particularly popular with the French, and numerous French celebrities own property in the city.
After Morocco gained independence from France in 1956, Marrakech soon became a hippie mecca in the 1960s and 70s. Yves Saint Laurent, the Beatles, the Rolling Stones and Jean-Paul Getty all spent significant time in the city, some even establishing second residences here. The World Trade Organization (WTO) was established by International treaty here in 1994, the Marrakech Agreement.
The read walls surrounding the Medina are 12 miles long and were built in the 12th century as stated above. They are up to 12 feet high (5.8 meters) and there are 20 gates.
I started living internationally over 11 years ago. If you would like to learn how to make money online, or how to live internationally possibly with less money than you spend at home, please subscribe to Vagabond Buddha, our YouTube Channel or get a free copy of my Ebook.
If you are interested in the subject of present moment awareness, my new videos on that subject are now being posted at my new Present with Vagabond Buddha Youtube Channel. The older videos are on the Vagabond Buddha Channel's Presence Playlist.
I am not offering you any of the above prices.  These are just my notes and estimates from the time of my visit and this post.  Your costs will likely be drastically different if significant inflation or deflation occurs or the market changes after this post.  I will not update these numbers until I am on the ground again here, if ever.
This is Dan of Vagabond Buddha. Thank you for stopping by. The world is your home. What time will you be home for dinner?