In this Northern Peru Trujillo Cost of Living Things to Do Guide, I share the following:
Northern Peru Trujillo Cost of Living Things to Do, Best Tours, Free Walking Tour, Accommodations, Restaurants, Nightlife, Livability, How to get here, and Final thoughts.
Cost of Living: Northern Peru Trujillo
This is Dan from Vagabond Buddha. I am on the hunt for the perfect place to spend a few years in one spot. You see I have been exploring the world since 2007. I do not maintain an empty bed anywhere as I explore. For most of that time, I have just kept moving forward. I have either lived in or visited a total of 64 countries in my life. I am a digital nomad. That means I just need an Internet connection to do my work. Since many places in the world have the Internet now I roam the planet freely.
I call it an untethered life. I try to visit my family every couple of years and I need Internet, but otherwise, I am truly free. I seriously love discovering a new country or city that I haven't been to before. When I am in a new place, I see everything through the eyes of a child. But usually, after a few weeks or months, I head somewhere new. I'll hear about another place near or far that I want to see, and I will head in that direction.
People always ask me about the world. What is your favorite place? Did you like Venice? Is Bali really as beautiful as the pictures? So I gather information about everywhere I go and share it here on Vagabond Buddha. I have another travel blog where I shared the first nine years of travel. Ask me for the link if you like.
Some people ask me about the cost of living around the world because they want to retire internationally on less money. Others ask about things to do or places to stay, so I share that also. Others are newer digital nomads and want to keep expenses down while they build their Internet income.
Below is the estimated cost of living one month in Trujillo, Peru as a temporary visitor. Some of the estimates could be reduced as a long-term visitor, whether digital nomad or Expat. You can rent a 1 bedroom apartment here ranging from s/400 to s/2000 depending on how modern and how close to town, but you will pay more as a temporary visitor, as follows:
| | | | | |
| --- | --- | --- | --- | --- |
| Monthly Cost of Living, Trujillo, Peru ($USD) | | | | |
| Expense | Cost | Low | Medium | High |
| Airbnb (1 Bedroom Apt) | $23.00 | 0 | 14 | 30 |
| Moderate Hotel | $18.00 | 0 | 12 | 0 |
| Backpacker Hostel | $15.00 | 30 | 3 | 0 |
| High-End Restaurant | $10.00 | 1 | 4 | 8 |
| Neighborhood Restaurant | $3.00 | 30 | 44 | 48 |
| Food Cart | $1.00 | 30 | 12 | 4 |
| Subway/Train/Metro | $0.00 | 20 | 26 | 8 |
| Bus | $0.00 | 20 | 10 | 0 |
| Taxi/Uber | $1.50 | 6 | 10 | 20 |
| Total | Per Month | $589.00 | $782.00 | $948.00 |
| Total | Per Day | $19.63 | $26.07 | $31.60 |
For more information about how the above "Cost of Living Monthly Multiplier" works, please visit the bottom of this page at Vagabond Buddha. The above estimates do not include alcohol, excursions, or extras, and it is for one person. Some of the expenses remain unchanged when you add another person. I am not guaranteeing anything. These are just my observations from my personal travel.
Things to Do: Trujillo Peru
It is not all about saving money. You also need to have fun when you get somewhere new. That starts for me by getting to know a new place. I like learning about and sharing the history of a new place by creating a Free Walking Tour for you.
Main Square (Plaza De Armas): The structure and dimensions of the Plaza de Armas were designed in 1534. In 1820, Plaza de Armas was the scene of the proclamation of Independence of Trujillo from Spain. There is a monument to freedom in the center of the plaza which was completed in 1929. The base of the monument represents art, science, trade, and health. There are three classical statues in the middle. The bent statue symbolizes oppression. The statue pushing forward, with arms back, represents the desire for freedom. The statue with raised fists represents the willingness to fight for liberation. For me the monument is odd. It uses classical era Greek and Roman symbolism to represent the freedom of an oppressed indigenous culture in the Americas. It seems that Inca, Moche, and Chimu symbolism representing the indigenous people winning their freedom and culture back from colonists would have been more appropriate. However, it is not surprising, since the descendants of classical European culture were still in complete control of Peru at the time the monument was commissioned.
Cathedral Basilica of Saint Mary: This Cathedral of Trujillo is on Plaza de Armas and was built in 1647. The altar is Baroque style and many paintings are from the viceroyalty during the Spanish colonial period.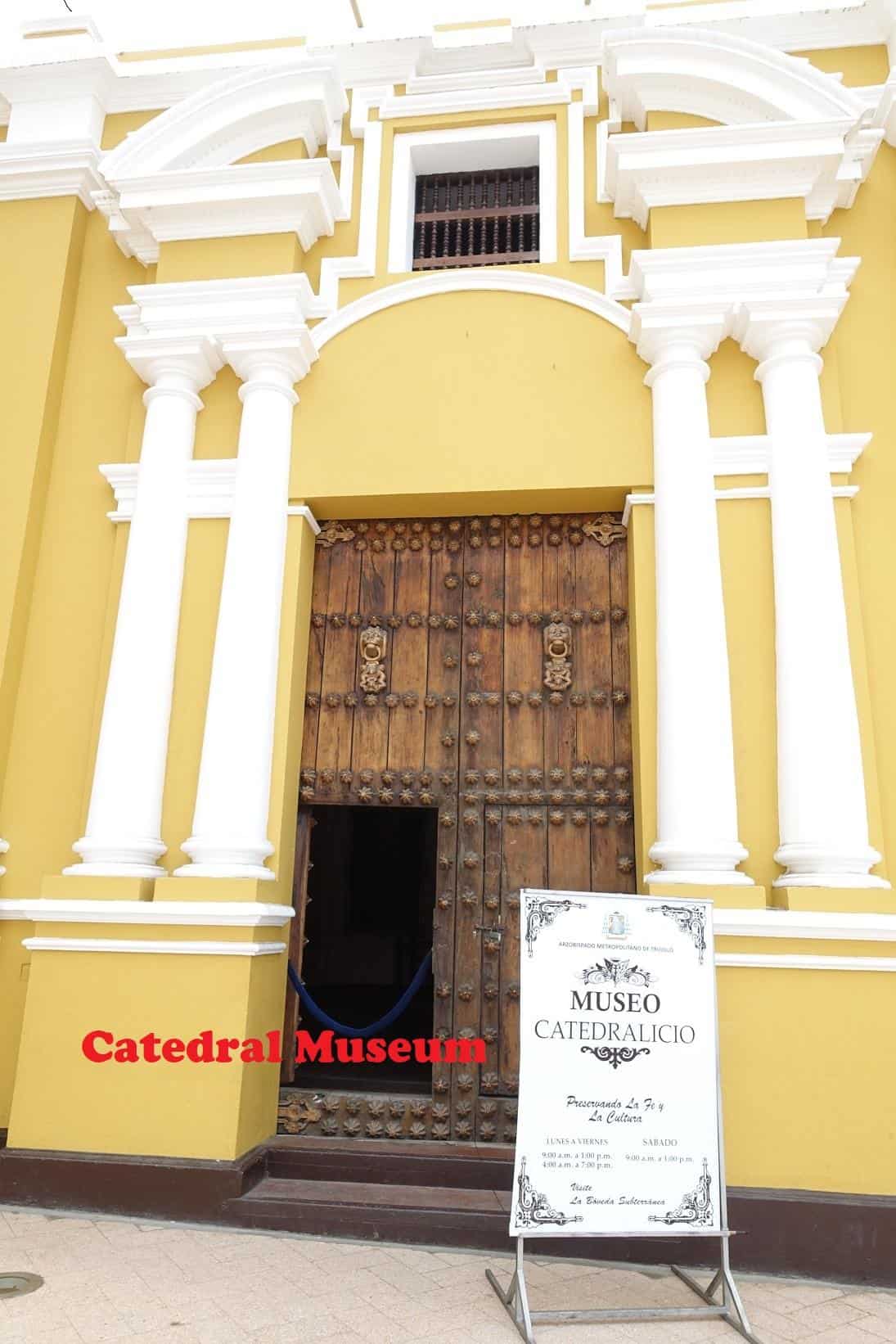 Cathedral Museum: This museum run by the archbishop of Trujillo displays the religious history of the city from colonial times until modern times. You must visit the surrounding indigenous temples (Huacas) to learn about indigenous culture and religion.
Urquiaga Mansion: Simon Bolivar stayed here in this Mansion during the revolution. Simon is considered the liberator of much of South America from Spain. The desk of Bolivar is on display along with furnishings present at the time of Peru's independence (the 1820s).
Casa Orbegoso: This was the home of President Orbegoso, the leader of the Independence movement. It was constructed in the late 1700s in the vice-royalty style. On display are the arts and style of the former president.
Church of San Augustin: Construction was begun in the 1600 hundreds. The altar is Baroque and it includes many murals of the apostles and a pulpit of gilded wood.
Emancipation House (Casa de la Emancipación): The independence of Trujillo from Spain was conceived here in 1820. The First Constitutional Congress was also hosted here. The house has been well restored and is now home to many art exhibits and Banco Continental. This is a lovely stop for both art and history. Make sure to see the following architectural model when inside the Emancipation House.
Architectural Model: When inside the Emancipation House, make sure to check out the architectural model of what is now Old Town Trujillo. You will see that the colonists lived inside a walled community. The King of Spain had told the colonists to "get gold at all hazards." This, and the Roman Catholic Church calling indigenous people animals without souls led to the brutal events of looting and killing the indigenous people under a ruse bearing Christ's name. When you view the wall surrounding the colonists, you may think that it was built to protect them from rebellious indigenous people. But the indigenous people were mostly enslaved by that time. In fact, enslaved indigenous people were used by the colonists under threat of death to build the wall. The wall was actually built to protect the colonists from pirates sponsored by England. Pirates routinely attacked the colony to steal the gold pillaged by the colonists. You see, the colonists also used the enslaved indigenous people to loot empty temples once occupied by free indigenous people. The colonists needed the wall to protect looted gold from pirates while it was in transit back to Spain.
Iturregui Palace: This has been known for centuries in South America as one of the most beautiful and ornate examples of colonial period architecture, opulence, and wealth. Today it functions as a social club for Trujillo 'elites'. I was told that if your ancestors are indigenous, you may not be able to join, regardless of how successful or connected you are.
This completes my free Old Town Trujillo walking tour. Just click the below Google Maps walking tour to get started. The next few destinations are not on the walking tour, because they are my suggested guided day tours you should not miss.
Best Tours: Trujillo, Peru
Chan-Chan: Chan-Chan was the largest city in South America before the European invasion of South Amerca. It was also the capital of the Chimor empire which lasted about 500 years until conquered by the Incas in 1470. It is located just outside Trujillo in Northern Peru. Chan-Chan translates into Sun-Sun which makes sense because a year-round sun is cooled by southern breezes in Chan-Chan. There are 9 Chan-Chan palaces built right next to each other. Only one is on public display. The palaces were completely self-contained palaces with internal water supplies (springs). Each palace was enclosed by 9-meter tall walls, that were 6 meters at the base. Parts of each palace was open to Chimu citizens to pay their taxes. Other parts were open only to connected elites. Other areas were available only to the royal families and invited guests. In the palace we toured, Spain had looted all the gold, so we couldn't see those treasures. But modern archeologists found 300 concubines buried around the looted King's Tomb.
Huaca Esmeralda: Huaca Esmeralda is an archaeological site believed to have been constructed by the Chimu culture. One hypothesis is that it was the Palace of the Chimu Lord Mansiche. Much of the history was lost due to assimilation into the Inca culture in about 1500 and then by looting by Spain about 50 years later.


Huacas De Sol Y La Luna: The sun and moon temples were built by the Moche culture during the period 100 to 900 AD. For example, the Moon Temple is actually five temples, one built over the top of the previous. When one temple dies, a new temple was built right over the top of it using adobe bricks. A temple was believed dead when human sacrifice no longer produced rain reliably. Archeologists have estimated that the Sun structure is composed of about 140 million adobe bricks. It is the largest pre-European adobe structure in the Americas. The bricks are marked by the communities that made them. There are 100 different marks found on the adobe bricks. The temples were built in large steps, with each step up the pyramid representing a higher Moche religious symbol. The lowest level symbols are pictures of Moche warriors walking. A victorious soldier walking with a rope around the neck pulling his defeated warrior. The defeated warriors are naked and being led to be sacrificed. Spain destroyed half of the Sun Temple by redirecting a river to erode it.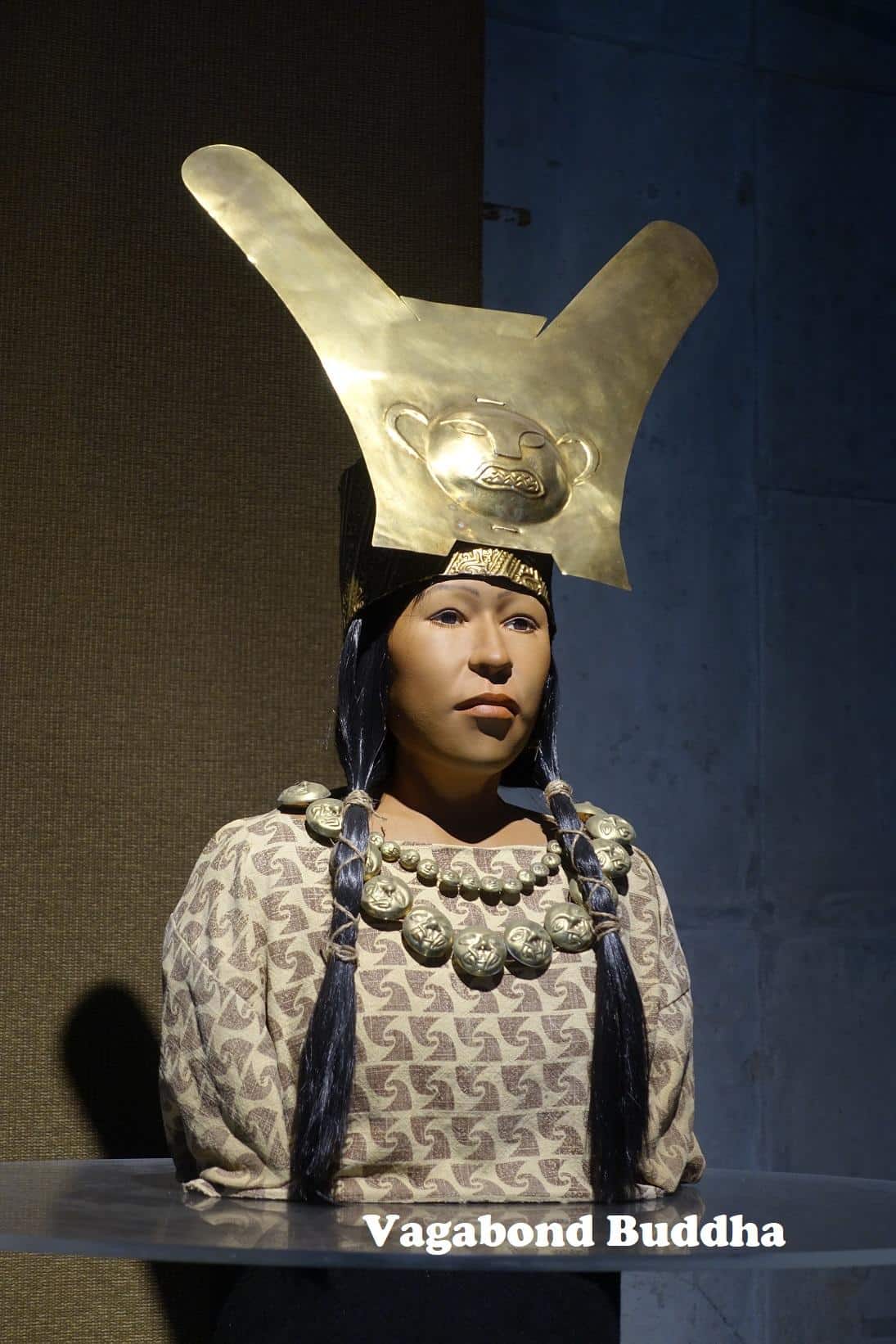 Lady of Cao: The Lady of Cao was discovered in 2006 by a team of archaeologists. She was heavily tattooed and wrapped in many layers of cloth surrounded by ceremonial symbols, weapons, and jewelry. She was in her twenties when she died. She may have died pregnant during childbirth. She died in about 450 AD. Until her tomb's discovery, it was believed that only Moche men held these high ranks.
Huaca Cao Viejo: Huaca Cao Viejo (a.k.a Huaca Blanca) was built by the Moche during the six hundred year period ending 600AD. Huaca Cao Viejo is famous for its murals and for the discovery of Lady of Cao. On this site is also the Prieta Huaca which had artifacts which were carbon dated at 3000 BC.
If you would like to learn how to make money online, or how to live internationally possibly with less money than you spend at home, get a free copy of my Ebook.
I share my travels and include affiliate links. If you buy something using an affiliate link, you pay nothing extra, but I make a small commission.
On the day I wrote this, neither GetYourGuide.com nor Viator.com had tours to the above sites that had enough social proof for me to recommend them. But check again at the time you read this. If you find a tour with at least 5 positive reviews in the last 60 days, you should be okay. However, you should be aware that you can book tours worldwide using these links: GetYourGuide.com, Viator.com.
For now, I recommend just going to any of the tour sellers with tour signs surrounding Plaza De Armas to book your tours. You will pay about s/50 to s/60 for a full day tour and around s/35 for a half day tour. We used Marbell Travel, WhatsApp 958798587. They wanted to charge us extra for English speakers, but we pushed back and got the local rate by offering to book multiple tours at once.
Google Maps Walking Tour: Trujillo, Peru
Here is my Trujillo Old Town Walking Tour (link):
Make sure to buy a Peruvian SIM card (Claro or MoviStar) when arriving in Peru and load it with Internet data, so you can take the above walking tour without paying International roaming rates.
Here is my list of the ==>best live-cheap in paradise locations<== in the world.
Accommodations in Trujillo, Peru
We travel all year. So hotel prices and eating at restaurants for every meal adds up quickly. So we don't do that. We look for a healthier and cheaper way. The first two are for more traditional vacationers. The next two are for digital nomads and price-conscious travelers.
Hotel Libertador Trujillo: This is a luxurious and historical hotel yet surprisingly affordable. This is for those that want to live it up because they only have a few weeks per year. This is on Plaza de Armas.
Gran Bolivar Hotel: The is a really nice place in a great location for at a much lower rate. In the Old Town Trujillo area just 2 blocks from Plaza de Armas.
ATMA Hostel & Yoga: Normally I like to recommend a Hostel near the Old Town Area when I am in South America. But the prices for hostels in old town Trujillo are as much or more than a nice hotel. So if you like the hostel lifestyle and prices, I am recommending that you stay in a small beach town just outside of Trujillo. There you will find hostels that will be closer to your expectations, like this ATMA Hostel & Yoga, and others. If you are a surfer, this is definitely where you want to stay. This is an 11km taxi ride from Trujillo central.
Airbnb: We stayed here for 5 nights at s/69 ($22) per night. It was a beautiful 3 bedroom 2 bath furnished condo with living room, dining area, and functional kitchen. It has a balcony and is on the third floor and had a security guard and a washing machine inside the apartment. It included utilities, hot water (good pressure), and the Internet. But the Internet was weak, so it only supported one digital nomad at a time. Luckily we had purchased a 4G Claro Internet Data card for my phone when we arrived in Peru. So we could put me on the Wifi and Qiang Hui on our hot-spot. It is s/5 ($1.66) taxi ride (one way) from this condo to Trujuiilo Old Town. (If you are new to Airbnb, use this code www.airbnb.com/c/dbell50 for a discount).
Price Check: Once you have selected where you want to stay, then use HotelsCombined.com to find the agency offering the lowest booking price for that property.
Restaurants: Trujillo, Peru
Restaurant Vegetariano Mesa Verde: I love to cook. Mainly because I am vegetarian and love high-quality food, but when I find someone who knows how to make fresh healthy vegetarian meals that are priced right, I keep going back. This is just 2 blocks from the Airbnb condo where we stayed. We got 3-course delicious lunch specials here for s/8 ($2.75) per person. No other restaurants that we visited are worth repeating. We were so busy seeing the temples surrounding Trujillo that we didn't get to explore the food. Please let me know if you find one so I can add it here, vegetarian or otherwise.
Nightlife: Trujillo, Peru
We didn't look for or find a fun walkable nightlife area while we were in Trujillo. Again, please let me know if you find one that is fun and feels safe at night.
Livability Factors: Trujillo, Peru
Walkability: Old Town Trujillo is very walkable. Most of the interesting colonial era things to see and do are walkable. We got in minivans to do a few day tours and we took a taxi to get to Old Town Trujillo from our condo, but we walked otherwise. Most taxis around town are s/5 to s/8.
Internet: We read online that the Internet can be decent here depending on where you stay. We only stayed in one place and never tried Wifi anywhere else while we were there. Our Airbnb Internet was too weak. But we had a Claro 4G Sim data card to supplement, so it was survivable. It was about s/30 for the SIM card and 3G of data.
Food: The food prices in the Mercado Central can be half of what you would pay in the USA once you are aware of local prices. Some vendors will not give you the lowest price without bargaining especially if you look like a foreigner or don't speak any Spanish. But many vendors have prices listed so that might be your best bet. The fruits and vegetables seemed to be fresher in Mercado Central than at the large supermarket (Tottus) near our condo. For example, there were no ripe avocados or tomatoes in the large supermarket. Additionally, the prices in the large supermarkets are only about 20% cheaper than the USA.
Weather: The temperature in Trujillo is about the same all year. Highs average from 21C in October to 26C in February (70F to 79F) and lows average 15C in October to 19C in February (59F to 66F). It does not rain much no matter the time of year. There always seems to be a breeze blowing in from the Pacific.
Desire to Move Here: Medium. I seem to continue to enjoy the Andes more than the beaches in South America. I would pick Trujillo as my favorite beach town in Northern Peru, over the other beach towns Mancora or Chiclayo, but I would take the mountain town of Cajamarca before any of the beach towns. But Cuenca Ecuador is still my favorite over Cajamarca Peru.
How to get to Trujillo, Peru
Bus: From Cajamarca, Peru: If you are traveling south through Northern Peru, like us, you can catch a nice bus from Cajamarca, Peru, at the "Turismo Dias" bus company departure (Google Map), to their Trujillo, Peru company destination (Google Maps). This is a 7-hour bus ride and costs about s/40. (Google Currency Converter). The taxi to your accommodations most anywhere in Trujillo is about s/6.
Bus from Lima, Peru: You can catch a super nice bus from the Lima, Peru, Bus Terminal (Google Map), to Trujillo, Peru. For bus times and prices in English, right click on your Chrome browser and select "Translate into English" at the Linea website. It takes about 10 hours one way and costs about s/80.
Flights: On the day we searched there were round-trip flights on Skyscanner from Lima, Peru to Trujillo, Peru for $169 USD per person. We consistently get the lowest price on flights using Skyscanner, so if you need to fly into Lima to get to Trujillo, check your best price on Skyscanner.
Final Thoughts on Trujillo, Peru
There is so much pre-Inca history within a short distance of Trujillo, that you may just find yourself remembering Trujillo in terms of Chan Chan, Sun and Moon Temples, and Lady Of Cao. But Old Town Trujillo is also a good walking area, with some streets not even allowing cars. Plus, there are modern shopping centers and condos just s/6 taxi ride from all over town. Plus there is a beach community only 11KM from Trujillo with some pretty decent waves.
The problem is, we were trying to get down to Lima quickly to drop off a computer. If we weren't in such a hurry, I would have like to visit Old Town Trujillo at night to see if it was a dead city or alive with people and things to do. If you find out, please leave a comment below so I can alter my message.
The world is your home. What time will you be home for dinner?
If you would like to start living internationally or learn how to make money online whether you can travel or not, please grab a free copy of my book.
If you have enjoyed this post please leave a comment below and subscribe!
I am not offering you these prices.  These are just my notes and estimates from the time of my visit and this post.  Your costs will likely be drastically different if significant inflation or deflation occurs or the market changes after this post.  I will not update these numbers until I am on the ground again here, if ever.
Here is my list of the ==>best live-cheap in paradise locations<== in the world.
VagabondBuddha.com, Copyrights, (c) 2018