Perhentian Islands, Malaysia: As your boat approaches these gorgeous islands surrounded by turquoise waters, white sand beaches, and coral reefs, you will be amazed at their natural beauty.  I stayed in the Coral Bay area of the small island where there are no roads, no airports, and no cars.  There is only one dock and all other boats arrive pulling up on the sand.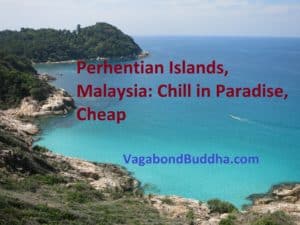 The Perhentian Islands are about 10 miles off the coast of northeastern Malaysia in the state of Terengganu, about 40 miles (64 km) south of the Malaysian border with Thailand.
The two main islands are Pulau Perhentian Besar (the big island) and Pulau Perhentian Kecil (the small island).  The small island has cheaper accommodations and attracts younger backpackers types while the big island is more expensive and seems to attract older travelers and families.
I stayed at the small island on the Coral Bay side.  Coral Bay is the first stop for the ferry upon arrival.  I got off the ferry on Coral Bay because I heard the Long Beach side of the small island was too crazy at night.  That was true.  
If you are a partier, then you can party on the Long Beach side and walk across the island in less than 10 minutes and sleep in peace and quiet.  If you are not a partier then you will definitely want to be on the Coral Bay side.  
From this difference, don't get the idea that the Perhentians are a crazy party place like Phuket or Phi Phi, Thailand.  It is not.  It is much more laid back with no signs of sex tourism or drug culture like you will find in Thailand.  This is a place to chill.    
THINGS TO DO in Perhentian Islands:
Scuba Diving: There are a number of dive shops in the islands and you will pay about $20 per dive including equipment.  I only snorkeled on this trip and I can tell you that the fish diversity is amazing and the coral reefs are beautiful.
Hiking:  There are several trails you can take on the small island.  My favorite is a trail that goes from the Long Beach side over the highest mountain next to the satellite station and down the stairs of Kincir Angin Pulau Perhentian to the Turquoise waters lined with sea cliffs.  Just ask any of the scuba shops on the long beachside to point out the trailhead to you..  
Dance Night Away;  Just walk down Long Beach any evening and look for the food and drink specials and listen for the music that makes you move.  If the bar drinks are too pricey for your taste, just stop in any of the small markets along the beach and buy a few cold beers for $3.00.  
Snorkeling:  You can rent equipment for a few dollars a day and snorkel off the beach or go on a boat tour to multiple snorkeling spots for about $8-12 per day.  
Kayaking:  You can rent a single or two person  Kayak for about $8 for half day.  
Island Hopping:  You can island hop for about $10 per hop.  
Grab a ==>free copy of my Ebook<== if you would like to learn my secrets of how to live-cheap all over the world while you make money on your laptop.
TRAVEL:  The nearest airport to the Perhentian Islands is Kota Bharu (KBR). There are flights from Kuala Lumpur International Airport (KLIA) to Kota Bharu (KBR), starting at about $30 round trip.  The one hours taxi from the Kota Bharu airport to Kuala Besut jetty where you will catch the ferry will cost about $25-35.00.  The Speed Boat from the Kuala Besut jetty to the islands costs about $20 and takes about 45 minutes.  The Speed Boat makes a few stops at the small island and then on to the big island.  Because the Perhentian Islands are cheap and relatively easy to get to, they make a great long weekend trip from Kuala Lumpur.
FOOD:  The small island is small enough that you can eat just about everywhere on the island within a week if you are staying that long.  Sit down western meals run about $10-12 per entree, while more typical Malaysian restaurants are about $5 per meal.  There really are not many low-end restaurants or food carts like you will see on the mainland.  
CONNECTIVITY:  If you are a digital nomad that requires reliable connectivity, you will be pulling your hair out on the Perhentian Islands.  Both wireless Internet bandwidth and cell phone tethering are not strong or reliable.  You may get a few good hours per day if you are lucky.  If you just need email without video or multimedia support you won't be quite as frustrated.  I tried one audio-only Skype call and was disappointed.  So, buy a SIM card and just make analog calls and schedule any heavy connectivity events before or after you board the ferry to the Perhentians.
ACCOMMODATIONS: While on the small island I stayed in the bungalows at Ewan's Cafe and Restaurant for $28 per night.  Each bungalow has its own bathroom, front patio, and mosquito net and queen size bed.  I did not book in advance.  I just showed up and walked around until I found what I wanted for what I wanted to spend.  AC rooms are available from about $50 per night all the way up to about $200 per night.  There are hostel dorm rooms starting for about $12 per night.  
WEATHER:  Malaysia is in the equatorial region meaning it has a tropical rainforest climate.  The temperature in the Perhentian Islands ranges from about 26-30C, which is about 78 to 88F.    
Due to the monsoon season, visiting the Perhentians is limited to the period starting in March and ending in October.  Because of rough weather in the offseason, it is dangerous to swim and take the (very small) ferry to the Perhentian Islands.  If you go in the low season, even if you can find a place to stay, many of the restaurants and tours will not be running.  If you insist on going in the offseason, try staying in the small village behind the Masjid Besar Pulau Perhentian on the small island, where food will be available year round.  
EXERCISE:  I ran on the trails and on the high sands of the beach for exercise.  I also used resistance rubber bands for muscle training.  
Here is my list of the ==>best live-cheap in paradise locations<== in the world.
VAGABOND BUDDHA on being in the world:  Everything in the universe such as light, sound, gas, liquid, energy, and solid matter has a vibrational aspect to it if you look carefully.  Consciousness also has a vibrational aspect to it.  Consciousness is energy.  Life will feel better for you if you can remain in the present moment, or second best if you perceive your environment as positive or neutral.  This can be accomplished by focusing on being grateful.  Love the world you live in and it will love you back.   Cultivate gratefulness for your life.  Your consciousness will grow roses tomorrow if you can convince yourself that you are surrounded by roses today.  This conscious energy will make tomorrow beautiful.  If you tune your antenna to positive radio for long enough, you will make all your dreams come true even if grace never comes to you.  But grace will come to you.  So grow roses in your conscious garden so you have a beautiful place to welcome grace.     
CONCLUSION: Thank you for reading this post about the Perhentian Islands, Malaysia.  Please leave a comment below, subscribe to our youtube channel, like this post on Facebook or share this video with your friends.  Also, please visit Vagabondbuddha.com if you would like to learn how to wander the planet being healthy wealthy and wise.  This is Dan from VagabondBuddha.com.
Here are the estimated costs of living in the Perhentian Islands,  Malaysia.
Cost of Living, Perhentian Islands, Malaysia: Monthly Multiplier
Expense

Cost

Low
Medium
High

Airbnb (1 Bedroom Apt)

$30.00

0

14

30

Moderate Hotel

$28.00

0

12

0

Backpacker Hostel

$12.00

30

4

0

High-End Restaurant

$12.00

1

4

8

Neighborhood Restaurant

$6.00

30

44

48

Food Cart

$4.00

30

12

4

Subway/Train/Metro

$0.00

20

26

8

Bus

$0.00

20

10

0

Taxi

$0.00

6

10

20

Total
Per Month
$672.00
$1,164.00
$1,300.00
Total
Per Day
$22.40
$38.80
$43.33
I am not offering you any of the above prices.  These are just my notes and estimates from the time of my visit and this post.  Your costs will likely be drastically different if significant inflation or deflation occurs or the market changes after this post.  I will not update these numbers until I am on the ground again here, if ever.
Vagabondbuddha.com, Copyrights 2016.