This is the Puerto Vallarta Waterfront Bronze Sculpture Walking Tour, Video, and Google map.
These links are everything we have on Puerta Vallarta!
Retire Early $981 Per Month in Puerto Vallarta Mexico
Puerto Vallarta Mexico Low Cost of Living
Puerto Vallarta Mexico Retire Cheap in Paradise
Puerto Vallarta Romantic Zone Walking Tour
Puerto Vallarta Bar Hopping Tour
Cheap Puerto Vallarta Accommodations Restaurants and Transportation
Best Travel or Retire Cheap to Paradise Locations in the World
There is a series of mostly bronze sculptures that grace your walk along Malecon Puerto Vallarta. I have created a video with a short description of each in the following order. These appear on the walk in the following order starting in the north and walking south along Malecon Puerto Vallarta.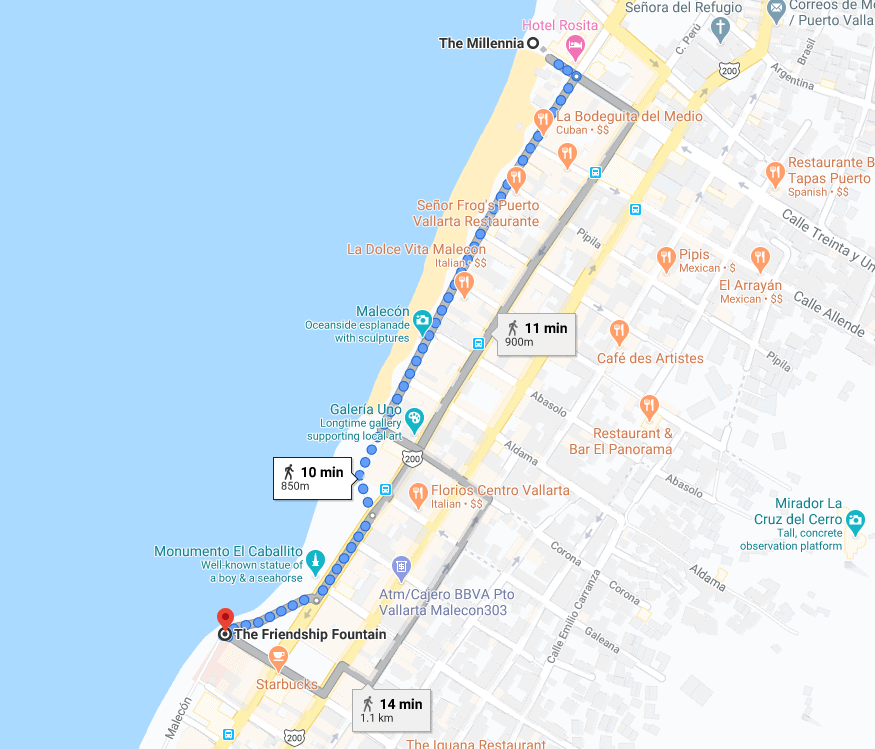 These are my personal interpretations after viewing these works. I have not asked the artists what they think their piece means. If you enjoyed the above video, then click ==>Google Map<== to get started on the below walking tour.
The Millennia Statue: The Millennia is by Mathis Lidice, 2001. The base of the bronze sculpture is the ocean from which life evolved. As you move up the DNA spiral, the symbolism evokes an evolution in consciousness from control by violence to liberated principles of intellectualism and science. Near the top of the DNA spiral, the symbolism represents the possibility that feminine energy has to transform human civilization with love. The woman at the top is being pulled into the future by a dove.
Origin and Destination is by Pedro Tello, 2011. The organic airplane represents man's observational inferences drawn from nature to promote the technological arts. A bird with a whale tail represents how humans observed liquid and gas dynamics to provide buoyancy and control during flight. The broken boat represents unintended consequences of technology in our environment, whether polluted seas, air, or water or displacement of all of the other living things. The height of the obelisk represents man's elevation of religion beyond common sense or reason relative to other human endeavor. The music symbol represents the purest forms of human expression where self expresssion is parallel with consciousness. The reptile over grated drainage represents how humans impede natural environment flow without regard to other living creatures.
Nostalgia: Nostalgia by Ramiz Barquet (1984). This piece symbolises how a man's love is realized much later in life than the woman's love. She looks upon the horizon when he finally awakens. She is tired now that his eyes are finally open.
El Sutil Comepiedras (The Subtle Rock Eater), by Jonás Gutiérrez. This piece symbolizes the immaturity of the modern economic system. This man focuses on accomplishing things which add no enduring value to himself or to those he loves. He is eating rocks to get 'ahead' in life when he could focus and improve the lives of everyone around him.
If you are enjoying this, could you please like it, share on social media, comment below, or subscribe? Such a simple thing will rank us higher in search engines.
El Unicornio de la Buena Fortuna (The Fortunate Unicorn), by Aníbal Riebeling (2011). This piece symbolizes the awakening Buddha experienced. Buddha saw that his true nature was consciousness itself. His mind had formed a conceptualized view of self that wasn't his true identity. The synthetic shell on the outside of the true nature of the unicorn represents the unicorns conceptualized view of self. A living awareness of a conceptualized self that is believed to exist was all the Buddha needed to be free from suffering. If this artist didn't stumble into this symbol of enlightenment she may have access to the freedom from suffering.
Triton and Mermaid (1990) by Carlos Espino. This piece symbolizes human projection in relationships. The man knows not himself but lives in an idolized vision of self. He knows not the woman he loves, but projects an idolized version of her. No truth can be known while man and woman live in idolized projections. There is no love without truth, and there is no truth without awareness of self or the other.
The Roundabout of the Sea (1996) by Alejandro Colunga. These pieces have a whimsical nature to them that project a joy of life. They touch your funny bone which is fine and complete itself. There also seems to be a deep disconnection here. There is a not so subtle message here that the artist believes, consciously or unconsciously, that humans are chasing technology and that there is no meaning or purpose in modern times for people, animals, or the environment. Man is a cockroach of sorts.
Searching for Reason, by Sergio Bustamante: The parent seems unable to cope with an unknown future rapidly approaching. Their piece captures the universal fear parents have about their competence to lead into an unknown future accelerating into uncertainty. The children are embracing the future without fear. They know only the present and see no merit in their parents fear. They watch the accelerating chaos in amazement. There is no time to look back or embrace unbridled fear.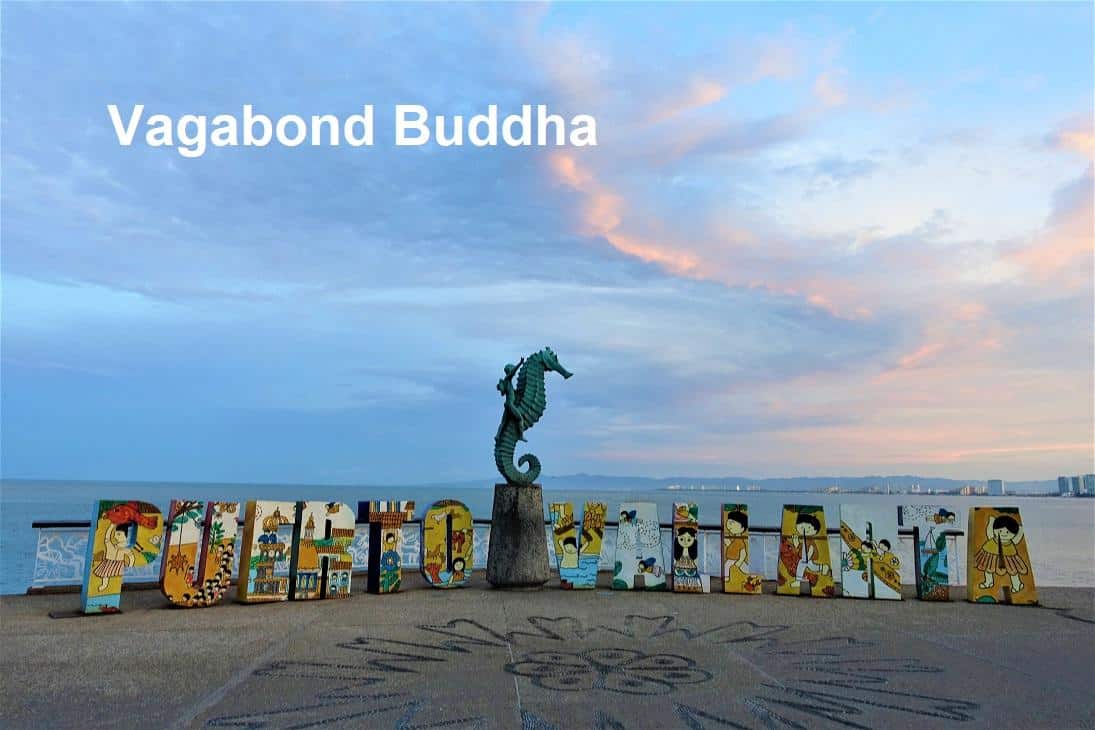 Caballito de Mar (Little Seahorse) by Rafael Zamarripa: This is just a boy riding a seahorse.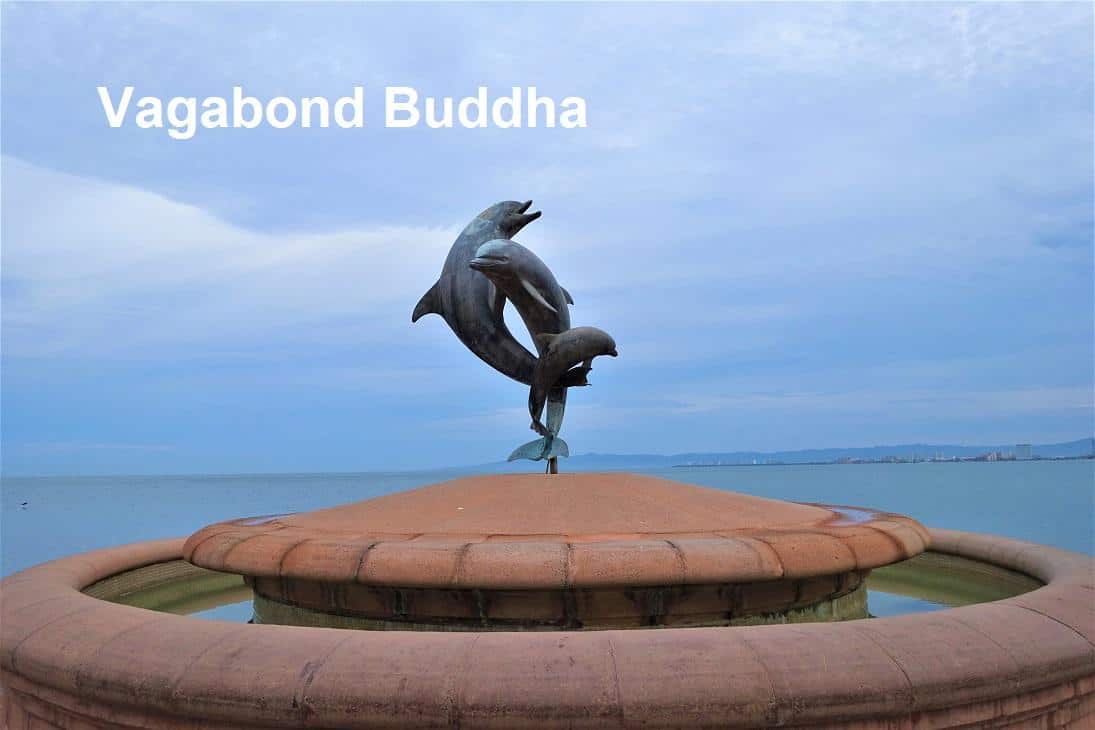 Dancing Dolphins Fountain by James Bottoms of Santa Barbara California (1987)
If you would like to learn how to live internationally possibly with less money than you spend at home, please subscribe to Vagabond Buddha or get a free copy of my Ebook.