In this report, I share how some of you may be able to Retire Early $1134 USD Month in Cabarete Dominican Republic.
First, I share my estimated cost of living for two people in Cabarete, Dominican Republic. Then I will cover my retirement livability factors, such as walkability, food, social considerations, things to do, weather, and real estate. If you live in Cabarete and would like to be a guest star on our channel and share your cost of living, please leave a comment below.
We will cover the other popular cities for ex-pat retirees over the next few weeks. Please subscribe so you won't miss those.
Today, we are talking about Cabarete. In a moment, I will discuss the cost of living in Cabarete, but first, I want to answer the question, who would love to live in Cabarete in the Dominican Republic. How is it different from the other cities we cover in the Dominican Republic?
Who would love to live in Cabarete?
If you would love to live in the Caribbean in a small town focused almost exclusively on tourism, then Cabarete might be for you.  Cabarete is more for the longer-term international tourists, snowbirds, and permanent retirees, as compared to Punta Cana, in the Dominican Republic.  Punta Cana is for people willing to pay more per diem such as shorter-term international tourists that prefer full-service expensive resorts and all-inclusive resorts during their temporary holiday.
Puerto Plata International Airport (POP) is just 11 miles west of Cabarete.  POP has direct international flights from the USA, Canada, Germany, Moscow, Belgium, Frankfurt, and Zurich.
Cabarete is one of the best kite and windsurfing locations in the entire world, and as such, has hosted many world kitesurfing competitions (WorldCup/Copa Mundial, Master of the Ocean, PKRA, and WKL). Nearby Playa Encuentro is one of the most consistent traditional surfing swells in the Caribbean.
Cabarete is one of the best places in the Dominican Republic where you can buy a western-style condo in a guarded complex with swimming pools and direct white-sand beach access. For that reason, it has many international tourists and residents calling it home in the winter months.
For a town this size, Cabarete has a decent assortment of western-style restaurants that are delicious but are more expensive than restaurants in nearby Sosua and Puerta Plata.  Thus, the cost of living in Cabarete seems to be higher than in nearby communities.
Because of the exclusivity and expense of Cabarete, the nightlife is generally not as crazy as in Sosua or Puerto Plata.  However, Cabarete does have a few fun places to sip cocktails in the evening along the beachfront restaurant row. Starting at Mojito Bar and heading west, the beachfront restaurant row seems to be where internationals and locals mingle and sip cocktails as the hours slip away with their feet in the sand.
So if you want to live in a smaller town in the Caribbean on a white sand beach with mostly other international citizens, and only a sprinkling of locals you can get to know, then Cabarete might be right for you.
Cost of Living in Cabarete, Dominican Republic
Here is my estimated cost of living for two people in Cabarete, Dominican Republic.  If your exploratory visit confirms numbers similar to these, you may be able to Retire Early $1134 USD Month in Cabarete Dominican Republic
Rents: First, here is a furnished apartment I found on Airbnb a few days ago for $364 USD per month. This $364 per month includes the utilities and Internet, but not the commission to Airbnb or the cleaning fee.
But this is for 1 month. If you met the landlord at the property while you were in town you might even negotiate a lower price if you offer to stay for 6 months or 12 months. This would eliminate the vacancy while you stay there for 6 to 12 months.
But they may also try to charge you more since the month I searched was September and October, which is low season. Additionally, it might be higher when you are here because we did this search in August of 2021, during the pandemic when vacancies were high.
I also met a few ex-pats that have 1 bedroom apartments for $200 to $300 per month plus utilities. But I would wait until I am on the ground there before making any offers, so I could test the Internet speed and check out the neighborhood before making a long-term deal.
But for this estimate of the cost of living, I am going to assume you can get it for $425 per month including utilities. Here is the Airbnb place advertised for $364 for one month on the day I searched.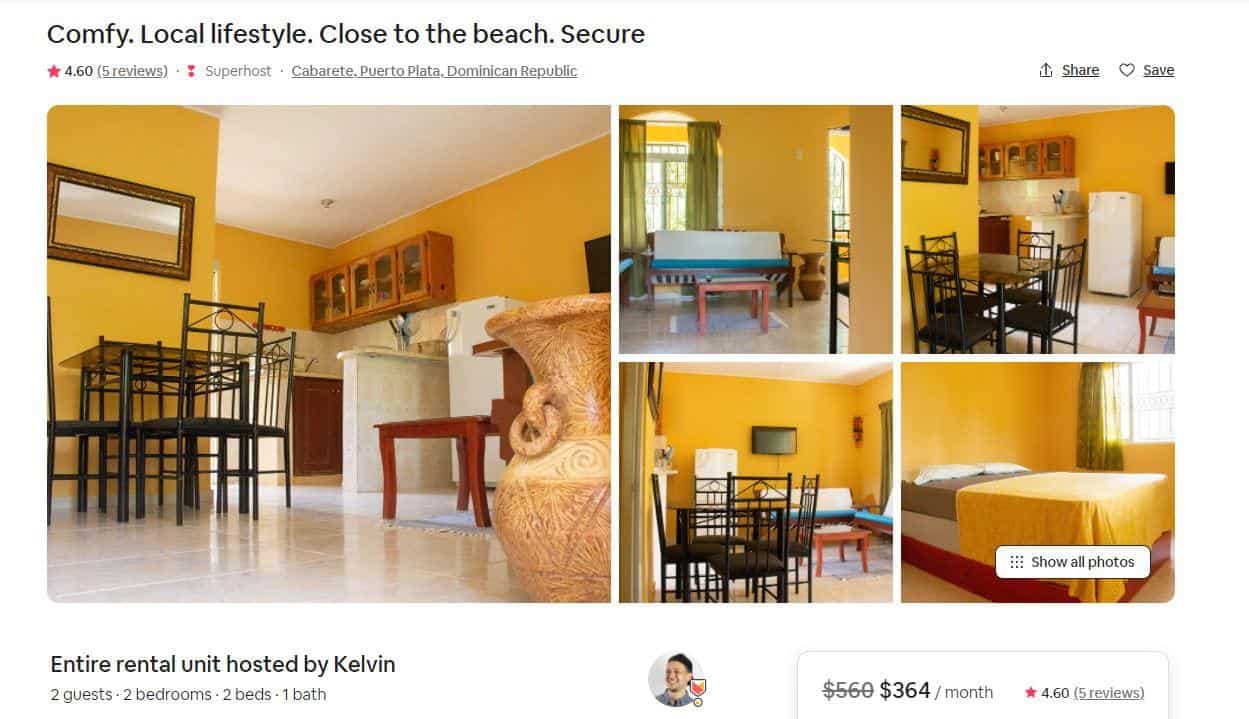 Just be aware, I am not saying this landlord would take the deal. I haven't asked. I am saying that if you propose this deal to several landlords, someone may accept terms like these because it eliminates vacancy and they would have a long-term tenant guaranteed.
Groceries: Based upon our time there and the money we spent on groceries, we estimate about $340 USD per month in groceries. Here are the two markets where we bought groceries. Supermarket 1, Supermarket 2.
Restaurants: If we went out to eat twice per week, once for date night and once for a lunch somewhere, we would spend about $50 per week or $200 per month in restaurants for the two of us. We could keep it fun and interesting by doing a few picnics on the beach per week, but we would bring food from home so it is included in our estimated costs for groceries.
Cell Phone Data: Mostly we use the Internet at home. But we also need Internet access from time to time when we are out of the house, for Google Maps and other searches. The cost to recharge is about $20 USD per month. My android phone will act as a hot spot so we can both be on the internet at the same time when we are out of the house.
Laundry and Water: For Laundry and water per month Qiang estimates about $50 for the drop-off and pick-up laundry per month and twelve 20 liter water bottles per month for 2 people at $2 USD each is $24 USD per month. So water and laundry would be $74 USD per month.
Uber/Taxi: Cabarete is walkable, so you may not need to get bicycles, a scooter, or take a taxi for everyday life. We just walked everywhere. It will run you about $10 to grab a taxi to Sosua and $15-$20 to grab a taxi to Puerto Plata, one way. So, if you go three times a month, round-trip, you will average about $75 USD per month. There was no Uber in Cabarete when we were there.
Mostly we just called our friend Sam when we needed a taxi: WhatsApp: +1 (829) 444-4440
Alcohol: Local beer called Presidente in the grocery store was about $2.63 USD for a large bottle (650 ML). In restaurants, the large bottle was about $3.50 USD. Not everyone drinks so we show alcohol as an optional expense in the below-estimated cost of living.
| | |
| --- | --- |
| Cabarete | Expense (USD) |
| Rent | 425 |
| Groceries | 340 |
| Restaurants | 200 |
| Cell | 20 |
| Laundry | 50 |
| Water | 24 |
| Uber/Taxi | 75 |
| Recurring Total | $1134 |
| | |
| Alcohol | 100 |
| Optional Total | $1234 |
The above cost of living is for 2 people but is just an estimate on the low end. For a full understanding of what it would cost you to live here, visit Numbeo Cabarete and add anything you spend money on in your home country that is not mentioned in the table. Our costs of living are generally much lower than new travelers because we are great bargain hunters but there are a few people that live much cheaper than we do.
Never move anywhere until you have visited first personally to verify the living costs for your lifestyle and needs. I am not guaranteeing these prices. These are just my notes and estimates from the time of my visit and this post. Your costs will likely be drastically different depending on your lifestyle and the time since this post.
Most ex-pats report spending more money per month than the low-end estimate we are reporting here. You will hear more typical living costs in the range of $1200 to $2000 per month. But people spending that much also have higher incomes or pensions. They often spend more on eating out and drinking more alcohol in local bars and restaurants. Many also have cars and more expensive apartments.
If you are going to try to retire cheap offshore, make sure to have emergency funds available should you have some unexpected emergencies. To learn more about that, read my report called, the Two Biggest Risks of Retiring Early for Cheap Offshore.
Cabarete, Dominican Republic, Livability Factors
Here are some of the factors I think about when I consider a place for retirement potential. After I discuss each factor I will assign an overall desirability score to Cabarete.
Walkability: High. If I were to retire in Cabarete, I would be able to walk to most of the restaurants and markets. I would only need to take a taxi a few times per month. I would also consider getting bicycles for Qiang and me to get around town more quickly.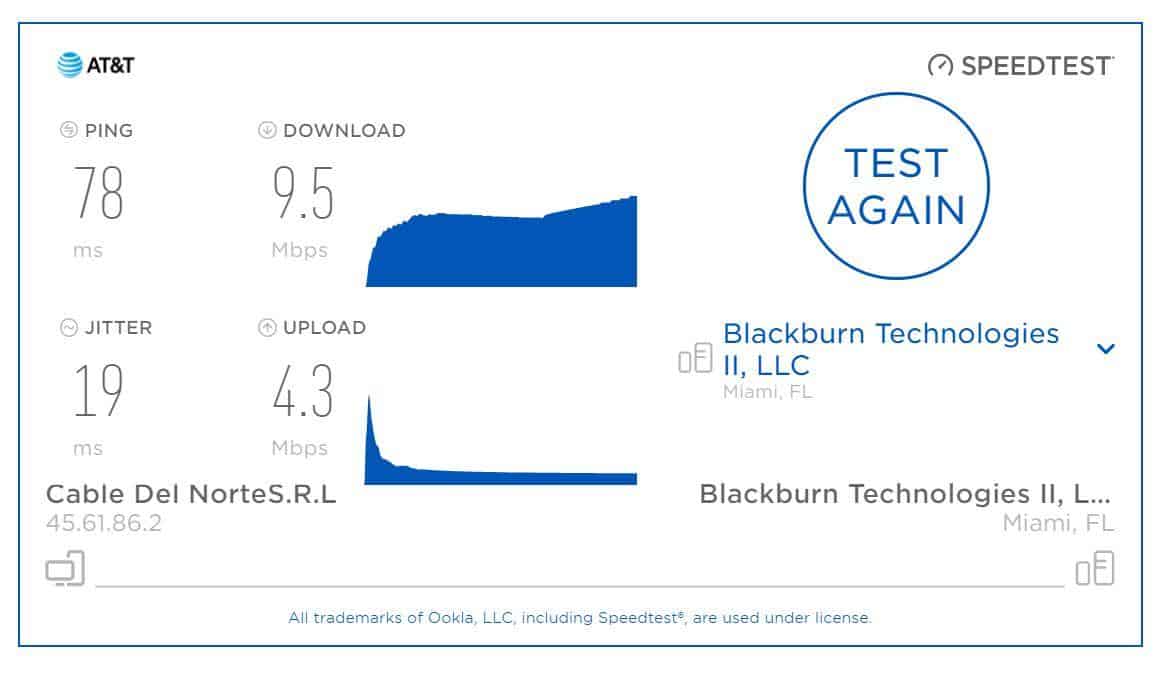 Internet: High. We did the ATT speed test on the Internet and it rated 9.5 MBPS download and 4.3 MBPS upload speed. We were able to do multi-party zoom calls, watch Netflix movies, and upload YouTube videos while we were in Cabarete. If a certain Internet speed is required for your business, I suggest reading my process for finding the perfect apartment which fulfills all of your needs.
Food: Medium. For a small town of this size, there is a fairly good representation of international food choices. The ex-pat grocery stores here in Cabarete and in Puerto Plata have a fairly large selection of foreign foods ingredients. So what you can't find in the restaurants, you may be able to find ingredients for and cook at home.
Weather: High. Cabarete has beautiful weather year-round if you like it on the warm to the hot side. The warm season is November through April when the nighttime lows average around 68 F ( 20 C) and the daytime highs average 83 F (28 C). The hot and muggy rainy season is May through October when nighttime lows average around 75 F ( 24 C) and daytime highs average 87 F ( 31 C). The most rain falls in May, October, and November.
Things to Do: Medium. Swimming, snorkeling, scuba, kayaking, kite surfing, windsurfing, cooking, partying, yoga, restaurants, gyms, cycling, fishing, painting, writing, etc. The wind seemed to be strongest in the later afternoon in Cabarete. If you are a beach or ocean person, you will not run out of things to do. But if you are also into cultural exploration, you may get bored here eventually.
Social Considerations: Low. If you are not really into windsurfing or kitesurfing and you need more than just being near the ocean to sustain you, you could get bored here fairly quickly. You will need to pick up some Spanish if you expect to integrate with the locals. That will widen your choices of friends and things to do greatly.
Expats: Medium. There are about 2k members of the Everything Cabarete Facebook page (link provided). The group has ex-pats and locals, but it is mostly in English, so there is a good chance there are ex-pats that will see your messages. But most of the posts are for real estate and restaurants, so it may not be the best resource for getting ex-pat questions answered. Make sure to make friends with both locals and ex-pats for a richer experience living here. I explain why in my report, The Top 10 Mistakes International Retirees Make (link provided).
Real Estate: High. Just walking around Cabarete and window shopping, we saw condos advertised for sale starting around $70k USD. But I never recommend buying until you have lived somewhere for at least 2 to 3 years. Read Why Retired Expats Should not Buy Real Estate Overseas.
Visa: High. Citizens of many countries are given 30 days visa-free upon arrival in the Dominican Republic. Many of the ex-pats that come to the Dominican Republic, whether long or short term, routinely overstay their visa and just pay a penalty whenever they leave of about $100 USD per year of overstay. Odd sounding I know. I don't recommend this because I would worry an overstay could end up in some international database and could eventually affect my ability to travel to other countries. Visa rules are always subject to change so check before you buy your flights.
Safety: High. I would rank Cabarete as one of the safer places in the Dominican Republic with its guarded and gated communities. With regard to safety, I recommend that you only rent a place outside a guarded and gated community if it has bars on the windows and doors. This will help prevent the break-in crime that is known to happen in the Dominican Republic. You also need to be aware of pickpockets, especially when you are in nearby Sosua. Read my report on how to travel the world safely, including in your home country. That report explains how ex-pats that get involved in illegal activities such as prostitution put themselves directly in harm's way no matter where in the world they may be.
Cabarete Desirability Score: Medium. If you are a beach or ocean person that prefers to be in a small town in the Caribbean full of international tourists on or near a white sand beach with turquoise water, with a number of good restaurants, places to shop, and beachy things to do, then Cabarete might be right for you. If you are a kitesurfer, you will be in heaven.
Thanks for reviewing our Retire Early on $1134 USD Month in Cabarete Dominican Republic.
Make sure to grab a free copy of my eBook: How I Fired My Boss and Traveled the World for 14 Years!
Please subscribe to VagabondBuddha.com or our Youtube Channel to watch us move around the world, 14 years and 67 countries so far.
This is Dan of Vagabond Awake, the Youtube channel for VagabondBuddha.com. Thank you for stopping by. The world is your home. What time will you be home for dinner?