We are traveling around the world to find the best places to retire cheap in paradise. We have already posted about two-hundred reports about overseas retirement tricks, tips, and places. We are presently investigating the largest island in the Philippines called Luzon. Luzon is the largest island in the Philippines. Google Map.
Subic Bay is on the west coast of Luzon. Subic Bay is about 3 hours northwest of Manila depending upon traffic conditions. Subic Bay was a US Naval base until the Philippines Senate voted to close the US Naval Base and President Aquino subsequently asked the US to vacate by the end of 1992. Google Map
After the Philippines asked the Americans to vacate, and after the eruption of Mount Pinatubo in 1991, the USA closed the US Naval Base in Subic Bay. The 1991 eruption of Mount Pinatubo ejected more particulate into the atmosphere than any eruption since Krakatoa erupted in 1883. The sulfuric particulate haze reduced global temperatures by 1 F (0.5 C) for 2 years.
The Americans occupied Subic Bay for almost 100 years starting in 1899 when they took it from Spain during the Philippine-American War. The area has since been transformed into the Subic Bay Freeport Zone.
Subic Bay is a popular weekend destination for residents of Metro Manila. They come for the beaches, the underwater aquarium, jungle survival tours, and duty-free shopping. The area also includes the Subic Bay Yacht Club.
There are also thousands of retired American Veterans in this part of the Philippines.
Olongapo Neighborhood (Our Favorite)
We preferred the Olongapo neighborhood which is right next door to Subic Bay. So that is where we stayed. It has everything you need for daily life and you could walk everywhere and we did.
We did ride tricycle taxis to the public market which cost 50 pesos ($1 USD) each way.
For example, the below 27-minute Walking Tour of Olongapo includes our apartment, two of our favorite restaurants, our laundry, the SM City Olongapo Mall, Frankie's Bar, and the American Legion.
Guest Star Commander Ray
We enjoyed singing Karaoke at Frankie's Restaurant and Bar with Commander Ray of the American Legion Post 4, so we invited him to be a guest star on my channel, Vagabond Awake. Both the American Legion and Frankie's Bar are on the above Google Map's Walking tour of Olongapo. Below is the video of that interview.  To contact Ray at American Legion Post 4 in Olongapo, visit their Facebook page. 
Walking Tour Sub Bay Area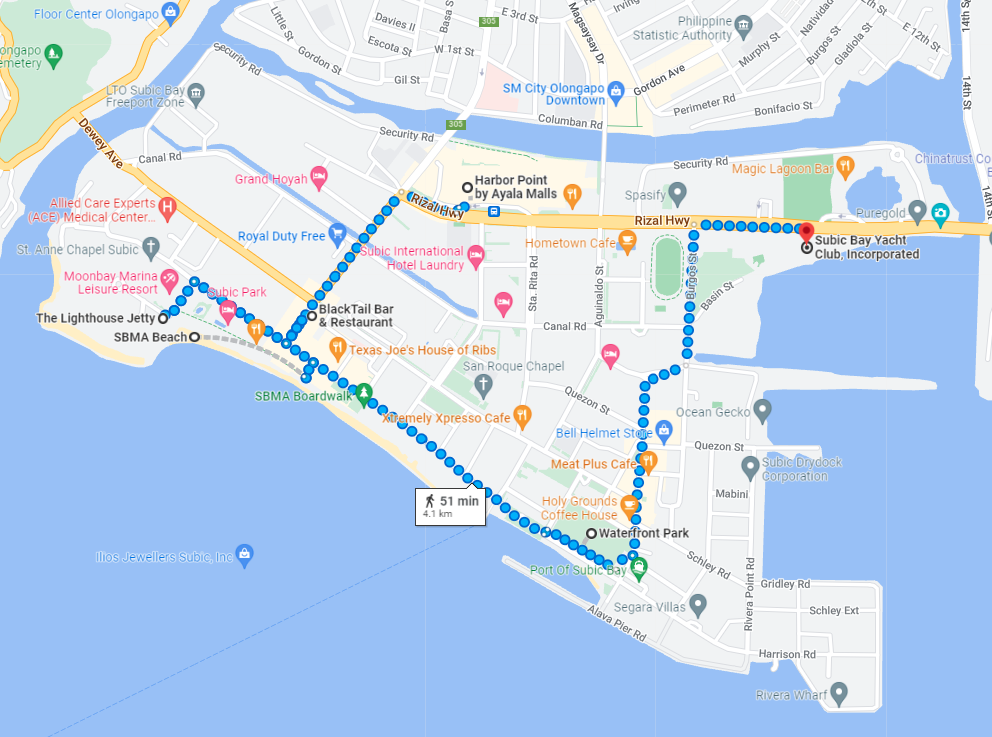 The above walking tour of Subic Bay Freeport Zone includes Harbor Point Ayala Mall, The Lighthouse Jetty, Black Tail Restaurant, The Beach, Water Front Park, and Subic Bay Yacht Club.
Cost of Living in Subic Bay Philippines
Here is my estimated cost of living converted into US dollars if the two of us moved to Subic Bay Philippines on a tight budget. But we are all different, so you will have to put your feet on the ground in Subic Bay to determine your cost of living based on how you would live, shop, eat, and entertain yourself.
Rents: You will see unfurnished 1 bedroom apartments, in the range of $100 to $300 per month for a local-style apartment if you are willing to rent for a period of a year or more. The video I am showing (above) has an apartment that rents for $250.00 per month for a 2 bedroom. I found that in Facebook Marketplace for Olongapo City.
However, a temporary furnished 30-day rental with utilities included on Airbnb started for about $520 USD per month when we were there.
The higher rents would just be during the first month or two. Presumably, you would rent long-term for cheaper if you were retiring there (adjusted for inflation). So, for this estimate, I will use $250 per month for rent for a long-term rental which does not include utilities. Once there you would put your feet on the ground and pick the right long-term place for you. I will also provide a link to my report about how to find perfect apartments around the world.
Utilities: Subic Bay is at sea level. So, you would probably need to run the air conditioning for most of the year. I estimate my electric bill would average around $ 120-month average, year-round. Once you acclimate to fans you should be able to save a little on utilities.
Groceries: Based on our time here and the money we spent on groceries, we estimate about $300 USD per month on groceries for two people. But you will need to shop mostly in the public market where the vegetables, fruits, rice, and meats are cheaper. Just shop in the AC grocery stores for things you can't find in the market.
Restaurants: If we went out to eat twice per week, once for date night and once for a lunch somewhere, we would spend around $35 per week or $140 per month in restaurants for the two of us. We would eat mostly in the mom-and-pop-style restaurants and food carts rather than the expensive expat-style restaurants.
Cell Phone Data: The cost to recharge prepaid service is about $16 per month. My android phone will act as a hotspot so we can both be on the internet at the same time when we are out of the house together.
Laundry: We could send our laundry out once per week for about $3 to wash, dry, and fold, so about $16 per month.
Water: We would spend about $14 per month on drinking water. They have reverse osmosis refills for 40 Pesos for 20 liters.
Internet: The Internet will be about $50 per month depending on how fast you need your service. The Internet was 15 MBPS down and 8 MBPS upload speeds.
Transportation: We liked the central part of the Olongapo, which is itself walkable from Subic Bay. The central part of Olongapo is walkable. We walked everywhere but also rode just Jeepneys for around 14 Pesos (28 Cents) per person and per trip. We also took tricycle taxis from time to time for 40 pesos (80 Cents) per ride for both of us. We estimate that the two of us would spend around $20 per month on transportation since we would walk mostly.
Alcohol (Optional): Local beers are about $1.00 USD in grocery stores here. If you watch and buy in bulk on sale you may save a little. Bars charge in the range of about $1.60 to $2.00 per beer. So for the two of us, we estimate about $120 USD per month since we would drink more at home.
Entertainment (Optional): We would budget about $160 per month for entertainment for the two of us.
Retire Early Cheap $1006 Month Subic Bay Philippines
| | |
| --- | --- |
| Subic Bay | Expense (USD) |
| Rent | 250 |
| Groceries | 300 |
| Utilities | 120 |
| Restaurants | 140 |
| Cell | 16 |
| Laundry | 16 |
| Water | 14 |
| Internet | 50 |
| Transportation | 20 |
| Recurring Total | $1006 |
| | |
| Alcohol (Optional) | 120 |
| Optional Total | $1126 |
| | |
| Entertainment (Optional) | 160 |
| Optional Total | $1286 |
This cost of living is for 2 people but is just an estimate on the low end from data at the time of our visit. For a full understanding of what it would cost you to live here, you must do an exploratory visit and put your feet on the ground. Also, visit Numbeo Olongapo and add anything you spend money on in your home country that is not mentioned in the table. Our costs of living are generally much lower than a new traveler's because we are great bargain hunters but there are a few people that live cheaper than we do.
Never move anywhere until you have visited first personally to verify the living costs for your lifestyle and needs. I am not guaranteeing these prices. These are just my notes and estimates from the time of my visit and this post. Your costs will likely be drastically different depending on your lifestyle and the time since this post.
More typical expat living costs in Olongapo range from about $1500 to $2500 per month. But people spending that much also have higher incomes or pensions. They often report spending more on entertainment, eating out, and alcohol. Many also have more expensive cars, houses, or apartments.
If you are going to try to retire cheap offshore, make sure to read my report, the Two Biggest Risks of Retiring Early for Cheap Offshore, which explains why you should have emergency funds available for unexpected large expenses.
Where We Stayed
We stayed in this Arbnb.com condo for $22 per night. We didn't love the place but it was the cheapest thing we could find at the last minute. If we decided to retire here, or just visit for a few months, we would follow this process to get a better long-term deal: How to find great apartments around the world.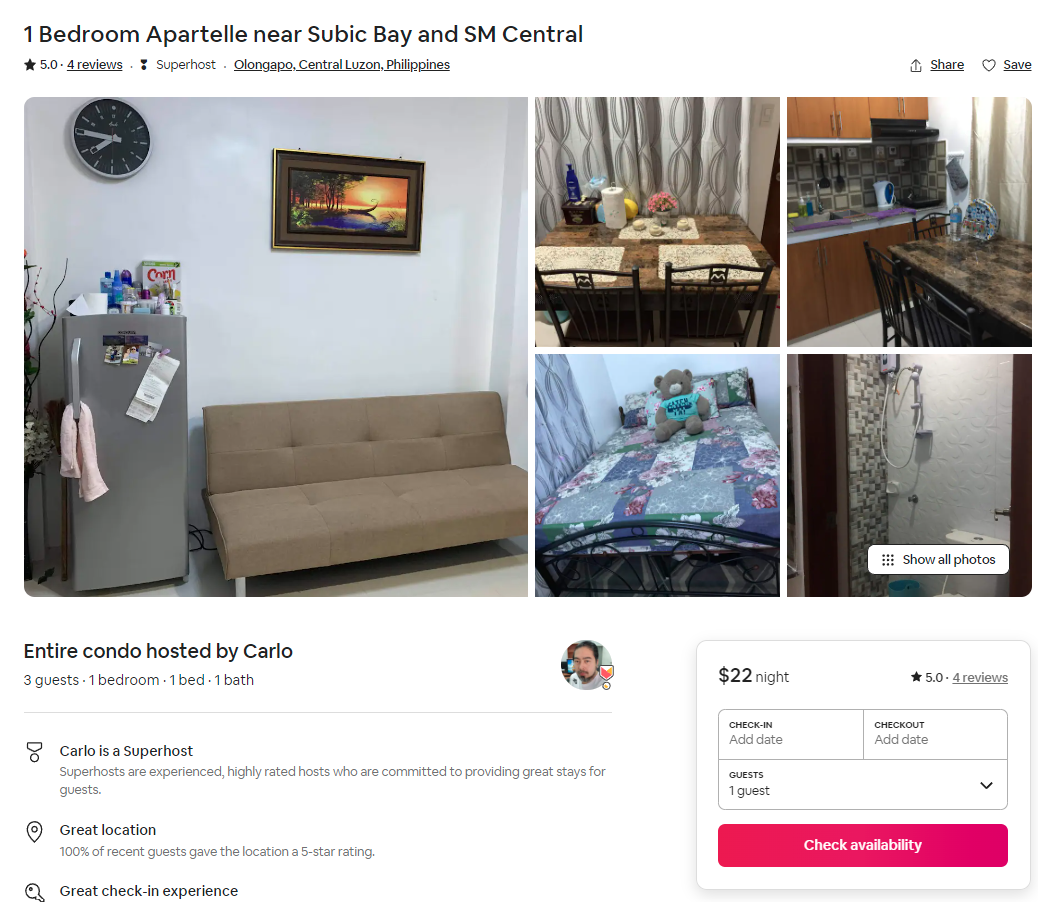 New Apartments Next Door
The landlord of the above Airbnb has other new apartments next door. The new apartments are unfurnished. His quote today for a 1 bedroom apartment, unfurnished with a 1-year lease, is 9000 pesos per month ($180 USD). Call or text Carlo at (Philippines Phone number) +63 977 265 7385. He has 2 bedrooms also.
Subic Bay Nightlife
The nightlife was jumping fairly well for a town this size. If you want to head out on the town and people watch while you have a few drinks, here is the area we would suggest. There are also a few restaurants right next to each other here if you want to eat. Our favorite two spots featured in the above video are on the below Google Map.
Beach Near Subic Bay
You can jump on a Blue Jeepney where shown on the below Google Map and ride a Jeepney over to Driftwood Beach for about 15 Pesos per person. The tricycle taxi is 150 each way. This is a local-style beach and not a white sand beach but it is only about 20 minutes away. This is where sailors went to meet Bar Girls when Subic Bay was a Naval Base. Google Map
While at Driftwood Beach, make sure to have a beer at Arizona Resort, Cheap Charlies, and Barcelona Bar– and the best cheap food is at Jewels Cafe.
Subic Bay Favorite Restaurants and Markets
Restaurants and Bars:
Best See and Be Seen Nightlife (Pier One Bar and Grill)
Best Acoustic Nightlife (Schooner Seafood Grill)
Best Vegetarian Restaurant (Vegelife)
Favorite Local Food (Rico's)
Veggie Burgers (Burger King, Army Navy)
Best Place to Make New Friends (Frankies Restaurant and Bar)
Best Chicken and Cold Beer (American Legion Post 4)
Best Mexican Food (El Paso Cafe)
Best Espresso Ice Cream (Black Tail)
Favorite Markets:
Best Expat Style Grocery Store (SM City Olongapo Central – Supermarket)
Public Market (Black Tail) Covered open-air market of fresh fruits, vegetables, meats, fish, and assorted daily needs. Better prices than the western style grocery stores.
Bus to Olongapo from Angeles
The bus to Olongapo from Angles runs every hour for 200 persons per person ($4 USD). The tricycle taxi to and from your residence will be about 40 pesos in both places. They do have Grab taxis in Angeles but not on Olongapo. Here is the Googe Map showing both bus terminals. Google Map.
Subic Bay Livability Factors and Retirement Desirability Score
Here are some of the factors I think about when I consider a place for early retirement potential. After I discuss each factor I will assign an overall retirement desirability score to Subic Bay.
Walkability: High Desirability. I love living in walkable areas of the world where you can walk to restaurants, grocery stores, nightlife, and other interesting things to do. The Olongapo neighborhood where I would live is very walkable. Plus they have tricycle taxis for 40 pesos ($0.80) when it is raining you have groceries.
Internet: High. The overall reliability remains stable and strong as compared to many other more rural parts of the Philippines.
Food: Medium. There is a fairly large selection of international restaurants in Subic Bay. This is not surprising for a town of around 85,000 people, especially since it draws mainly from domestic tourism of Manila where the taste buds are more diverse than many other parts of the Philippines. But I am marking food as medium desirability because there are not as many vegetarian choices, except for Vegelife (see the above restaurant list).
Transportation: High. If we decided to retire in Subic Bay, we would walk everywhere. But on times of day when it is too hot, you can jump in a Jeepney for 15 pesos or ride a tricycle taxi for 40 pesos.
Weather: Medium. The weather in Subic is typical of other sea-level locations on Luzon Island. Some people just can't handle the heat at sea level. The warmest months are March through June, with daily highs averaging around 91 F (33 C). The coolest months are December and January, with daily highs averaging 86 F (30 C). Temperatures generally drop about cool about 10 degrees F (or 6 C) at night. So people tend to live the Siesta lifestyle where they are out and about in the mornings and evenings but hide indoors in the heat of the day. June through October is the rainy season, and December through April is dry. The wettest months are July, August, and September. Those months receive 10 to 20 inches of rain (25-50 centimeters).
Things to Do: High. Fishing, beaches, sailing, biking, kayaking, scuba, cooking, yoga, martial arts, casino, wave runners, restaurants, bar hopping, live music, running, coffee shops, and hiking.
Healthcare: Medium. There are several decent medical clinics and hospitals in Subic Bay. They will be able to take care of most of your medical needs. But for some problems they may refer you to one of the top specialists or hospitals in the Metro Manila area which is about 3-4 hours away depending on traffic. The larger better equipped hospitals with more specialists are in Metro Manila Makati.
Expats: High. There is one Facebook group for Subic Bay Expats that has about 2000 members but only has a few posts a day. I should probably give Subic Bay a low expat score but I am giving it a medium score because saw so many expats wandering around. I easily was able to make friends with expats in Subic Bay. Make sure to make friends with both locals and ex-pats for a richer experience living here. I explain why in my report, The Top 10 Mistakes International Retirees Make.
Real Estate: I never recommend buying real estate until you have lived somewhere for at least 2 to 3 years. I have a report explaining Why Retired Expats Should not Buy Real Estate Overseas for the first 2 to 3 years of living somewhere new overseas. Make sure to read that before deciding to buy real estate overseas. Almost everyone else is going to try to get you to buy (for the commission) so read why I think you should wait before you the trigger.
Visa: High. For your exploratory visit to the Philippines, citizens of many countries can obtain a 30-day free visa stamp upon arrival at the international airports. Plus, you can extend your tourist visa for a total of 36 months in the Philippines without bothering with a retirement visa. The monthly visa extensions cost about $30 USD per month. After the 36 months, you just leave the Philippines and go to another country and then fly back to start the whole 36-month process over again. There is a retirement visa in the Philippines, but very few people bother with it because it is so easy to stay in the Philippines on tourist extensions.
Subic Bay Overall Retirement Desirability Score: High. There is a high quality of life in Subic Bay, especially for the cost of living. We noticed how clean the streets are and how friendly the people of Subic Bay were to us. Plus, many of the homes and apartments have been updated. So it is fun to walk around. One Aussie we ran into said that Subic Bay has been adapting to a more western lifestyle for almost a century because of the American influence from when the Navy Base was here. That made sense to us. We felt very comfortable in Subic Bay. This place would make a carefree friendly retirement spot.
Thanks for reviewing my report, retire early cheap $1006 Month Subic Bay Philippines.
Please subscribe to VagabondBuddha.com or our Youtube Channel to watch us move around the world, 14 years and 67 countries so far. Make sure to grab a free copy of my eBook, How I Fired My Boss and Traveled the World for 15+ Years. It has most of my best tips and tricks.
This is Dan of Vagabond Awake, the Youtube channel for VagabondBuddha.com. Thank you for stopping by. The world is your home. What time will you be home for dinner?