This is my retire early on 1240 USD Month in Guanajuato Mexico report.
Mexico is presently open to the world when much of the world is closed due to coronavirus, so this is actionable information. In fact, we are in another part of Mexico right now (State of Oaxaca, Mexico) enjoying beach life, as I type this.
Guanajuato is one of my top 5 favorite cities in Mexico to retire early for cheap. Here is a link to my ordered ranking of my Top 10 Retire Early Places in Mexico.
We were last in Guanajuato Mexico two years ago. So I decided to research and update my estimated cost of living data to see if prices have changed. Here is a Google Map of the best area to stay in Guanajuato, marked in red.
We rent Airbnb Apartments in the central historical district when we visit highland cities like Guanajuato in Mexico. Make sure to check out our Guanajuato Mexico Retire Cheap Report, to learn the best places to eat, things to do, and our walking tour with historical comments about Guanajuato and 50 more retire early for cheap places around the world.
So I decided to check what I could book an apartment for today to see if prices have changed. Here is an Airbnb apartment I loved that is in a great area right in the historical center.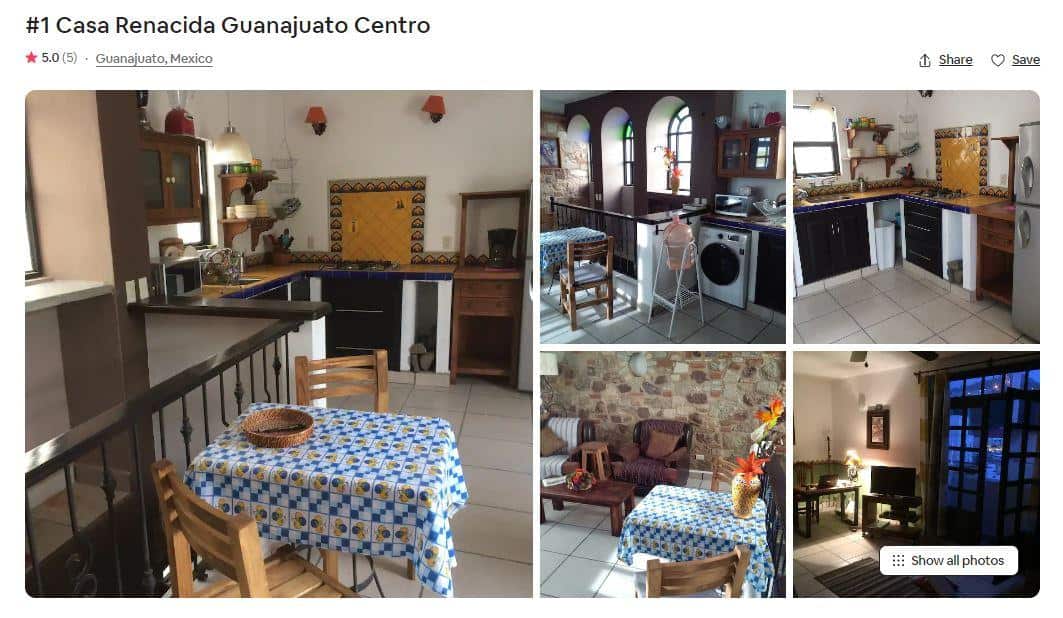 If you have never used Airbnb before, use my referral link to get a healthy discount on your first booking. If you use my link, I will get a discount on my next booking too.
The above apartment is listed for the entire month of January 2021, as shown below:
As shown, the apartment is discounted 42% if you book for one month. But I would probably even ask the landlord for an additional discount. But in one of the photos for the listing, I noticed a sign in front of the apartment. The sign reads, "Casa Renacida." So I decided to check on Google to see if the apartment is also listed there. This rarely happens. So I Googled, "Casa Renacida Guanajuato Mexico." The following apartment listing showed up on Google.
It looks like the same apartment. Since the Google link includes the phone number of the landlord, I could even contact them directly and try to get the apartment at a reduced price and potentially avoid some fees. So in my cost of living estimate below, I will assume I can get the apartment for $550 per month total. If I booked longer than a month, I would offer even less.
This apartment would be ideal for me because it is just a few blocks from my favorite spot in Guanajuato, Jardin de la Union, just across the street from the Teatro Juarez.
Updated Cost of Living 2020
If we were to rent the above apartment in Guanajuato for the month of January 2020, and we had the following additional estimated expenses for groceries, buses/taxis, restaurants, alcohol, smartphone, tours/tips, this would be our estimated cost of living today in Guanajuato.
Make sure to audit our expenses above and add any expenses that you would have living here not listed in the estimate. You'll notice, for example, that we ride public transportation and walk everywhere and you may want to use a car.
So go to Numbeo for Guanajuato and add any expenses to the table that you would have if you lived there.
While at that link grab a free copy of my eBook "How I Fired My Boss and Traveled the World for 13 Years."
My goal is to make this channel better every day. But I need your help. Please leave your new topic ideas, criticism, and other thoughts in the comments below this.
This is Dan from Vagabond Awake, the Youtuber Channel for VagabondBuddha.com. The world is your home. What time will you be home for dinner?