Retire Early on $830 USD per Month on Siquijor Island Philippines?
My name is Dan and I am on a quest to find and share the best places to retire in paradise for pennies. I have lived in or visited 67 countries so far and I have over 200 reports on VagabondBuddha.com that share my research.
In 2020 when the Philippines shut down for the pandemic, we were stuck in Dumaguete for over 6 months. It was at that time that we fell in love with Siqiuijor Island in the Philippines.
Siquijor Island is a white sand beach island just a short ferry ride from Dumaguete so we were able to visit Siquihor at the time.
So, a few weeks ago when we published my research for Moalboal in the Philippines, a few of you asked what it would cost to live on a small white sand beach island southeast of Moalboal called Siquijor.
Because of our past experience in Siquijor, we jumped on a bus and a ferry and headed over to Siquijor Island in the Philippines.
Actually, we went to Dumaguete first and then took the ferry over to Siquijor Island from Dumaguete. You catch the ferry from Dumaguete to Siquijor at this pier. More on that below in the paragraph, "How to get to Siquijor Island."
Our next report will be an update of ur Dumaguete report since we are sitting in Dumaguete now.
In this report, I share our favorite markets, restaurants, and things to do on Siquijor Island. Then I will give you a line item estimate of the basic costs of living here on a tight budget. Okay, here we go.
Our Favorite Markets and Restaurants in Siquijor
Siquijor Markets
Siquijor Public Market: This is where we buy fruits, vegetables, and rice while in Siquijor City. They also have meat and fish.
San Juan Public Market: This is where we buy fruits, vegetables, and rice while we are in San Juan City. They also have meat and fish.
Island Deli: This is where we buy imported western groceries and alcohol when we are in the San Juan area of Siquijor.
Hypermart Larena: This is the largest supermarket in Larena on Siquijor Island. It has food, clothes, appliances, kitchen utensils, and alcohol. It has a largely local feeling to it but also a large selection.
Drop & Go Laundry (San Juan): Max 8kg per load, wash, dry, fold 240pesos
Siquijor Island Restaurants
Local-ish
Chekesh Casa: Local food. Best on the Island. Meat 60, Vege 50, Rice 20
Noynoy's eatery (Lunch after Falls, Lazi area): Local food. Chicken curry 50, bean soup 40, small pork sausage 10, bitter melon 40, rice 10
Carenderia De Seanlhyan: Local food. Vege curry +Rice 160pesos, Baby pork ribs + rice 250 pesos, beer 65, tequila shot 100
Ayans Local Food: Local Food. Near Barracuda Diving Spot on Scooter Island Tour. Coconut milk with Jack friut 235, Spinach leafy salad 160, banana shake 115
Foreign-ish
Republika Beach Bar: Vegan pasta 220, vege burger 190, fries 185, beer 75, local whiskey 70
Dolce Amore Italian Restaurant & Resort: Best pizza and pasta. $$$ Ravilion butter parmesan
520, margarita pizza 390, 500ml house wine 600, olive oil 20
Wonderland (Vegan Restaurant&Cafe): pumpkin curry 320, super soba noddle 370
Fuego Cantina & Grill: Grilled Fish 210, Vege curry 210, Beer 70
Napoli Caffé Ristorante Italiano: Crepe breakfast
Luca Loko: Buddha bowl 380, north african dish shrimp and tuna couscous 390
Rogelios Beach Bar: Watch sunset, Jim bean shot 110, 80
Siquijor Island Nightlife
Just click the above link or map to get started with our nightlife tour of the San Juam area of Siquijor Island. The map will take you on this tour in order. First, watch the sunset at Rogelios Beach Bar. Then head over to Get wrecked sports bar to watch whatever game is on the TV or shot some pool.
Then head over to Money Business and Dagsa Resto Bar to have a nice bite to eat and enjoy some live Jazz or Reggae.
Then at around 10PM, head over to JJ's to bounce the night away to live rock or top 40 music as you dance with sand between your toes. You are not dead yet are you? Well, prove it.
Our Favorite White Beaches on Siquijor Island
The San Juan area is our favorite area of Siquijor Island. Probably because that is where there is the greatest assortment of different kinds of restaurants and nightlife. But also because that is where our favorite beaches are.
I am not suggesting you do all these like a tour in one day. I suggest packing a nice lunch and doing 2 beaches per day max. When you just feel like relaxing on a beach, just head to the one closest to you.
If you ever feel like just walking on the beach in the San Juan area, just head to the beach and start walking. You can enter at the Get Wrecked sports bar or at the Skaka Cafe and start walking (or running).
But if you are feeling a bit more ambitious, here is an editable Google Map of our favorite beaches.
Siquijor Island Water Fall and Marine Sanctuary Scooter Tour
The one thing you can't miss while on Siquijor Island is the Cambugahay Falls. They are one of the most beautiful things you will see in all of the Philippines.
While you are at it, you may also want to see the 100-year-old clams and the barracuda fish, both at the Tulapos Marine Sanctuary. While you are at it, consider also seeing these other marine sanctuaries on this map.
Make sure to stop and eat at Ayans Local Food for lunch while you are on the north side of the island after seeing Tulapos Marine Sanctuary. Here is the Google Map for this adventure.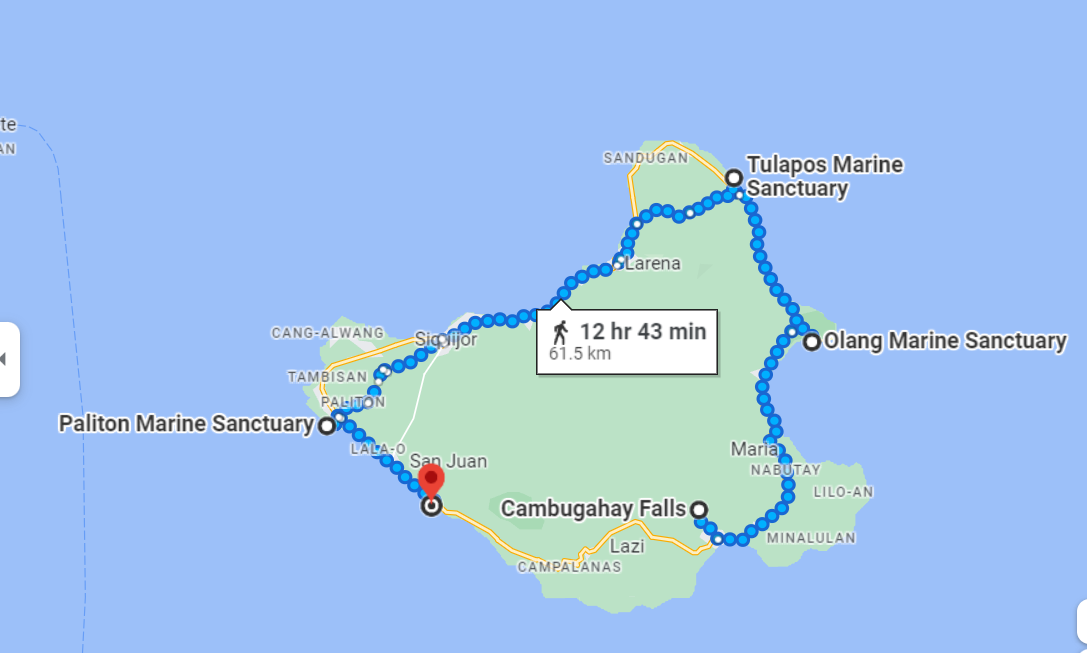 Cost of Living on Siquijor Island in the Philippines
Here is our estimated cost of living converted into US dollars if the two of us moved to Siquijor Island on a tight budget. But we are all different, so you will have to put your feet on the ground in Siquijor Island to determine your cost of living based on how you would live, shop, eat, and entertain yourself.
Rents: You will see furnished studio apartments on Airbnb starting from about from about $420 to $900 USD per month including utilities and wifi for properties offering the monthly rates. Airbnb.com
The accommodation in the above photo is about 15 minutes from the San Juan area where most of the tourist restaurants are, so you will need to rent or buy a scooter.
But if you move there and were willing to sign a long-term lease, you should be able to beat that price since the landlord would have no vacancy. I estimate around $200 to $350 per month for a more local-style apartment but you would have to pay your own utilities.
In fact, we video-interviewed an American that is paying just $172 per month for his 1 bedroom apartment plus utilities. I will put a link to that video when it goes live.
So, for this estimate, I will use $250 per month for rent for a long-term rental which does not include utilities but does include a furnished 1 bedroom apartment rather than just a studio. Make sure to read how I find perfect apartments around the world.
Utilities: Siquijor Island is at sea level, so, we would need to run our air conditioner to sleep for most of the year. Our electricity will run about $60 USD per month and gas and water would be another $20 per month so about $80 USD per month for our estimated utilities.
Groceries: Based on our time here and the money we spent on groceries, we estimate about $240 USD per month on groceries for the two of us. We would shop mostly in the public market where vegetables, fruits, rice, and meats are cheaper. We would cook and eat mostly at home. We didn't really see any expensive ex-pat-style grocery stores like you see in larger cities in the Philippines.
Restaurants: If we went out to eat twice per week, once for date night and once for lunch somewhere, plus some street food, we would spend around $35 per week or $140 per month in restaurants for the two of us. We would eat in mom-and-pop-style restaurants when possible but also in expensive tourist restaurants once a week or so. There are some delicious western-style restaurants on Siquijor Island to keep the tourists happy.
Cell Phone Data: The cost to recharge our prepaid service is about $10 per month. My Android phone will act as a hotspot so we can both be on the internet at the same time when we are out of the house together.
Laundry: We paid about $5 per week for drop off and pick up wash, dry, and fold laundry, so $20 per month for laundry.
Water: R/O water in twenty-liter bottle jugs delivered would be about 50 pesos per month per jug or about $20 USD per month.
Internet: Our Internet would be about $40 per month.
Transportation: The area of Siquijor we like most is called San Juan. It is kind of spread out so would not generally be considered walkable especially if you wanted to be able to explore nature all around the island. So, we would buy a used scooter and two helmets for about $1000 USD. We estimate around $30 per month on transportation.
Alcohol (Optional): San Miguel Pilsen Grande beers are about 130 PHP or $2.36 USD each in stores. The Grande is about 2 beers so that makes beers about $1.18 each in stores. But you will see regular-sized San Miguel Pilsen beers in restaurants for about 70 PHP or $1.27 USD each. We would drink mainly at home so we estimate about $110 per month in alcohol for the two of us.
Entertainment (Optional): We would budget about $120 per month for entertainment for the two of us.
Retire Early $830 USD Per Month on Siquijor Island Philippines
| | |
| --- | --- |
| Siquijor Island | Expense (USD) |
| Rent | 250 |
| Groceries | 240 |
| Utilities | 80 |
| Restaurants | 140 |
| Cell Data | 10 |
| Laundry | 20 |
| R/O Water | 20 |
| Internet | 40 |
| Transportation | 30 |
| Recurring Total | $830 |
| | |
| Alcohol (Optional) | 110 |
| Optional Total | $940 |
| | |
| Entertainment (Optional) | 120 |
| Optional Total | $1060 |
This is our estimated cost of living if the two of us moved to Siquijor Island in the Philippines on a tight budget. To fully understand what it would cost you to live here, you must do an exploratory visit and put your feet on the ground.
To get a better understanding of what you should add to our estimated cost of living watch this video: 9 Reasons You Can't Retire on $1000 Month Overseas.
You should also add anything to the above table that you spend money on in your home country. Presumably, you find those things necessary in life. To do that, visit the Numbeo Dumaguete webpage and add anything not mentioned in the table.
Never move anywhere until you have visited first personally to verify the living costs for your lifestyle and needs. I am not guaranteeing these prices. These are just my notes and estimates from the time of my visit and this post. Your costs will likely be drastically different depending on your lifestyle and the time since this post.
More typical ex-pat living costs in the Philippines range from about $1400 to $2400 per month. But people spending that much also have higher incomes or pensions. They often report spending more on entertainment, eating out, and alcohol. Many also have more expensive cars, houses, or apartments.
But many of you will likely be unable to retire on so little here. I give example reasons why in this report.
You will never know your cost of living here until you do an exploratory visit with your feet-on-the-ground here. This next report explains how to avoid coming home early with your tail between your legs.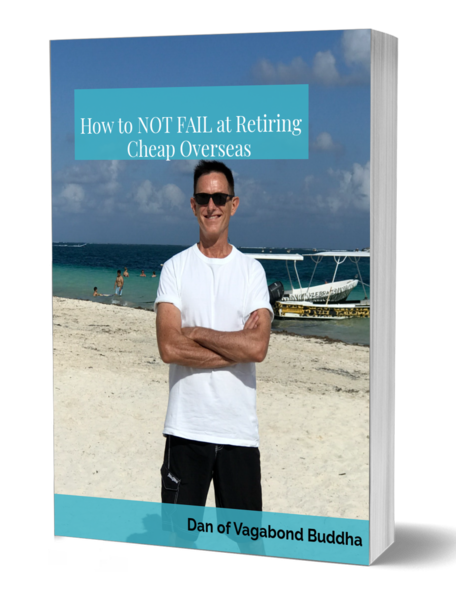 Also, if you are going to try to retire cheap offshore, make sure to read my report, the Two Biggest Risks of Retiring Early for Cheap Offshore, which explains why you should have emergency funds available for unexpectedly large expenses.
Where We Stayed
We stayed on Siquijor Island for only 11 nights. Not enough time to negotiate the kind of deals we can when we stay for a month or longer. So, we stayed here for 1000 PHP ($18 USD) per night. Here is the Google Map for the place (NoahXye Guesthouse), but we booked it on their Facebook page.
But if you decide to live or retire in the Philippines for a year or more, and you will be attempting to live within the budget we are estimating in this report. you are going to have to put your feet on the ground and look for more local less expensive long-term accommodations. Here is our process for finding places as we slowly travel: How to find great apartments around the world.
Getting from Dumaguete to Siquijor Island
Our Dumaguete Updated Report for 2023 comes out in a few weeks. That will explain how we got from Moal Boal to Dumaguete.
To get from Dumaguete to Siquijor Island, we took the 10:00 AM ferry from this Pier in Dumaguete. Buy your tickets at Aleson Ferry Ticket Booth here. They will cost about 200 PHP and 15 PHP terminal fee, total of about $3.63 USD.
When the ferry drops you in Siquijor, you can rent a scooter at the pier for about 300 PHP ($5.45 USD) per day, or take a tricycle taxi to your San Juan accommodations for about 300 PHP one way including two people and luggage.
Siquijor Island Livability Factors and Retirement Desirability Score
Here are the factors I think about when I consider a place for early retirement potential. After I discuss each factor, I will assign an overall retirement desirability score to Siquijor Island. I am writing the following based on my personal experience here.
Walkability: Low Desirability. Siquijor Island is very large so you can't really walk around the thing. We would probably stay in the San Juan area of Siquijot but even that is too spread out to walk everywhere. So, we would buy a used scooter and two helmets for about $1000 USD.
Internet: Medium Desirability. It is possible to get about 40 MBPS up and down on Siquijor Island. Although it might be okay overall if you are not sharing your router, I noticed that the speeds are not reliable. In the evening sometimes the streaming services suffer. Also, they have electrical power outs a few times per day and the wifi needs power to run. We used our smartphones as hot spots when the power was down, but that only worked about half of the time.
Food: High. For an island this size, Siquijor Island has an amazing assortment of restaurants for both meat eaters and vegetarians, mostly because it is a small tourist town that attracts young people from the West that are often vegetarians. The food is remarkably good here. They also have delicious reasonably priced local foods.
Transportation: Medium. We saw Jeepneys running around the island but mainly on the San Juan side, but they didn't seem to run often enough to be practical in our opinion. There are tricycle taxis that will take you to and from various places around the island and you can easily rent scooters by the day, week, or month. But we would buy a used scooter and a few helmets for about $1000 USD to eliminate all the waiting.
Weather: Medium. The average daily temperatures range very little from lows of 85F, 29C in January to 90F, 3276C in May. The average nightly lows also range very little from 76F, 24C in January to 78F, 26C in May. The most rain falls from May through October when it rains 20 to 25 days per month. Read this report on where to stay in the Philippines to avoid the 4 kinds of natural disasters.
Things to Do: Medium. If you love nature this might even be high. This is a small island with white sand beaches, snorkeling, fishing, scuba, swimming, boating, yoga, partying, live music, waterfalls, etc. But if you get bored, grab a ferry over to Dumaguete or Cebu City for some city life. You can also grab a ferry to many other spots around the Philippines. The ferries are large enough to transport your motorcycle or your
Healthcare: Medium. The best health care in the Philippines is in Cebu City and Metro Manila. The top hospital on Cebu Island in Cebu City is a few hours away by Ferry called Chong Hua Hospital. There is also a teaching University hospital in Dumaguete just a few hours away, called The Silliman University Medical Center. There is a hospital in Siquijor but the reviews are poor so people stay away from there whenever possible.
Expats: Medium. We saw many expats in the San Juan area of Siquijor Island, but we didn't see any expat Facebook pages specific to Siquijor Island. The closest one was for Dumaguete Expats. We saw two Duma Expats Facebook Pages: One, Two. But make sure to make friends with both locals and ex-pats for a richer experience. I explain why in my report, The Top 10 Mistakes International Retirees Make.
Real Estate: I never recommend buying real estate until you have lived somewhere for at least 2 to 3 years. I have a report explaining Why Retired Expats Should not Buy Real Estate Overseas for the first 2 to 3 years of living somewhere new overseas. Make sure to read that before deciding to buy real estate overseas. In the Philippines, you can't own land directly in your name. Some foreigners get a long-term lease on land before they build, others take title in a corporate name, and others get married and put the property in their Filipino wife or husband's name. But do hire a local lawyer if you decide to invest in real estate. Do not use a lawyer referred to you by someone with a conflict of interest with you, such as a new local spouse, a real estate broker, or your spouse's family.
Visa: High. For your exploratory visit to the Philippines, citizens of many countries can obtain a 30-day free visa stamp upon arrival at the international airports. Plus, you can extend your tourist visa for a total of 36 months in the Philippines without bothering with a retirement visa. The monthly visa extensions cost about $30 USD per month. After the 36 months, you just leave the Philippines and go to another country and then fly back to start the whole 36-month process over again. For this reason, almost nobody I have met in the Philippines bothers to get a retirement visa.
Siquijor Island Overall Retirement Desirability Score: Medium. If you are a small-town person that likes rural areas surrounded by nature and beaches, then Siquijor Island is probably right for you. If you like larger cities with more going on, then you might get bored living here. The good news is that Cebu Island and Dumaguete are both a short ferry ride away.
Thanks for reviewing my report, Retire Early on $830 USD per Month on Siquijor Island Philippines.
Please subscribe to VagabondBuddha.com or our Youtube Channel to watch us move around the world, 14 years and 67 countries so far. Make sure to grab a free copy of my eBook, How I Fired My Boss and Traveled the World for 15+ Years. It has most of my best tips and tricks.
This is Dan of Vagabond Awake, the Youtube channel for VagabondBuddha.com. Thank you for stopping by. The world is your home. What time will you be home for dinner?