Could I Retire Early on $887 USD per month in Kuching Sarawak Malaysia?
Our early retirement world tour continues today on the island of Borneo in the State of Sarawak in the city of Kuching, Malaysia. Borneo is the 3rd largest island in the world. Sarawak Malaysia occupies the northwestern part of the island of Borneo. Sarawak State is one of the 13 states that together form Malaysia. Google Map Kuching.
During our exploration of Borneo Malaysia, in a previous video on our Retire Cheap in Malaysia YouTube Playlist, we took you to Semporna, Sandakan, and Kota Kinabalu in the state of Sabah Borneo Malaysia. Our Malaysia YouTube Playlist has 39 videos.
You may have heard me complain in previous videos that the politicians in Kuala Lumpur Malaysia set some ridiculous income requirements for foreigners to obtain a retirement visa in Malaysia.
Well, the good news is that both Malaysian States in Borneo, Sabah, and Sarawak, have thumbed their noses at the Kuala Lumpur politicians, and have decided to welcome foreign retirees with much more reasonable income requirements for foreign retirement visas.
For details about those retirement visa requirements, click the first link in the notes below this video.
In this video, I will share my estimated cost to Retire Early on $887 USD per month in Kuching Sarawak Malaysia including estimated rents, utilities, groceries, restaurants, transportation, and entertainment.
This report and video share my favorite markets, restaurants, and things to do in and around Kuching along with my retirement desirability factors and overall retirement desirability score.
My Favorite Markets and Restaurants in Kuching
Kuching Markets
3rd Mile Market (Pasar Sg. Maong): This place is a covered public market. You will find fresh fruits, fresh vegetables, fresh fish, and other meats. This is in the same parking lot as the next market.
H&L Supermarket 3rd Mile: After buying our fresh fruits and vegetables in the above market, we would buy nonperishables here. Nuts, chips, milk, toilet paper, bottled water, shampoo, toothpaste, detergent, etc. This was 10 to 30% cheaper than the ex-pats style supermarkets with shopping carts and AC.
Ex-Pat Grocery Stores: You will find ex-pat grocery stores in most western-style malls in Kuching. See below.
Plaza Merdeka: Multilevel western-style shopping mall. There is a western style grocery store in the basement here. Prices are 10 to 30% higher than the two markets listed at the top.
AEON Mall Kuching Central: Highend multilevel western-style shopping mall. There is an expensive high-end western-style grocery store in the basement here.
Kuching Restaurants
Zhun San Yen Vegetarian: This is a Chinese-style vegetarian restaurant. The food is delicious and we paid $1.75 per meal when we ate here.
Happy Veg Foochow: This is a Chinese-style vegetarian restaurant. The food is delicious and we paid $1.50 per meal when we ate here.
Kozi Square Kuching: There is a food court with an Indian restaurant in the basement of this building that has excellent Indian food both veg and non-veg for about $1.50 to $2.50 USD per meal. This is the basement of the Airbnb where we stayed so it was great on days we were working.
Song Kheng Hai Hawker Centre: There are meat and vegetarian food stalls here in this traditional hawker station. The vegetarian restaurant is called Happy Vegetarian. Vege meals are about $1.50 USD and meat stalls average closer to $2 USD per meal.
Ceylonese Restaurant: They have a great Indian cheese garlic naan bread here. I also loved the Aloo Gobi. They also have meat dishes here. This is an expensive place but delicious.
Chong Choon Cafe: Sarawak (Shrimp) Laksa 9RM ($2 USD), Western Breakfast 6RM (1.40 USD)
Black Bean Coffee: This is a nice place to have coffee when you are in Chinatown.
Kuching Nightlife
The nightlife is hit or miss in Kuching for any one place. But there is a decent chance that if you walk this nightlife area on any given night, you will find something going on, whether just people watching, live music, or DJ music. Kuching Nightlife Walking Tour
Kuching Old Town Walking Tour
Here is a Google Map of our Kuching Old Town Walking Tour. The below Google Map is editable so you can add or remove stops based on your priorities. Then just click the Google Map on your smartphone and start walking. Google Map Sarawak City Walking Tour
Our Estimated Cost of Living in Kuching
Here is our estimated cost of living converted into US dollars if the two of us were to Retire Early on $887 USD per month in Kuching Sarawak Malaysia on a tight budget. But we are all different, so you will have to put your feet on the ground in Kuching to determine your cost of living based on where you would live, what you would eat, and how you would entertain yourself. The below exchange rate was about 4.4 Malaysian Ringgit (RM) to $1 USD when we were there but that varies so check the current exchange rate.
Rents: You will see furnished 1 bedroom apartments in the range of about 1100 RM to 2000 RM ($250 to $455 USD) per month if we were willing to sign a lease for a year or more. Here is an example of one we found on https://homes.mitula.my/ while we were in town.
By walking neighborhoods, I can usually find cheaper ones than by searching on the internet, but we will use 1400 RM ($318 USD) per month for this estimate. Be sure to read my report on how I find perfect apartments around the world so you will know why I would expect to get better deals with my feet on the ground.
Utilities: Kuching is at sea level, so, we would need to run our air conditioner many nights and during midday on warm days. Electricity would cost about 150 RM ($34 USD monthly). Gas and water would be another $16 per month so about $50 USD per month for our estimated utilities per month.
Groceries: Based on our time here and the money we spent on groceries, we estimate about $260 USD per month on groceries for the two of us. But that only works if you shop at the open-air public markets for fresh foods. If you like going to air-conditioned supermarkets you could quickly pay $100 more per month. If you want to buy imported goods like foreign wines and cheeses, you could easily add another $100. We would shop mostly in the public market where the vegetables, fruits, rice, and meats are cheaper, and only go to the more expensive supermarkets to get what we could not find in the public market.
Restaurants: If we went out to eat twice per week, once for date night and once for a lunch somewhere, plus some street food, we would spend around $35 per week or $140 per month in restaurants for the two of us. We would eat mostly in mom-and-pop-style restaurants rather than the expensive expat-style restaurants.
Cell Phone Data: The cost to recharge our prepaid service is 60 RM $14 per month. My android phone will act as a hotspot so we can both be on the internet at the same time when we are out of the house together.
Laundry: Many apartments here have washing machines but you will see coin-operated laundries around also. We would rent a place with a clothes washing machine so we would only spend another 20 RM ($5 USD) on detergent.
Water: We would spend about $20 per month on reverse osmosis drinking water which includes delivery.
Internet: Our home Internet service would be about $30 per month for 60 MBPS WIFI.
Transportation: The fun areas around Kuching are tightly packed in the city center but we were able to take city buses in and out of the city center. So if we moved here we would just use Grab Taxi to get groceries home and ride city buses or bicycles the rest of the time. We estimate around $50 per month for transportation.
Alcohol (Optional): A Tiger beer regular size is about 6-7 RM ($1.60 USD) in the market. But Tsingtao which tasted the same to us was only 3.50 RM. But you could easily double those in bars and restaurants. So for the two of us, we estimate about $120 USD per month since we would drink more at home than in bars.
Entertainment (Optional): We would budget about $100 per month for entertainment for the two of us.
Retire Early on $887 USD per month in Kuching Sarawak Malaysia
| | |
| --- | --- |
| Kuching Sarawak | Expense (USD) |
| Rent | 318 |
| Groceries | 260 |
| Utilities | 50 |
| Restaurants | 140 |
| Cell Data | 14 |
| Laundry | 5 |
| Water | 20 |
| Internet | 30 |
| Transportation | 50 |
| Recurring Total | $887 |
| | |
| Alcohol (Optional) | 120 |
| Optional Total | $1007 |
| | |
| Entertainment (Optional) | 100 |
| Optional Total | $1107 |
Not all of your potential expenses are listed in the above table. Visit Numbeo for Kuching and add anything you spend money on in your home country each month that is not mentioned in the above table. This is our estimated cost of living if the two of us moved here on a tight budget. To fully understand what it would cost you to live here, you must do an exploratory visit and put your feet on the ground. Our costs of living are generally much lower than a new traveler's because we are great bargain hunters but there are a few people that live cheaper than we do.
Never move anywhere until you have visited first personally to verify the living costs for your lifestyle and needs. I am not guaranteeing these prices. These are just my notes and estimates from the time of my visit and this post. Your costs will likely be drastically different depending on your lifestyle and the time since this post.
More typical ex-pat living costs in here range from about $1400 to $2200 per month. But people spending that much often have higher incomes or pensions. They often report spending more on entertainment, eating out, and alcohol. Many also have more expensive cars, houses, or apartments.
Many of you will likely be unable to retire on so little here. I give example reasons why in this report: Understanding Why Overseas Living Costs Vary Widely. Several other reports you should read include How to NOT FAIL at Retiring Cheap Overseas and the Two Biggest Risks of Retiring Early for Cheap Offshore, which explain why you should have emergency funds available for unexpected large expenses. Links to those are provided below.
Where We Stayed
Kuching: This is the building where we stayed but this unit is cheaper so we are sharing it instead. This works out to about $17 USD per night.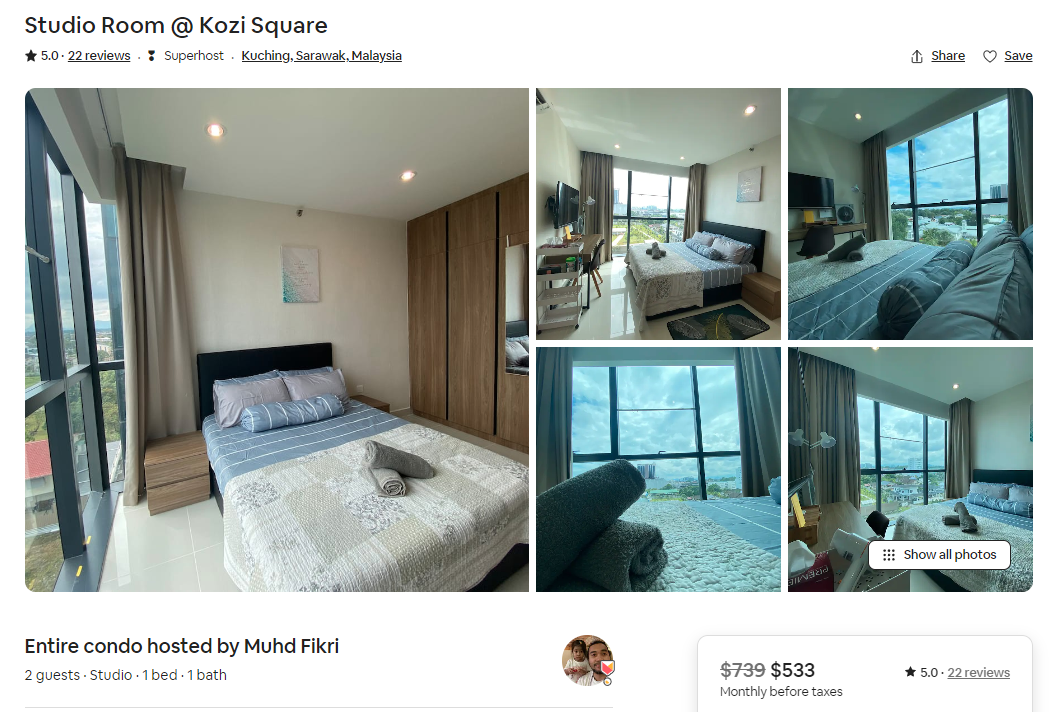 If you decide to live or retire in Malaysia for a year or more, and, you will be trying to live within the budget we are estimating in this report. you are going to have to put your feet on the ground and look for more local less expensive long-term accommodations. Here is our process for finding places as we slowly travel: How to find great apartments around the world.
Traveling to Sarawak Malaysia
We flew from Kota Kinabalu, Sabah to Kuching, Sarawak on AirAsia for about $100 USD per person.
Livability Factors and Retirement Desirability Score
Here are the factors I think about when I consider a place for early retirement potential. After I discuss each factor, I will assign an overall retirement desirability score.
Walkability: High Desirability. I love living in walkable areas of the world where you can walk to restaurants, grocery stores, nightlife, and other interesting things to do. If I decided to retire in Kuching Sarawak Malaysia, it would be a completely walkable area. The only thing we used a Grab Taxi for when we were in town was to get groceries. We walked or used public transportation otherwise.
Internet: 60 MBPS. The internet can be spotty around much of Malaysia, but you should be fine in Kuching. Just make sure to get your own Wifi Router.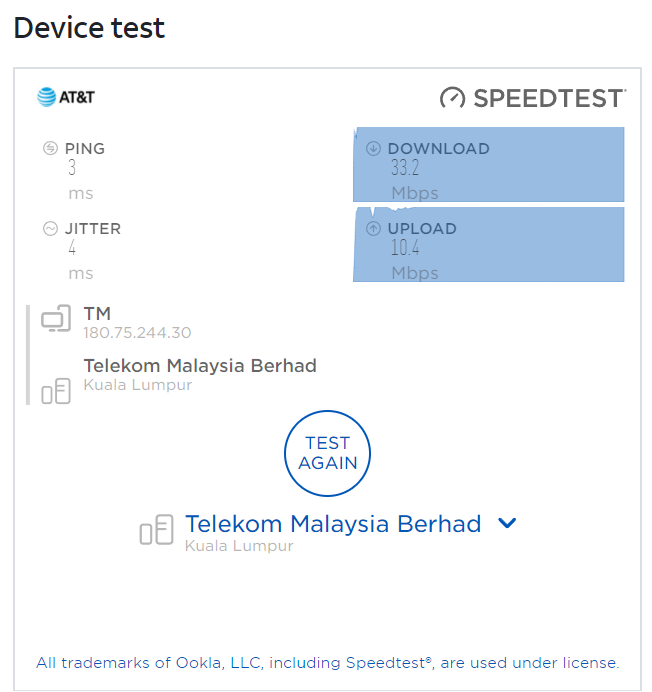 Food: High. The food international choices in Kuching are about what you would expect for a town this size (600k people). There is Thai, Italian, Chinese, Malaysian, Indian, Filipino, Korean, French, Vietnamese, Taiwanese, Indonesian, and Middle Eastern.
Transportation: High public transportation. We like living in walkable neighborhoods, and Kuching central is very walkable. So, we would probably live in the central area and just use a Grab taxi or a public bus a few times per month to get outside the central area.
Weather: Medium. Here is the weather in Kuching. The average daily temperatures range very little from average highs of 86F, 30C, in January to the average highs of 91F, 33C, in May. The average nightly lows also range very little from 73F, 24C, in December to 74F, 23C, in May. The most rain falls from November through March, with the wettest month being January when it rains 25 inches.
Things to Do: High. Strolling on the waterfront, river boat tours, people watching, malls, night markets, cooking, yoga, mountain biking, martial arts, gyms, restaurants, bar hopping, golfing, live music, running, coffee shops, street food, and kayaking.
Healthcare: Medium. There are a few good hospitals in Kuching that can handle many problems likely to arise in retirement. Plus, Kuala Lumpur on mainland Malaysia is getting to be known as a fairly great medical tourism destination, for price and quality. So if you get an odd disease of sorts that needs a specialist, you are just a short flight to Kuala Lumpur or Bangkok.
Expats: Medium. There is only one small Kuching Sarawak Expats Facebook page. It has 1000 followers and averages 3 posts a day. Plus, we didn't see all that many western looking expats wandering around Kuching. So, there is unlikely to be much activity from experienced ex-pats to answer common questions for new expats. But it is worth a try. Just make sure to search recent posts on that FB page to make sure that question was not asked and answered in the last year or so. People tend to ignore those kinds of questions. Make sure to make friends with both locals and ex-pats for a richer experience living here. I explain why in my report, The Top 10 Mistakes International Retirees Make.
Real Estate: Medium. Foreigners can buy property in Sarawak in their own name with certain limitations. But I never recommend buying real estate overseas until you have lived somewhere for at least 2 years and I would probably never buy for the reasons I state here: Why Retired Expats Should not Buy Real Estate Overseas. Make sure to read that before deciding to buy real estate overseas. Almost everyone else is going to try to get you to buy so read at least one source explaining why it may not be a good idea for everyone.
Visa: Medium. Sarawak has decided to create retirement visa rules that are more reasonable than Western Malaysia's retirement visa rules. Even if you don't qualify for the below rules, you should understand that there are ex-pats that have spent years in Sarawak (lawfully) without even applying for a retirement visa. You may just have to get (lawfully) creative if you want to stay here but do not qualify for the following retirement visa rules. Remember, the following financial requirements are in local currency so convert them to your currency to really understand the requirements. The following Sarawak rules (and further requirements) are found at this link.
Category A: Main applicant above 50 years old, the spouse has no age limit. S-MM2H program is very attractive for applicants above 50 years old.
Category B: Main applicant between 40-50 years old may apply if they purchase a property above RM600,000 in Kuching and RM500,000 in other cities of Sarawak.
Category C: Main applicant between 30-40 years old may apply if their children pursue education or long-term medical treatment in Sarawak.
Main applicant can bring along spouse, children below 21 years old and parents in a single application.
S-MM2H program holders can reside anywhere in Malaysia including Kuala Lumpur, Penang, Johor Bahru etc. However, MM2H holder must visit Sarawak at least once or twice a year to fulfill minimum stay requirement 15 days per annum in Sarawak.
S-MM2H Program has TWO types of applications: Application with FIXED MONTHLY INCOME or Application with FIXED DEPOSIT PLACEMENT.
S-MM2H applicant can show proof of monthly offshore income or pension funds of RM10,000 for married couples or RM7,000 for single applicant.
OR
S-MM2H applicant can open a fixed deposit account of RM300,000 for married couples with children or RM150,000.00 for a single applicant at any bank in Sarawak.
From second year onwards, S-MM2H holder may withdraw up to RM120,000 (couple) or RM60,000 (single) for approved expenses related to the purchase of a house, car, education or medical purposes in Sarawak. In other words, MM2H holder must maintain a minimum Fixed Deposit balance of RM180,000 (couple) and RM90,000 (single) until termination of MM2H Program.
Kuching Sarawak Overall Retirement Desirability Score: High. I am ranking Kuching as having high desirability. I personally like the lifestyle and attitudes of the people here. Plus, it is a more integrated culture than western Malaysia. I also really like Kuala Lumpur, Georgetown Penang, and Sabah Malaysia. I would need to spend more time in all of them before being able to decide which are my favorites. More on that later. But you will need to put your feet on the ground here to determine that for yourself.
Thanks for reviewing my report, Retire Early on $887 USD per month in Kuching Sarawak Malaysia.
Please subscribe to VagabondBuddha.com or our Youtube Channel to watch us move around the world, 14 years and 67 countries so far. Make sure to grab a free copy of my eBook, How I Fired My Boss and Traveled the World for 15+ Years. It has most of my best tips and tricks.
This is Dan of Vagabond Awake, the Youtube channel for VagabondBuddha.com. Thank you for stopping by. The world is your home. What time will you be home for dinner?