This is my retire early on $962 Month Cebu City Philippines report.
In our last retire cheap in Paradise report we took you to a hippy surfer paradise in the Philippines called Siargao Island. Here is a link to that video. In Today's retire cheap in Paradise report, we take you to the sixth largest city in the Philippines called Cebu City.
We like to travel on the ground so we can see the world as we travel. So we took the ferry from Siargao to Cebu City. The direct flights would have been about $250 USD for two people but the ferry was $60 USD for two people. The transfer details are below.
We will be in the Philippines for about 6 months this time. We have 5 more places to report to you. Then we will continue slowly traveling the world and sharing our favorite places with you at VagabondBuddha.com
Many of you have told us that you would like to retire in places that have larger fully staffed hospitals. In the Philippines, that generally means a larger city. People travel from rural areas to larger cities in the Philippines to visit better-known hospitals.
In that case, being in our near a larger city like Cebu City would be a good choice for you. But Cebu City is slightly more expensive than surrounding rural areas. So depending on how far you are willing to be from a major hospital, you may want to consider smaller surrounding communities.
Other people like city life more in the Philippines. There are larger malls with greater selection, more foreign and domestic restaurants, and a larger dating pool if you are single and looking for love in the Philippines.
Then there are people like me. I prefer all the choices and excitement you get in a mid to large-size city, but I also love nature. But I also like going on trips to nearby beautiful nature spots at least once a month. Cebu City seems ideal for that.
Plus Cebu City has amazing Internet connectivity because it is home to many companies that offer call centers to businesses all over the world. That means the city is full of educated young people that speak many languages and have discretionary income.
So Cebu City is a vibrant city with a higher standard of living than many other parts of the Philippines.
You guys almost always ask us for estimates on our basic cost of living estimates, so here we go with that. Here are our estimated basic living expenses.  
Groceries
As I explain in the video above, you will save a bucket and a half of money if you shop in the open-air market we show you. Cebu City has large shipments of fruits and vegetables arriving at their docks. Some of it ends up in the expat grocery stores you will find in all the large malls around Cebu City.
But if you make a grocery run once a week to the open-air market, and you take the time to find sellers with the best quality and price, you will be able to reduce your grocery store bills substantially.
It doesn't matter how rich you are, when you see the quality and price difference, you will understand why weekly runs to the pen air market for fresh fruits, vegetables, and proteins.
By shopping like locals in this way, we estimate about $220 USD per month for fresh daily foods which we would prepare at home ourselves. That is how we would manage our grocery budget.
Expats that shop in expat-style groceries stores in the larger malls where they often buy imported comfort foods from overseas often report spending much, much, more, $400 to $500 USD per month. So keep that in mind.
Restaurants
Cebu City has a range of restaurants, food carts, and outdoor markets to choose from. In general, the closer you are to the Call Centers, Expensive Areas, or Expat areas, the higher the food prices are. No surprise right? This is true all over the world.
Since we staying in Cebu IT Park, the restaurant prices were on the higher end. So it was not unusual to see entrees for $6 USD or even more. But once your feet are on the ground and you have had time to shop a little, you will start to find better deals.
One such indoor restaurant with AC that Qiang really loved was Barangay Seoul Restaurant (see the restaurant links below). It included one main meat, one side choice, two vegetable sides, soup, and rice for 145 PHP ($2.63 USD).
So, although you will find meals in local Filipino restaurants outside these expensive zones for around $2.00 to $4.00 USD, the meals where you will see foreigners eating range from about $5.00 to $10.00 USD per person, or even more.
So, if we retired in Cebu City, and enjoyed mostly more local restaurants but also foreign restaurants twice a month, but eat most of our meals at home, we estimate that we would spend about $180 USD per month on restaurants.
Rents
We stayed at a place in the Cebu IT Park for about 23 USD per night. But that was the rate if you stay for only one week. So, today I searched in Airbnb.com for the one-month rate and found this place for $415 USD.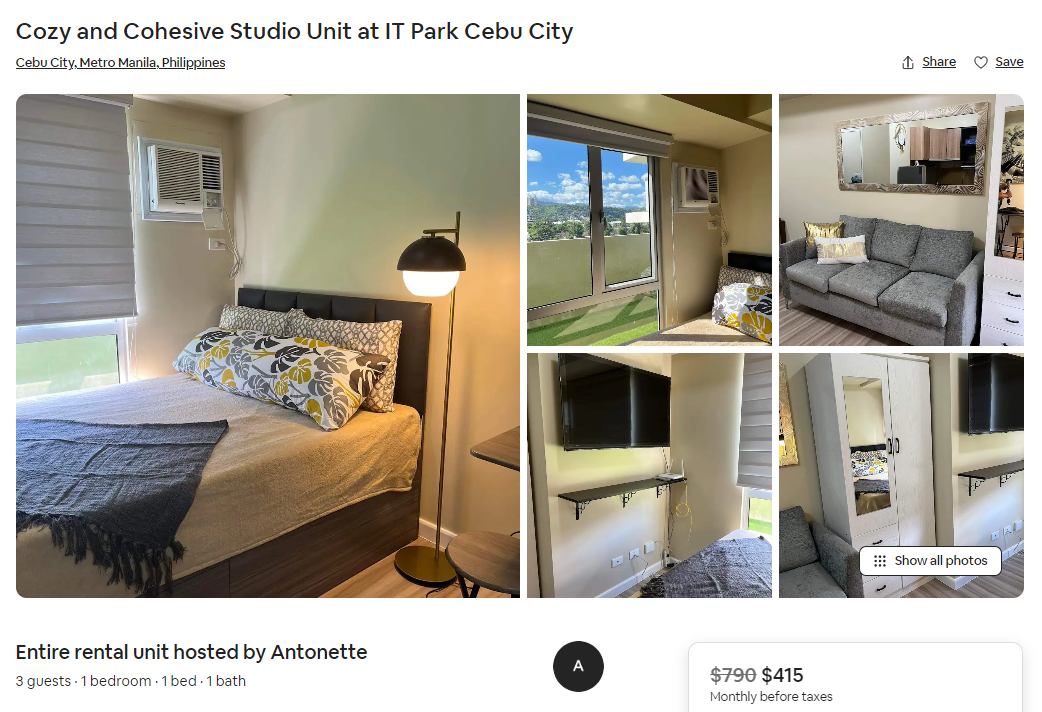 But if we were looking for something more local feeling, for long term, for a better rate, for say 6 to 12 months, we would do what the locals do to find cheaper rents. It isn't always easy, but we can usually get a better deal than the online price with our apartment rental process.
So we would put our feet on the ground in Cebu City and find our favorite neighborhoods in order to find a landlord offering something longer term. Based on what we learned, we estimate that we would be able to get a place for around $350 USD per month plus utilities.
Utilities and Internet
We estimate utilities of $50 per month and Internet for $50 per month.
Transportation
If we lived in Cebu City, we would buy a used scooter and 2 helmets for around $1000 USD. We would take a Grab Taxi to get groceries home. So, we estimate that our transportation would average about $60 USD per month.
Cell Data
We paid about $10 USD for our SMART SIM card and data which included 22 GB data per month.
Laundry
It cost us $5 per week to drop off and pick up our laundry for washing, dry, and fold. So we estimate $20 per month for laundry drop off and pick up.
Water
R/O water in twenty-liter bottle jugs delivered to our house would be about 60 pesos per month per jug or about $22 USD per month.
Alcohol (Optional)
San Miguel Pilsen Grande beers are about 200 PHP or $3.63 USD each in restaurants and bars. The Grande is about 2 beers so beers are about $1.80 each in restaurants and bars. But you will see regular-sized San Miguel Pilsen beers in stores for about 60 PHP or $1.10 USD each. We would drink mainly at home so we estimate about $150 per month in alcohol for the two of us.
Entertainment (Optional)
We estimate that we would spend about $200 per month for entertainment which includes trips, tours, hiking, and that sort of thing.
Retire early on $962 Month Cebu City Philippines
| | |
| --- | --- |
| Cebu City | Expense (USD) |
| Rent | 350 |
| Groceries | 220 |
| Utilities | 50 |
| Restaurants | 180 |
| Cell Data | 10 |
| Laundry | 20 |
| Water | 22 |
| Internet | 50 |
| Transportation | 60 |
| Recurring Total | $962 |
| | |
| Alcohol (Optional) | 150 |
| Optional Total | $1212 |
| | |
| Entertainment (Optional) | 200 |
| Optional Total | $1412 |
Not all of your potential expenses are listed in the above table. Visit Numbeo Philippines, and add anything you spend money on in your home country each month that is not mentioned in the above table. This is our estimated cost of living if the two of us moved here on a tight budget.
To fully understand what it would cost you to live here, you must do an exploratory visit and put your feet on the ground. Our costs of living are generally much lower than a new traveler's because we are great bargain hunters but there are a few people that live cheaper than we do.
Never move anywhere until you have visited first personally to verify the living costs for your lifestyle and needs. I am not guaranteeing these prices. These are just my notes and estimates from the time of my visit and this post. Your costs will likely drastically differ depending on your lifestyle and the time since this post.
More typical ex-pat living costs in the Philippines range from about $1400 to $2500 USD per month. But people spending that much often have higher incomes or pensions. They often report spending more on entertainment, eating out, and alcohol. Many also have more expensive cars, houses, or apartments.
Many of you will likely be unable to retire on so little here. I give example reasons why in these reports: Two Biggest Risks of Retiring Early for Cheap, Do Not Try to Retire Here on $900 Month and Understanding Why Overseas Living Costs Vary Widely.
My Favorite Markets and Restaurants in Cebu
Cebu City Markets
Carbon Market: This is the largest open-air market in Cebu City where you will find fruits, vegetables, and proteins sold in stalls run by families. This is where your budget will go the furthest.
Ayala Malls Central Bloc: The expensive expat-style grocery store shown in the above video is in this mall. Things you are unable to find in the open air market will be here. These expats style grocery stores in most of the larger malls in Cebu City, such as Ayala Center Cebu, and Robinsons Galleria Cebu.
Landers: This is the membership store we show you in the above video. It is like a Costco in the USA.
Cebu City Restaurants
Favorites bubbled to the top:
Eden's Vegan Food Hub: 10am-6pm, 99php per meal
The Green Canteen (Veg): 10am-9pm, Red rice, 2 Veg, 1 faux-meat, soup, 113 PHP
Phat Pho Vietnamese (Meat and Veg): Large Pho 469php, Mixed vege 299php, jasmine rice 69php
Barangay Seoul Express (Meat and Veg): Korean set meal 149php
Sugbo Mercado – IT Park (Meat and Veg): Porkchop with bone marrow 210, lechon with rice 155php, Grande beer 200php, sisig 129php (Veg Indian food also)
House of Lechon (Meat): 1/8 lechon 275php, garlic rice 40php, cheese stick 165php
Mang Inasal (Meat): Chicken 149php set meal
New York Buffalo Brad's Sports Lounge (Beer): Grande beer 500ml 200php
R/O Drinking water (delivery): Phone number: 0965.5379.479
Cebu IT Park Nightlife
There are a few places around the outside of this Garden Bloc where you will see live music, karaoke, and other activities. Overall it is pretty chill but fun to walk around and people-watch. They also have late-night food in the middle of the park at Sugbo Mercado.
Cebu City Old Town Walking Tour
We went on a do-it-yourself walking tour of the old town of Cebu City. We did it on a weekday starting around 10 AM. The map will show a total walking time of 35 minutes, but we spent about 3 hours going at our own pace. Click this to get the Google Map.
The map will also give you the names of the stops on the tour.
All five stops felt worth our time. We dropped one stop called the Colon Street market, after we completed the tour. So it is no longer on the above tour. If you like reading a little before you walk old towns, here are a few links to read about each stop.
Where We Stayed
We paid about $23.00 USD per night for a one-week booking when we arrived in Cebu City. Here is the building where the apartment is located. I am not setting the price on this. I am just telling you what I paid to stay here.
If you decide to live or retire in Cebu City for a year or more, if you will be trying to live within the budget we are estimating in this report, you are going to have to put your feet on the ground and look for more local style less expensive long-term accommodations. Here is our process for finding places as we slowly travel: How to find great apartments around the world.
Traveling to Cebu City from Siargao
We are traveling around the World right now exploring the best places to retire cheap in Paradise. I have hundreds of reports about the best places to retire all around the world.
We are presently in the Philippines. Cebu City is our second stop on this tour. We have made three long-term trips to the Philippines over the last 4 years and we have reports for each place we spent time.
We took a tricycle taxi from Siargao to the ferry port in Dapa. The tricycle cost 300 pesos for two people but we tipped 100 PHP because he picked us up at 4 AM. We arrived at the Dapa ferry port at 5AM and bought our ferry ticket to Surigao, for 450 PHP, $8.18 per person. The ferry left for Surigao at 6 AM.
When the ferry arrives in Surigao, you are already in the right place to catch the ferry to Cebu City. Just walk out the gate, turn right and walk about 150 yards (meters). Then turn right into the entryway and buy your ferry ticket to Cebu City.
We bought our ferry tickets from Surigao to Cebu City, for 1560 PHP, $28 USD, per person, and the ferry left for Cebu City at 9 AM.
The ferry arrived in Cebu City at about 6:30 PM. The Grab Taxi to our accommodations in Cebu IT Park was 241 PHP, $4.38 USD.
Ground Transportation
Most tourists rent scooters in Cebu City for short stays for about 350 pesos ($7 USD) per day. Many parts of the Philippines have Grab Taxi, including Cebu City. Grag taxis run abour $2 to &5 USD. The Cebu IT Park also has a bus terminal with the name of locations all over the city painted on the outside of the buses. Buses are the cheapest way to travel. We paid about 25 to 50 cents USD for bus rides per person.
Livability Factors and Retirement Desirability Score
Here are the factors I think about when I consider a place for early retirement potential. After I discuss each factor, I will assign an overall retirement desirability score to Cebu City. I am writing the following based on my personal experience in Cebu City.
Walkability: Medium Desirability. Cebu City is large. But in many neighborhoods like Cebu IT Park most things you need for daily life (other than the Carbon Market) are within walking distance. But we would want to buy our fresh fruits ad vegetables at least once a week in Carbon Market. There is a bus running back and forth from Cebu IT Park to Carbon Market so that alone would not be enough to buy a used scooter. But if we decided to buy a used scooter and 2 helmets later, that would cost around $1000 USD.
Internet: High Desirability. You will have to get your own router if you plan on having workable internet speeds. That would be around $50 per month. But the speeds in the Cebu IT Park area are amazing because the call centers are so important to the local economy.
Food: Medium. Cebu City has an amazing assortment of restaurants for meat eaters mostly, but some restaurants have a dish or two for vegetarians, and there are even a few restaurants that are 100% vegetarian or vegan.
Transportation: High. We didn't see Jeepneys (local-style jeep-buses) or tricycle taxis inside the Cebu IT Park. They must not be allowed. But if you walk outside Cebu IT Park you will see them running everywhere. But the terminal bus station inside Cebu IT Park was so efficient, clean, and cheap, we just used those. Plus, I like how they have the main stops where they are going on the side of the bus so you know which one to jump in.
Weather: Medium. The average daily temperatures range very little from average highs of 85F, 29C in January to the higher average highs of 91F, 33C in May. The average nightly lows also range very little from 75F, 24C in January to 78F, 26C in May. The most rain falls from June through January when rain falls 9 to 11 days per month. Read this report on where to stay in the Philippines to avoid the 4 kinds of natural disasters.
Things to Do: Cebu is a city. If you are looking for white sand beach life, you are a few hours away from the best beaches. But the good news is that buses run all over Cebu Island frequently and cheaply ($3 to $6 USD). But Cebu City is great for other things: people-watching, dating, night markets, cooking, yoga, meditation, massage, gyms, restaurants, bar hopping, hiking, live music, coffee shops, scooter rides, city tours, hanging out in great malls, and street foods.
Healthcare: High. The best health care in the Philippines is in Cebu City and Metro Manila. The top hospital that doctors (and ex-pats) on Cebu Island refer people to is called Chong Hua Hospital in Cebu City. But I would probably only pay their higher fees for life threatening challenges.
Expats: High. You will meet expats from all over the world in Cebu City. If you are shy, you can meet them online. On Facebook, just search for "Cebu City Expats." But make sure to make friends with both locals and ex-pats for a richer experience. I explain why in my report, The Top 10 Mistakes International Retirees Make.
Real Estate: I never recommend buying real estate until you have lived somewhere for at least 2 to 3 years. I have a report explaining Why Retired Expats Should not Buy Real Estate Overseas for the first 2 to 3 years of living somewhere new overseas. Make sure to read that before deciding to buy real estate overseas. In the Philippines, you can't own land directly in your name. Some foreigners get a long-term lease on land before they build, while others get married and put the property in their Filipino wife or husband's name. But do hire a local lawyer if you decide to invest in real estate. Do not use a lawyer referred to you by someone with a conflict of interest with you, such as a new local spouse, a real estate broker, or your spouse's family.
Exploratory Visa: High. For your exploratory visit to the Philippines, citizens of many countries can obtain a 30-day free visa stamp upon arrival at the international airports. Plus, you can extend your tourist visa for a total of 36 months in the Philippines without bothering with a retirement visa. The monthly visa extensions cost about $30 USD per month. After the 36 months, you just leave the Philippines and go to another country and then fly back to start the whole 36-month process over again. For this reason, almost nobody I have met in the Philippines bothers to get a retirement visa.
Cebu City Overall Retirement Desirability Score: Highly Desirable. If you are more of a city person that likes to visit the mountains and beaches on long weekends, and you want to be closer to healthcare, then Cebu City is a great match for you. The unique thing about Cebu City in the Philippines is that it is large enough to provide you with city life but not so large as the sprawling metropolis of Manila. Plus, Cebu City has ferries running to other islands, and buses running all over Cebu Island. So you can get to nature when the mood strikes without driving. The cost of living for city life is reasonable here plus the Carbon Market is a real jewel in the crown for Cebu City. But you will need to put your feet on the ground here for an exploratory visit to determine if Cebu City is right for you and what it will cost for you to live here.
Thanks for reviewing my report, Retire early on $962 Month Cebu City Philippines.
Please subscribe to VagabondBuddha.com or our Youtube Channel to watch us move around the world, 14 years and 67 countries so far. Make sure to grab a free copy of my eBook, How I Fired My Boss and Traveled the World for 15+ Years. It has most of my best tips and tricks.
This is Dan of Vagabond Awake, the Youtube channel for VagabondBuddha.com. Thank you for stopping by. The world is your home. What time will you be home for dinner?