This is my Retire on $825 USD Month in Bali Indonesia report. We are presently touring SE Asia investigating the best place to retire cheap in paradise. Bali is definitely and presently my favorite place in the world to retire cheap in paradise. Let me explain how I know this.
I have been traveling the world since 2007, in 67 countries so far. I return to the USA for a week or two every other year or so, but the rest of the time I slowly travel the world. I have over 200 reports of the best places to retire along with tricks and tips to save you time in overseas retirement.
Groceries
One of the biggest mistakes you can make living internationally if you are trying to live on a tight budget is to buy imported groceries from your home country or other parts of the world. What costs you one dollar at home could easily cost you three dollars here. Remember, it is fancy foreign food once it is shipped internationally. That is a mistake you could easily make here in Bali Indonesia.
This could easily double your food budget if you are not careful. Watch our Top 10 Mistakes International Retirees Make to learn the other 9 big mistakes you could make as an international retiree.
Instead, follow the locals around. Not only do they spend much less on locally grown foods, but the food they eat is often more recently picked so it is fresher. You will quickly learn why locals shop in open-air markets without shopping carts or air conditioning. Just shop in the morning market when the air is still fresh and cool. I will provide links to everything I talk about at the end of this video.
By shopping like locals, we estimate about $230 USD per month for fresh daily foods. We do our best to stay away from air-conditioned grocery stores selling imported and other processed foods.
Rents
Rent is another place where foreigners' budgets get stretched. Do you know the old saying, when in Rome do as the Romans do? That turns out to be one of the most important principles if you are retiring overseas and you want to live the most interesting life learning about your new culture.
You see, if you come to Bali and look for a place on Airbnb.com for a month, you could easily pay $800 to $1000 per month. There is nothing wrong with that if you have the money and like the convenience. But that is not what the locals do when they look to rent a place for a year or two.
I understand that you need somewhere to go when you first land in a country. I do too. So, I book a place on Airbnb.com or Agoda.com for about 5 days. That gives us a place to go when we arrive and it puts our feet on the ground in our target neighborhood. But after that, we do as the Romans do. We spend the next 2 or 3 days doing what locals do to find cheaper rents. It isn't always easy, but we can usually cut the online rent in half with our apartment rental process.
So we put our feet on the ground in my favorite part of Bali called Ubud Central. Then we walked my favorite walkable areas of central Ubud. We found a few places that were almost what we wanted. But we keep looking.
On the second day, we found something we totally loved for 5 million rupiahs per month ($324 USD per month) including utilities. That is less than $11 USD per night including utilities and Internet. It is a 1 bedroom villa with a living area, kitchen, and private bathroom.
The funny thing is, the villa was hidden away, about 50 meters off my favorite walkable street in Ubud. I will give you a live video tour of our apartment in just a moment. You won't believe your eyes. But first, let me show you the amazing local restaurant food we were able to find for about $2 USD per meal.
Restaurants
So how do you save money in restaurants? I am just like you, I like to eat pizza or pasta once a week or so. But if you only eat in western food restaurants when you are living overseas, you could easily double or triple your budget.
Instead, I go on local restaurant adventures once or twice per week for the first month or so, to identify what the locals eat. By following locals, you will quickly identify a variety of foods that locals eat, that you will also enjoy. Finding favorites in local restaurants helps me stay on budget in two specific ways.
First, when I go out to eat I am paying local restaurant prices. Second, when I shop in the open air and in other local markets, I learn what local ingredients to buy so I can try preparing local dishes at home. I often can find how to make the local dishes I love on Youtube.
Then when I am shopping, I can look for the local ingredients I need instead of always going back to the foreign imported ingredients. So understanding the local diet helps me save money when I go out to eat plus it teaches me how to save money on local ingredients when I prepare foods at home.
If you are wondering why other foreign retirees report spending two and three times as much as me in grocery stores and restaurants, it is probably because they are eating in foreign restaurants and buying imported ingredients to cook at home. They may in fact be in Rome, but they are not doing as the Romans do.
So, if we primarily ate local dishes in local restaurants, once for date night per week, and one lunch per week somewhere, along with the occasional street food, we would average about $30 USD per week in restaurants, or $120 per month for the two of us.
Transportation
If we lived in central Ubud, Bali, as discussed above, everything would be walkable for us. So we would get our exercise just going about our daily routine every day. We could also buy an old scooter or old bicycle if we wanted to get around faster.
We may also use Grab Taxi or Gojek Taxi if needed. So, we estimate that our transportation would average about $40 USD per month.
Utilities and Internet
Our apartment included utilities and Internet for $324 per month. So for estimation purposes, I will just estimate utilities of $50 per month and Internet for $50 per month. So I will drop the rent to $275 since we would be paying internet and utilities if we rented long term.
Cell Data
We paid $20 USD for our SIM card which included one month of data.
Laundry
It cost us $5 per week to send out our laundry for washing, drying, and folding. So we estimate $20 per month for laundry drop off and pick up. 
Water
We had 12 twenty-liter bottle jugs delivered to our house in a month. They were 25k Rupiahs per jug or 300k Rupiahs, which is about $20 USD.
Alcohol (Optional)
Local Bintang beers are about 24k Rupiahs ($1.60 USD per beer) for a regular-size beer in stores. A large Bintang which is equal to about 2 regular size beers costs about 41k Rupiahs ($1.36 USD per beer). You could easily pay twice as much in bars and restaurants so we would drink mostly at home. We estimate about $130 per month in alcohol for the two of us.
Entertainment (Optional)
We estimate that we would spend about $200 per month for entertainment which includes trips down the beach for the day, tours, hiking, and that sort of thing.
After I summarize our estimated living costs for Ubud Bali Indonesia, I will take you on a live tour of the mind-blowing Apartment we found for $324 per month.
Retire on $825 USD month in Bali Indonesia
| | |
| --- | --- |
| Ubud, Bali | Expense (USD) |
| Rent | 275 |
| Groceries | 230 |
| Utilities | 50 |
| Restaurants | 120 |
| Cell Data | 20 |
| Laundry | 20 |
| Water | 20 |
| Internet | 50 |
| Transportation | 40 |
| Recurring Total | $825 |
| | |
| Alcohol (Optional) | 130 |
| Optional Total | $955 |
| | |
| Entertainment (Optional) | 200 |
| Optional Total | $1155 |
Not all of your potential expenses are listed in the above table. Visit Numbeo for Ubud, Bali, and add anything you spend money on in your home country each month that is not mentioned in the above table. This is our estimated cost of living if the two of us moved here on a tight budget. To fully understand what it would cost you to live here, you must do an exploratory visit and put your feet on the ground. Our costs of living are generally much lower than a new traveler's because we are great bargain hunters but there are a few people that live cheaper than we do.
Never move anywhere until you have visited first personally to verify the living costs for your lifestyle and needs. I am not guaranteeing these prices. These are just my notes and estimates from the time of my visit and this post. Your costs will likely drastically differ depending on your lifestyle and the time since this post.
As I mentioned, Ubud Bali is my favorite place in SE Asia to retire cheaply in paradise. But if you are curious about what locations in SE Asia came in second place, third place all the way through 10th place, review this report.
More typical ex-pat living costs in here range from about $1400 to $2500 per month. But people spending that much often have higher incomes or pensions. They often report spending more on entertainment, eating out, and alcohol. Many also have more expensive cars, houses, or apartments.
Many of you will likely be unable to retire on so little here. I give example reasons why in these reports: Two Biggest Risks of Retiring Early for Cheap, Do Not Try to Retire Here on $900 Month and Understanding Why Overseas Living Costs Vary Widely.
My Favorite Markets and Restaurants in Ubud Bali
Ubud Markets
Alfamart: There was a large public market in central Ubud the last time we were here. But there is a huge fence around the area where it was located. Inside the fence, they appear to be building a high-end mall. Luckily, we were able to find locals selling fruits, vegetables, meats, and other foods early in the morning along the street in front of this market (Alfamart). The sellers show up early morning around 6am or so and are mostly gone by 8am. We got some great deals on fresh food here. You will also see other sellers spread out around central Ubud as you walk around.
Coco Supermarket: This is a supermarket with AC, shopping carts, and slightly higher prices.
Bintang Supermarket: This is a supermarket with AC, shopping carts, and slightly higher prices.
Omang Laundry: Drop off pick up. $1 USD per kg. Wash, dry, folded.
Ubud Restaurants
Favorites bubbled to the top:
In Da Compound Warung: Local foods, local prices, 11am-10pm, meals $2 to $4 USD.
9 Angels & 9 Bambu (Vegetarian buffet): Local foods, local prices, 10am – 8pm, meals $2 to $3 USD, french press coffee $1.30, cake $0.70 USD
Warung Lokal: Local foods, local prices, 8am-10pm, $2 to $3 USD
Warung Biah Biah: Local foods, local prices, 11am-11pm, $1.70 USD
Minang Vegan: Local foods, local prices, $2-$4 USD
Pork Satay (Street Food): Local foods, local prices, $0.15 per pork satay stick. Not a restaurant, Just a guy on the side of the road, next to Bottle Avenue Store.
Union Restaurant & bar: Taco Tuesdays.
Black Beach Italian Restaurant: Great pizza. Movie night on top floor.
L'Osteria Pizza e Cucina Ubud: Great pizza but tourist prices.
Watercress Cafe Ubud: Eggs Benedict. Expensive ($10)
Ubud Nightlife
Here are a few of the spots we had a good time at night while in Ubud.
CP Lounge: They mix things up here. Sometimes it is a band, other times it is a DJ. They also have pool tables and a swimming pool. They also have food here so you spend all day here enjoying the pool and people watching. The lounge chairs are free but it is about $3 USD if you want a towel for the day.
Folk Pool & Garden: This is a more chill place you can go day and night. It is not as large and crazy as the above place.
Ubud Best Walking Streets Evening
These streets are best for walking in the evening when the sun goes down. They are full of restaurants, coffee shops, and bars. They are great because they are closed to automobile traffic after about 6 pm at night so it feels safer walking. Great People watching too. This street includes both excellent reasonably priced local food along with a few more expensive tourist-style restaurants.  Plus, the best people watching in the evenings. 
Ubud 1st Tour
This is the tour in the above video where we see the terraced rice patties, the water temple, the Bali fruit local stand, the coffee tasting, and the volcano island lake. This tour cost 500k ($33 USD) for the car (it was not per person) and we tipped the driver.
Water Fall Tour
Here is the waterfall tour we took from Ubud. The last stop is an art market with clothing and other souvenirs that is much cheaper than what you will see walking around Ubud. The tour cost 400k ($26 USD) which was for one car rather than per person.
Bali Beach Tour
We spend a day in Sanur Beach with one of our friends at Genius Cafe. On another day, we borrowed a friend's scooter and toured Uluwatu Beaches. Scooters can be rented by the day or longer. The longer you rent them the cheaper they are. One day is about $5 USD. Here is the map of our tour including where we had breakfast and lunch along with the three beaches.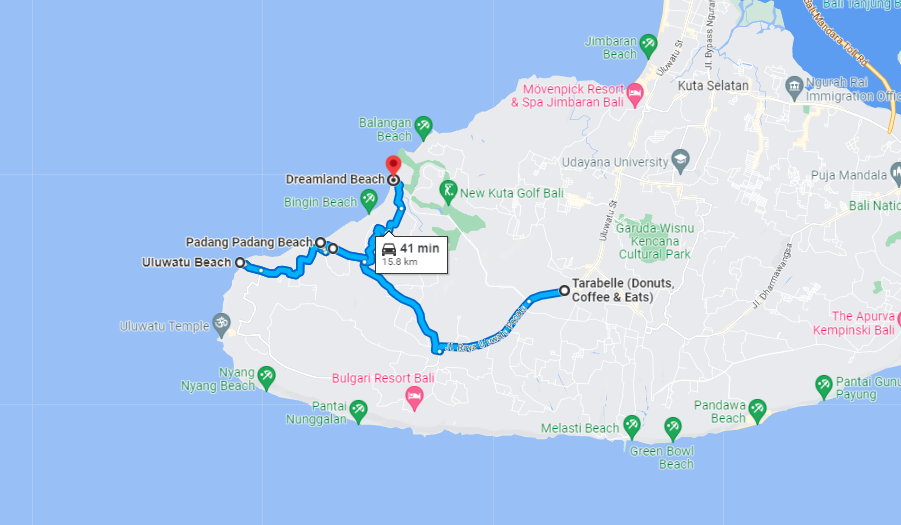 Where We Stayed
We paid about $12.00 USD per night when we stayed at this Airbnb for the first 5 nights upon arrival. I am not setting the price on this. I am just telling you what I paid to stay here.
Then we went walking around the central area of Ubud and found the 1 bedroom apartment we show you in the above video for one month. The location of the 1 bedroom apartment will be provided to members of VagabondBuddha.com when the retire cheap in Ubud Bali report posts on VagabondBuddha.com.
If you decide to live or retire in Ubud, Bali for a year or more, and you will be trying to live within the budget we are estimating in this report. you are going to have to put your feet on the ground and look for more local less expensive long-term accommodations. Here is our process for finding places as we slowly travel: How to find great apartments around the world.
Traveling to Ubud Bali Indonesia
We flew Malaysian Airlines from Kuala Lumpur Malaysia to Denspar International Airport in Bali Indonesia. The flight was around $300 per person roundtrip which was about $100 per person more than we recall spending before the pandemic. We found the flight on Skyscanner.net.
Transfers from the airport to Ubud were 400k ($26 USD) for the two of us. We booked the transfer through our Airbnb landlord shown above.
Taxis Bali Indonesia
The two main smartphone taxi applications in Bali Indonesia are Grab Taxi and Gojek Taxi Application. Gojek had lower prices and more restaurants to choose from for food delivery.
Bali Indonesia Guest Stars
Here is the webpage with more information about Robert (Bobby).
Livability Factors and Retirement Desirability Score
Here are the factors I think about when I consider a place for early retirement potential. After I discuss each factor, I will assign an overall retirement desirability score. I am writing these factors based on my personal experience in Ubud Bali.
Walkability: High Desirability. Ubud Bali Indonesia is one of the most walkable neighborhoods in the world where you can walk to restaurants, grocery stores, nightlife, and other interesting things to do. In fact, we would not try to live in Ubud if we planned on riding a scooter or driving a car. The roads are just too crowded to bother getting in a car. You can get to places faster by walking. We would just live close in to Central Ubud and walk everywhere. Here is the map representing how close in I would stay.
Internet: You will have to get your own router if you plan on having workable internet speeds. Our place had a shared internet with only about 10 MBPS up and down so it was workable but we would upgrade to about 100 MBPS if we stayed here long term.
Food: High. Ubud has an amazing assortment of restaurants for both meat eaters and vegetarians. The local food choices are delicious and cheap. We averaged about $2 USD per meal eating in the local Balinese restaurants. The foreign foods and tourist restaurants in Ubud Bali started around $6-$8 USD per meal on up which was still pretty cheap.
Transportation: Medium. There are local buses that go down to the beaches starting at around about $0.50 USD. Just put your destination in Google Maps and click the bus icon to get directions and times to pick up locations. If we were beach bums, we would probably just buy an old scooter and a couple of helmets just for the freedom it would give us.
Weather: Medium. The weather in Ubud Bali is quite nice. The average daily temperatures range very little from average highs of 81F, 27C, in July to the average highs of 86F, 30C, in November. The average nightly lows also range very little from 72F, 22C, in September to 75F, 24C, in November. The most rain falls from December through February, with the wettest month being January when it rains 8 days per month.
Things to Do: High. Temple strolling, beaches, surfing, hiking, people watching, night markets, cooking, yoga, meditation, massage, mountain biking, martial arts, gyms, restaurants, bar hopping, live music, running, coffee shops, street food, snorkeling, scuba, surfing, and other ocean sports.
Healthcare: Medium. There are two very well-reviewed hospitals I found near Ubud Central, Hospital Ari Canti, and Kenak Medika Hospital that can handle many problems likely to arise. Plus, there are another few well-reviewed hospitals about 1.5 hours away in Denspar, Bali.
Expats: High. There are several Bali Expat pages on Facebook. The largest one has about 60k members. We saw more single female ex-pats wandering around Ubud Bali than anywhere else in the world. That is a testament to how safe and welcome females feel in Ubud Bali Indonesia. There are also many men walking around Ubud, but we see that all over SE Asia so it was not unusual. You shouldn't have too much trouble locating experienced ex-pats to answer common questions. Just make sure to search recent posts on FB pages to make sure that your question was not asked and answered in the last year or so. People tend to ignore those kinds of questions. Make sure to make friends with both locals and ex-pats for a richer experience living here. I explain why in my report, The Top 10 Mistakes International Retirees Make.
Real Estate: Medium. Foreigners can not hold title to real estate in Indonesia. They can have a lease of up to 30 years with a 20 year extension. But you have to hire a local lawyer to make sure the contract says what you want it to. But I never recommend buying real estate overseas until you have lived somewhere for at least 2 years and I would probably never buy for the reasons I state here: Why Retired Expats Should not Buy Real Estate Overseas. Make sure to read that before deciding to buy real estate overseas. Almost everyone else is going to try to get you to buy so read at least one source explaining why it may not be a good idea for everyone.
Visa: High. We worried for a time because it looked like Indonesia was going to eliminate their reasonable retirement visa. The existing retirement visa programs require about $1500 month pension (the exact amount may not be rigid) and be age 55. Many feared that the new Indonesian elite visa requiring about $130k USD to be deposited into an Indonesian bank was replacing the earlier age 55 with $1500 pension requirements. But the this announcement clarifies that the elite visa is being added to the already existing program.
Ubud Bali Overall Retirement Desirability Score: High. I am ranking Ubud Bali with the highest possible desirability. I personally like the lifestyle and attitudes of the people here. The cost of living for such a high quality of life is brilliant but you will need to come here and verify what your cost of living will be based upon the kind of life you would be living.  Also, I really seemed to like the kind of ex-pats that are attracted to Ubud. But you will need to put your feet on the ground here to determine whether or not it is suitable for you.
Thanks for reviewing my report, Retire on $825 USD Month in Bali Indonesia.
Please subscribe to VagabondBuddha.com or our Youtube Channel to watch us move around the world, 14 years and 67 countries so far. Make sure to grab a free copy of my eBook, How I Fired My Boss and Traveled the World for 15+ Years. It has most of my best tips and tricks.
This is Dan of Vagabond Awake, the Youtube channel for VagabondBuddha.com. Thank you for stopping by. The world is your home. What time will you be home for dinner?