[kkstarratings]
This Santa Marta Travel Video Guide includes Santa Marta Top 10 Things to Do, Santa Marta Accommodations, Best Santa Marta Restaurants, Best Santa Marta Nightlife, Santa Marta Money Saving Tips, Santa Marta Safety and Health Risks, and Santa Marta Cost of Living.
We heard about Santa Marta and Tayrona National Park from a Colombian named Daniel that we met during our visit to our Medellin. Daniel was our guide on the Pablo Escobar Tour in Medellin. Daniel told us about this beautiful part of Colombia, the white sand beaches, the protected habitat of the Tayrona National Park, the warm breezes, the natural beauty of this untouched part of Colombia, and tubing adventures in Tayrona. Daniel was right. This place is amazing. While in the Santa Marta we spent 6 nights in Santa Marta Old Town, 5 nights in Rodadero, and 6 nights in Taganga. You will be amazed by how different these three neighborhoods feel.
If you are tired of only 4 weeks vacation per year and want to drop out of the rat race and start living your life, subscribe to VagabondBuddha.com and I will send you a free copy of my ebook, How I Fired My Boss and Have Traveled For 10+ Years.   You will learn how to live and earn money internationally.
Santa Marta: Top 10 Things to Do and See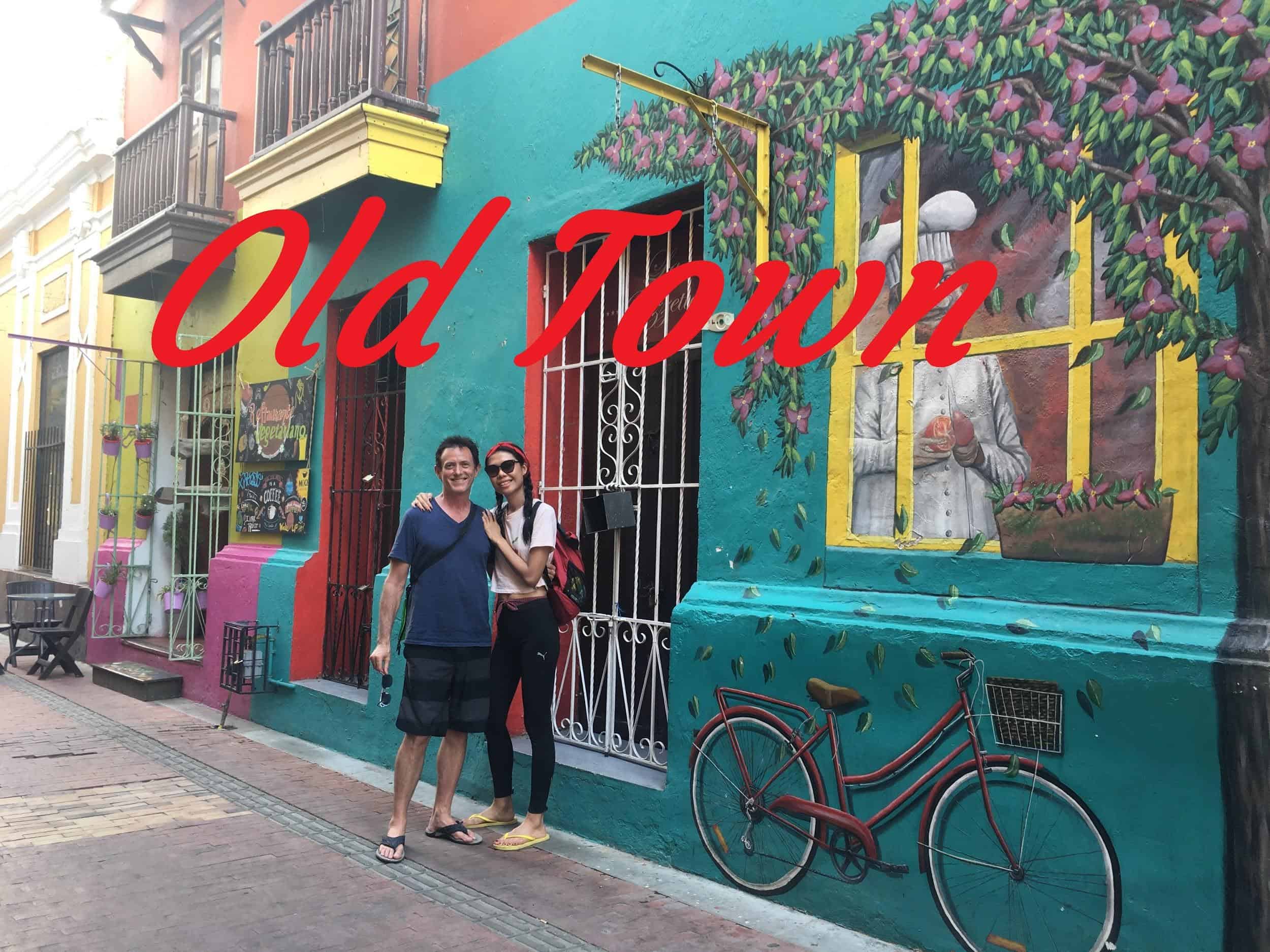 Old Town (Santa Marta): Almost everything interesting in Old Town is in walking distance of this park (Parque Santander de los Novios). Just head over to this park and start exploring in all directions. Some directions will be interesting for 2 blocks, some will be interesting for 5 or 10 blocks. Just follow your explorer nose and sniff out the photos and stories you want to tell. In the evenings, most of the fun is also within 4 to 5 blocks of this park. In the evening, make sure to walk north from the northeast corner of the park, 3 or 4 blocks to Simon Bolivar Park. Along that walk, stop in at my favorite restaurant in Santa Marta (Lulo.com Cafe). Also, make sure to head east from the northeast corner of the park for a few blocks. Old Town is a smaller more relaxed and cheaper version of Cartagena. Just start in this park and explore 5-6 blocks in all directions.
Taganga: Taganga is a fishing village about 5 kilometers north of Santa Marta ($4 Taxi Ride). Taganga is a place where divers and backpackers must visit when in this part of the world. We spent 6 days in Taganga while in the Santa Marta area and it turned out to be a great decision. Taganga is a super relaxed community so we relaxed. We didn't do any tours or excursions from Taganga. Relaxation is exactly what we needed so we enjoyed Taganga. Sunset on the beach in Taganga is spectacular. As you face the beach in Taganga, the fishing boats are all off to the right, and the sunbathing part of the beach is more to the left. Make sure to walk the beach from one side to the other at sunset and take pictures. Pictures of fishing boats with the sun setting behind them are nice.
Rodadero: Rodadero is said to be one of Colombia's national holiday spots. I think that describes it fairly well. If you would like to see Colombian's singing and dancing on the beach in the evening after a few beers, this is the place to go. You will hear some great music and people having a really nice time. During the day, Rodadero beach is also where you catch the boat to Playa Blanca.
Playa Blanca: Playa Blanca is a beautiful white sand beach within a few kilometers of Santa Marta. While facing the beach on Rodadero, walk all the way to your right. Go over a bridge, and grab a roundtrip ticket to Playa Blanca for 12K COP per person. A 10 minute boat ride will have you at Playa Blanca. There is beautiful water, snorkeling, and a huge zip line. Pack food and drinks because the prices are a bit steep.
Crystal Beach: Crystal Beach is a beautiful beach in Tayrona National Park. Crystal Beach is remote and difficult to get to so fewer people go each day. We did a day trip to Crystal Beach that cost about 80K COP which included the foreigner entry fee into Tayrona National Park which was about half the tour cost. If you purchase anything we suggest using our link to an affiliate, we will receive a small commission from that affiliate at no additional cost to you. Your support will help us continue to share more information about our travels, our travel lifestyle, and how to make money online, whether you travel or not. Please purchase a day trip to Crystal Beach or any other tour via one of the following affiliate links to Viator or GetYourGuide.
Rio Don Diego: Enjoy floating down Rio Don Diego in an inner tube until you reach the Caribbean Sea. There is also inner tube floating tours to Palomino which are a similar experience but more crowded, I hear. We had the river to ourselves. Again, check the tour resellers at the following affiliate links (Viator or GetYourGuide) or ask one of the Hostel operators in Old Town.
Quinta de San Pedro Alejandrino: Simon Bolivar is known as the "Libertador" because he played a leading role in gaining independence for Venezuela, Bolivar, Colombia, Ecuador, Peru, and Panama (from Spain). Bolivar is the George Washington of South America. That is why practically every main square in Colombia is named after Bolivar. He died in 1830 on this beautiful estate (Quinta de San Pedro Alejandrino). The estate is now a museum that you can visit in Santa Marta. You can see how the wealthy lived in Colombia including courtyards, beautiful gardens, and the monument built to honor Bolivar. It costs 20K ($6.50 US) COP and about 8K COP ($2.50 US) for a taxi one way. They have students who are learning English that will walk you around the grounds and tell you the story of Simon Bolivar in English. They are free but you should tip them. This place has been maintained as it was at the time of Bolivar's death almost 200 years ago, so it is a real look back at history.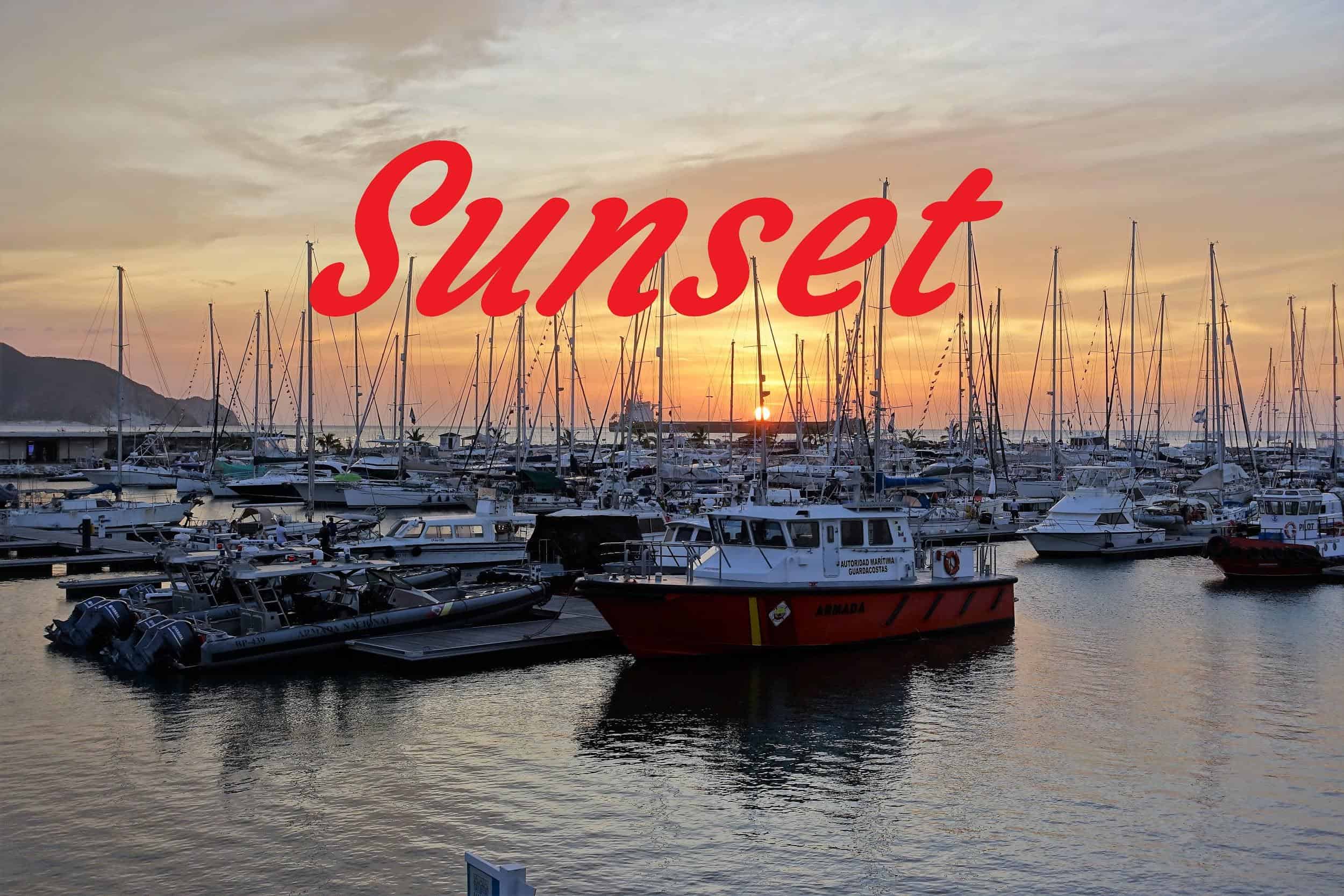 Sunsets Over Santa Marta Harbor: Stop by the Sunset Bar and Grill about 30 minutes before sunset and grab a table with a view of beautiful boats in the Harbor. The picture shows only the harbor but there is also a great view of the beach in front of the Old Town area and the new condo high rises in front of the harbor. After the sunset, walk north along the beach and visit the crafts market.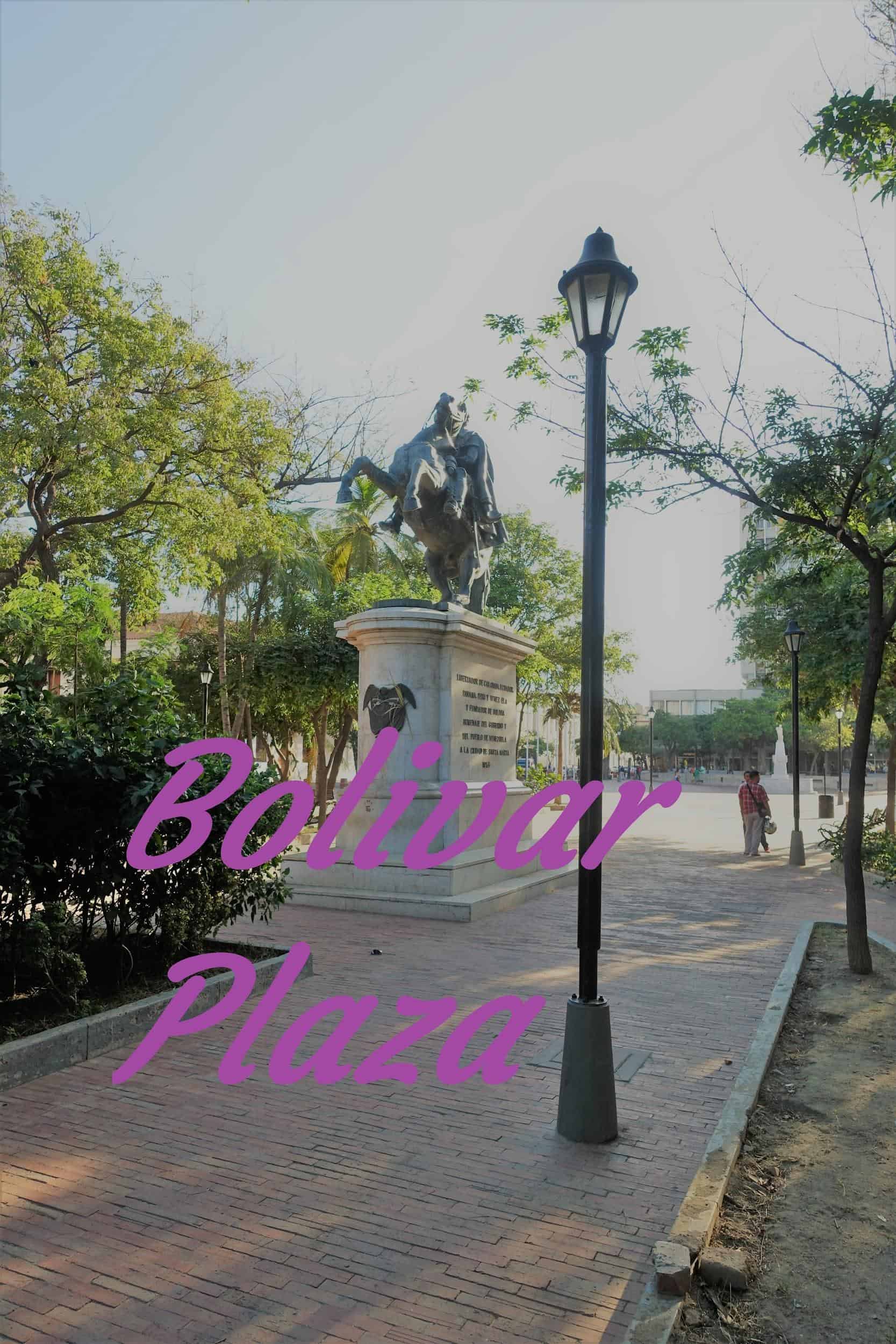 Bolivar Plaza: Bolivar Plaza is technically the center of Old Town Santa Marta and you must visit here, but it doesn't seem to have as much foot traffic or interesting people watching as Parque Santander de los Novios mentioned above under Old Town. From Parque Santander de Los Novios, just walk north from the Northeast corner of the park, 3 or 4 blocks. Along the way, you will be walking through the restaurant row where my favorite restaurant is located (Lulo Cafe Bar).
Churches: We read the oldest church in South America is Iglesia San Francisco in Old Town Santa Marta. The sign out front is dated 1542. But only the facade is still standing. When you walk inside you will see 1970s architecture. Cathedral Basilica of Santa Marta is the largest most beautiful church in Santa Marta and it is unlikely you will miss it if you walk around Old Town for long. We also visited Cementerio San Miguel and were surprised to see many of the largest Mausoleums appear to have been broken into or robbed.
Grab a ==>free copy of my Ebook<== if you would like to learn my secrets of how to live cheap all of the world while you make money on your laptop.   After 65 countries and 12 years, I have learned a trick or two.
Best Santa Marta Accommodations:
Almost everything interesting in Santa Marta Old Town is within 2 kilometers of this park (Parque Santander de los Novios). So book within 4-5 blocks so you are not walking too far at night or paying for taxis. Here are the affiliate links to the three places I recommend staying.
Luxury Hotel (hard to beat this location and style, great location too)
Character and Quality (funky cool classy and fun, location, location, location)
Best Hostel (best location and vibe, swimming pool, affordable luxury)
Best Santa Marta Restaurants
Lulo Cafe Bar: The quality of the food here is remarkable. It is delicious, fresh, well priced, and regionally appropriate. We had to go back it was so good. Get a table outside if you can because this walkable area of Old Town is the best.
Ouzo Restaurant: Great Mediterranean food and a great place to watch the nightlife, right across from the park we keep telling you to explore.
Isola Sarda: When you are in Rodadero and feeling like some homemade Italian dishes, this placeis a great surprise. It is owned and operated by a real Italian who also hand makes the pasta and cooks every meal. The food more than makes up for the 3 block walk from the beach.
Babagonush: This is by far the best food in Taganga, plus the view is out of this world. Go for their happy 2 for 1 drinks and then stay for the delicious high quality fusion dishes with hints from flavors all over the world.
Best Santa Marta Nightlife
Santa Marta doesn't have the same intensity of nightlife has you will see in Cartagena. It is more of a relaxed beach vibe. But you can still have some serious fun.
Parque Santander de los Novios: After dinner, head over to the park, buy a beer from one of the street vendors for about $2 USD, grab a seat on one of the benches in the park, and people watch. Relax and enjoy yourself for a few hours. When things start to calm down at the park around 10pm, then take a short walk around the park while you listen for music that makes your feet move. Head inside the place with the best music and start dancing if the mood strikes you.
Eivissa Santa Marta: If you enjoy dancing to electronic music, head over to Eivissa at about 11pm. It is right on the park where you were just having a beer. If you are more into rock or other kinds of music, just walk a few blocks around the park and listen for your music. More often than not, you will find something that tickles your fancy.
Rodadero Beach Walk: Every evening beginning at sunset on the beach in Rodadero, music starts coming from all directions. People are singing and dancing while they listen to Colombian favorites played live by locals who are carrying their musical instruments with them. You can buy beer and mixed drinks from street vendors for about $2 USD or sit and watch from an adjacent restaurants and pay about $4 USD. This is how Colombia has fun so check it out.
Taganga Beach: If you are staying in Taganga for a few days, you will fight your sounds right on the beach or within a few blocks. Just walk around ad people watch until you find a place that fits your mood.
Santa Marta Livability Factors
Walkability: Santa Marta Old Town is a perfectly walkable city in the general sense. It is only when you exit the Old Town area that you may need a taxi. At night I wouldn't walk anywhere outside this area unless you are in a well lighted area with many people around you. In general stay out of situations where you are isolated.
Internet: We stayed in a condo and the Internet was great. But I hear not all home systems are so reliable. For digital nomads, and people working online, check out one of the coworking spaces if you need guaranteed high speeds.
Exercise: We just ran around the neighborhood for exercise. But there are gyms in Santa Marta. I also use resistance bands to stay toned, because they weigh almost nothing and fit easily into my luggage. Monday, Wednesday, and Friday are my runs (and resistance band) days and Tuesday and Thursday are my Yoga days. I do yoga with Adriene or Fightmaster on Youtube.
Tourist Safety Tips: 1. Don't Be an Obvious Target: No jewelry, no expensive watches, no conspicuous designer brands, and no $1200 smart phones should be visible during the day or night. Bring an older smartphone for navigation and internet access. 2. Don't Get Isolated: There should always be normal human activity among the local people around you. Be aware of the surrounding people. Are they going about their life naturally or focusing on you? At night, I felt completely safe within a few blocks of the park. If it starts feeling sketchy, grab a taxi. It never hurts to visit the US State Department's Travel Warnings, and check any country you are visiting.
Food Costs (Grocery): You can save money in Santa Marta by cooking at home, no doubt. Food costs from the grocery store are about 25% cheaper than in the USA. The budget grocery stores are even cheaper.
Weather: The weather in Santa Marta is warm to hot (70F to 90F/22C to 32C), year round. It is at sea level at the equator, so the weather is fairly hot and constant year round. Always wear sunblock of 30+ even when it is overcast. Where sunblock and a hat even when you intend to only walk on the shady side of the street.
Health Risks: Yellow Fever shots are required to visit many parts of Colombia, and Zika is still listed as a risk in Colombia. See CDC web page. As a side note, you can get your Yellow Fever shot when you land at the Bogota airport. Just have the information desk point you to the Vaccinations clinic on the second floor of the airport. But if you need any of the other shots recommended by the CDC, or your layover in Bogota is not long enough, get shots before coming to Colombia.
Here is my list of the ==>best live-cheap in paradise locations<== in the world.
Santa Marta Money Saving Tricks
SIM Card: Unlock your smartphone before you leave home. Load Skype on your phone and answer calls to your home country phone on Skype when people call. Put your home country cell phone number on forward to your Skype telephone number before you board your flight. Pull your home country SIM card out of your phone before you board your flight. Get a local SIM card for about $25 for 4G speeds for a month (which includes Internet data) at the Airport, when you land. Internet data on your new SIM card is all you need to answer Skype, Whatsapp, or Google Phone calls on your smartphone while you are away from your home country. One friend of mine didn't follow this advice and spend $300 on one phone call because he roamed on his home country SIM card when he was on foreign soil.
Transportation: To get to Santa Marta by ground from Cartagena, take an Uber to the Berlinas-Marbella Station in Cartagena and buy your ticket to Santa Marta for 40K COP (about $13 USD). You will ride in an air conditioned Mercedes-Benz 16 seater mini-van (with free Wifi), which depart from this station to Santa Marta every 30 minutes. You will arrive in Santa Marta 3.5 hours later. Taxis will be waiting within eyesight when you exit the mini-van in Santa Marta. Make sure to have the address of your accommodations ready upon arrival to show the Taxi driver.
Airport Transfers: Unlike Cartagena, Uber didn't seem active in Santa Marta. In Cartagena, I read you should only get in a taxi that you have called first by telephone. Don't ask a random taxi to stop. There is no record of you being with them, because you didn't call and register, there is a small chance you'll get mugged or killed. That rule doesn't seem to apply here in Santa Marta. This is a smaller more relaxed city and feels safer to me. But make sure you pick a well known landmark when you are coming and going so you can tell the drivers where to take you. The drivers don't seem to use addresses in this part of the world.
Public Transportation: After we booked our Rio Don Diego Tour, we rode the bus to the river. No problem. Just catch the bus to Palomino as described here and get off a few kilometers before Palomino at Rio Don Diego. Make sure to verify your tour operator will meet you at the bus stop and start your tour.
Onward Flights: We tried to board our flight from Mexico to Colombia using a one way ticket. Interjet wouldn't let us board the flight because we had no onward flight or bus leaving Colombia. Onward Flight Tip: Book on Orbitz and they will let you cancel the ticket if you do it within 24 hours. Book right before jumping on your flight and cancel when you land.
Closing Thoughts on Santa Marta
I had heard from digital nomad friends that Colombia was a beautiful spot to visit. I agree 100%. Colombia is the 63rd country I have visited since leaving the United States in 2007 and Colombia has been well worth the visit. Upon arrival in Colombia, we were told by Colombians that we must see Santa Marta before leaving the country. Santa Marta had a much more laid back beach feel than Cartagena. The prices were much lower and it was nice to kick back around the beaches for our last few weeks in Colombia. Santa Marta Old Town is an old colonial town but seems to have attracted a younger crowd than Cartagena, possibly due to lower budget requirements. Taganga has a more hippie diver feel to it. Rodadero is where you go to party or watch the Colombians party. Tayrona National Park is gorgeous and respected by Colombians environmental laws, so is likely to remain as such. I enjoyed my time in Santa Marta and recommend it highly.
The world is your home. What time will you be home for dinner?
Below is the estimated cost of living one month in Santa Marta as a temporary visitor. Have an amazing day! Many of the costs could be reduced greatly as a long term visitor. For example, we saw 1 bedroom apartment leases for $400.00 per month.
Santa Marta Cost of Living
| | | | | |
| --- | --- | --- | --- | --- |
| Cost of Living, Santa Marta, Colombia ($USD) | | | | |
| Expense | Cost | Low | Medium | High |
| 1 Bedroom Apt | $50.00 | 0 | 14 | 30 |
| Moderate Hotel | $70.00 | 0 | 12 | 0 |
| Backpacker Hostel | $25.00 | 30 | 4 | 0 |
| High End Restaurant | $20.00 | 1 | 4 | 8 |
| Local Restaurant | $6.00 | 30 | 44 | 48 |
| Food Cart | $3.00 | 30 | 12 | 4 |
| Subway/Train/Metro | $0.00 | 20 | 26 | 8 |
| Bus | $0.00 | 20 | 10 | 0 |
| Taxi | $3.00 | 6 | 10 | 20 |
| Total | Per Month | $1,088 | $2037 | $2024 |
| Total | Per Day | $36 | $68.00 | $67.00 |
For information about how the above "Cost of Living Monthly Multiplier" works, please visit the bottom of this page at Vagabond Buddha. It does not include alcohol, excursions, or extras, and it is for one person.
I am not offering you any of these prices.  These are just my notes and estimates from the time of my visit and this post.  Your costs will likely be drastically different if significant inflation or deflation occurs or the market changes after this post.  I will not update these numbers until I am on the ground again here, if ever.
VagabondBuddha.com, Copyrights, (c) 2018