Cost of Living in Arequipa Peru (Webpage) or (Video)
Things to Do in Arequipa Peru (Google Map) (Webpage) or (Video)
Best Places to Stay in Arequipa Peru (Webpage) or (Video)
Best Restaurants in Arequipa Peru (Webpage) or (Video)
Best Way to Get to Arequipa Peru (Webpage) or (Video)
Free Walking Tour of Arequipa Peru (Video)
The Best Travel or Retire Cheap to Paradise Locations in the World
Things to Do in Arequipa Peru
[kkstarratings]  This is Dan from Vagabond Buddha. Here is the order that I walked to these things to do in old town Arequipa, Peru. There is an embedded Google Maps walking tour of these places at the bottom of this page. Here is the youtube video of my comments as we walked these suggested attractions.
Mercado San Camilo: This is a typical central market that you will find in Peruvian towns. It includes everything you will need to live in Arequipa such as fruits and vegetables, clothes, and cheap restaurants. All of the booths are independently owned and operated.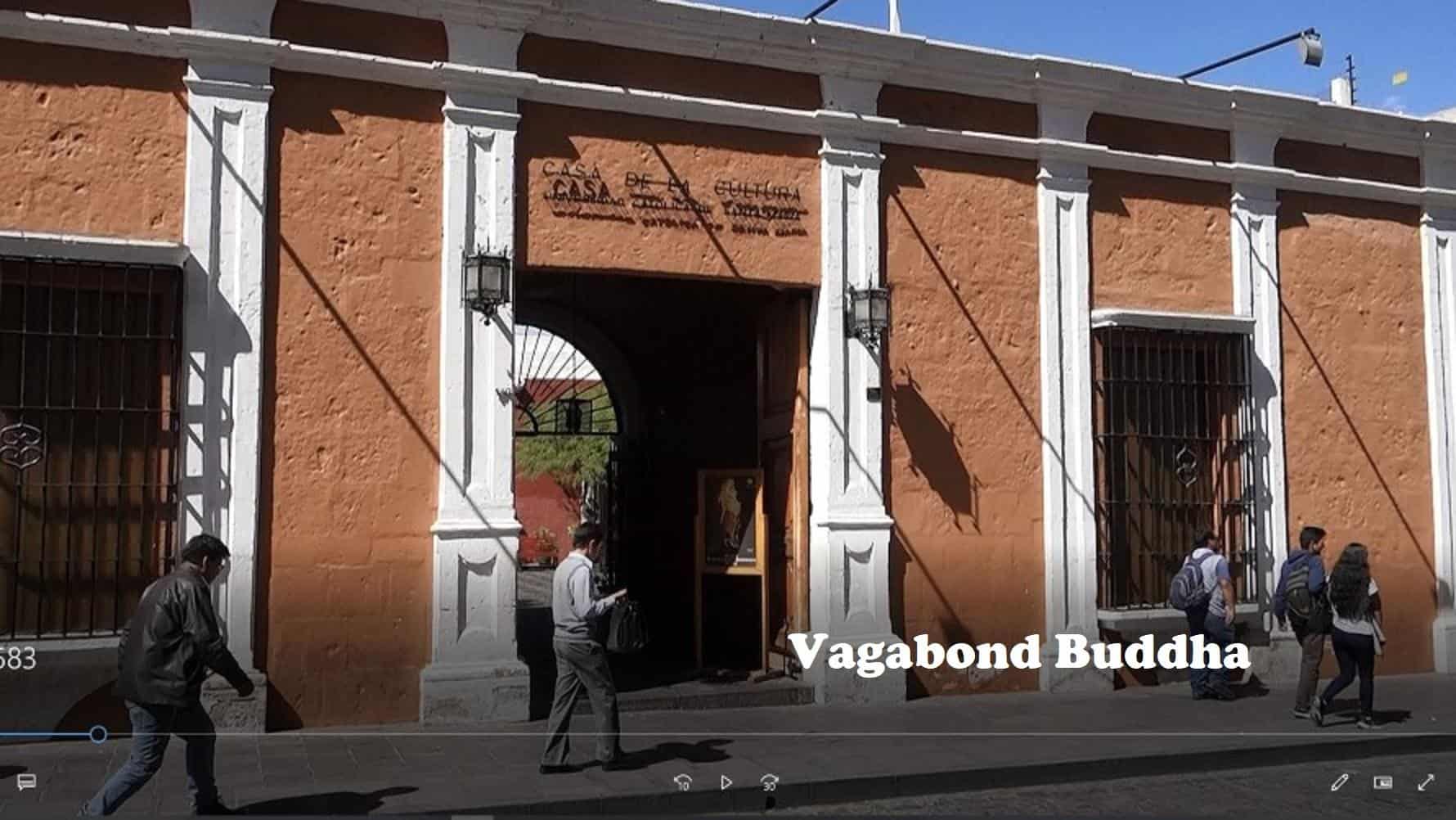 Museo Santuarios Andinos: The Inca sacrificed children to the mountain gods. They were on a continuous search for the most beautiful 10 to 12-year-old boys and girls. They would dress them up in beautiful clothes, and take them to the top of the highest mountains. They would dig a hole in the ground, bash them over the head, and bury them with pottery, gold, and silver. These were offerings to the mountain gods. In this museum, you will the remains of a girl that was buried 500 years ago along with the offerings the Inka's made to the mountain gods. She is well preserved because she was frozen in ice for 500 years.
Plaza de Armas: Arequipa was founded by Spain in 1540. At that time, construction of the main square and church were begun. Tuturutu is in the center of the water fountain in the center of Plaza de Armas. He was the official messenger of the Inca King.
Arequipa Cathedral: The Cathedral of Arequipa has been destroyed and rebuilt many times. First built in 1540 it was reduced to rubble by Earthquake in 1566. Rebuilt in 1656, only to be partially destroyed for times over 100 years until a fire destroyed most of the contents in 1844. If God is sending a message, nobody here seems to be listening.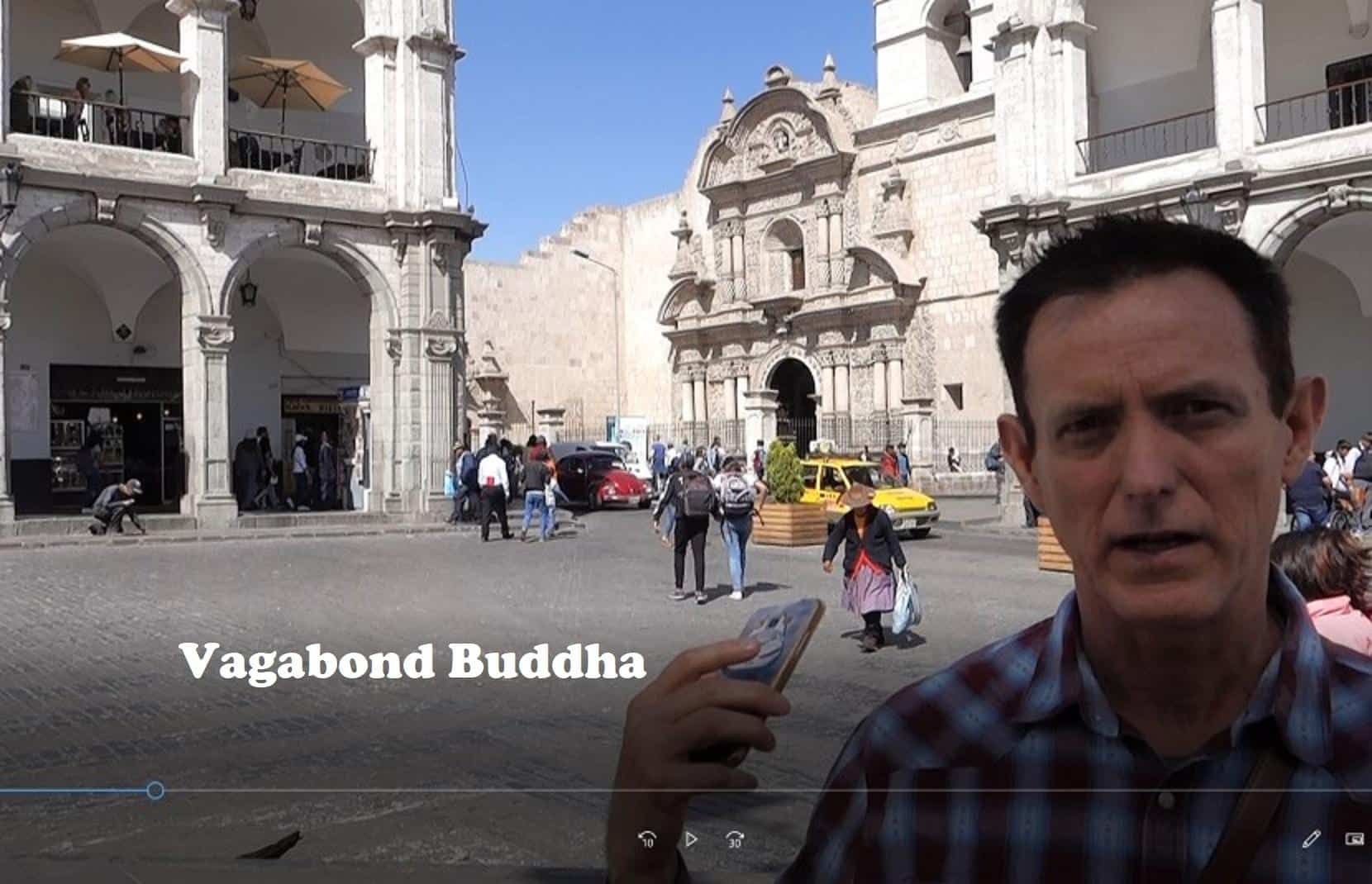 Iglesia de la Compania: The construction of Iglesia de la Compania began in 1590 and was completed in 1698. It is constructed of volcanic rock from the quarries Misti volcano. If you look closely at the facade on this church, you will see symbols representing Inca deities.
Inkari Pub Restaurante; This is a great little spot to stop for happy hour. It is on a beautiful walking street I wanted you to see on my walking tour.
Paseo Mercaderes: This is a great shopping area and a great way to see some of the post-independence architecture that sprung up during from the economic success that Arequipa has enjoyed relative to other parts of Peru. Additionally, this will lead you to the next stops on the walking tour.
Museo de Santa Teresa: This Colonial-era convent is now a museum with hundreds of works of art and beautiful gardens. It is remarkable how few tourists were here despite its beauty and significance.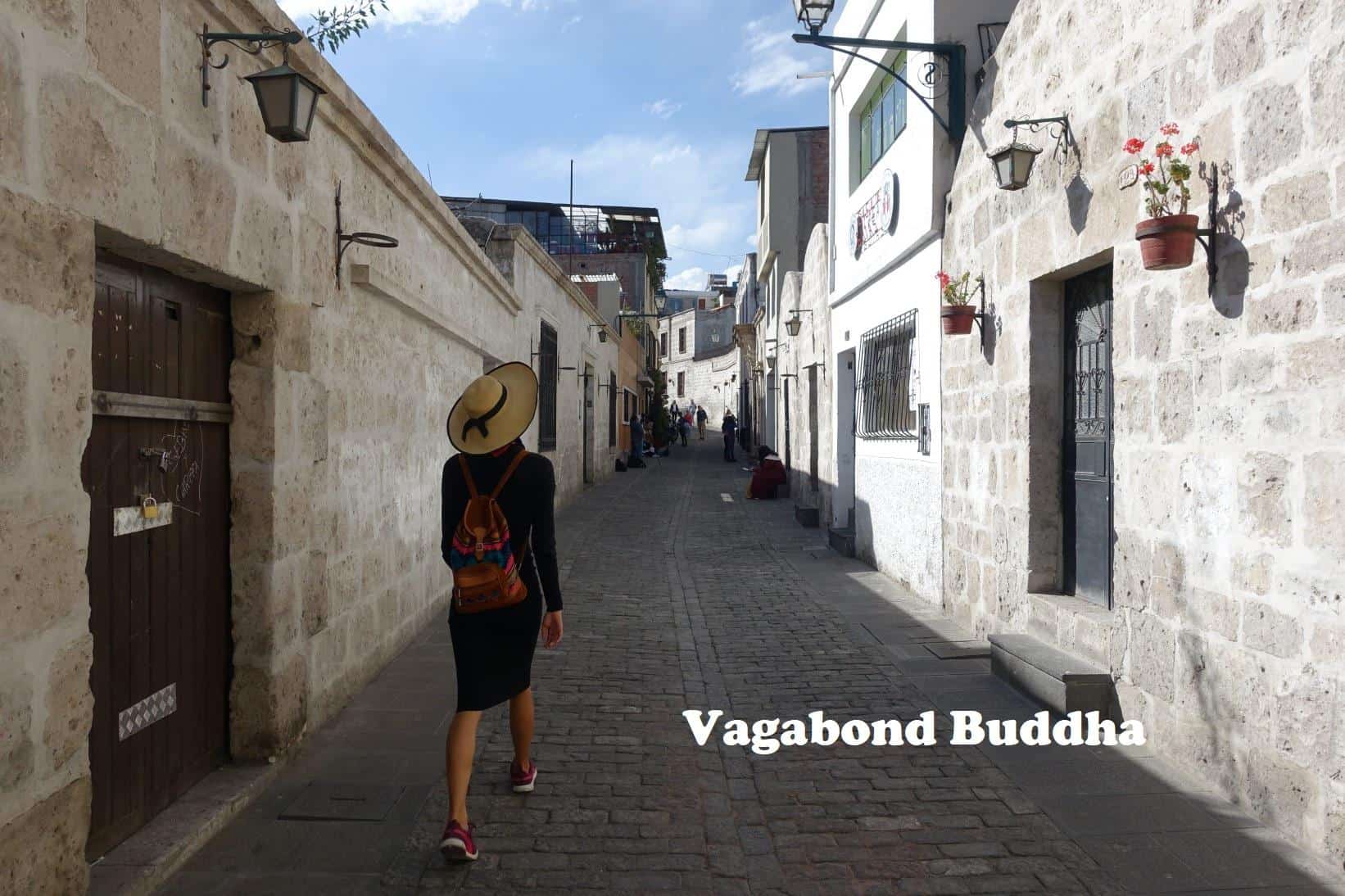 Barrio de San Lazaro: The winding streets in this area of Arequipa are where Europeans first settled before Plaza de Armas and the Arequipa Cathedral were built. This is one of the most beautiful areas of Arequipa.
Monasterio de Santa Catalina: This is the most important thing to see in Arequipa. The Santa Catalina Monastery was built in 1579. About 20 nuns still live in the northern corner of the monastery and the rest of this massive property is now a tourist attraction. The second daughter of only rich families would be allowed to enter the monastery if her family could afford to pay 2,400 silver coins valued at $150K USD today. Each nun was also expected to bring slaves to the monastery to cook and clean for her. In 1871, almost 50 years after slaves had been freed in Peru, the Pope ordered the nuns to set their slaves free. The Pope also took the cash the monastery had collected from the nuns. The monastery is a top tourist attraction of Arequipa and costs s/40 for entry. Make take the optional one hour guided tour in English s/20.
Colca Canyon (and Condors): This is 7 hours from Arequipa by minivan. Thus, it is not included in the Google Maps walking tour. This canyon is twice as deep as the Grand Canyon in the USA. At the canyon, you will also see one of the largest flying birds in the World, the Colca Canyon Condor. It has a 3-meter wingspan. I recommend seeing this canyon on your way to Lake Titicaca. Click this link to see the deal we purchased to Colca Canyon. If you book a tour using a link I recommend, you will pay nothing extra, but I will make a small commission.
Party the Night Away: Stop in for a beer in the party area along Calle Zela, which is the street that runs along San Francisco Park.
Best Sunset: The best place to watch the sunset is at a bar/restaurant called "The Rooftop." I couldn't find it on Google Maps, but it is next door to this place, on the roof.
Arequipa Tours: I recommend using either Viator Arequipa Tours or Get Your Guide Arequipa Tours. These are tour aggregators. That means they just publish tours conducted by third parties. Some tours are better than others. So you need to read the reviews. Look for a tour that has at least 5 reviews that sound good, and 2 of those reviews should be within the last few months.
Free E-Book: If you would like to learn how to make money online, or how to live internationally possibly with less money than you spend at home, please subscribe to VagabondBuddha.com and grab a free copy of my Ebook.
Make sure to buy a Peruvian SIM card (Claro or MoviStar) when arriving in Peru and load it with Internet data, so you can use my Google Maps without paying International roaming rates.
Here is the Google Map for my above old town Arequipa Walking Tour:
Best Places to Live in World: Here is my list of the ==>best live-cheap in paradise locations<== in the world.
I am not offering you these prices.  These are just my notes and estimates from the time of my visit and this post.  Your costs will likely be drastically different if significant inflation or deflation occurs or the market changes after this post.  I will not update these numbers until I am on the ground again here, if ever.
VagabondBuddha.com, Copyrights, (c) 2018