Things to Do in Lima, Peru
Why come to Lima, Peru?
Best Neighborhood in Lima Peru
Things to Do in Lima Peru (Google Maps Walking Tour)
Things to Do in Barranco Peru (Google Maps Walking Tour)
Things to Do In Miraflores (Google Maps Walking Tour)
Nightlife in Lima (Barranco, Miraflores)
Best Food in Lima Peru
Cost of Living in Lima, Peru
Livability Factors of Lima Peru
Flights and Buses to Lima Peru
Our Youtube Video of Lima, Barranco, Miraflores (Walking Tour)
This is Dan from Vagabond Buddha. Here is the order that I walked to these things to do in old town Lima, Peru. There is an embedded Google Maps walking tour of these places at the bottom of this page.
Plaza de Armas Established in 1535 by conquistador Francisco Pizarro. Initially, it was used for bullfighting and burning people to death during the Spanish Inquisition, but the fountain in the center was added in 1651. The square is surrounded by the Government Palace, the Archbishop's Palace, the Cathedral of Lima, and the Union Club. The Union Club and the Municipality of Lima are the yellow buildings with brown balcones built about 80 years ago in neoclassical style. The next four are visible from Plaza de Armas so they don't have a separate stop on my below embedded Google Maps free walking tour.
Cathedral de Lima: This is on Plaza de Armas. Construction of this Roman Catholic Church began in 1535 but it has undergone many reconstructions since then. An earthquake in 1687 destroyed the vaults but it was reconstructed in 1697.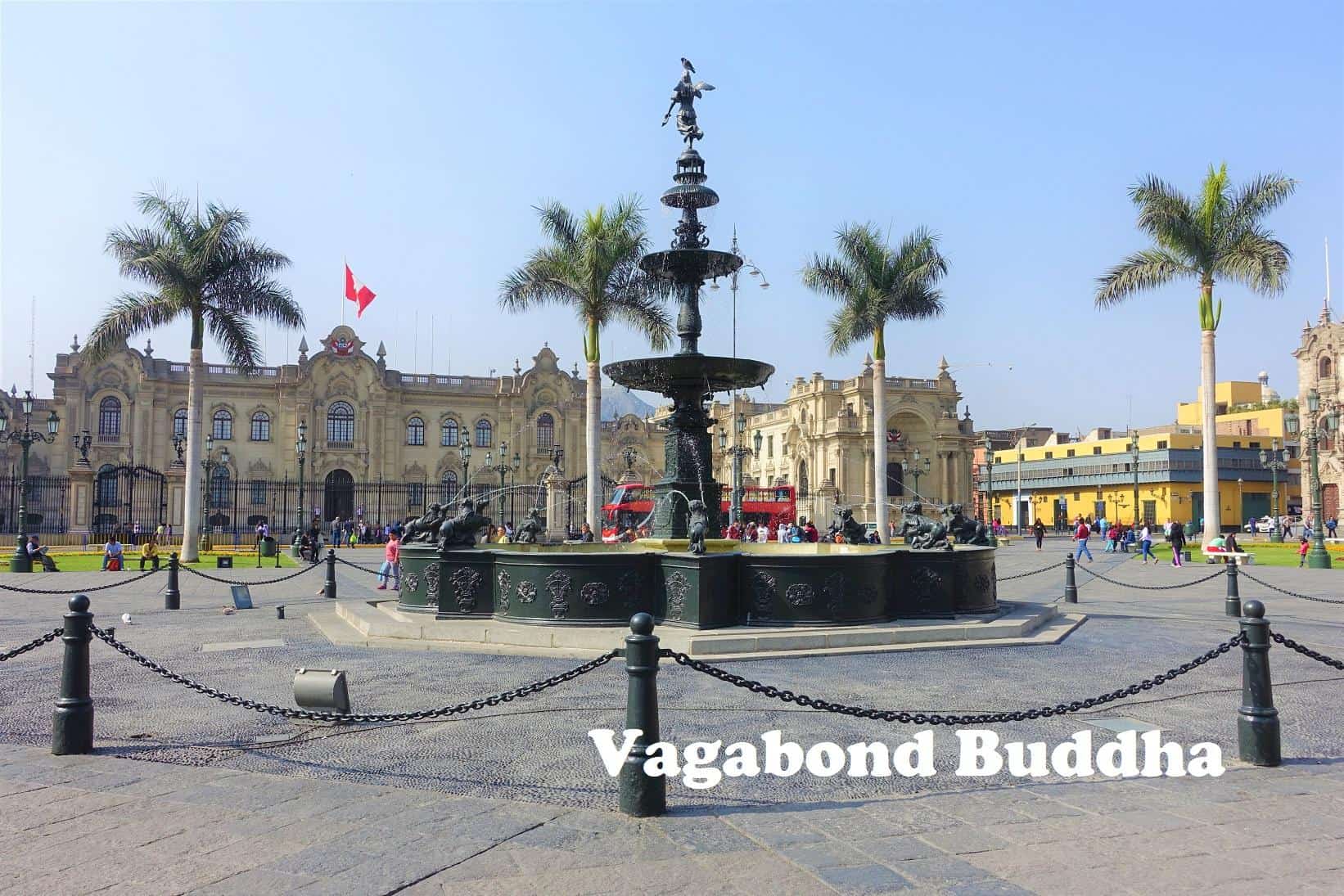 Palacio de Gobierno (President's Palace): This is on Plaza de Armas. This Government Palace was built in 1535 by Francisco Pizarro but was last renovated in 1937. It was the Viceroy of Spain's residence until Peru's independence and now functions as the President's Palace. There is a guard ceremony every day at noon.
Palacio Arzobispal (ornate Moorish-style balconies): This is on Plaza de Armas. The office of the cardinal of Peru of the Roman Catholic Church. The current version of this building was completed in 1924.
Bodega y Quadra Museum: (Jiron Ancash): There are great looking buildings on this street I wanted you to see. So I directed you to this museum so you could enjoy both the destination and the journey. If you enjoy this street check out a museum a few doors down at Casa de las 13 Puertas.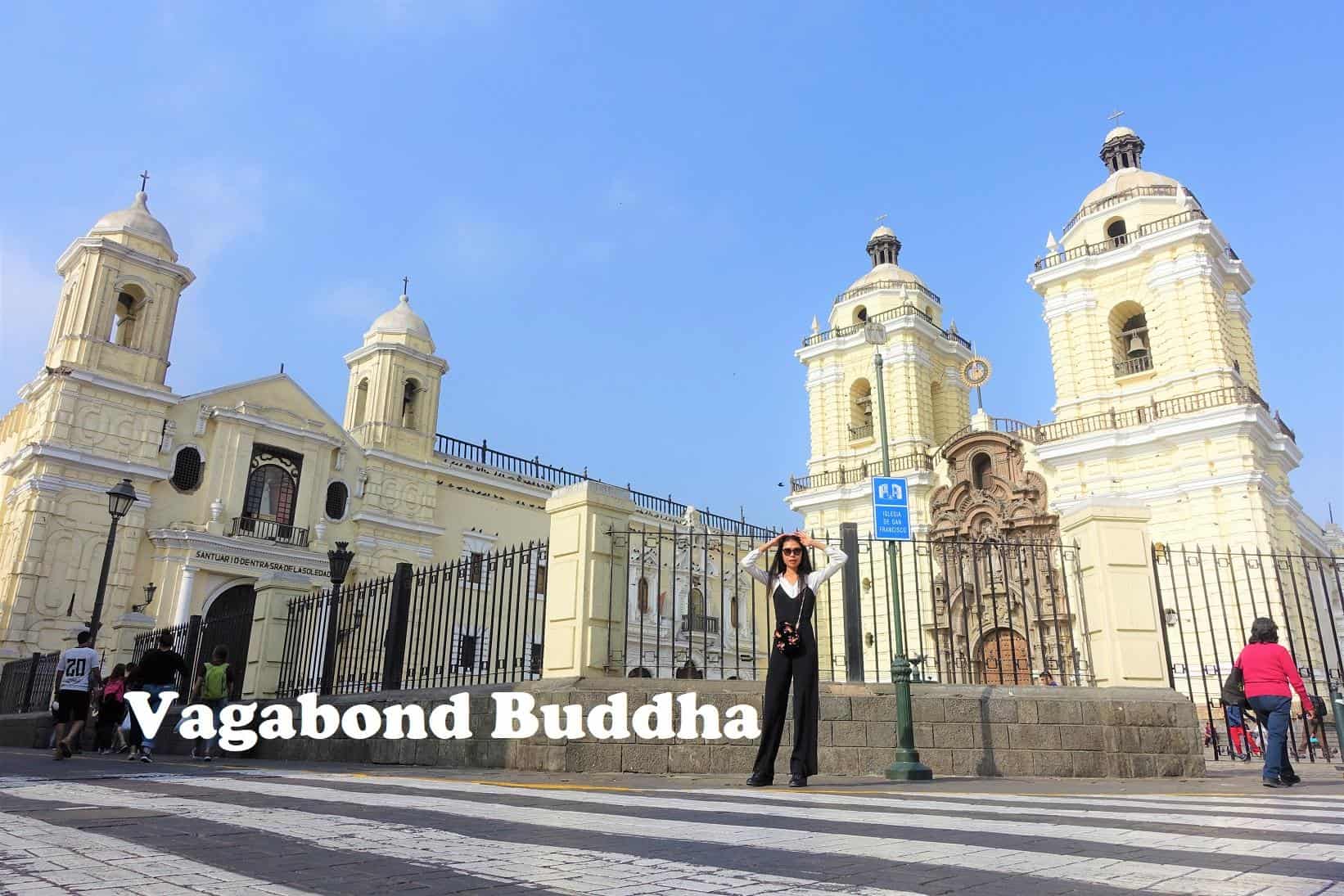 San Francisco Church: This church and monastery was completed in 1674. Saint Jude the Apostle is worshipped here in addition to Christ. Saint Jude is the patron saint of the desperate and lost causes. This Jude is not the same Judas who betrayed Jesus. The convent's library possesses 25,000 antique some predating the conquest of Peru. Catacombs below the Church have the remains of 20,000 people, having served as the official burial place until the cemetery outside Lima was opened.
Parque de la Muralla (The Wall Park): The wall was built around Lima to protect it from Pirates in 1687. Once it was up, Lima was never again attached, and it was demolished in 1868 to allow expansion of the old town streets.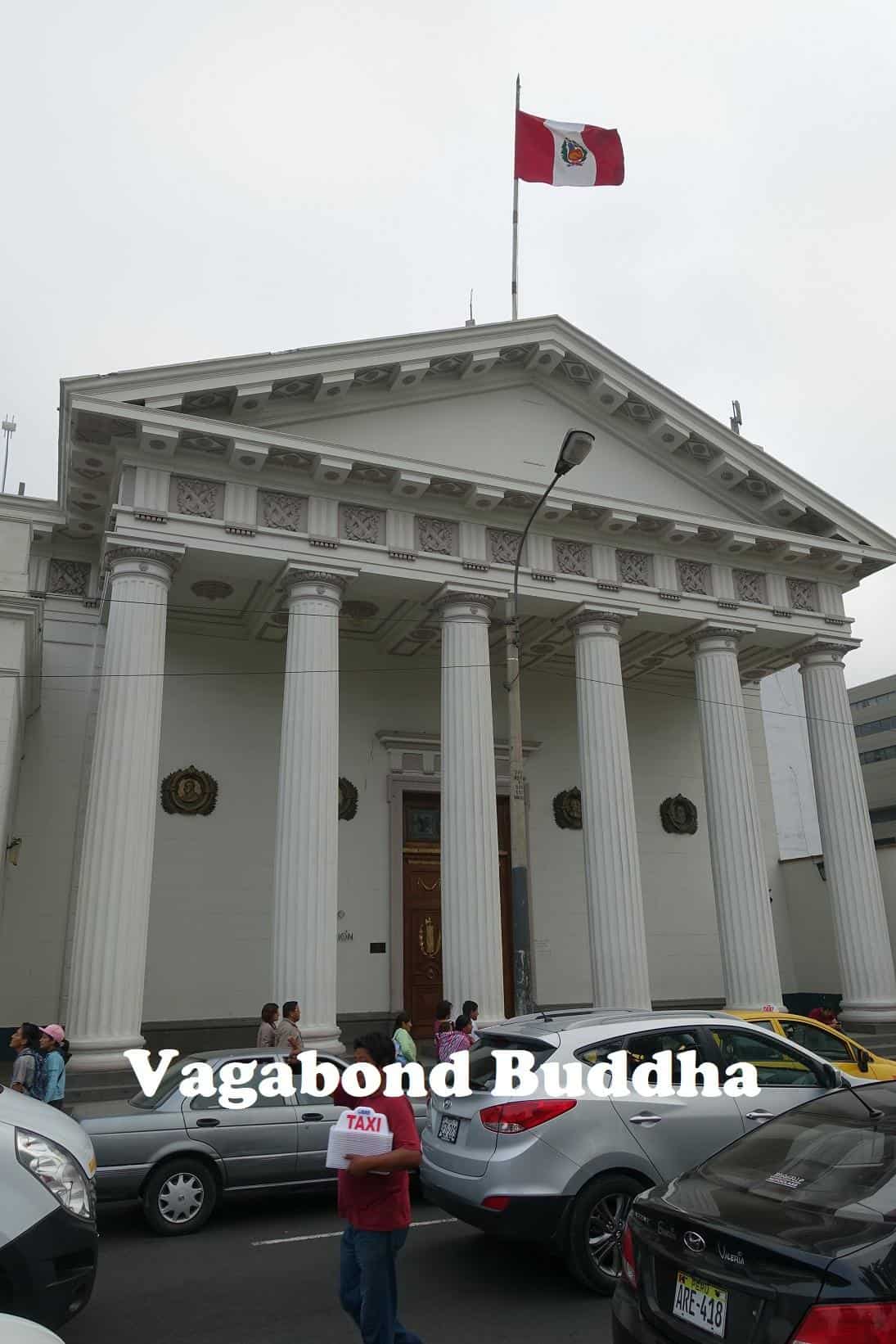 San Inquisición Museum (Spanish Inquisition). This museum of the Spanish Inquisition is on Plaza Bolivar. The museum contains the history of Religious torture in Peru by the Roman Catholic Church.
Central Market: You have to see a traditional market while you are in Peru. This one occupies an entire city block and sells everything, such as fresh fruits and vegetables, clothes, housewares, etc.
Chinatown: Chinese, Japanese, Filipinos, Malays, Cambodians and other Asian slaves were purchased by Portuguese traders and brought to Peru as early as 1613. One hundred thousand Male Cantonese Chinese were brought to Peru and sent to the sugar plantations in about 1850 during the termination of slavery. Another large group came when communism was established in China in 1949. After their slavery contracts ended, many Chinese established business like Chifa restaurants in Peru. Many Chinese Peruvians also helped build the railroads in Peru. There have been two Prime Ministers of Peru with Chinese ancestors.
Plaza San Martin: Plaza San Martin was inaugurated in 1921 on the 100th anniversary of Peru's independence. The surrounding buildings are from that same era. After enjoying the plaza, visit Gran Hotel Bolivar and have the Peruvian national drink, called the Pisco Sour.
If you book a tour I recommend, you will pay nothing extra, but I will make a small commision.
Viator Tour Lima Old Town: I am a do it yourselfer. I like to read about places before I go, map it out and decide what I am going to say to you at each stop. But if you have ever taken a great tour of a colonial old town and heard the history of the place you are visiting as you walk, you will understand why I recommend taking tours whenever you can.
I recommend using either Viator Lima Tours or Get Your Guide Lima Tours. These are tour aggregators. That means they just publish tours conducted by third parties. Some tours are better than others. So you need to read the reviews. Look for a tour that has at least 5 reviews that sound good, and 2 of those reviews should be within the last few months.
Here is the Google Map for my above old town Lima Walking Tour:
Here are a few things you may want to do (odds and ends) in Lima that are not on the above walking tour. Here is the Google Driving (Taxi) Map for the following odds and ends.
Presbítero Maestro: This is a cemetery filled with important Peruvians and some great cemetery arts and statues. We saw some great pictures online of this place but never made it out there. Just Google Images for "Presbítero Maestro Lima Peru" to see if this one is interesting to you.
El Circuito Mágico del Agua (Reserve Park): This is a beautiful park with water fountains that turn into a light show at night. It was s/4 per person, which is about 1.20 USD. You can combine this with a stop at the following museum because they are just a few KMs apart.
Museo de Arte de Lima (MALI): This museum has photography, paintings, pottery, decorations, and other artifacts. Additionally, there is pre-Columbian and Colonial art along with contemporary Peruvian art.
Museo Larco This museum includes pre-Colombian "pottery porn." We had already seen pottery porn at the Bruning Museum in Chiclayo, Peru, so we skipped this stop in Lima. The above picture is from my visit to the Bruning Museum in Chiclayo.
Make sure to buy a Peruvian SIM card (Claro or MoviStar) when arriving in Peru and load it with Internet data, so you can use my Google Maps without paying International roaming rates.
If you would like to learn how to make money online, or how to live internationally possibly with less money than you spend at home, please subscribe to Vagabond Buddha or get a free copy of my Ebook.
If you enjoyed this content, subscribe, like, leave a comment, or share on social media.
Here is my list of the ==>best live-cheap in paradise locations<== in the world.
I am not offering you these prices.  These are just my notes and estimates from the time of my visit and this post.  Your costs will likely be drastically different if significant inflation or deflation occurs or the market changes after this post.  I will not update these numbers until I am on the ground again here, if ever.
Copyright 2018 VagabondBuddha.com