In this report, I ask the question, can I retire early in Boquete Panama on $1066 month? I really think I could, but many people will need more.
First, I share my estimated cost of living for two people in Boquete in Panama.  Then, I will talk about some of our favorite meals in restaurants and what some of the meals cost.
We will also take you on our favorite hike, our favorite nightlife spots, and on our $5 Hot Springs Tour.  Finally, we will end this video with my retirement livability factors, such as walkability, food, social considerations, visa information, weather, and real estate. But you do not need to take notes. We will provide Google Map links to everything we talk about at the end of the video.
Before discussing our cost of living estimate for two people here, I wanted to answer the question, who would love to live in Boquete?
Who would love to live in Boquete Panama
Last week we showed you Bocas Del Toro Panama which is an island on the Caribbean side of Panama. But some of you said that the Caribbean is fine for vacations, but it may be too warm for you to live year-round.
Well, Boquete Panama might be the right place for you then.
Boquete is a small town in the green mountain highlands of Panama with around 18000 people living there. About 3000 of the people living there are immigrants from all over the world including Americans, Canadians, Colombians, Venezuelans, and Europeans.
Because of its elevation of 3900 feet (1200 meters) above sea level, it is much cooler than the towns at sea level, so very few of the homes have heating or air conditioning. Because of the rich soil and elevation, the area is ideal for growing coffee.
The most expensive coffee in the world is grown here, called Geisha coffee. So, despite the recent boom in tourism, Boquete's largest income source is not tourism, but coffee.
Boquete is one of the most beautiful places in the world in terms of scenery. The lush green mountains surrounding the city have an almost unlimited supply of hiking trails that both locals and ex-pats love to hike.
There is also a lively art and live music scene in Boquete that are well attended including the annual Boquete Jazz & Blues Festival that usually takes place sometime in March of each year. There is also a performing theater group, the Boquete Community Players (BCP). The BCP also hosts a weekly market on Tuesdays, that includes arts, crafts, and delicious local and foreign foods.
For a town this small size, there is a surprisingly large selection of international food choices. Although, this is not so surprising when you see all the large homes in the mountains around Boquete. Only a large ex-pat community such as in Boquete would have both the money and the desire to eat in restaurants that would be available in their home country.
Luckily, there are restaurants in Boquete that are serving local traditional dishes that can easily be less than half of what meals cost in international restaurants.
So who would love to live in Boquete? Anyone that loves cooler highland temperatures with amazing hiking trails that wind through lush green mountains. Someone that wants not only local Panamanian restaurants but also international cuisine from around the world. Someone that wants to be around a large community of ex-pats in a small town that is able to get them acclimated to a new country. Someone that wants to live in a small town but still be able to buy luxury foods from home and has the money to pay for it. Basically, someone that wants to be in a strikingly beautiful lush green mountain town but still has a strong taste for their home country culture from time to time.
Cost of Living Boquete Panama
Here is my estimated cost of living for two people in Boquete Panama. Now I will answer the question, can I retire early in Boquete Panama on $1066 month?
Rents: Most of the ex-pats in Boquete have larger budgets and stay in nicer more modern homes starting around $600 per month. But we asked our friend Gil to show us 1 bedroom apartments and small homes in the area that would rent for around $300 to $400 per month. Based upon what he showed us, we think we could get a 1 bedroom apartment for about $400 per month plus utilities.
So I will use $400 for rent for my cost of living estimate.
Groceries: Based upon our time there and the money we spent on groceries, we estimate about $340 USD per month in groceries. Here are the two markets where we bought groceries. Supermarket 1, Supermarket 2.
There is also an amazing place to buy European foods at reasonable prices: Euro Foods. Qiang was almost as excited seeing this grocery store full of European foods as she was when she first discovered the Lidl grocery stores in Portugal. You will also want to go to the Tuesday market starting around 9 AM.
Restaurants: If we went out to eat twice per week, once for date night and once for a lunch somewhere, we would spend about $45 per week or $180 per month in restaurants for the two of us. We could keep it fun and interesting by having a few picnics during our hikes each week, but we would bring food from home so it is included in our estimated costs for groceries.
Cell Phone Data: Mostly we use the Internet at home. But we also need Internet access from time to time when we are out of the house, for Google Maps and other searches. The cost to recharge is about $20 USD per month. My android phone will act as a hot spot so we can both be on the internet at the same time when we are out of the house.
Laundry and Water: For laundry, Qiang estimates about $32 for the drop-off and pick-up. But the water is so clean in Boquete we would just use the Culligan water filter on the tap water for about $4 per month.
Internet: Internet for your home is about $50 USD for a 10MBs service.
Uber/Taxi: Mostly, we just walked everywhere while we were in Boquete. But, we took colectivo vans and local buses to the trailheads, the hot springs, and the nearby town of David. The colectivo vans that run people up to the mountain neighborhoods around Boquete are less than $1 USD and the bus to David was $1.75 USD. So for the two of us, I would estimate about $40 a month for transportation.
Alcohol: Local beers called Panama and Balboa were about $0.70 USD for a small bottle and $1.40 USD for a large bottle in stores. In bars and restaurants, those prices are easily double and we didn't see any happy hours that included beer while we were Boquete so alcohol costs more here than in Bocas.
| | |
| --- | --- |
| Boquete | Expense (USD) |
| Rent | 400 |
| Groceries | 340 |
| Restaurants | 180 |
| Cell | 20 |
| Laundry | 32 |
| Water | 4 |
| Internet | 50 |
| Uber/Taxi | 40 |
| Recurring Total | $1066 |
| | |
| Alcohol | 160 |
| Optional Total | $1226 |
The above cost of living is for 2 people but is just an estimate on the low end. For a full understanding of what it would cost you to live here, visit Numbeo Boquete and add anything you spend money on in your home country that is not mentioned in the table. Our costs of living are generally much lower than a new traveler's because we are great bargain hunters but there are a few people that live much cheaper than we do.
Never move anywhere until you have visited first personally to verify the living costs for your lifestyle and needs. I am not guaranteeing these prices. These are just my notes and estimates from the time of my visit and this post. Your costs will likely be drastically different depending on your lifestyle and the time since this post.
Most ex-pats report spending more money per month than the low-end estimate we are reporting here. You will hear more typical living costs in the range of $1500 to $2800 per month. But people spending that much also have higher incomes or pensions. They often report spending more on eating out and drinking more alcohol in local bars and restaurants. Many also have cars and more expensive apartments.
Many of the ex-pats we chatted with had moved here from Costa Rica.
If you are going to try to retire cheap offshore, make sure to have emergency funds available should you have some unexpected emergencies. To learn more about that, read my report called, the Two Biggest Risks of Retiring Early for Cheap Offshore (link provided).
Boquete's Best Restaurants
Here are my favorite restaurants in Boquete, favorites on top. Some places we ate just didn't make the list. These are the ones we would go back to.
Ngädri Cocina Panameña: Probably the best meal we had in Boquete. The surprising thing was the presentation and flavor were of 5-star quality, but the price was only $7ish for the lunch special which was a 3-course lunch. They served veg and non-veg for that price.
Otto Gastronomia Italiana: They have a decadently delicious fettuccine alfredo here. Prices start around $8 USD here.
RetroGusto Restaurant & Bar: This was the best pizza in town. Go all the way to the back and eat out on the patio. Breathtaking views. We shared the $10 Margarita pizza here. It was amazing. We went back and had the $11 vegetarian pizza and loved it even more.
Restaurante El Sabrosón: We had our favorite local Panamanian meal here. This restaurant has three branches in town. This link is to our favorite of the three. Meals start around $4 USD here.
MEYE BOUNORE Restaurant: We had our second favorite Panamanian meal here. This is right in the middle of town so easy to get to, cheap, clean, and delicious. Meals start around $4 USD here.
Restaurante Bar Fábrica La Cubana: We had some nice local food here while we listened to a live band perform Panamanian favorites and folk music with traditional 'bride and groom' dancers. Great place to see Panamanians loving Panamanian culture. Meals start around $5.
Boquete Sandwich Shop: This place caters to ex-pats mostly and offers much more than just sandwiches. The food is decent and the prices are just slightly more than Panamanian prices. Meals start around $6 USD.
Sugar and Spice Boquete: We had our favorite breakfast here. Meals start around $6 USD.
Olga's Place: We had our second favorite breakfast here. Meals start around $6 USD.
Boquete's Nightlife
Boquete Brewing Company: This seemed to be where ex-pats congregate and listen to other ex-pats play rock and roll in the evenings. There was no cover and the homemade craft beers start at around $4, but national beers are a little cheaper.
TapOut: This crowd was a little more integrated. As the name implies, it is a sports bar with large TVs on every wall. But outside in the backyard, there is a firepit and younger locals seem to be enjoying the moonlight there.
Taboo: This place seemed to be the only happy hour we saw in town, but it was only 2 for 1 cocktails when we were there. There is a nice view off the back deck.
Boquete's $5 Hot Springs (Do It Yourself) Tour
We loved Boquete's $5 Hot Springs (Do it yourself) Tour. One of the great things about much of Latin America is the colectivos. A colectivo is a minivan that holds about 12 to 15 people. The colectivo just drives back and forth between two destinations all day while people that need to go to either of those places jump on and jump off. A collectivo typically has the names of the two destinations on its front windshield. So when one is driving by, and it has the name of the place you want to go, you just waive your hand at the driver and they will pick you up. Colectivos are usually much cheaper than taxis.
So, from Boquete, catch the colectivo with the name 'Caldera-Boquete' on the windshield. They will charge you $2 per person to take you 45 minutes to the small town of Caldera. When you get on the colectivo, tell the driver you want to get off at the 'Caldera Hot Springs'.
He will drop you at a dusty unpaved road just a few kilometers past central Caldera. He will point down a road. Just walk all the way to the end. After you cross a man-made canal and a bridge over a river, turn left and start following the signs that say hot springs.
When you get to the land where the hot springs are located, they will charge you $3 USD entry per person. The below map shows you where to catch the colectivo in Boquete. You will see the minivans (colectivos) on the street in front of the store on the below Google Map. Once you find the colectivo with Caldera on the windshield, then you have to ask the driver to let you off at 'Caldera Hot Springs.' When you are done, just come back to the spot where he dropped you off and wait for the colectivo home. The last one returning to Boquete is around 3 PM but verify the time with the driver.
Our Favorite Hike in Boquete Panama
The Pipeline Trail was our favorite hike in Boquete. Grab a colectivo in Boquete for $2 USD on the street in front of the store on the below Google Map. Look for the one with the 'Boquete-BajoMono' on the windshield. Tell them to drop you at the Pipeline Trail. They will drop you on a spot with two roads you could take. Take the road to the left. About 300 meters up the road, you will see a booth. Register your name and pay the $5 entry fee. Go at least as far as the 100-year-old tree. To go to the spot where they dropped you off and wait for the colectivo home. This is a lovely hike.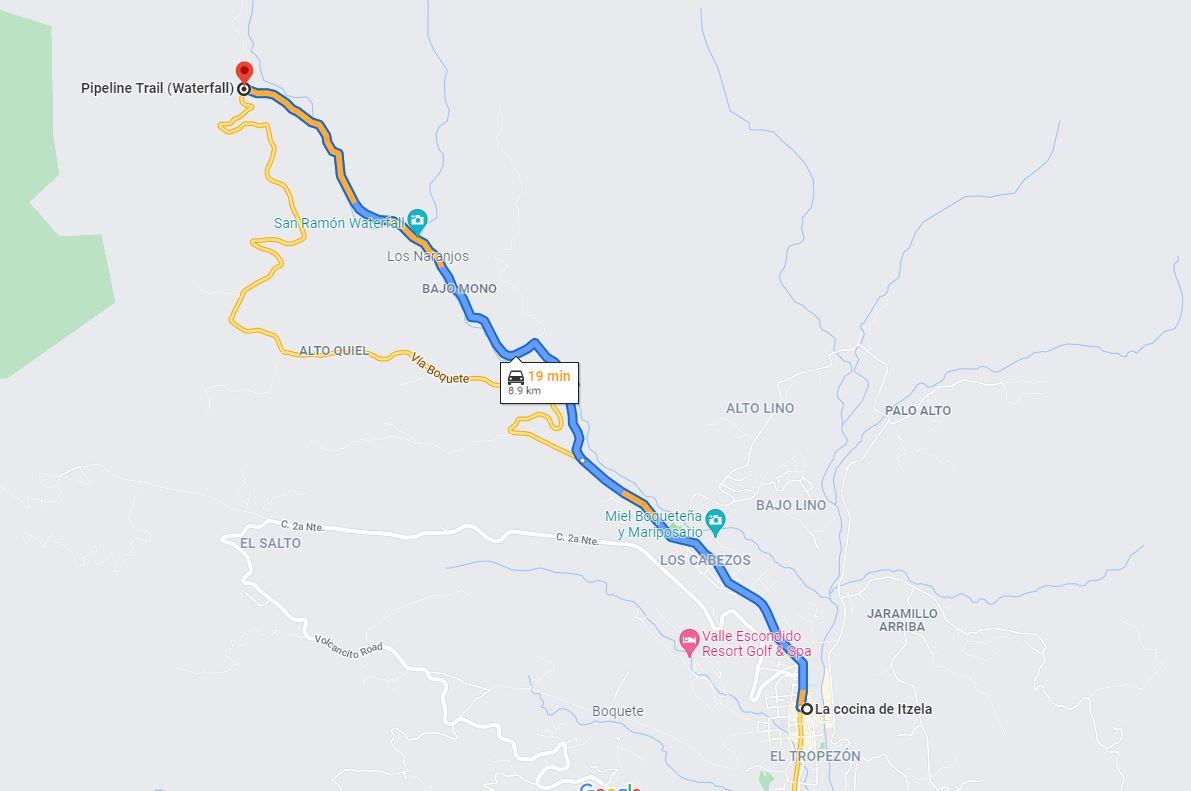 Boquete, Panama, Livability Factors
Here are some of the factors I think about when I consider a place for retirement potential. After I discuss each factor I will assign an overall desirability score to Panama.
Walkability: High. If I were to retire cheap in Boquete, I would be able to walk to almost all of my favorite restaurants and markets. Since I could walk almost everywhere, I would not need a car. I could also use the colectivos to get around town and the buses that run all over Panama are great. I would also consider getting bicycles for Qiang and me to get around town more quickly. We would ride the collectivos to get to the best trails in the mountains surrounding Boquete. We would use the buses to get to Bocas Del Toro, Pedasi, Panama City, and other favorite places around Panama. We can even ride buses up into Costa Rica.
Internet: Medium. We didn't speed test the Internet but we were able to do zoom calls, watch Netflix movies, and upload YouTube videos while we were in Boquete. So the Internet speeds are fine for our purposes in Boquete. If you need a certain Internet speed for your business, I suggest reading my process for finding the perfect apartment which fulfills all of your needs. Just make sure to speed test the Internet before you sign on the dotted line when you are renting an apartment long-term.
Food: High. With a town of this size of fewer than 20,000 people, I would expect fewer international food choices, so we were a bit surprised by the selection. But the prices were a little higher than we would expect with entrees starting around $7 USD in the tourist or ex-pat restaurants. So the selection was good but prices were slightly high probably because so many foreigners with higher incomes are living here. But there were also some food carts and local restaurants in the range of about $4 to $6 USD per meal. The food in the grocery stores seemed high to us, but that might be because there are many imported products for foreigners to purchase. But if you stick to local brands and instead of imported brands, it will be easier for you to stay on budget.
Weather: High. Boquete has beautiful weather year-round if you are not afraid of the rain. In fact, many of the homes here don't have heating or air conditioning, so you will save some money as compared to the air conditioning you will need at sea level. Because Boquete is at an elevation of 3900 feet (1200 meters), the temperatures stay cool year-round. The average nighttime lows only vary slightly from 55 F (12.7 C) in January to 59 F (15 C) in March and average in that range all year. The average daytime highs only vary slightly from 75 F (23.9 C) in March to 71 F (21.6 C) in June. So there is very little temperature difference based upon seasons. Eight or more inches of rain fall in every month of the year except December through April.
Things to Do: Medium. Hiking, biking, dirt bikes, quads, fishing, golfing, cooking, partying, yoga, restaurants, live music, growing fruits and vegetables, running, coffee tasting, and gyms. Trips to the beach, Panama City, and nearby Costa Rica. If you are a lush green mountain lover you will not run out of things to do. But if you are also into cultural exploration, you may get bored here eventually.
Social Considerations: Medium. Since there are so many ex-pats living here and tourists coming and going, there is a fairly high number of locals that speak basic English here. Plus, most of the ex-pats speak some English even if it is not their native tongue. So for everyday simple normal life transactions, you can get away without speaking much Spanish here. But for a fuller life integrated with both locals and foreigners, you will need to pick up some Spanish. That will add significant depth to your choices of friends and things to do greatly. If you are single, a town of this size may limit your dating life substantially especially if you only speak English.
Expats: High. There are 3000 ex-pats living in the Boquete area which is a very high concentration considering the town has less than 20,000 people total. There is a Facebook page for newcomers to Boquete with about 1,700 members. This group seems to have both ex-pats and locals, but it is in English, so there is a good chance that people will see your questions and help provide a soft landing in Boquete. I suggest people go to these kinds of resources to find answers to questions that only an ex-pat would know. But make sure to make friends with both locals and ex-pats for a richer experience living here. I explain why in my report, The Top 10 Mistakes International Retirees Make (link provided).
Real Estate: High. Just walking around Boquete and window shopping, we saw some really expensive places for sale. At the time I wrote this report, I did a search on (https://www.point2homes.com/PA) for the cheapest house in the area. I found the below listing for a 2 bedroom 1 bath house presently listed for $130,000 USD. It may be gone by the time you read this but it will give you an idea of the low-end today. But I never recommend buying until you have lived somewhere for at least 2 to 3 years. In fact, I have a report explaining Why Retired Expats Should not Buy Real Estate Overseas. Make sure to read that before deciding to buy real estate overseas.
Visa: High. Citizens of many countries are given a 90-day visa-free tourist stamp upon arrival in Panama. Citizens of the USA and Canada are still getting 180 days. Source. If you fall in love with Panama and decide to retire here, you can apply for a retirement visa. The retiree residence status requires that an applicant demonstrates an income or pension of only $1,000.00 USD per month and $250.00 USD for each dependent. You can certainly travel to Panama on a tourist visa and later change your status in Panama. We have provided a link to all of the other requirements such as a health certificate and police report. Source.
Safety: High. Panama is generally one of the safer countries to live or travel in Central and South America. But do read the US State Department's travel advisory for Panama and all other parts of the world to learn about exceptions and any known hot spots. Personally, we felt very safe in Panama but I don't judge safety at the country level. I find it more useful to think of safety at the area or neighborhood level. Boquete felt safe to us. But do read my report on how to travel the world safely, including in your home country. I provide all of my tips and tricks that have kept me safe for 14+ years traveling the world.
Boquete Desirability Score: High. If you are a cool mountain or highlands lover that would prefer to be near other ex-pats that you can socialize with, and you would like many international restaurants choices and grocery stores with imported food choices from home, then Boquete might be right for you. In fact, Boquete would be in the top 3 places both Qiang and I would settle in Panama. We would not only enjoy our time there, but it would be a nice base to explore other parts of Latin America. Stay tuned for our other favorite places in Panama and around the world. Subscribe so you won't miss anything.
Finally, here is an interview we conducted with Gil who has been visiting Boquete for many years.  I hope you enjoy his answers as much as I did.  
Thanks for reviewing our report, can I retire early in Boquete Panama on $1066 month.  Make sure to grab a free copy of my eBook: How I Fired My Boss and Traveled the World for 14 Years!
Please subscribe to VagabondBuddha.com or our Youtube Channel to watch us move around the world, 14 years and 67 countries so far.
This is Dan of Vagabond Awake, the Youtube channel for VagabondBuddha.com. Thank you for stopping by. The world is your home. What time will you be home for dinner?