Retire Early on $1000 Month in Penang Malaysia
–>Penang Malaysia Livability Factors
–>Penang Malaysia Cost of Living
–>Penang Malaysia Best Area to Stay, Best Tours, Cheapest Flights
–>Penang Malaysia Old Town Walking Tour
–>Penang Malaysia Street Art
–>Penang Malaysia Beach and Buddha Tour
–>Penang Malaysia Kek Lok Si Temple and Penang Hill Tour
–>Penang Malaysia Nightlife (Bar Hopping) Tour
–>Best Food and Experiences for Digital Nomads
–>Penang Facts and History
Best Retire Cheap in Paradise Locations in the World
This is Dan from Vagabond Buddha. This is my Penang Malaysia retire cheap guide. We were last here 3 years ago. I love this place even more now!
This time, we came to Penang after staying a month in Koh Lanta Thailand. Penang is only about 90 minutes by train from Qiang Hui's hometown in Malaysia.
Penang Malaysia Retire Cheap in a tropical paradise known for spicy Malaysian foods and charming colonial-era buildings with a rich heritage.
Penang is known for its food and you are unlikely to be disappointed by the fish, chicken, or the beef dishes. If you are vegetarian or vegan, the local restaurants and food courts will have almost nothing listed on the menu.
But some food stalls will whip together a meal that even Buddha would love. Plus, there are many pure vegetarian/vegan restaurants, western style restaurants, and Indian restaurants with vegetarian/vegan dishes listed on their menus.
We are digital nomads investigating the best retire cheap in paradise locations in the world. If you would like to how to live in a paradise location for possibly less money than you are spending at home, or the various ways people make money online, grab a free copy of my EBook:
Penang Livability Factors
There are certain factors I consider when thinking about whether or not I could live somewhere. Each Factor is assigned High, Medium, or Low. High means good, Medium means okay, and Low means unacceptable.
Walkability: High. Colonial-era George Town is totally walkable. If you need to go anywhere else, they have a great public transportation system. And Grab Car, the equivalent of Uber in SE Asia, is super cheap. The average Grab ride for us around here has been about 8 RM, $2 USD. The bus is usually about $0.30 USD but that is per person. They are nice clean buses.
Internet: High. Penang has fairly decent Internet speeds. I used the AT&T Speed Test on the wireless router in our Airbnb and it registered 72 Mbps down and 47 Mbps upload speeds with 127 ms latency. That is crazy good.
Food: High. We shopped at this Tesco. Groceries seemed about 25% cheaper than the USA. Alcohol, beer, and wine is (heavily taxed) and easily double USA prices. We didn't cook at home much on this trip. We stayed a little outside the tourist area and found full entrees for $1.50 to $2.50 USD per person. The restaurant food was so good, we just couldn't get ourselves to cook. It wouldn't have saved much money and we would still have to do dishes.
Weather: High. The year-round average high for the day ranges very little from 30.4C, 86.7F in September to 32.2C, 90F in February. The year-round average low for the day ranges very little from 23.2CC, 73.8F in January to 24.2C, 75.6F in May. The rain is moderate in April, August, and November and heavy in September and October. December through March is relatively dry.
Things to Do: High. We found a bunch of odds and ends happening in the Time Out Magazine for Penang. There are art galleries listed, things to do, music and nightlife, and arts and entertainment. The Canteen in China House Restaurant is still listed as the premier live music forum, the same as my last visit. The China House is listed in the 50 Things to Do in Penang. Of course, you are on an island with jungles and surrounded by water full of fish and all that implies. The number one attraction here is finding the best Mama's restaurant in town for a $2 USD meal. Once you taste the amazing local foods, you will have a hard time convincing yourself to pay $8 to $10 USD in the tourist restaurants.
Social Considerations: As a former British colony, people are still required to speak English in many schools here. The main local language here is called Malay. There are three major ethnic groups here, Malay, Chinese, and Indian. All three groups speak their ethnic languages and most speak at least some English. The people are very friendly and nice. I don't believe you will face any additional challenges because you are a foreigner.
Real Estate: You can buy condos here for 300 to 800k RM, $100k-200k USD. The weird thing is that the rents are so low it may be cheaper to rent than buy. The place we are in rents for about $660 USD per month and sells for about $175k USD. If you keep the $175k in the stock market instead.  If you average 6% return, you will be better off paying rent from the profits. Plus, you should almost never buy in a foreign country until you have lived there for at least 2 years.
If you are finding any value here, could you please like it, comment, share or subscribe? That act of kindness will move us up in the Google and Youtube search rankings so our business grows faster.
Penang Desirability Score: High. I could see myself living in Malaysia in either Georgetown, Penang or Kuala Lumpur. The living costs are higher here than in other parts of Malaysia, but I still like these two places more.
Please subscribe to Vagabond Buddha or our Youtube Channel to find out all the best places to live or visit around the world. I have been to 65 countries so far. I started in 2007.
Penang Cost of Living
| | | | | |
| --- | --- | --- | --- | --- |
| Expense | Cost | Low | Medium | High |
| Airbnb/per month rate | $22.00 | 0 | 14 | 30 |
| 1 Br Apt w/lease | $17.00 | 0 | 12 | 0 |
| Hostel/per day | $7.00 | 30 | 3 | 0 |
| High-End Restaurant | $8.00 | 1 | 4 | 8 |
| Neighborhood Restaurant | $3.00 | 30 | 44 | 48 |
| Food Cart | $1.50 | 30 | 12 | 4 |
| Subway/Train/Metro | $0.30 | 20 | 26 | 8 |
| Bus | $0.30 | 20 | 10 | 0 |
| Taxi/Grab | $2.00 | 6 | 10 | 20 |
| Total | Per Month | $377.00 | $745.80 | $916.40 |
| Total | Per Day | $12.57 | $24.86 | $30.55 |
This estimated cost of living is for one month, for one person as a temporary visitor. It only includes rent, 2 meals per day, and local transportation. For a full understanding of what it would cost you to live here, visit Numbeo.com and add any items you spend money on.
Never move anywhere until you have visited first personally to verify the living costs for your lifestyle and needs. I am not guaranteeing these prices. These are just my notes and estimates from the time of my visit and this post. Your costs will likely be drastically different depending on lifestyle and the time since this post.
The above numbers are for one person and do not include alcohol, tours, or extras. Here is a free report explaining, "How The Cost of Living Table Works."
Please book using our links to recommended flights, tours, or accommodations. You will pay nothing extra, but we will earn a small commission. Your kindness will encourage us to keep making these travel guides and videos.
Best Area to Stay in Penang
If you are a cultural explorer, your first stay should be in Georgetown in the big red circle above. This is where most of the action, history, and places of interest are located. I have marked where to stay on the above Google map.
This time, we were here working on our laptops. We wanted a newer nicer place for cheap to stay. We ended up staying in the smaller red circle in the Straits Garden Suites at $22 USD per night, with AC, WIFI, and kitchen. Plus it was only 10 minutes away by bus from the big red circle above. Plus, the neighborhood in the small red circle was full of delicious cheap food, both veggie for me and meat for Qiang Hui.
If you are looking for a relaxing vacation on the beach then you should probably stay in Batu Ferringhi. You can see what that looks like in our below Batu Ferringhi Beach tour.
I have made a recommendation below at each price point. The following recommendations go from most to least expensive. After that, I will tell you where we stayed.
Here are recommended places at various price points: High (beautiful hotel), Medium (apartment in a great location), Low (Hostel near everything).  Here is where we stayed in Penang in 2020 before our flight to the Philippines.
We stayed in this Airbnb for a month in 2019 when we were in Penang. I do not recommend paying the quoted rate when you are staying for a month in an Airbnb. We make significantly lower offers (20-30% discounts) on 10 different properties and one or more of those are usually accepted. If you are new to Airbnb, use this code http://www.airbnb.com/c/dbell50 for a big discount.
If you are enjoying this, could you please like it, share it, comment below, or subscribe? That will rank us higher in search engines so we can keep making these travel guides.
Cheapest Flights to Penang
We almost always get our cheapest flights on this Skyscanner. They have a web crawler that is constantly looking for the cheapest prices all over the world. As usual, we found the cheapest flight to Penang on Skyscanner.
Best Guided Tours of Penang
There are two tour sources I recommend in Penang. These are tour aggregators which means almost anybody can put their tours on here. So in addition to price, you should see how many reviews a tour has and read the customers comments before deciding which tour is best. You should also check both links below before making a final decision. Sometimes you will find significant savings on any given day for similar tour quality.
Georgetown, Penang Walking Tour (self-guided)
The oldest part of Penang Island is called Georgetown. It is full of colonial-era buildings and street art. The above video is us taking the below walking tour. Just ==>click here<== or the below Google Map on your smartphone to get started on your walking tour.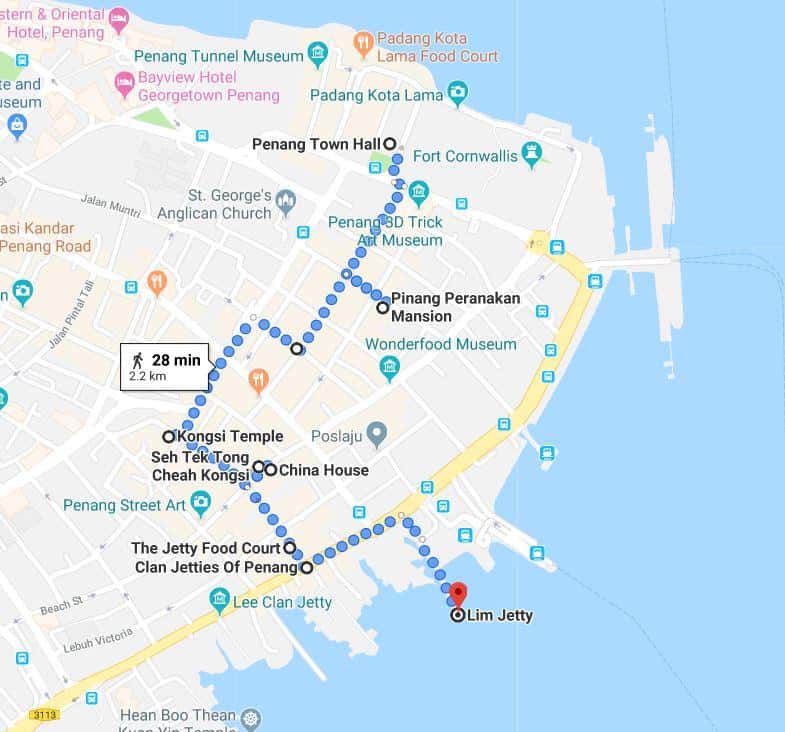 Make sure to buy a Malaysian Hotlink SIM card for your smartphone at the airport when you land. Then you can use all of these links in Penang to save time and money. International roaming rates on your home country SIM can cost 20 times as much as local rates.
Penang Town Hall: Georgetown is the capital of the state of Penang. And this stop is where the British built the government buildings they used to govern the state of Penang during the colonial era.
Penang Town Hall: This town hall was completed in 1906 during the British colonial period before there was electricity on the island. The Dutch had Indonesia, the French had Indo-China, and the British started their foothold in SE Asia here, Malaca, and Singapore. This was a natural next step for the British because they came here from India across the Bay of Bengal.
Pinang Peranakan Mansion: This was the home of a wealthy ethnic Chinese family from about 100 years ago. These and many other families left their mark on what has turned out to be a Malaysian culture of integrated cuisine, antiques, lifestyle, and languages.
Penang Little India: This neighborhood is one of the oldest enclaves of ethnic Indian culture in Penang with the oldest Hindu Temple in Penang. This neighborhood is also famous for shopping and Indian-Malaysian foods.
Yap Kongsi Temple: The extravagance and size of this Chinese clan house is a testament to the cultural dominance of the Chinese in Penang. This was completed in 1906. This clan association originated in Xiancheng of the Fujian province of China. This clan had some of the wealthiest of the Straits Chinese traders in the 17th century.
Seh Tek Tong Cheah Tongsi: This is the oldest of the five big clans of the Hokkien community of Penang. These clans formed for self-defense and sent money back to their villages in southern China. Today, they still promote the welfare of their members and provide scholarships for their children.
The Jetty Food Court: This is a great place to sample various Malaysian, Thai, Chinese, and other SE Asian foods.
Chew Jetty: These Chinese Clan Jetties are more than a century old. Each jetty is named after a Chinese clan. The Chew Jetty is the most tourist-friendly.
Lim Jetty: The Lim Jetty is more residential so you can see how the local Chinese live. It is one Jetty north of the Chew Jetty. You should walk out both jetties during the day. They are the equivalent of public roads over water.
George Town Penang Malaysia Street Art
Qiang Hui took the above picture of me on the street art walking tour. Here is a great Google Map of 118 Street Art Locations in Penang. Just click and walk!
Penang Beach and Buddha Tour (Batu Ferringhi Beach)

This is the video of our Best Beach and Buddha Tour (Batu Ferringhi Beach). Grab the 101 Bus bus from Georgetown central to Batu Ferringhi beach. Along the way jump off at the Wat Chayamangkalaram Temple, the Floating Mosque, and Batu Ferringhi Beach. You can also go further than Batu Ferringhi Beach to the National Park and take the 2.5-hour hike to Monkey Beach. On this trip, we had lunch at Evergreen Vegetarian House. Here is a Google Map showing each stop.
Georgetown Penang Nightlife Tour (Bar Hop)

Start your night in this Expat favorite place for cheap beer (4RM, $1USD), wine, or distilled spirits Antarabangsa Enterprise (Our Dive Bar).  You will be sitting outdoors on stools with the other Kmart shoppers. For people watching, check out the bars around Love Lane and Lubuh Chulia (Mike's Place). There is usually live music, a few restaurants of western food ($$$) and cheap local food. There is also live music in this area if you walk and listen. Next, go listen to live jazz, blues, or rock all the way at the back of the China House in the Canteen. If you want to see what the locals are up to, check out the Jetty Food Court around 8 PM when they usually have locals on stage singing their hearts out. If you are looking for the late night, see or be seen crowd, check out Hanjan Eatery Soju Bar. Just click this Google Map and get started.
Penang Malaysia Kek Lok Si Temple and Penang Hill Tour
Digital Nomads Life and Food Experiences

Here are our best food experiences in Penang this visit.
Chew Jetty Big Bowl: We had lunch here during the old town walking tour. This restaurant is on the Chew Jetty. The meals here are relatively expensive (30 RM for 2 people, $8 USD) compared to local prices but the Instagram pictures with the Big Bowl are fun.
Love Lane and Chulia Street Food Carts: These are a bunch of food carts at night in the Nightlife party area. Meals cost 6-8RM, $1.50-2.00 USD.
Kimberly Lane Food Carts: There are a bunch of food carts in front of this restaurant at night. We ran into one of Qiang Hui's model friends. He is from Penang and told us about these food carts.
China House Restaurant: We had a lovely cheesecake and latte here, 36RM, $9USD. This is the place to go if you are craving amazing western cakes and pastries. There is also a jazz club all the way in the back. Keep walking. I hear the food is good here but I haven't tried that yet.
Puspamalar Vegetarian Food Corner: We ate at least half of our meals here. They have a buffet and daily specials. We averaged about 6RM, $1.50 USD, per person per meal here, We kept going back because the food is fabulous and it is right across the street from our Airbnb apartment.
Ru Yin Vegetarian: Before noon you can get an amazing bowl of veggie noodles at the food cart in front of this restaurant for 4 RM, $1 USD. Also, until 2:30 PM, the buffet in the restaurant has amazing fake meat dishes for 7 RM, $1.75 USD. This one was just 3 blocks from our Airbnb.
Vagabond Buddha's Kitchen: The food was so cheap here we only cooked about 5 meals in 3 weeks on this visit. We shopped here and here.
Grab a free copy of my Ebook. You will learn how to save and earn money living internationally.
Penang Facts and History
Here are some interesting facts about Penang Malaysia according to Wikipedia. I am here now as I share these facts.
Penang is a Malaysian state. George Town is the capital of Penang state. George Town is located on an island that you can access by ferry or bridge. Including the mainland part of Penang, about 1.8 million people live here.
The earliest human remains in Penang date back about 6000 years. They artifacts near the remains are of a Hindu-Buddhist Bujang Valley civilization. This area was later ruled by the Sultanate of Kedah until the British arrived.
In 1770, Francis Light of England was instructed to form trade relations with Malaysia. When Light arrived, the Sultan was under internal and external threats. Light promised military protection and the Sultan offered Penang Island to the British in return.
After the Sultan agreed, the British arrived in 1786. Since George was the King of Britain at the time, Light named George Town after King George.
Penang never received the military protection promised by Light. The Sultan later learned that Light did not have the British's consent to make the deal. So the Sultan tried to take the island back by force 1791. That is when the British troops finally showed up to protect their own interests. The Island remained under British control until Malaysia's independence with the exception of World War II.
Light founded Georgetown as a free port to take business from Dutch trading posts. Penang Island became famous for spice production. The port trade expanded exponentially until 3500 ships traded here by 1802.
In 1826, Penang, Malacca, and Singapore were incorporated by the British into what was called the Straits Settlements. Singapore displaced George Town as the capital of the Straits Settlement in 1832, due to Singapore's faster economic growth.
After population growth outpaced Penang's ability to provide infrastructure led to riots, the Straits Settlements were officially made into British Colonies. This allowed greater police protection, improved health care, education, and public transportation.
Due to increased investment in education, intellectuals and authors started living here, such as Rudyard Kipling, Somerset Maugham, and Sun Yat-sen.
The Japenese invaded and took Penang in 1941. The British evacuated Penang's European population which led to the moral collapse of British rule all over SE Asia. The Japenese massacred the Chinese population of Penang and used the woman as sex slaves. The port of Penang was used as a submarine base by the Japanese and Germans.
When the Japanese surrendered in 1945, Penang was the first city in Malaysia to be liberated. In 1948, British colonial Penang was merged into the Federation of Malaya.
Penang had been the most successful city in Malaysia. But the Malay nation favored allocating resources to Kuala Lumpur over Penang so Penang fell into disrepair and decline leading to the discontent of its citizens.
George Town's efforts to revitalize its cultural heritage starting in 2000 paid off and by 2008 George Town's colonial-era center was named a UNESCO World Heritage Site. Today it is recognized as one of the most interesting tourist destinations in SE Asia.
If you are interested in the subject of present moment awareness, my new videos on that subject are now being posted at my new Present with Vagabond Buddha Youtube Channel. The older videos are on the Vagabond Buddha Channel's Presence Playlist.
Please subscribe to VagabondBuddha.com or our Youtube Channel to watch us move around the world. 65 countries so far.
This is Dan of Vagabond Buddha. Thank you for stopping by. The world is your home. What time will you be home for dinner?