My name is Dan and I have traveled all over the world for the last 15+ years looking for the best place to retire cheap in paradise.  I have over 200 reports on VagabondBuddha.com that share what I have learned living overseas in 67 different countries during that time.  
In this report, I detail how some of you may be able to Retire early $1140 USD Month in San Juan La Union in the Philippines.  But many of you may not be able to retire early for so little.  I give example reasons why in this report.  You will never know for sure until you come over here and do your feet-on-the-ground exploratory visit.  
We have really enjoyed our time in La Union so we think it is worth a visit before deciding where to retire in the Philippines especially if you enjoy beach life.  And if you are a surfer that also enjoys the nightlife, it is likely to make it into your top 2 choices for retiring early in the Philippines.  
You see, San Juan has a surfer hippie vibe to it (along with small to medium size waves) that we haven't seen that much of around the Philippines.  That combination sets it apart in the running for this reason.  But it depends upon what you are looking for. 
You will find not only surfers and hippies here but also young professionals with discretionary income that come down here on long weekends to blow off steam.  Many drive up here but others jump on one of the luxury buses that leave Manila every hour or two.  
But San Juan and San Fernando didn't seem to have as many retired ex-pats from other countries as you will see in places like Metro Makati, Dumaguete, Angeles City, or Subic Bay.  So if you like rolling stealth instead of being surrounded by other ex-pats, this would be a nice choice for you especially if you have a bit of the hippy vibe in you (like I do).  
Back in the 70s, I rode a chopper to high school and had hair down to the middle of my back.  I was 16 years old at the time.   My best friend had a Harley and we rode these to high school.  I didn't weigh enough to kick start a Harley at the time so I rode the below Triumph 650 chopper. 
Okay, back to my report. 
Our Favorite Markets and Restaurants in San Juan Philippines
San Juan Markets
San Juan Public Market:  This is where we bought fruits, vegetables, rice, tofu, meats, fish, and other perishable foods.  They also have clothing, shoes, and home products in and around this market.  You can save money by buying here especially if you have negotiation skills.  But the truth is, this is a smaller Public Market than the San Fernando Market below. 
San Juan Restaurants
Beach Bum Food Park:  Qiang and I both found food we loved in this food park.  You will see mostly local meat-friendly places in this food park ($3 to $4 USD), but if you take your time and read menus and ask questions, you will also find a few vegetarian/vegan dishes.  The garlic green bean dish was my favorite for $3 USD.  Qiang found a fish soup dish here that would feed 2 people for $4. 
Bebo's Bombay Burritos:  One of our favorite meals while we were in San Juan La Union.  They have both meat and vegetarian options.  The burritos were very large and delicious and cost from $4 to $5 USD.  This is another food park so there are other restaurants here.  
The Great Northwest Philippines Travel Stop & Viewing Deck:  There are about 10 different small restaurants in here.  This is also a great place to go in the evening where there seemed to be live music every evening.  There is also a nice viewing deck on the second floor.  We never ate at any of the restaurants here but we stopped by twice in the evening to enjoy the live music.  It is actually loud enough so you could drink a $1 USD beer at the local tent to the right as you face the beach instead of the $1.80 USD beers here.  
Clean Beach Restaurant: This is a great place to lounge all day at the beach.  They have shaded small tables with bean-bags chairs so you don't get sunburned.  We ordered breakfast and one coffee each and sat here all day.  It s a great place to enjoy the beach without worrying about vendors bothering you because the tables are behind a rope separation.  The meals are about $4 to $6 USD.  
La Gringa: They make Mexican food here and they have both meat and vegetarian versions of Mexican food.  If you are craving Mexican while in La union stop by here and check out their food.  This is walkable from the beach area of San Juan.  The tacos are about $1.60 USD.  
San Fernando Markets
San Fernando Public Market: This is the largest open-air market in San Fernando and has a much larger selection than the above San Juan Public Market.   This is where we bought fruits, vegetables, rice, tofu, meats, fish, and other perishable foods.  They also have clothing, shoes, and home products in and around this market. 
San Fernando Night Market: Along one street next to the above Public Market, a Night Market springs up around 6 PM.  These are small family-owned food carts with meals ranging from $1 to $3 USD.  
CSI Supermarket:  This is a warehouse-style supermarket sort of like a COSTCO in the USA but you don't need to buy in such large quantities.  They have food, clothing, household goods, paint, hardware, and some appliances.  There are also small food restaurants and other stores in the mall here.  
Robinsons Mall: This is a typical mid-sized Robinsons mall in the Philippines.  There is an expat-style grocery store here and 4 levels with restaurants, coffee shops, movie theatres, food court, clothing stores, department stores, Home Goods, and other assorted stores.  It has great free parking and is airconditioned if you want somewhere cool to go for a walk on a warm day.  
San Fernando Restaurants
Buhay Gulay:  We had lunch here when we did our below San Fernando Scooter Tour.  The food was amazing and only about $2 to $4 per meal.  It is a vegan/vegetarian restaurant and had all sorts of great choices of different kinds of faux meat dishes.  
Halo-Halo de Iloko:  We heard the food was good here too but we got stuffed on the Hal Halo.  We shared their delicious Buko Halo Halo for $4 USD.   Halo Halo is a delicious cold Filipino treat that is a mixture of various ingredients such as ice, ice cream, shaved coconut fat, nuts, beans, jelly candies, and an assortment of other flavors and textures that delight your senses.  
San Juan Beach NightLife Map
You can click this map and start walking at around 7 PM.  As you walk, just listen to music that makes your heart sing.  Then just grab a seat and relax into the evening.  There is also great people watching.  This map is not taking you to exact places.  It is taking you to spots where you can hear the music choices best. You will see what we found on this walk in the top video above.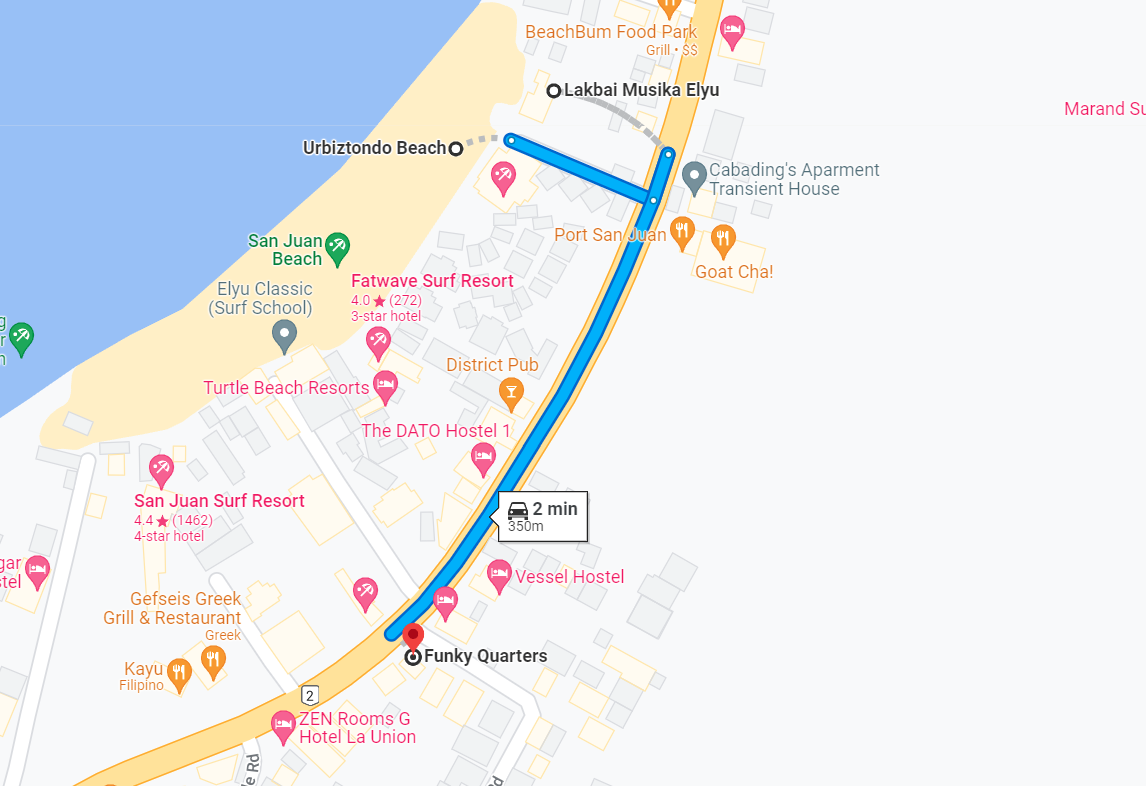 Cost of Living in San Juan Philippines
Here is our estimated cost of living converted into US dollars if the two of us moved to San Juan La Union in the Philippines on a tight budget.  But we are all different, so you will have to put your feet on the ground in San Juan to determine your cost of living based on how you would live, shop, eat, and entertain yourself.  
Rents: You will see furnished 1 bedroom apartments, in the range of about P15000 to P25000 Per Month $268 to $500 per month if we were willing to rent for a period of a year or more.  Here is a place we found online for 15000 pesos per month.  This will probably no longer be available when you read this report, so just Google "Long Term Apartments for Rent in San Juan La Union" to see what is available when you read this.  
So, for this estimate, I will use $400 per month for rent for a long-term rental for our estimate which does not include utilities.  Make sure to also read my report on how to find perfect apartments around the world.  
Utilities:  San Juan La Union is at sea level.  So, we would need to run our air conditioner for most of the year.  Our electricity will run about $70 to $90 USD per month and gas and water would be another $20 per month so about $110 USD per month for our estimated utilities which would vary by the season of course.   
Groceries:  Based on our time here and the money we spent on groceries, we estimate about $350 USD per month on groceries for the two of us.  We would shop mostly in the public market where the vegetables, fruits, rice, and meats are cheaper and we would only go to the more expensive expat-style grocery stores for things we could not find in the public market.  
Restaurants:  If we went out to eat twice per week, once for date night and once for a lunch somewhere, plus some street food, we would spend around $40 per week or $160 per month in restaurants for the two of us.  We would eat mostly in mom-and-pop-style restaurants and food carts rather than the expensive expat-style restaurants.  
Cell Phone Data: The cost to recharge our prepaid service is about $16 per month.  My android phone will act as a hotspot so we can both be on the internet at the same time when we are out of the house together.  
Laundry:  Our laundry cost about $4 to wash, dry, and fold at the local drop-off and pick-up laundry, so we would spend around $16 per month for laundry.      
Water:  We would spend about $8 per month on drinking water.  They have reverse osmosis refills for 40 Pesos for 20 liters (5 Gallons).  We would drink about 10 per month or 400 pesos or around $8 per month delivered.  
Internet: Our Internet would be about $50 per month.  Here is the speed test on the Internet we had in our temporary Airbnb rental. We could easily get by at these speeds for our needs.  
Transportation:  San Fernando and San Juan and spread out quite a bit.  So we would probably buy a used scooter for about $600 USD and spend about $30 per month on fuel.  
Alcohol (Optional): Local beers are about $1.00 USD in grocery stores here.  If you watch and buy in bulk on sale you may save a little.  Bars charge in the range of about $1.60 to $2.00 per beer.  So for the two of us, we estimate about $120 USD per month since we would drink more at home.  
Entertainment (Optional):  We would budget about $160 per month for entertainment for the two of us. 
Retire Early $1140 USD Month San Juan La Union Philippines
| | |
| --- | --- |
| San Juan La Union | Expense (USD) |
| Rent | 400 |
| Groceries | 350 |
| Utilities | 110 |
| Restaurants | 160  |
| Cell | 16 |
| Laundry | 16 |
| Water | 8 |
| Internet | 50 |
| Transportation | 30 |
| Recurring Total | $1140 |
| | |
| Alcohol (Optional) | 120 |
| Optional Total | $1260 |
| | |
| Entertainment (Optional) | 160 |
| Optional Total | $1420 |
This is our estimated cost of living if the two of us move to San Juan La Union in the Philippines on a tight budget.  To fully understand what it would cost you to live here, you must do an exploratory visit and put your feet on the ground.  Also, visit  Numbeo San Juan and add anything you spend money on in your home country that is not mentioned in the table. Our costs of living are generally much lower than a new traveler's because we are great bargain hunters but there are a few people that live cheaper than we do.  
Never move anywhere until you have visited first personally to verify the living costs for your lifestyle and needs. I am not guaranteeing these prices. These are just my notes and estimates from the time of my visit and this post. Your costs will likely be drastically different depending on your lifestyle and the time since this post.  
More typical ex-pat living costs in San Juan range from about $1500 to $2500 per month.  But people spending that much also have higher incomes or pensions.  They often report spending more on entertainment, eating out, and alcohol.   Many also have more expensive cars, houses, or apartments.  
If you are going to try to retire cheap offshore, make sure to read my report, the Two Biggest Risks of Retiring Early for Cheap Offshore, which explains why you should have emergency funds available for unexpected large expenses.  
San Fernando Scooter Tour
We searched on Facebook for "San Juan La Union Scooter Rental" and found this Scooter Rental Agency that was on the same street as our Airbnb.  It cost 1000 Pesos ($20 USD) for 24 hours which is way more than we are used to paying in the Philippines for Scooter rental but it was the only one we found.  But we wanted to see the below seven places in San Fernando La Union all on the same day.  If you rent it for longer than a day, try to negotiate a better deal.  
Here is the Google Map of my San Fernando Scooter Tour:   
The locations you decide to visit are editable by clicking the below scooter itinerary that takes you to Google.  
The above scooter tour will guide you through these main landmarks in San Fernando.  
Carmelite Monastery:  The Pindangan Ruins are next door to this monastery and are a magnificent example of what was built during the Spanish Colonial era.  La Union is in an earthquake country so it was inevitable that this old church would fall into ruins.  
Robinson's Mall:  This will give you an idea of what modern retail stores are available if you decide to move to San Fernando or San Juan La Union.  
Poro Point Lighthouse: You can't enter the lighthouse but walk towards the water to the right to see a beautiful cliff view from beyond the lighthouse.  It is less than 100 meters. 
San Fernando City Plaza: This is the central plaza of San Fernando.  San Fernando Central is full of charming tree-lined streets and there is no better place to experience this than around the central plaza.  You can also visit the colonial-era cathedral that sits across from the central plaza.  
Hal Halo Treat:  Have a Buko Hal Halo here at the most famous Halo Halo place in La Union.   Buko is the Filipino word for Coconut and you have to try a Halo Halo while you are in the Philippines.  
San Fernando Public Market:   This is the largest open-air market in San Fernando and where we would shop to get the best deals on everything from food to household necessities. Go at night and you will see the night market on the street alongside the public market.  Night markets are the place to go in the Philippines to sample the local foods made by family-owned food carts in the Philippines.   
CSI Supermarket:  This superstore is where to shop for everything you can't find in the public market from food to home improvements.  
Buhay Gulay:  This is the best vegetarian restaurant in San Fernando and a great place to eat when you do your San Fernando Scooter tour.  
Where We Stayed
We spent two days at the beach at this place.  Then we spent 5 days at this place about 1 kilometer away from the beach.  The first place was just a beach hut.  The second place had a Kitchen and was closer to the San Juan Public Market so we could walk to get groceries.  I show you both places in the video above.  Here is our process for finding places: How to find great apartments around the world.   
Bus to San Juan La Union from Baguio
We traveled to San Juan La Union from Baguio for about $8 USD per person.  Just go to this bus station in Baguio and tell them you want the bus to Laoag.  That bus goes through San Juan and San Fernando on the way to Laoag.  
We took the noon bus but there was one before it and one bus after it when we were there.  We usually walk by the bus station the day before because the times change from time to time.  
When you get on the bus, tell the driver you want to be dropped off in San Juan La Union.  Tell them a landmark near your accommodations and see if they will drop you close enough to walk.  When you get dropped off, take a tricycle taxi to your accommodations if you don't want to walk. 
San Juan Livability Factors and Retirement Desirability Score
Here are the factors I think about when I consider a place for early retirement potential. After I discuss each factor, I will assign an overall retirement desirability score.  
Walkability: Medium Desirability.  I love living in walkable areas of the world where you can walk to restaurants, grocery stores, nightlife, and other interesting things to do.  If I decided to retire in San Juan, I would not be able to walk everywhere because things are spread out between San Juan and San Fernando.  So I would need a scooter.  They do have Jeepneys running up and down between the cities so it is not as bad as it could be.  So I will call it medium walkability. 
Internet:  High.  The overall reliability remains fairly stable as compared to many other more rural parts of the Philippines so this is high.   
Food: Medium.  The food choices are about average for this size city in the Philippines so I will say medium.  
Transportation: Medium.  If we decided to retire in San Juan we would not be able to walk everywhere.   I would buy a used motorcycle for about $600 USD.  So I will call this medium. 
Weather:  Medium.  The weather in San Juan is probably too warm on average for most people and it rains quite a bit also.  The average daily temperatures range very little from average highs of 91F, 33C, in April to the average highs of 88F, 31C, in July.  The nightly lows also range very little from an average low of 70F, 21C, in January to an average low of 79F, 26C, in May.  March through November is the rainy season averaging from 17 to 28 days of rain per month while the dry season is December through February with 12 or fewer days of rain per month.  The wettest months are June through September with 26 or more days of rain per month.   
Things to Do:  High.  Cooking, yoga, bike riding, martial arts, gyms, shooting pool, restaurants, bar hopping, live music, running, coffee shops, street foods, night market, malls, picnics, paddle boats, surfing, standup boarding, volleyball, basketball, jet skiing, sailing, and public parks.  You are less than 2 hours from Baguio which is a cool mountain community when you need a break from the heat.   
Healthcare:  Medium.  There are a few small medical clinics and hospitals in La Union and a few better ones about 1.5 hours away in Baguio.  They will be able to take care of many of your more common medical needs.  But for some problems they may refer you to one of the top specialists or hospitals in the Metro Manila area which is about 5 hours away depending on traffic.  The larger better-equipped hospitals with more specialists are in Metro Manila Makati.  Some people also fly to Thailand or the USA for more difficult procedures.  
Expats: Low.  We did not see many ex-pats living in and around San Juan or San Fernando La Union.  We did not find any well-attended Expat groups either on Facebook or other social media sites.  That may not be a problem for you if you are comfortable around locals like me.  So it just depends on what you need.  Make sure to make friends with both locals and ex-pats for a richer experience living here.  I explain why in my report, The Top 10 Mistakes International Retirees Make.  
Real Estate:  Low.  Foreigners can not buy land in their own name in the Philippines.  Condos are available to foreigners under some conditions in the Philippines but we did not see any for sale as such while we were here.  I never recommend buying real estate until you have lived somewhere for at least 2 to 3 years.   I have a report explaining Why Retired Expats Should not Buy Real Estate Overseas for the first 2 to 3 years of living somewhere new overseas.  Make sure to read that before deciding to buy real estate overseas.  Almost everyone else is going to try to get you to buy (for the commission) so read why I think you should wait until you are certain.  
Visa: High. For your exploratory visit to the Philippines, citizens of many countries can obtain a 30-day free visa stamp upon arrival at the international airports. Plus, you can extend your tourist visa for a total of 36 months in the Philippines without bothering with a retirement visa.  The monthly visa extensions cost about $30 USD per month.  After the 36 months, you just leave the Philippines and go to another country and then fly back to start the whole 36-month process over again.  There is a retirement visa in the Philippines, but very few people bother with it because it is so easy to stay in the Philippines on tourist extensions.  
San Juan Overall Retirement Desirability Score:  High for western surfer life.  Most people choose San Juan to live in because of the amazing beach life available there especially if they are surfers.  The reason San Juan stands out as different from most beach areas of the Philippines is that it has a noticeably more western-style beach "feeling" to it with corresponding food and nightlife than almost anywhere in the Philippines.  San Juan La Union is easily in the top 3 places in the Philippines for hippie surfer types.  Otherwise, this area is probably just medium for other retiree ex-pats. 
Thanks for reviewing my report, Retire early $1140 USD Month San Juan La Union Philippines.  
Please subscribe to VagabondBuddha.com or our Youtube Channel to watch us move around the world, 14 years and 67 countries so far.  Make sure to grab a free copy of my eBook, How I Fired My Boss and Traveled the World for 15+ Years.  It has most of my best tips and tricks. 
This is Dan of Vagabond Awake, the Youtube channel for VagabondBuddha.com. Thank you for stopping by. The world is your home. What time will you be home for dinner?