In this report, I first share my retire early in David Panama for $990 per month estimated cost of living.
Then, I will take you on a walking tour of our favorite mall in David, a walking tour of the old town city center, and a few of our favorite restaurants and grocery stores.
Finally, I will discuss my early retirement livability factors, such as walkability, food, social considerations, visa information, healthcare, weather, and real estate. But you do not need to take notes. Just click the first link in the notes below this video to get access to this content in writing including Google Map links.
I will start with our cost of living estimate for two people, but first I want to answer the question, who would love to live in David Panama?
Who would love to live in David Panama?
Over the last few weeks, I showed you a cool mountain town called Boquete, a gorgeous island in the Caribbean called Bocas Del Toro, an international city with a beautiful high-rise skyline, Panama City, a small town ex-pat community on the Pacific side called Pedasi and today I show you David, one of the cheapest places where ex-pats retire in Panama.
But a few of you have said that some of the other places I showed you in Panama are a little too expensive for your budget. In that case, David Panama might be the right place for you. Many ex-pats agree that David provides a big bang for your buck if you are living on a tight budget.
Although there are three cities in Panama that are technically larger than David, two of those cities just seem to be suburbs of Panama City. So David is the largest City in Panama that is not just a large suburb of Panama City.
One of the complaints some people have about David is that it is at sea level but not near enough to the beach to experience much of a breeze, so it can be too warm for some people. Luckily, it is just a short $2 bus ride to Boquete, one of the most beautiful and cool hill stations in Panama.
So you can grab a public bus to Boquete and go enjoy a nice day in the cool mountains of Boquete for the day. It is about 1 hour away.
Many people that love Boquete live in David Panama because it has better shopping, less rain, and larger more equipped hospitals. So they choose to live in David and run their air conditioning or go visit cooler Boquete to cool off on warmer days.
David has a country feel to it, with rolling hills, grazing cattle, and horses in large pastures along the country roads. If you consider yourself more of a country person that prefers a little more space around you, and you don't mind buying, maintaining, and driving a car, then David is a great choice for you.
Everything in David seems cheaper than most other parts of Panama we visited. The rents, the groceries, and the restaurants are slightly cheaper. There just aren't as many ex-pats here pushing up prices up.
Cost of Living in David Panama
Here is my estimated cost of living for two people in David Panama.
Rents: To rent an unfurnished small 1 bedroom apartment, you will have to pay around $200-300 per month for local-style accommodations. If you want to live in a more Americanized place, it could easily cost you another few hundred dollars per month depending on how much space and modern amenities you want. Since this is my estimate of what it would cost me to live here, and I am comfortable with the local style accommodations, I will use $250 per month for rent which does not include utilities. You will not find local-style apartments advertised online. You will need to explore the neighborhoods to find one and talk to the locals. At that price, it is not likely to be in the central part of David. There is also a link to my report about how to find perfect apartments around the world.
Utilities: This is at sea level so you will need AC many nights of the year to sleep. But I estimate my electric bill would range from about $60 to $80 per month depending on square footage. So I will use $70 per month average for AC. My gas will run about $4 per month, water will be about $10 per month. So my electric, gas, and water would average around $84 per month.
Groceries: Based upon our time here and the money we spent on groceries, we estimate about $300 USD per month on groceries for two people.
Restaurants: If we went out to eat twice per week, once for date night and once for a lunch somewhere, we would spend about $35 per week or $140 per month in restaurants for the two of us.
Cell Phone Data: We need Internet access from time to time when we are out of the house, for Google Maps and other searches. The cost to recharge prepaid service is about $20 USD per month. My android phone will act as a hotspot so we can both be on the internet at the same time when we are out of the house together.
Laundry: We could send our laundry out once per week for about $8 to wash, dry, and fold, so about $32 per month.
Water: The tap water is fairly clean in David, so we would just use the Culligan water filter on the tap water. The filters would cost about $4 per month.
Internet: The Internet will be about $40 per month depending on how fast you need your service.
Uber/Taxi/Buses: This is not a very walkable town. Things are spread out everywhere. So we would need a car or motorcycle if we live here. I estimate we would average about $120 per month for transportation for insurance, gas, and repairs. We would buy a used vehicle for around $3k to $5k cash so we wouldn't have any payments.
Alcohol (Optional): Local beers called Panama and Balboa were about $0.72 USD each if you watch and buy in bulk on sale. In bars and restaurants, those prices are easily double or triple. So for two people, we estimate about $90 per month for alcohol since we would drink more at home.
| | |
| --- | --- |
| David | Expense (USD) |
| Rent | 250 |
| Groceries | 300 |
| Utilities | 84 |
| Restaurants | 140 |
| Cell | 20 |
| Laundry | 32 |
| Water | 4 |
| Internet | 40 |
| Transportation | 120 |
| Recurring Total | $990 |
| | |
| Alcohol (Optional) | 90 |
| Optional Total | $1080 |
The above cost of living is for 2 people but is just an estimate on the low end. For a full understanding of what it would cost you to live here, visit Numbeo David and add anything you spend money on in your home country that is not mentioned in the table. Our costs of living are generally much lower than a new traveler's because we are great bargain hunters but there are a few people that live cheaper than we do.
Never move anywhere until you have visited first personally to verify the living costs for your lifestyle and needs. I am not guaranteeing these prices. These are just my notes and estimates from the time of my visit and this post. Your costs will likely be drastically different depending on your lifestyle and the time since this post.
Most ex-pats report spending more money per month than the low-end estimate we are reporting here. You will hear more typical living costs in the range of $1100 to $1800 per month. But people spending that much also have higher incomes or pensions. They often report spending more on eating out and drinking more in local bars and restaurants. Many also have more expensive cars and apartments.
If you are going to try to retire cheap offshore, make sure to have emergency funds available should you have some unexpected large expenses. To learn more about that, read my report called, the Two Biggest Risks of Retiring Early for Cheap Offshore.
David's Best Restaurants and Grocery Stores
There are links below to our favorite restaurants in David, our favorites on top. There were another few restaurants we tried that did not make the list.
Restaurante Vegetariano taiwanés: We had a really delicious vegetarian lunch here for two people including drinks was about $5.50 USD (two people). They are really great at making dishes with plant-based meat alternatives.
Bijao: This is one of the best examples of typical local food that is fairly priced and very representative of Panamanian cuisine.
Gentis Cafe: We went to this cafe to try Geisha Coffee. Geisha Coffee is the most expensive coffee in the world and it is grown in the nearby hill station called Boquete. We heard we could try it here in David less than half the cost of what it would cost in Boquete.
Here is where we shopped in David for groceries.
Romero La Riviera: This was near our Airbnb.
Rey David: This was is in our favorite mall in David. This mall also has a subway sandwich and a Fridays if you are feeling like some familiar foods.
Where We Stayed
This Airbnb is where we stayed. We recommend staying closer to the old town area if you do not have a car. This was too far out. The old town area is where we did our walking tour in this report. We paid about $18 per night for this place. That did not include the booking fee of about $18 USD and this one had no cleaning fee when we booked.
David Old Town Walking Tour
Here is the Google Map for our David Old Town Walking Tour
The map is editable in the sense that you can add and remove places of interest in the old town area of David.
As the map shows above, the walk is about 24 minutes if you don't stop along the way. But we spent a little time at each place so it took us about 3 hours to complete. That included about 30 minutes at the vegetarian restaurant and 30 minutes at the Gentis Coffee house.
You can taste the most expensive coffee in the world, called Geisha Coffee, for about half of what it costs up the hill in Boquete.
The above video to see us walking the tour.
David Livability Factors and Overall Retirement Desirability Score
Here are some of the factors I think about when I consider a place for retirement potential. After I discuss each factor I will assign an overall retirement desirability score to David.
Walkability: Low Desirability. David has a population of about 100,000 people but it is fairly spread out over a large area. So you will need a vehicle, a motorcycle, or a bicycle so you won't get frustrated when you need to run errands. We feel like we would need a car if we moved here so that is low walkability in my world.
Internet: Medium. The Att Speed Test in our apartment WIFI was 40 Mbps download speeds and 11 Mbps upload speeds. So the Internet speeds were fine for our purposes. If you need a certain Internet speed for your business, I suggest reading my process for finding the perfect apartment which fulfills all of your needs.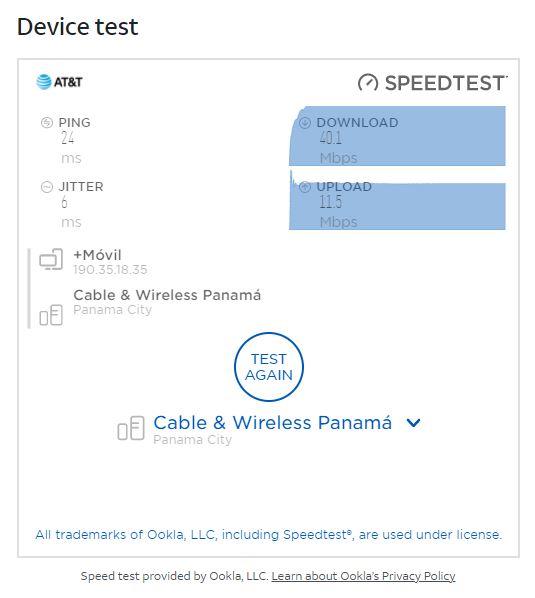 Food: Medium. There is a large assortment of traditional Panamanian foods and there is a reasonable assortment of foreign foods in David, about what you would expect for a town this size.
Weather: Medium. The warmest months are January through April when daytime highs average around 32C, 90F, and nights average around 23C, 74F. But the other months are almost the same with average daytime highs around 29C, 86F, and night lows average around 23C, 74F. So the temperatures do not vary that much by season. But May through November just feels hotter because it is muggier during that period. But when it is not as muggy, during November through March the sun breaks through more and you can feel it on your skin. As one of Panama's hottest cities, you better have AC if you live in David.
Things to Do: Medium. Golfing, boat fishing, tennis, swimming, biking, cooking, gym, yoga, restaurants, running, shopping, coffee shops, and day trips to Boquete, a cool mountain station.
Healthcare: High. The two full-service private hospitals and the public clinics are well-reviewed by ex-pats and locals alike. Medical care is much cheaper in Panama than in the USA. If you are curious about what care we got in Panama city and what it costs, read my Panama City report.
Social Considerations: Medium. If you decide to retire in David, you will want to learn some Spanish. You will find many people in day-to-day life that speak English in David, but your life will be more full if you are able to communicate meaningfully with everyone around you.
Expats: Medium. There is an Expat Facebook group for David and it has about 5 posts a day. I suggest people go to these kinds of resources to find answers to questions that only an ex-pat would know. But make sure to make friends with both locals and ex-pats for a richer experience living here. I explain why in my report, The Top 10 Mistakes International Retirees Make.
Real Estate: High. On the day I wrote this report, I was curious how much a small house would cost in the David. So, I used Google to translate "Homes for sale in David Panama" into Spanish, "Venta de casas en David Panamá" and the following house for $65,000 USD came up on https://www.compreoalquile.com.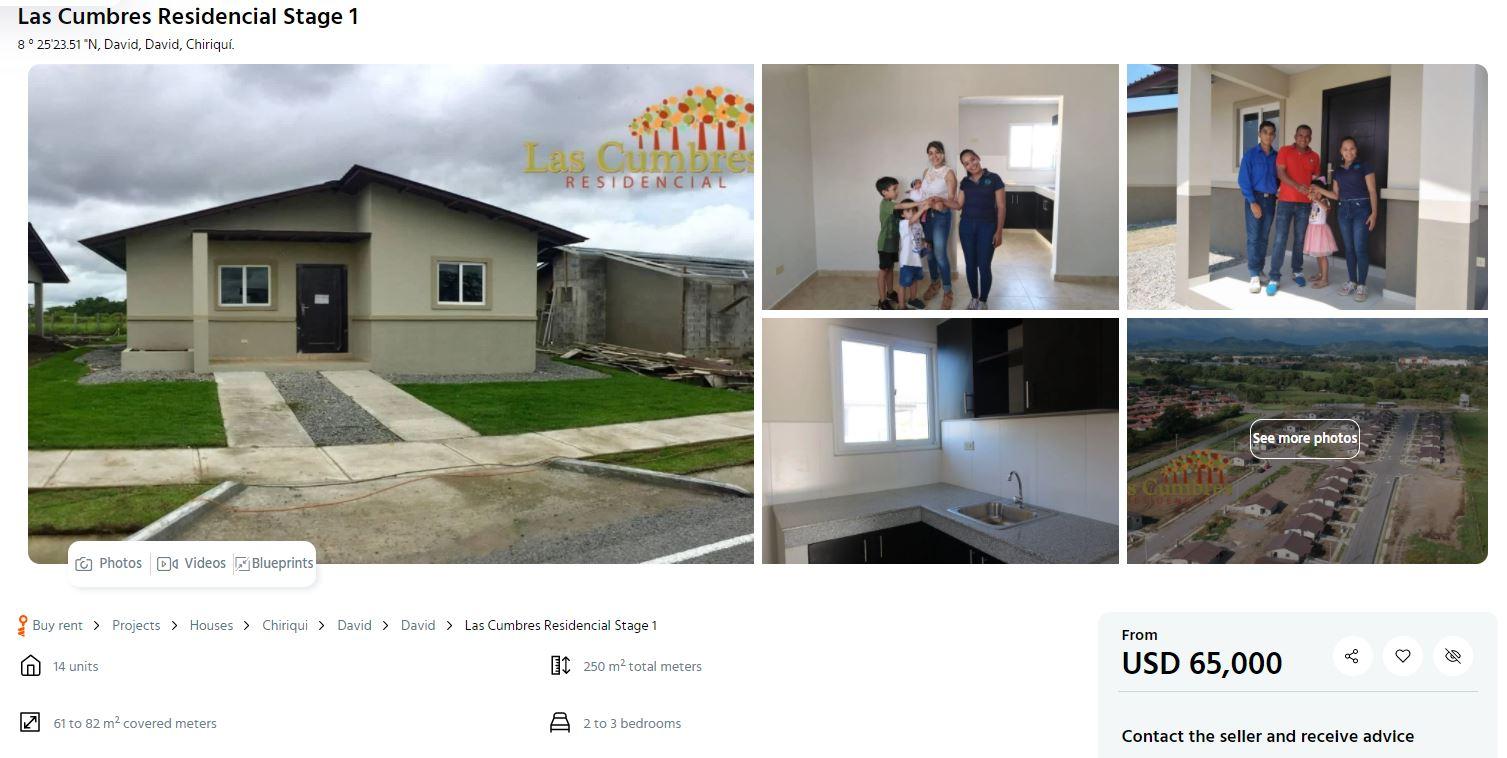 It probably won't be available long, but I at least wanted to have an idea of what a place big enough for me would cost if I moved to David Panama. This is much cheaper than anything else I saw, so you may have to dig deep for a few months to get something similar.
But I never recommend buying real estate until you have lived somewhere for at least 2 to 3 years. In fact, I have a report explaining Why Retired Expats Should not Buy Real Estate Overseas for the first 2 to 3 years of living somewhere new overseas. Make sure to read that before deciding to buy real estate overseas.
Visa: High. Citizens of many countries are given a 90-day visa-free tourist stamp upon arrival in Panama. Citizens of the USA and Canada are still getting 180 days. Source. If you fall in love with Panama and decide to retire here, you can apply for a retirement visa. The retiree residence status requires that an applicant demonstrates an income or pension of only $1,000.00 USD per month and $250.00 USD for each dependent. You can certainly travel to Panama on a tourist visa and later change your status in Panama. We have provided a link to all of the other requirements such as a health certificate and police report. Source.
Safety: High. Panama is generally one of the safer countries to live or travel in Central and South America. We felt safe in David. But make sure to read my report on how to travel the world safely, including in your home country. I provide all of my tips and tricks that have kept me safe for 14+ years traveling the world.
David Retirement Desirability Score: Medium. If you would like to live in a smaller town in Panama, that feels safe, has friendly people, and a very simple easy-going life, then David might be right for you. However, I also recommend that people come to do an exploratory visit with their feet on the ground before making any decision to move somewhere.
Thanks for reviewing our report, retire early in David Panama for $990 per month.
Make sure to grab a free copy of my eBook: How I Fired My Boss and Traveled the World for 14 Years!
Please subscribe to VagabondBuddha.com or our Youtube Channel to watch us move around the world, 14 years and 67 countries so far.
This is Dan of Vagabond Awake, the Youtube channel for VagabondBuddha.com. Thank you for stopping by. The world is your home. What time will you be home for dinner?