In this report, I show you maps and videos and answer the question–What happened to Playa Del Carmen's Beaches?

This video of Playa Del Carmen, Mexico beaches was filmed on January 8th, 2021.
This is a video walking tour of the beaches of Playa Del Carmen, Mexico. As I walk and video the beach from south to north you can see the best white sand beach areas, where beach erosion has destroyed the beach, and where sargassum seaweed destroys the watercolors and swimming experience.
When we got to Playa Del Carmen about a month ago the beaches were much skinnier. But the beaches have gotten about 6 feet wider since we got here. That surprised me. I thought the receding sand was permanent. But the waiter at our restaurant last night told me the beaches come and go here drastically based upon weather, tides, and storms. That made me happy. I would hate to see such beautiful beaches be gone forever.
Here is a Google Map of Playa Del Carmen, Mexico showing the three areas walked in the video. We zoom in on the three areas in larger maps below so you can see what streets to enter your favorite beaches in the video.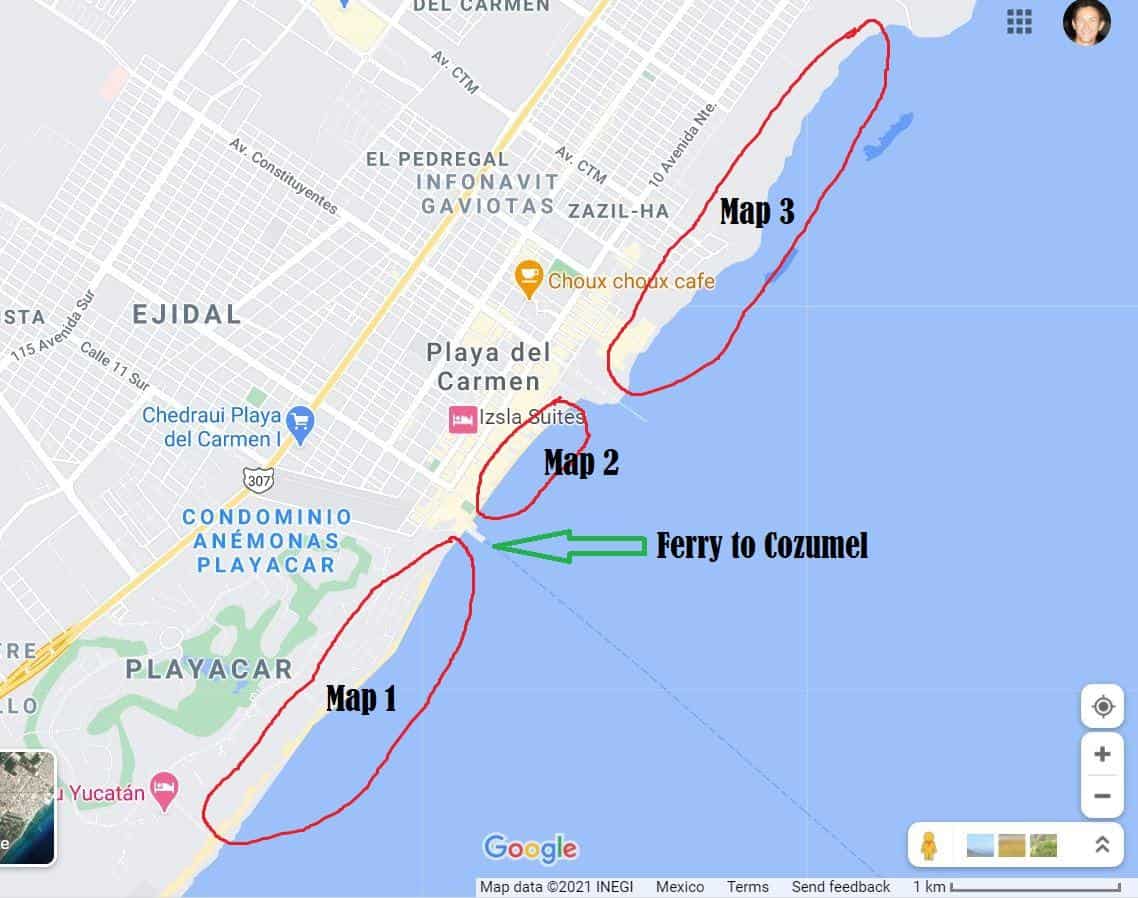 Map 1: The below Google Map runs from the Playacar area on the south end to the Cozumel Ferry Pier on the north end. The homes on the beach and a few blocks back in from the beach are some of the largest most beautiful properties in Playa Del Carmen. The area is known as Playacar.
Map 2: The below Google Map is the central area of Playa del Carmen that runs from the Cozumel Ferry Pier on the south side to Av. Constituyentes on the north side.
Map 3: The below Google Map shows the beach with Av. Constituyentes on the south side and Calle 48 Nte. on the north side where no beach is remaining.
I am happy to report that Playa Del Carmen still has beaches along most of the waterfront as shown in the above video, although it is much skinnier than 10 years ago. Further, there has been a seaweed barrier constructed off the coast that has reduced the amount of seaweed along the shoreline that we saw a few years ago.
I travel the world and identify places where people can retire cheaply in paradise. To see my catalog of over 80 retire cheap reports, visit VagabondBuddha.com.
To grab a free copy of my eBook, click this link: How I Fired My Boss and Traveled the World for 13 Years.
To learn how my hobby pays for my world travels, read this link–how I pay for my life without having a soul-sucking job.
Thanks for reading my post–What happened to Playa Del Carmen's Beaches?
This is Dan of Vagabond Awake, the YouTube Channel for Vagabond Buddha. The world is your home, what time will you be home for dinner?