Would you like to learn about our $750 per month cost of world tour?
We traveled the world all year in 2019 visiting 7 countries and spent just under $18,000 including flights. That breaks down to about $1500 USD per month for 2 people which is approximately $750 per month per person including flights.
This is Dan of Vagabond Awake, the Youtube channel for Vagabond Buddha.
I know that many of you are paying more than that for just your car payments and car insurance for two people, so I would expect you to think that I am full of crap, so I thought I would show you where these numbers come from.
Starting in April of 2018, Qiang Hui of Hobo Ventures (link provided) started keeping track of our expenses. I had lost my most recent consultancy contract that month and I asked Qiang if she could help me keep expenses down since I did not yet know how long it would take to find a new contract.
If you would like to learn some of the tricks we used to keep expenses low during our world tours, read our "Affordable World Tour Report," and our regional tour reports, and our retire cheap reports worldwide.  Our report catalog is located here at Vagabond Buddha.
Here is the summary of 2019 World Travel Expenses for 2 people for our $750 per month cost of world tour.
According to her figures, even if you add the medical and dental care we received in 2019, you are still under $55 per day for two people or $27.50 per day per person. Now I am not saying that you will be able to do what we have done. Most of you will likely spend more for two people, a few of you will spend less, but let us peek at her records for a minute.
Now I would like to make a few comments about anomalies in the expense summaries. I will start with 2019 Summary. As I discuss the summaries I will show you pictures from our travels. But feel free to open the summary in another window if you want to see what I am talking about.
To open the summary, just click the "More Information" link in the notes below the video.
Cambodia shows a per day rate of $64 for two people. That is because we ate every meal in restaurants and we did a bunch of tours. We had super cheap nightly rent rates but so we ate in the European chief restaurants instead of the local restaurants. If we lived there and cooked most of our meals, I am pretty sure we could get the daily rate well below $40 per night for 2 people including everything. Check out our "How to Tour Cambodia for Cheap Report."
Thailand shows $75 per night for two people. That is because we had to fly to Phuket from Penang. We would have taken the train up from Malaysia but we learned that they had changed the requirements requiring you arrive by air for the 30 days no visa rule. That flight cost $379 for two people. On the second visit to Thailand, we were able to get a cheaper flight to Krabi for $134 for 2 people. Make sure to get a copy of our "Best Place to Retire in Thailand" ebook (link provided).
Spain shows $88 per day for two people which you can beat by living further away from the city center than we did and by leasing for a year instead of paying by the night as we did.
Malaysia is a few hundred dollars cheaper than it should be in 2019 because we spent a few weeks at Qiang Hui's family home in Malaysia so we didn't pay any rent there. That is how we spent only about $750 per month cost of world tour.
Okay, Here is the summary of our 2018 World Travel Expenses for 2 people. We spent more for our 2018 world your as follows.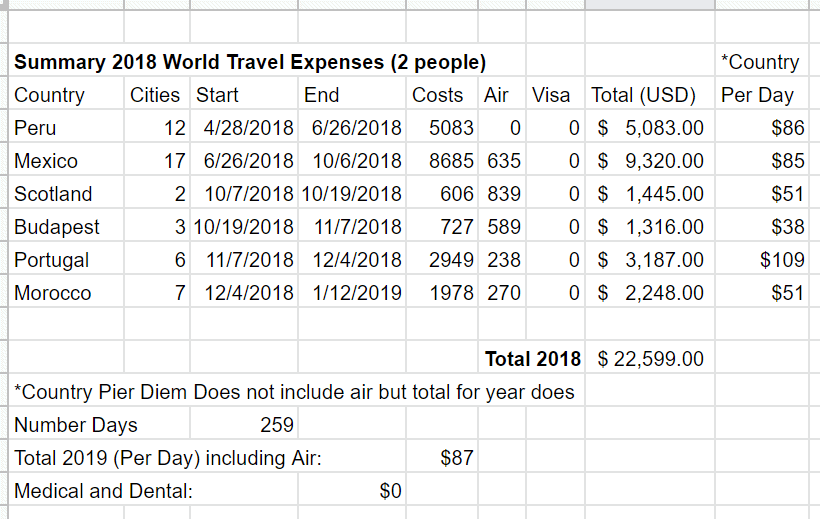 First, notice that it is not for a full year. Qiang Hui started keeping expenses in April 2018 after I lost my consultancy contract, so it only covers 259 days.
Second, you'll notice we were just spending more in 2018. That is for a couple of reasons.
Peru is super cheap to lie but we were going on a bunch of tours while we were there and we were eating most of our meals out in restaurants. If we retired in our favorite spot in Peru called Arequipa, I would be willing to bet that we could cut that daily rate by half by cooking at home 80% of the time and by leasing rather than paying by the night.
Portugal is also higher than it would be if we lived there for the same reasons. Make sure to read our "Retirement Tour of Portugal" if you are thinking of retiring there. We loved Porto the best.
Budapest is not really that cheap. We stayed with one of Qiang Hui's runway model friends while we were there so we saved money on that.
We saved money in Scotland by staying with my sister.
Thank you for watching our video. Please like, comment, or subscribe if you feel we provide enough value for you to want to help us make our business grow. Feel free to come to Vagabond Buddha and click the free eBook link at the top to get my eBook, "How I Fired My Boss and Traveled the World for 13 Years." While there feel free to browse through our retire cheap reports all over the world.
This is Dan of Vagabond Buddha. Have an amazing day.