–>Battambang Cambodia Cost of Living
–>Battambang Cambodia Livability Factors
–>Battambang Cambodia Walking Tour
–>Battambang Cambodia Best Cheap Tour
–>Battambang Cambodia Nightlife
–>Battambang Cambodia Best Cheap Food and Life
–>Battambang Cambodia Facts and History
–>Battambang Cambodia Best Area to Stay, Cheapest Flights
Best Retire Cheap in Paradise Locations in the World
This post describes the possibility of a Battambang Cambodia Retirement for $900 Month.
Before I explain in detail, let me tell you how I learned this.  I left the USA in 2007 at age 46. After 13 years living internationally, I know the relative cost of living in 65 different countries.
Many retirement age and pre-retirement age non-traditional thinkers are interested in the shortest path to freedom.
So, as I travel the world, I write about retiring cheap in paradise worldwide. I have written over fifty reports so far.  I know of no other individual person that knows more about the cost of living than me.
According to the US government, more than forty percent of (single) retired US Citizens are trying to live on less than $1500 USD per month. US Government. Based upon that, I estimate that more than sixty percent of retired people worldwide are having an even greater struggle funding their retirement.
So, in 2016, I decided to start sharing what I have learned about living internationally and retiring cheap internationally for peanuts. That is my story in a nutshell. Click the link in the notes below this Youtube video for an explanation of our retire cheap in paradise membership and benefits.
Okay, let's talk about Battambang Cambodia now. Would you be interested in learning whether or not a Battambang Cambodia retirement for $900 Month is a possibility for you?
Battambang Cost of Living
Above is the video of food and costs in restaurants and our $5 per night hotel room.
Locals in Battambang pay as little as $50 USD per month for 'workers' apartments. Foreign volunteers here pay in the range of about $100 per month to $250 per month in rent to teach and help locals here.
Retirement age people from western countries pay a little more if they want more space or want to be closer to the center of the city, $200 to $350 USD. Utilities are around $80 USD including AC and WIFI. With $350 rent and $80 for utilities, that is about $14 USD per night. This is typically a little cheaper than you would pay for short term accommodations like a hotel or Airbnb. That said, we paid less than $7 per night for our hotel room with a private bath. To see the inside of our room watch the "Battambang Best Cheap Food" video below.
The following table is an estimate of what a temporary visitor would spend on the big three expenses … food, accommodations, and local transportation. Some frugal people would be able to live on less than this once they learned all the tricks to save money in Battambang. With your highest expense (rent) out of the way, you can see why a Battambang Cambodia Retirement for $900 Month or even less is a distinct possibility.
| | | | | |
| --- | --- | --- | --- | --- |
| Expense | Cost | Low | Medium | High |
| Airbnb/per month rate | $25.00 | 0 | 14 | 30 |
| Apartment | $14.00 | 0 | 12 | 0 |
| Hostel/per day | $5.00 | 30 | 3 | 0 |
| High-End Restaurant | $8.00 | 1 | 4 | 8 |
| Neighborhood Restaurant | $2.50 | 30 | 44 | 48 |
| Food Cart | $2.00 | 30 | 12 | 4 |
| Subway/Train/Metro | $0.00 | 20 | 26 | 8 |
| Bus | $0.00 | 20 | 10 | 0 |
| Grab | $2.00 | 6 | 10 | 20 |
| Total | Per Month | $305.00 | $719.00 | $982.00 |
| Total | Per Day | $10.17 | $23.97 | $32.73 |
This is an estimated cost of living for one month, for one person as a temporary visitor. It only includes rent, 2 meals per day, and local transportation. I usually have oatmeal for breakfast in my room, so I don't count that. For a full understanding of what it would cost you to live here, visit Numbeo.com Battambang and add any items you spend money on.
Never move anywhere until you have visited first personally to verify the living costs for your lifestyle and needs. I am not guaranteeing these prices. These are just my notes and estimates from the time of my visit and this post. Your costs will likely be drastically different depending on lifestyle and the time since this post.
The above numbers are for one person and do not include alcohol, tours, or extras. Here is a free report explaining, "How The Cost of Living Table Works."
Battambang Livability Factors
Here are my livability factors. You should consider your own personal livability factors before deciding whether you should visit to verify whether or not a Battambang Cambodia Retirement for $900 Month will be suitable for your lifestyle and needs.
Walkability: High. If I retired in Battambang I would live in the central city. Everything I would need would be within walking distance, so I would not need a vehicle. So Battambang is highly walkable.
Internet: Medium. This was the fourth city we investigated in Cambodia. The information we shared for the first two cities is the same here. I recommend that you buy a 4G CellCard for $1 and add 20GB of data for $2 USD to your Android. Look for the CellCard sign in the main marker. That worked great as a hotspot for us when too many people jumped on the router or we were too far from the router. This was the key to staying connected all over Cambodia. Presumably, you would have your own router in your apartment if you retired here so you would have no issues.
Food: Medium. The food in Cambodia is a little higher than in Vietnam. In a town of smaller size like Battambang, you would expect to struggle for diversity in your international food choices. There are about 10 nice restaurant choices for international foods in central Battambang. For the most part, you will have to pay more money ($4 to $8 USD) for international entrees but it is nice to have the option. The local owned and operated restaurants are cheaper ($1.50 to $4 USD) per entree. If your budget is tight, you will want to learn how to cook at home also. The supermarkets are not cheap in Battambang, but the local open-air market is full of reasonably priced fruits and vegetables.
Weather: Medium. Average highs (days) range seasonally from a low of 86F/30C in November to a high of 96F/36C in April. Average lows (nights) range seasonally from a low of 67F/19C in January to a high of 76F/24C in April. The rainy season is May through October when 7 or more inches (165mm) of rain falls each month, the strongest rainy period September through October.
Things to Do: Low.  Some would say medium, but it would be low for me. It is medium or high if you love small towns with slow rhythms. In general, Cambodia feels like you jumped into a time machine and found yourself in the past. There aren't many tourists here and the ones that show up seem to be stuck in first or second gear. That may sound bad, but it is sort of fun to just relax and let time pass by. I grew up in a small town in central California. We used to joke that there was nothing to do there. When we left the house we would say, "Mom … we are going up to the gas station and watch them change tires on cars." She knew that meant we were riding our bikes. That was 4 decades before play dates were invented. As a boy, we swam in rivers, went fishing, made tree houses, built forts, water skied, snow skied, and raced electric slot cars. Later, as a teenager, we smoked a ton of pot and listened to Led Zeppelin and Hendrix. If I decided to live in a small town like that today, I would hike, dirt bike, play on the Internet, cook, teach English or math, workout, eat out a lot, play cards, start a local business, volunteer at an NGO, have as much sex as possible, and write a novel. You will have to design your own fun in a town this size.
Expats: Medium. The Facebook page for Battambang Expats is fairly active and has about 500 members. This would be where you would want to ask specific questions that an Expat is likely to understand and appreciate your concern. Everything from "what are you paying in rent," "do you know where I can find an apartment or house," or "do they have peanut butter, sauerkraut, and Oreos in this town" (yes, yes, yes). But please don't put both peanut butter and sauerkraut on the same Oreo cookie, okay?
Medical: I have not been to the clinic or hospital in Battambang. But my research indicates that you should visit the Handa Clinic for non-emergency care. Go next door to the World Mate Emergency Hospital otherwise. Both of these facilities typically have English speakers and caregivers present. As usual, a town this size may not have the advanced care you could expect in Phnom Penh, Siem Reap, Ho Chi Minh, or Bangkok. In that case, they may just stabilize you for transfer to the appropriate facility. Source.
Visa Requirements: For your exploratory visit to Cambodia, you can obtain a visa upon arrival at the international airports in Phnom Penh and Siem Reap. If you use the eVisa program, it can only be used for entry through these two airports. If you intend to arrive through one of the land border crossings (like we did from Vietnam), the eVisa will not be accepted. At the land border crossings, you will need to fill out the forms again. In either case, bring the passport photo with you to immigration. There are 10 countries that must get a Visa in advance. The tourist Visa is $30 and the 30 day period can be extended for an additional 30 days for $50. If you are planning on staying longer than 60 days, then get an ordinary Visa from the start. If you are 55 or older and no longer working, I suggest getting a retirement Visa (ER Visa) for 6 or 12 months. The 6 or 12 month ER Visa is multi-entry. I haven't obtained the ER Visa myself yet, but I was told the requirements are minimal compared to other countries in SE Asia. There are also student Visas, Employment Visas, and Business Visas.
Real Estate: This is not professional advice. But I would not buy real estate in Cambodia. If someone recommends that you buy in Cambodia, they probably have a conflict of interest with you. Just lease month to month. The rents are cheap and you can just hand the keys back to the landlord when you leave. If you want to own real estate, buy in a more economically safe country (i.e. USA) and live off the rents in a cheap country like Cambodia. Hire a property manager to manage your real estate at home.
Banking: This is not professional advice. Leave your money in your home country bank and take money out as needed at ATMs. When you are in a foreign country, it is much easier to get into a mess than to get out of one. If you want to store money outside your home country, don't put it in developing country banks. Put it somewhere safe, like Switzerland.
Pollution: In general, it is better to not swim in rivers immediately downstream from cities in SE Asia unless there is some government record of periodic testing. The further you get from cities and industrial areas the safer the water generally is. There is a lake a few hours from Battambang if you would like to spend a water-weekend in nature. Battambang is a relatively smaller city with very little observable pollutants in the air. In the dry season, you will experience dust especially since many of the roads surrounding Battambang are unpaved. While we were there the air was moderate due to ground fires upwind.
Battambang Overall Desirability Score: Medium for me. I could spend a year in Battambang writing a novel. The biggest problem writers have is finding long periods of silence so their thoughts can be woven into a story that remains internally consistent. But once the novel is finished, I would want to move along. Battambang is steeped in culture and the history flows from the buildings and temples all around you. But historical culture is not the same as a living culture created all around you in present time. I would want something with that level of vibrancy to call home. A high bar I know. Over the next month or two, I will publish my best of the world series: Best of SE Asia, Best of the Americas, Best of Europe, and Best of the World reports and videos. Stay tuned.
If you are finding any value here, could you please like it, comment, share or subscribe? Your simple act of kindness will move us up in the Google and Youtube search rankings so our business grows faster.
If you would like to learn how to fire your boss and live in paradise for peanuts, grab a free copy of my EBook:
How to Fire Your Boss and Travel The World
Battambang Cambodia Walking Tour
Watch the above video of the 7 things you must see in the city of Battambang Cambodia.
If the above video looks fun, click ==>this link<== or the below Google Map and start walking.
Piphetthearam Pagoda:
Battambang Market:
Provincial Museum:
Damrey Sor Pagoda: This temple built in 1904 by one of the wives of the local King is a functioning temple with monks.
Governor's Residence:
Sangke Pagoda:
Lok Ta Dambong Kra Nhung: This statue is an ancient story about a black magic stick that made this man so strong from eating black rice that he was able to kill the former King and take over the Kingdom. He was later killed by the former King's son who came back on a white horse with wings.
Do these videos make you more interested in a Battambang Cambodia Retirement for $900 Month?
Battambang Cambodia Best Cheap Tour
There are 10 stops in the above video.  Here is Qiang Hui's summary of the tour stops including pictures and details.  We took our guide's phone number in case you want to take this tour. You should use him instead of the other guides because he will take you to the best place to see the fruit bats fly (last stop on the above video). The other guides went to a place that didn't have a sunset in the background, behind the bats.  Our guide's name is Mr. Lim and you can contact him by texting him on WhatsApp: +855 97 962 1425
Battambang Cambodia Nightlife Tour
This video is of our Battambang Cambodia Nightlife Tour. If you enjoy the video, then click ==>this link<== or the below Google Map to take this walking tour.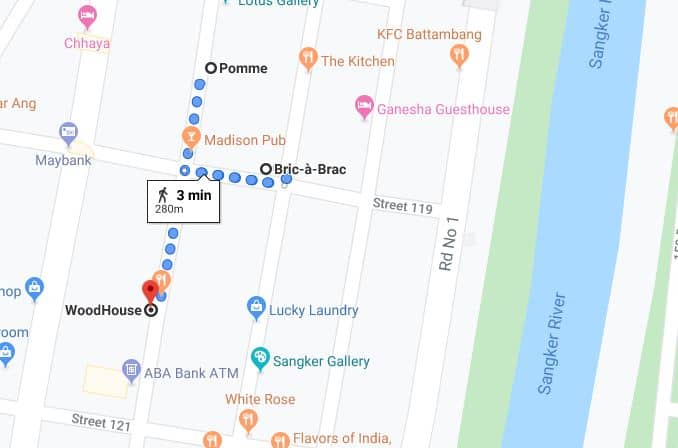 Nightlife is an important factor for some people in deciding whether they would be happy with a Battambang Cambodia Retirement for $900 Month.
Battambang Best Cheap Food and Life
We only list restaurants here if we loved them.  Watch the food we ordered and what we paid in this video. If it looks interesting, click the links below and try our recommendations.  The video of our $5 USD hotel room is here.
First Meal (On the corner): $2 Chicken rice.
Duck Noodle (Qiang Hui's Favorite): $2.50-$3.00
Khmer Happy Hour (Woodhouse): Order local food here not international $2.50.
Gazpacho (Lonely Tree): Tried and loved the Gazpacho and Blue Cheese salad. OMG! 🙂
$4.50 Pitchers of Beer (Pomme): Let us know if the food is good. We never tried it. See the nightlife video to see the inside of this place.
The availability of food quality and diversity should play an important role in your final decision of a possible Battambang Retirement for $900 Month.
Grab a free copy of my Ebook.  I cover the ten things you will need to do before you start your international living.
Battambang Facts and History
Here are some interesting Battambang facts and history.
Battambang was founded in the 11th century by the Khmer Empire. The Battambang Province is the major source of rice in Cambodia.
Battambang's French colonial architecture is some of the best-preserved in the country.
Much of modern-day Cambodia was taken by Siam (Thailand) for 100 years starting in 1795. Battambang was the administrative center for this part of Siam during that period.
The Thai speaking Aphaiwong family, a branch of the Royal Khmer family, ruled this area of Siam during that period ending in 1907.
When this area of Cambodia became part of the French Colony of Indochina in 1907, the areas administered by Siam were annexed by the French.
The French offered to "protect" the Khmer Empire from its stronger neighbors in return for becoming French Indochina.
French development during colonization made Battambang the second largest city in Cambodia. The streets were laid out in a grid pattern, the park along the riverfront was created, the French colonial architecture flourished, and the city grew on both sides of the river once the two bridges framing the town were completed in 1917.
The railroad from Phnom Penh to Thailand was also completed during French colonial rule.
The significant changes transformed Battambang from a remote outpost to a provincial capital city that was the most developed in the country outside of Phnom Penh.
In the last census of 2012, there were about 200,000 people living in Battambang.
If you buy anything using our links such as flights, tours, or accommodations, you will pay nothing extra, but we will earn a small commission. Your kindness will encourage us to keep making these travel guides and videos.
Best Area to Stay in Battambang
Here are a few suggestions:
Hostel: This is probably where I would stay next if I was single, tight on money, and wanted to be surrounded by a society of people discovering Battambang.
Where we stayed: This place was unimaginably cheap and we got our own beautiful clean room and bathroom.
Step Above: This place would be great if you desire to celebrate romance in luxury and don't need to be so close to the old town area of Battambang. Tuk-tuk rides to/from town are less than 4km which are around $2 USD.  Use Grab.com taxi to avoid language confusion about price and destination when you are in SE Asia.
Airbnb: If we returned for a month, we would want a kitchen. There is a lack of inventory of apartments with kitchens on the day of this writing. At the time of this writing, we would make offers in this neighborhood for $20 to $25 per night here for a 30-day rental. If you are new to Airbnb use this code http://www.airbnb.com/c/dbell50 at checkout to get a big discount. Stay in an Airbnb to verify whether or not Battambang Cambodia retirement for $900 Month makes sense for you?
Cheapest Flights/Transportation
We almost always get our cheapest flights on this Skyscanner. They have a web crawler that is constantly looking for the cheapest prices all over the world.
We did not fly into Cambodia. We transferred from Vietnam to Cambodia as described here. Battambang is the fourth city we have visited. In order, we visited Kep, Kampot, and Phnom Penh. See our retire cheap reports. Next, we go to Siem Reap. We have written retire cheap reports about all five. We booked the bus from Phnom Penh to Battambang here and the bus from Battambang to Siem Reap here.
Final Thoughts
If you are interested in the subject of present moment awareness, my new videos on that subject are now being posted here.
Please subscribe to VagabondBuddha.com or our Youtube Channel to watch us move around the world. 65 countries so far.
To find out about members-only prices and benefits, watch the following video.
This is Dan of Vagabond Buddha. Thank you for your consideration of whether Battambang Cambodia Retirement for $900 Month is right for you. The world is your home. What time will you be home for dinner?