Are you wondering what is the Best Health Insurance for Ex-Pats in Philippines?
So I started researching Health Insurance for Ex-Pats in Philippines. I will show you beautiful videos of the Philippines we took this past weekend as I discuss this topic.
One of the first health plans you will learn about in the Philippines is a public option called PhilHealth. It is a public health service but many ex-pats living in the Philippines purchase the coverage for 17,000 pesos per year ($343 USD) per year, according to this source.
If you click the "Z Benefits Document" above you will see the types of services listed on PhilHealths webpage, as shown below. But I have also heard there is a possibility to cover more kinds of diseases with additional premiums. :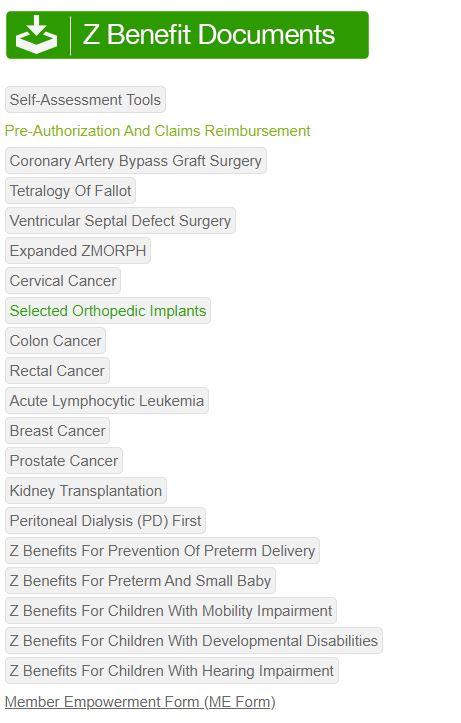 Several local ex-pats that have not registered for retirement visas but are just here on extended month-to-month tourist visas have said they are on PhilHealth insurance. Tourist visas can be extended for up to 36 months here without doing a visa run.
Many ex-pats feel that PhilHealth is just basic insurance and they have decided to buy private insurance.
Some ex-pats buy PhilHealth as a base plan and they buy international public health care policies as supplemental. Others don't bother buying PhilHealth and they purchase only private health plans.
Other ex-pats don't buy any insurance in the Philippines. They just plan to pay for treatments with their own money as problems arise. One ex-pat told me that self-insurance is a bad idea. Because they will require a large deposit at the hospital before rendering services and making such arrangements may be difficult in an emergency.
To give you an idea of what private international insurance plans cost, I did a search online. There are several companies selling health insurance online for the Philippines. I am just picking one randomly to give you an idea of what is available.
One webpage near the top states:
Pacific Prime provides international health insurance plans for expats living overseas, in any country of the world, including the Philippines. We are able to offer policies to individuals of any age, and the plans we work with are often guaranteed renewable for life. As an insurance broker, Pacific Prime works with than 60 leading global insurance providers, all of which specialize in providing comprehensive expat medical insurance. (Link Provided, July 8, 2020))
The web page also includes a widget on the right that states, "Free [to] Compare Instant Online Quotes." So I gave it a try. I selected coverage in the Philippines for an indefinite period of time for only inpatient coverage, 59 years old, male.
By the way, I am not getting a commission if you buy any of these. This is just my personal search. I am not a health insurance agent or expert. So don't assume I know anything or have any inside knowledge on this subject, these companies, or the quality of coverage. I am just a guy with a computer and Internet access.
Once you complete the above data, they give you 10 pages of plans as shown below.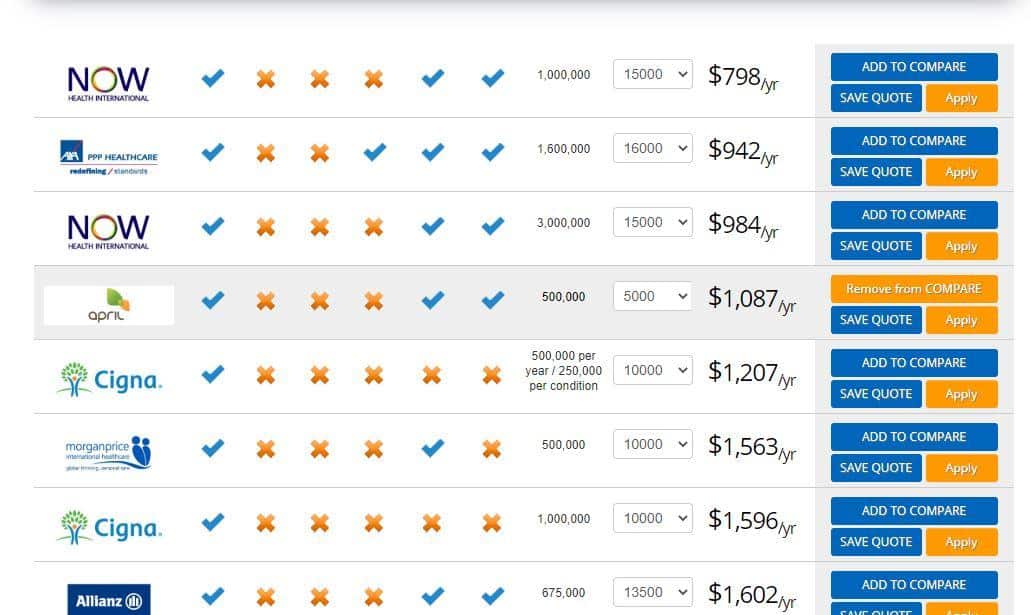 You then select the one you want to compare. See the "add to compare" button? Then they give you a page of information that lets you read the coverage differences. At the end of this video, I will tell you how to get all of this in writing.
There are plans running from about $1000 to $3000 per year, with deductibles running from zero to $15,000 USD. I am not sure what is important to you, but here are some of the thoughts that occur to me when I start reading the comparisons between products.
Coverage Area: The widget allows you to select a base country. Some of these plans cover only the base country you are in and a few surrounding countries. So you have to think about whether you are stationary or traveling slowly around the world and pick one that covers your travel plans.
Your Home Country and Age: Many countries around the world provide excellent health care for their citizens no matter their age. Other countries provide no health care to their citizens. If you are from the USA, the government provides coverage for their senior citizens starting at age 65. For example, Americans age 65 and older, and Europeans of any age, have free or almost free health care, when they are in their home country. In that case, if you get sick, you may want to return to your home country to receive expensive or specialized care that may not be as good in a foreign country. Plus then you will be around your family when you undergo life-threatening surgeries or disease. In that case, you will want to make sure your policy includes repatriation coverage.
Repatriation Coverage: Make sure to read the details, but this coverage is meant to cover the expenses to fly you back to your home country in the event you become ill. Make sure to check the limits on this and what it covers. The goal is to get home where you have free coverage in your home country. Does the policy cover you if it is hard to move you because of emergency medical conditions? That is what repatriation coverage is all about.
Evacuation: What if you are hiking up a mountain and take a tough fall? Does the insurance cover the costs of getting you to the hospital? What does the coverage include? Helicopters, ambulance? Are you a scuba diver? Does it cover decompression chambers?
Cancer: Make sure that the policy covers cancer surgery, chemotherapy, and post-cancer reconstructive surgery.
Heart Disease/Stroke: Make sure that the policy covers surgery, chemotherapy, and physical recovery therapy.
Motorcycle Accidents: Does the policy include surgery and recovery therapies for motorcycle accidents. Does it require a helmet? Are you wearing one?
Card Guarantee's Access: In some countries, you need to prove the ability to pay before medical treatment is administered. Often this can be satisfied by showing the hospital or doctor an insurance card. Otherwise, you have to post a big deposit at the hospital before treatment begins. So you need to become clear about that. If you buy this companies health insurance, will the hospital (in the country you are living) recognize this company's health card and start your treatment? Maybe the policy is just for reimbursement. You have to pay first to get coverage. Maybe you will need to make a deposit even though you are insured. Ask these questions.
Pre-Existing Conditions: Do you have any pre-existing conditions? How long do you have to wait before they are covered under the policy?
Renewal Guaranteed/Maximum Increase: Imagine you are covered for 11 months on a new policy. In the eleventh month, you find out you are sick and your recovery will take about 6 months. So you decide to renew your policy. Do you have that right now? Can they deny you the following year? Ask that question. Plus, even if they must cover you the next year, can they increase your costs of coverage as much as they want now that they know you are sick?
Non-elective Medical Tourism: What if you find out that you have some disease that only has about a 50% cure rate in your policy's base country. But then you learn that the cure rate is 70 or 80% in another country like India, Malaysia, or Thailand? Will the policy pay for this kind of non-elective medical tourism? Or do you have to receive treatment in the base country?
Comments: Many ex-pats listening to this video right now have experienced some of these problems not just in the Philippines but all over SE Asia and the world potentially. Many have lived for years as ex-pats and know the tricks of the trade about medical insurance and coverage. I would like to formally invite them to comment below about this difficult subject and feel free to criticize anything I have said or failed to say in this video. I would also like to invite some of you to come on the channel and share what you are doing about insurance, whether or not you have it, and what you are paying. The goal is to inform new ex-pats about the Best Health Insurance for Ex-Pats in Philippines.
Click the link in the notes below this Youtube video to get a written copy of this information. At that link you will also see our catalog of over 50 retire cheap overseas reports all over the world. Plus, make sure to grab a free copy of my eBook, How I Fired My Boss and Traveled the World for Over 13 Years. This is Dan of Vagabond Awake, the Youtube Channel for VagabondBuddha.com. The world is your home. What time will you be home for dinner?