According to local sources, there is a Coronavirus Curfew and Arrests in the Philippines.
Before the below described enhanced quarantined was enacted, there was an hourly curfew, from 9 pm to 5 am. More than one hundred people have been arrested in Negros Oriental since that previous curfew was enacted. Source. The curfew is now becoming even more restrictive.
On April 30, 2020, the Governor of the Province of Negros Oriental in the Philippines declared a Coronavirus Enhanced Community Quarantine (ECQ). Source.
Since we are in Dumaguete, the capital of the province of Negros Oriental, the enhanced quarantine applies to us.
So starting April 3, 2020, each home inside the quarantine will be assigned a colored card.
The colored card allows one person to be outside your home for 5 hours twice a week.
The enhanced quarantine will assign colored cards to each household. The three colors are Black, Red, and Blue. As shown below, if you are assigned a black card, you are allowed to be outside your home Tuesday from 7 am to noon and Saturday from 1 pm to 6 pm.   The below photo is the information related to us by our landlord as received from the local authorities.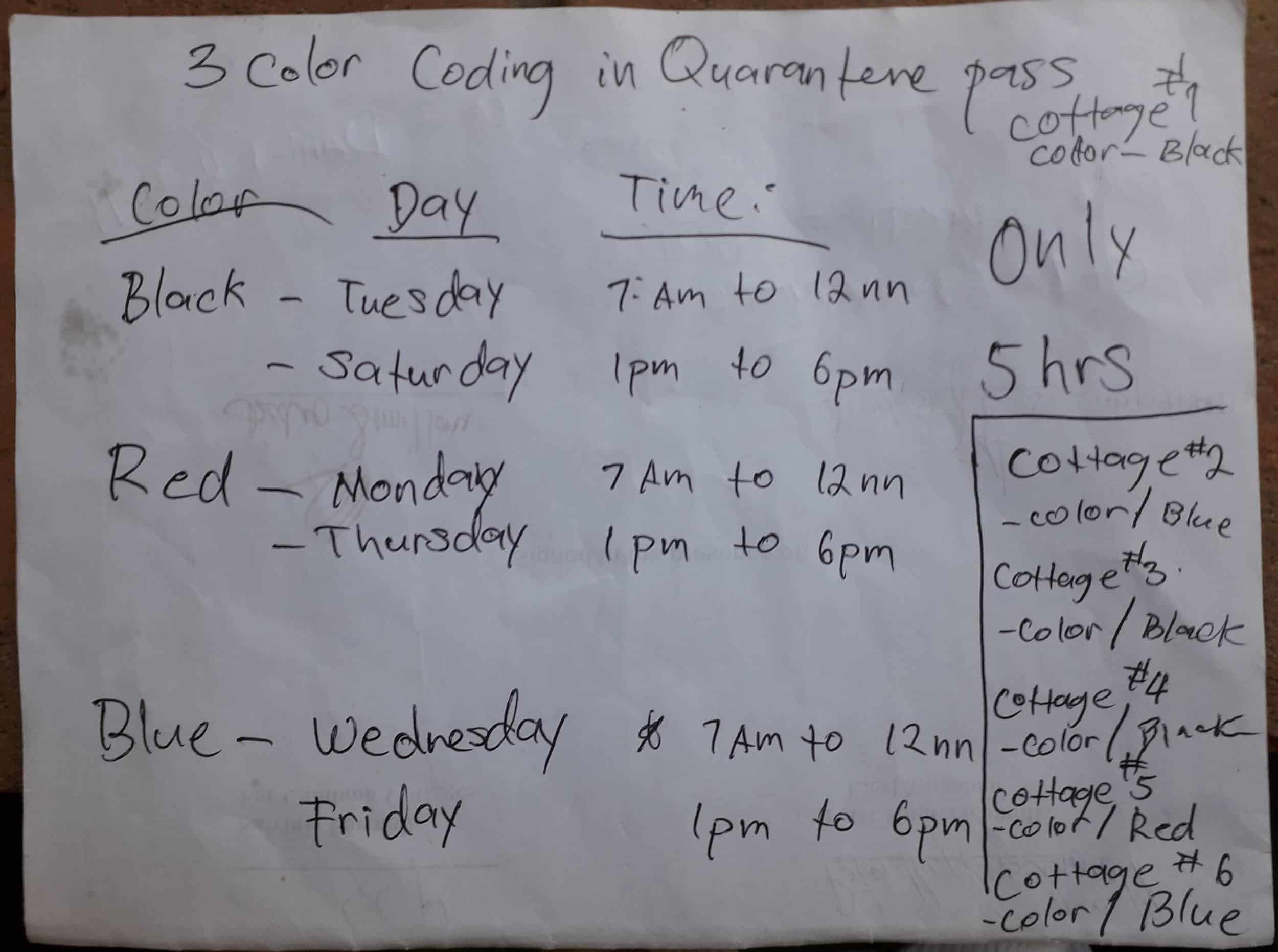 However, only one person per house is named on the card, and only that one person named on the card can be outside the house during that defined time. (Unofficial verbal source). A three thousand Pesos fine will be imposed on any person breaking the times or dates of the curfew. (Unofficial verbal source).
Additionally, students or seniors are not allowed outside their homes at any time of day during the quarantine. Source. That means only one person named on the card, is allowed to be outside the home for 5 hours twice per week (see hours above by card color), can not be a student or senior. Seniors, defined as 65 years or older, and students ("less than 18 years old") are never allowed outside. Source ("24-hour curfew").