How to Tour Cambodia for Cheap
Cambodia Best Retirement Places
Shortest Path Through Cambodia
Cambodia Best Cheap Transfers
Best Cheap Paradise Places in the World
How to Tour Cambodia for Cheap
This post described How to Tour Cambodia for Cheap. This is Dan from Vagabond Awake, the Youtube channel for VagabondBuddha.com I share information about how to live or retire cheap internationally. I just finished my report on the Best Places to Retire in Cambodia.
I toured Cambodia to find the best places to retire cheap and wrote a report about each place. Then I ranked the best places. Never move anywhere until you complete an investigative visit to verify your lifestyle, costs and other needs. This report is intended to help you save money on your investigative tour of Cambodia so you can pick your favorite place in Cambodia without wasting money.
During the last year, I have toured around Southeast Asia writing reports about the best towns to retire cheap in Malaysia, Thailand, and Vietnam. I also toured around Cambodia. As I toured Cambodia, I wrote retire cheap reports. Here are the links to the retire cheap reports for Cambodia: Kep, Kampot, Phnom Penh, Battambang, and Siem Reap.
Investigating the best retire cheap locations is not new for me. I have already written more than fifty retire cheap reports. They are published on VagabondBuddha.com. The reports are created from data I gathered from the 65 countries I have lived in or visited over the last 13 years. Whether you are just traveling the world on a tight budget or you are looking for your future retirement heaven, my reports are intended to save you money.
This report is about touring Cambodia cheaply. It shares information I learned about moving around Cambodia on the cheap. If you traverse the cities of Cambodia in the right order, you will save money. This report describes the cheapest way to go from city to city whether by bus or minivan.
Once you arrive in each city on this retirement tour, the report for that city helps you save money with cheap accommodations, delicious cheap restaurants, and free or cheap entertainment. I hate wasting money so I save as much as possible as I travel the world and I share that information with you.
This retirement tour of Cambodia has all the cities in Cambodia I recommend that you investigate for cheap retirement or living in general. This report also suggests how long you should spend in each place, depending on how much total time you have for Cambodia.
Cambodia Best Retirement Places
Here are Cambodia's best retirement places.
Of course, the more total time you have in Cambodia, the more places you can see. So this post includes a table that allocates how much time you should spend in each location as your total time in Cambodia increases–7 days, 14 days, 30 days, and 60 days.
Cambodia Best Retirement Investigation Itinerary
| | | | | | |
| --- | --- | --- | --- | --- | --- |
| Places/Days | Total Days You Have | | | | |
| Days | 7 | 14 | 30 | 60 | |
| Places | Days Per Location | | | | |
| Kep | | 1 | 2 | 5 | |
| Kampot | 4 | 4 | 8 | 17 | |
| Phnom Penh | | 2 | 4 | 7 | |
| Battambang | | 3 | 6 | 13 | |
| Siem Reap | 3 | 4 | 8 | 17 | |
Cambodia has made very easy to retire with very little red tape or financial reporting.
Visa laws are subject to change without notice, so do not rely on anything we have written here. You have to do your own verification. You will enter Cambodia on a one month visa. They offer a tourist visa (T) for $30 USD or an ordinary visa (E) for $35. You should obtain an ordinary Visa if you intend to apply for a retirement visa. Once you are inside Cambodia you would apply for an extension of stay (EOS) for around $300 USD for 12 months. The 6 and 12-month EOS include multiple entries during the extension period.
Just get a one-month extension if you are on the above 60-day investigative tour of Cambodia.
The official retirement age is 55 for Cambodian Visas, but some people have been able to get a retirement Visa at younger ages by showing proof of funds or social security, etc.
Never overstay your visa in any country. In addition to any fines you may have to pay, you may be subject to criminal laws. But the news could be even worse. Many countries share information about people that overstay their Visa. This means you could be blacklisted from visiting multiple countries because you overstayed in a single country.
If for any reason you need more time before leaving any country, always go ask permission in advance. The government officials may give you an extension of one kind or another and keep your name in good standing.
The Shortest Path Through Cambodia
You should never move anywhere without an exploratory visit. Once you decide (1) your total time in Cambodia, (2) which places to explore, and (3) how long to spend in each place, you will need to plan the shortest path through Cambodia. If you use the shortest path, you won't waste money, time, or energy backtracking.
You can plan every detail in advance or just go one day at a time. Qiang Hui is a planner, I am a one day at a time kind of guy. But she feels better planning in advance. So she often has ideas about where to stay and what to do when it becomes decision time. She enjoys planning, and I appreciate her hard work.
I am all about traveling cheap and slow. Traveling cheap and slow is a lifestyle for me. I don't like to waste money doubling back to an area I have already passed. So I do my best to make sure I have seen everything in an area before I move onto the next area.
In my Affordable World Tour Report, I discuss all the reasons I like to travel cheap and slow. But I will share one here. Whenever I fly somewhere far away, that can be expensive. So I like to see everything I want in that part of the world before flying somewhere else.
Let me give you an example. If I were to fly to SE Asia from the USA for $1000 round trip, and I only stayed for 14 days, I would be spending over $70 per day on airfare alone. But if I stay for 6 months while I am there, the daily cost of my airfare is reduced to $5 per day.
So while you are in SE Asia, why not spend a few months in each of Vietnam, Cambodia, Thailand, Malaysia, Indonesia, Burma, and Laos? You can take buses and trains between some of these countries for less than $20 per person. Flying between them is often less than $75 per person. Plus my retire cheap reports show you how to live on as little as $30 per day in some places.
So unless you have no choice … why are you rushing back after a week or two? You could just follow in my footsteps. Go where I go, stay where I stay, eat what I eat. It is all in my videos and in my reports. I do the work, you just have fun.
Here is how to save money moving between these best live or retire cheap cities in Cambodia. This is the path we took during our visit.
Cambodia (Kep, Kampot, Phnom Penh, Battambang, Siem Reap) Here is a link to the Google Map of our Cambodian tour.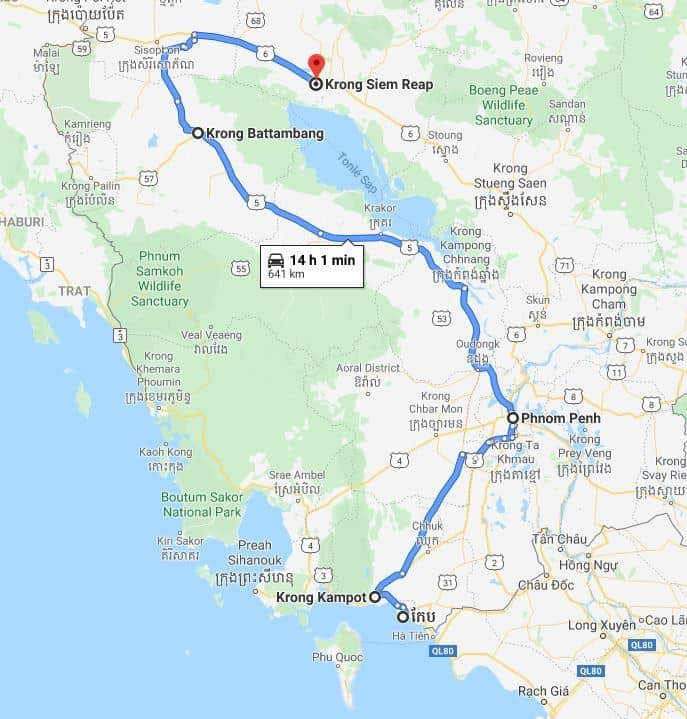 Okay, now that you know the shortest path, here are the best cheap transfers for the tour.
Cambodia Best Cheap Transfers (Flights, Buses, Trains, Minivans, Taxis, Grab)
Flights: We almost always get our cheapest flights on this Skyscanner. They have a web crawler that is constantly looking for the cheapest prices all over the world. If you are not crossing into Cambodia by land like we were, I suggest you check Skyscanner for the cheapest flight into Cambodia. You can fly into either Siem Reap or Phnom Penh. That would require a slight alteration to the order of the tour path provided above.
Buses/Minivans: We used the below-described resources to find the cheapest buses and minivans to move us around Cambodia. There were a few exceptions that I cover when I discuss our transfers between specific Cambodian cities below.
Trains: We didn't end up riding any trains in Cambodia.
Taxis: Don't bother flagging down taxis or Tuk-Tuks when you are in Cambodia. It will just cost too much money and aggravate your experience. Trying to (1) explain where you want to go and then (2) negotiate a fair price when you have no idea what it should cost, and you don't speak their language, is a really bad idea. The beauty of Grab and Pass apps is that they do that work for you.
You just type the destination name or address into your smartphone and they tell you what it will cost and find you a taxi that will take you there for that price–no negotiating!! Your driver usually arrives in 5 minutes. Just install both of these apps on your smartphone. If no driver is available in the first app, you can try the second. We used both during our tour of Cambodia. Grab Taxi, Pass Ap.
Here is how we used the above services and others to move about Cambodia to each of the five destinations we investigated for retire cheap feasibility.
Kep, Cambodia: Phu Quoc Island Vietnam to Kep, Cambodia: Our first stop was in Kep, Cambodia, because that is the closest place on our Cambodia tour to the southern land crossing from Vietnam into Cambodia. We transferred from Phu Quoc Island Vietnam to Kep Cambodia via ferry, minivan, and bus for $18 USD per person which we purchased from John's Tours Phú Quốc. It is a long day so don't expect to do much on your first day in Kep. The bus on the Cambodia side of the border even stopped in front of our Kep accommodations so we didn't need to get a taxi. Qiang Hui gave the name of our hotel to the driver and he agreed to stop because it was on his route anyway. We tipped him $1 USD and he smiled. We really enjoyed where we stayed in Kep. It was only $10 USD per night and there was a reasonably priced restaurant on site with delicious meals. They rent scooters by the day and bikes are free. Where to stay, what to eat, and everything else we recommend that you see and do while in Kep is all in our Kep Cambodia Retire Cheap Report with embedded videos.
Kep to Kampot Cambodia: There is a local bus that runs a few times per day between Kep and Kampot. It costs $3 USD per person and takes about 40 minutes. We had two pieces of luggage each and there was no extra charge for luggage. When we transferred from Kep to Kampot, our hotel sold us the ticket and arranged the bus that they picked us up at 9:00 am in front of the hotel–no taxi to the bus station required. If you decide to stay somewhere else, just ask the front desk about the $3 bus to Kampot. If they don't know, check this article that explains it. You may also consider the scenic ferry described in the article.
Kampot to Phnom Penh, Cambodia: We took a full-sized bus from Kampot to Phnom Penh. As I mentioned in previous reports, there are a bunch of ex-pats living in Kampot. The owner of the hotel where we stayed was an ex-pat. She recommends a bus tour company to us and we took her advice. We purchased our bus ticket here at the Giant Ibis bus company in Kampot. It cost $10, took 4.5 hours, and included luggage. It stopped halfway for food and restroom. We used Grab Taxi to get from the bus station to our accommodations in Phnom Penh. We had a really nice time in Phnom Penh so we are making many suggestions about where to stay, where to eat, what to do for fun and cheap while you are there. It is all in our Phnom Penh Retire Cheap Report including embedded videos.
Phnom Penh to Battambang Cambodia: We booked our luxury minivan from Phnom Penh to Battambang Cambodia on this website. We picked it because it included wifi. It cost about $12 per person and took about 5 hours. We used Pass App (mentioned above) to get a taxi to our accommodations for $1.50. We have included all of our favorites in the Battambang Cambodia Retire Cheap Report.
Battambang to Siem Reap, Cambodia: We booked our transfer from Battambang to Siem Reap Cambodia on this website. It cost about $8 per person and took about 4.5 hours. We used Pass App (mentioned above) to get a taxi to our accommodations for $1.50. We have included all of our favorite restaurants, tours and other suggestions in our Siem Reap Cambodia Retire Cheap Report.
Siem Reap to Bangkok, Thailand: We headed to Bangkok for a month after exiting Cambodia. We used Skyscanner to find the cheapest flight. We would have loved to take the land route so we could have seen the country between Siem Reap and Bangkok, but Thailand has a silly rule in effect now that says you have to fly into Thailand now to get an automatic 30 days. If you enter by land you only get 2 weeks, depending on your passport country.
If you would like to learn how to live in a paradise location for possibly less money than you are spending at home, grab a free copy of my EBook:
How to Fire Your Boss and Travel The World
Please subscribe to VagabondBuddha.com or our Youtube Channel to watch us move around the world. 65 countries so far. This video explains how to retire early and cheap internationally.
This is Dan of Vagabond Buddha. Thank you for stopping by. The world is your home. What time will you be home for dinner?