In this report, we share the Las Terrenas Dominican Republic Best Beaches, Restaurants, and Nightlife.
We just flew into the Dominican Republic in the Caribbean. Over three million Americans visit here each year making the Dominican Republic the 6th most visited country by Americans.
We read online that Las Terrenas is one of the safest and least populated areas with the most beautiful beaches and nature. So it was our first stop. Many Americans, Canadians, and Europeans have retired here for cheap. So, in addition to finding you the best beach in Las Terrenas, we are going to show you everyday life here and how much money we spent as we tour this rural community and its best beaches.
We flew into Santo Domingo, the capital of the Dominican Republic. We ordered an Uber Taxi to take the 4-hour ride north to Las Terrenas on the north coast of the Dominican republic. The Uber taxi cost us $70 USD.
Best Beach in Las Terrenas Dominican Republic
We will take you on a short tour of our favorite beaches in Las Terrenas and at the end, we will tell you which one was our favorite and why. These beaches are all in the town of Las Terrenas and within walking distance.
There is a Google Map of these beaches. So you can just click the Google Map on your smartphone and start walking. The entire walk takes about 45 minutes on the sand. There are other beaches outside of town but these were the top beaches in our opinion at the time of our visit.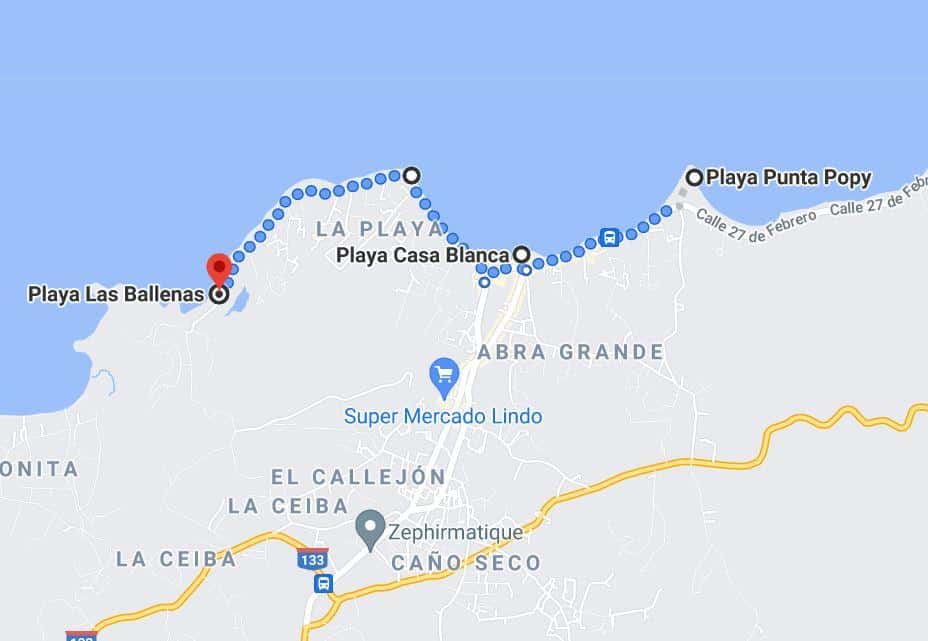 Here is the order of the beaches we tour on the above Google Map.
Playa Punta Popy: This is a beach most frequented by locals. The beach itself is nestled behind a beautiful grove of palm trees that provide shade if you need a break from the sun. This is a great beach if you would like to bring a small cooler of snacks and beer and have a picnic on the beach.
Playa Casa Punta: This is the most central beach in Las Terrenas. You will find a string of local small restaurants on the beach here run by locals so the prices are a bit lower than some areas, but you should still expect to pay $5 to $8 dollars per entree. A few of these restaurants offer happy hours from time to time so stop by and check when you are in town.
Casa Azul Pizza: In the middle of your beach tour, may we suggest that you stop for pizza and a beer at this restaurant. Make sure to use the spicy olive oil to give it some kick. The large margarita pizza was 270 DOP ($4.75 USD) and the Presidente beers were 160 DOP (2.80 USD).
Punta Terrenas: As you walk from the previous beach to this one, you will see a series of more expensive restaurants on the sand with slightly higher restaurant prices, from $8 to $12 USD per entree. Once you pass these restaurants you will begin to see a bunch of beach huts with slightly lower prices with beach lounges and umbrellas.
Playa Las Ballenas: This is the last beach on the tour. There are a few hotel restaurants and more huts as you move towards this final beach on the tour.
After I tell you which beach is our favorite and why, I will show you where we stayed for $18 USD per night, plus our favorite restaurants, our favorite nightlife places, and favorite places to shop for groceries in Las Terrenas. The good news is that everything is walkable so you don't need to rent a car.
Our favorite beach in Las Terrenas is the first one we showed you, Playa Punta Popy. It is our favorite because we felt comfortable spending the day there swimming and enjoying the beach with very little money.
We sat in the shade of the palm trees and brought a small cooler with snacks and drinks and having a picnic with very little money. Everything we needed to have a fun day at the beach we bought in the grocery stores we show you below. So we had a great time with very little money.
Plus, the sand just seemed whiter there so it was great for taking pictures and videos of Qiang for our YouTube Channels and Qiang's Instagram account. The other beaches are also fabulous. But the number of palm trees and the distance between them felt more private.
Where we Stayed
We booked at the last minute and there were very few cheap choices. But we were able to book this studio with a small kitchen for one week at $18 USD per night plus Airbnb fees. Click this Airbnb link or the below photo for more details.
It was perfectly adequate for the week we spent researching the cost of living in Las Terrenas. There were grocery stores nearby and the beach was just a few blocks away. There was a gas stove and a small refrigerator to store food so we could cook some meals at home to save money.
The studio had a strong enough Internet connection to upload a YouTube video in less than 2 hours while we slept at night. It also functioned well for all the research we did about things to do and places to stay in the other three cities we visited next along the north coast of the Dominican Republic. There is even a small store 2 doors down towards the beach that has snacks, 20-liter jugs of filtered water, and beer.
Favorite Restaurants in Las Terrenas Dominican Republic
Click the "More Information" link below this video. Our webpage has links to everything we show you in this video.
Casa Azul Pizzeria: This is where we ate lunch on the beach tour. We loved it so much we went back for another pizza. The large margarita pizza was 270 DOP ($4.75 USD) and the Presidente beers were 160 DOP (2.80 USD).
Afreeka Beach Hotel & Music Bar: This place has a restaurant right on the beach with great deals on breakfast. They have a great omelet special here for $3.30 USD for coffee, french bread, and a delicious omelet.
Comida China: Locals restaurant. Chicken rice for $1.80 USD.
Restaurante El Cayuco: This place was expensive but had great food and view. My pasta was $8 USD and Qiang's Octopus was about $12 USD. The beers were about $4 USD.
Favorite Groceries Stores in Las Terrenas Dominican Republic
The first two expensive grocery stores in town where you can get imported groceries from various parts of the world but they are both on the expensive side. The next few are more local places that have a limited selection but focus more on the basics, fruits, vegetables, and meats.
Super Mercado Lindo: This is one of the expensive ex-pat grocery stores with imported foods.
Supermercado Pola: This is the other expensive ex-pat grocery store, but is a little cheaper than the first one in my opinion.
Supermercado Elio: This grocery store is a little more local with a little lower prices.
Tip: If you walk up and down the two main roads in town Calle Duarte and Ntra. Sra. del Carmen (Google Map), you will see small stores and pickup trucks parked near corners that sell fruits and vegetables at much better prices. You will see them starting around 4 to 5 blocks away from the beach (on the above map) where the locals live.  Newer tourists are afraid to buy from trucks and small stores so they buy at the expensive ex-pat grocery stores.
Favorite Nightlife in Las Terrenas Dominican Republic
When we were in town there wasn't much nightlife. It was during the pandemic and maybe people were afraid to drink in crowded bars. But there were a bunch of people of all ages, both local and ex-pats hanging out in the parking lot outside this alcohol store late into the evening.
Mini Market Los Principes: The beer was cheap and there was great music playing and we didn't mind being outdoors where it was safer than being in a crowded bar. The local beer was $1.40 USD instead of the $3 to $4 USD we would have had to pay in the bars. So we had no objection to being outdoors under the moonlight. Great people watching too.
Thanks for viewing our Las Terrenas Dominican Republic Best Beaches, Restaurants, and Nightlife.
This is Dan of Vagabond Awake. The Youtube channel for Vagabond Buddha.com. The world is your home. What time will you be home for dinner?
Here are some additional resources you may find helpful:  (1) (Free eBook) How I Fired My Boss and Traveled the World for 14+ Years, (2) Retire cheap Reports All Over the World, (3) How to Make Money Online: The Hobby Income Course, (3) My Youtube Playlists for Each Country, (4) How to Retire Early.