Must See Evora Portugal
–>Evora Livability Factors
–>Evora Cost of Living
–>Evora Best Area to Stay
–>Evora Best Tours
–>Evora Walking Tour Video and Map
–>Evora Nightlife (Bar Hopping) Tour
–>Digital Nomads in Evora: Best Food, Experiences
–>Evora Facts and History
–>Evora Flights, Buses, Trains
Best Travel or Retire Cheap in Paradise Locations in the World
Must See Evora Portugal

[kkstarratings]This is Dan from Vagabond Buddha. This is my Must See Evora Portugal guide. Evora is a must-see destination while you are traveling through Portugal. We decided to spend 3 days here between or stays in Sintra and Coimbra, Portugal.
If you are in Portugal for only a few weeks, you should probably only stay in Evora for a day. We stayed in Evora for 3 days because we have 40 days to explore Portugal this time.
I am a digital nomad so I am able to slow-travel around the world. Grab a free copy of my ebook if you are curious about what it takes to be a digital nomad.
Evora Livability Factors
While I travel around the world, I document the best places to live or retire cheap. But money isn't everything. I have to love a place also before I would consider living there.
Next are my livability factors. I rank each livability factor high, medium, or low. Then I rank the destination itself as low, medium, or high. A place would need to be highly desirable before I would consider living there. Later, I compare the high desirability locations to each other and rank them in order. Here is the Evora Livability Factors.
Walkability: High. Inside the castle walls, everything is 10 minutes or less on foot.
Internet: Medium. Speed Test. Like Sintra last week, the buildings here are also all made of stone. Make sure you are really close to the router or bring a cable with you to plug in.
Food: Low. There is not much diversity in international food choices. Not a problem if you are here for a few days looking for regional food experiences. But low for livability for extended periods.
Weather: Medium. July and August are the warmest months with an average high of 88F, 25C, and it cools down tonight to an average low of 61F, 16C. The moderate temperature and cool breezes from the Atlantic Ocean often mean you may not need your AC. But the last few years have reached historic temperatures. If that trend continues, AC will become necessary. January is the coldest month with an average low at night of 43F, 6C but often warms in the day to an average of 57F, 14C. The rainy season is October through January when it rains more than 7 days per month on average.
Things to Do: Low. The city mainly focuses on tourism so that limits things somewhat.
Social Considerations: Medium. Great people, university environment, foreigners circulating through.
Expats Penetration: Medium. Most of the foreigners are more transient in nature, rather than being expats.
Real Estate: High. Lower purchase or rent prices than our first few stops in Portugal, Lisbon, and Sintra.
Evora Desirability Score: Medium. I could see myself living in Portugal, but Evora is a little too small for me. I need more people and things happening around me. Evora is a great cultural heritage city, but I need more to think about living somewhere.
Subscribe to Vagabond Buddha or our Youtube Channel to find out where I go next. I have been to 65 countries so far. I started in 2007. Here is my old travel blog.
Evora Cost of Living
This table is a compilation of my own search and experience while I was in Evora along with some data shared by Numbeo. The data below is static. It isn't updated in real time. Significant inflation since my last visit would render this table inaccurate. If this post is more than a year old the prices are likely to have changed. In that case, try using your own calculations with Numbeo.
Monthly Cost of Living, Evora, Portugal ($USD)
| | | | | |
| --- | --- | --- | --- | --- |
| Expense | Cost | Low | Medium | High |
| Airbnb/1 Bedroom/per day | $35.00 | 0 | 14 | 30 |
| 1 Br Apt/Lease/per day* | $21.00 | 0 | 12 | 0 |
| Hostel/per day | $15.00 | 30 | 3 | 0 |
| High-End Restaurant | $14.00 | 1 | 4 | 8 |
| Neighborhood Restaurant | $9.00 | 30 | 44 | 48 |
| Food Cart | $6.00 | 30 | 12 | 4 |
| Subway/Train/Metro | $1.65 | 20 | 26 | 8 |
| Bus | $1.65 | 20 | 10 | 0 |
| Taxi/Uber | $6.00 | 6 | 10 | 20 |
| Total | Per Month | $1,016.00 | $1,430.40 | $1,751.20 |
| Total | Per Day | $33.87 | $47.68 | $58.37 |
The above numbers are for one person and do not include alcohol, tours, or extras. I do not guarantee these prices for anyone. Here is a link explaining how the table works.
*A 1 Bedroom apartment including a 12-month lease is estimated as $550 USD + $70 Utilities, or $26 per night. We saw a 1 Bedroom condo posted for sale in a real estate office window asking 95k Euros. But we do not recommend buying until you are positive you will stay for at least 5 years.
Please book using our links to recommended flights, tours (GetYourGuide, Viator Tours) or accommodations. You will pay nothing extra, but we will earn a small commission. Your kindness will encourage us to keep making these travel guides and videos.
Evora Best Area to Stay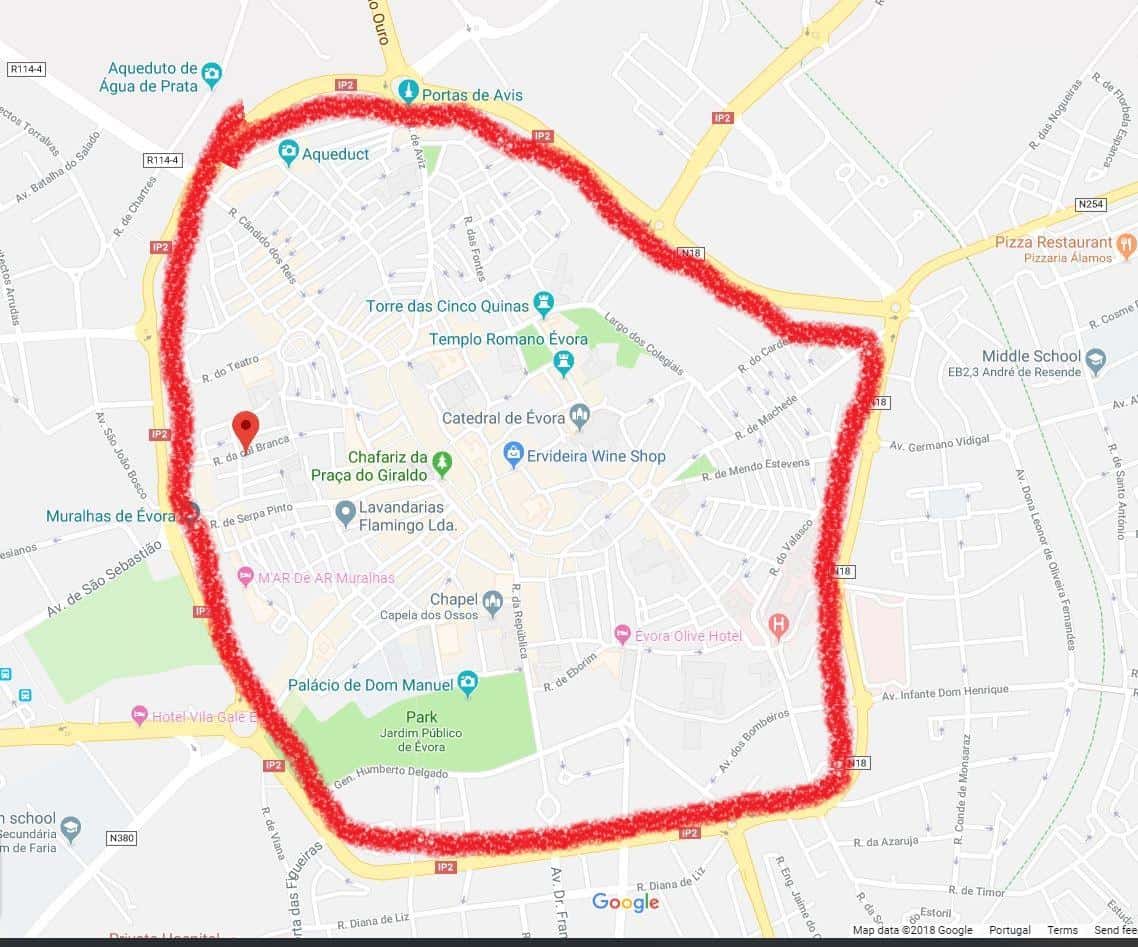 You should stay inside the walled city if possible. I have marked the walls in red where to ease your search. I have also made a recommendation below at each price point. The following recommendations go from most to least expensive. After that, we tell you where we stayed.
This is one of the highest rated luxury hotels in an amazing location inside the medieval walled city. For inside the walled city at a more moderate price point, check out this one. Here is a hotel at the low end inside the walls. This one is a hostel that is right in the center.
We stayed in this Airbnb in a house in the (above) red zone with a private room and bath with kitchen privileges, that was less than a hostel for two people. If you want the entire apartment, this second Airbnb is not much more. It is a gorgeous house with a lovely family (we gave 5 stars) and a very private room. (If you are new to Airbnb, use this code http://www.airbnb.com/c/dbell50 for a big discount).
If you are enjoying this, could you please like it, share it, comment below, or subscribe? That will rank us higher in search engines so we can keep making these travel guides.
Evora Best Tours
Guided Tours
If you just want to take a one day guided tour from Lisbon that visits Evora and wine tasting, then this one is a good choice. Here is another good tour of Evora, with one day Lisbon pick-up and drop-off.
If you would also like to see both Evora and the pure medieval village of Monsaraz, then take this tour. To browze an almost endless list of guided tour opportunties that touch Evora and other destinations, check out here and here.
Self-Guided Tours
Evora Old Town Walking Tour
Above is the video of our Evora Old Town Walking Tour. Click the interactive Google Map on your smartphone to be guided on this tour.
Aqueduct of Evora: It was designed by the architect of the Belem Tower in Lisbon and took 6 years to complete in 1537. Sections of the previous version of the Aqueduct built by the Romans can be seen in the areas of Rua de Cano, Travessa das Nunes, and Rua do Salvador streets.
The Roman Temple of Evora: This 1st-century Roman temple was dedicated to the cult of Agustus. Some believe it survived until today because it was incorporated into a medieval structure for hundreds of years. Now excavated and visible, t is Evora's most famous landmark, with 25-foot Corinthian columns.
The Main Plaza of Evora (Praça do Giraldo): The main square of Evora is where King Duarte constructed the Estaus Palace. The Henriquina fountain was built in the 16th century includes 8 water jets symbolizing the 8 streets that enter the square. The Duke of Braganza was executed in the square in 1483 by order of his brother-in-law, King John II, who watched. 22,000 people were punished in this square during the Portuguese Inquisition. Some were burned alive.
The Bone Chapel (Capela dos Ossos): There is a small chapel located near the entrance to St. Francis. The interior is decorated with human skulls and bones. The chapel includes a poem by Antonio da Ascencao, asking the reader to reflect on their existenace. One stanza reads, "If by chance you glance at this place, Stop, … for the sake of your journey. The more you stop, the more you will progress."
The Jardim Publico: This is just a pleasant park that was once the grounds for the Palacio Manuel. It is a nice place to sit and enjoy a coffee. If the palace renovation is complete when you are there, go inside.
Next, just wonder aimlessly around the city. That is the most fun of all.
Evora Nightlife (Bar Hopping) Walking Tour and Map
This is a small town so the nightlife is a bit limited. Life is as much about the journey as the destination. This walking tour is intended to not only show you a few good nightlife choices. It is also to walk you through areas where you may find a place that you love. Here are the best areas to explore for Evora Nightlife. Just click the above map or ==>this link<== on your smartphone. Let us know if you think any places should be added or subtracted from this walking tour.
Digital Nomads in Evora: Best Food, Experiences
We were in Evora for 3 days. We just worked from our Airbnb room when it was raining. When the rain stopped, we were exploring Evora.
Vagabond Buddha's Kitchen: We cooked most of our meals at home, in our Airbnb. We just love the LIDL grocery stores in Portugal. We keep buying food there and cooking at home. We are eating high-quality meals for about $2 EU per person, per meal.
We kept finding ourselves at this cafe where they have cheap food and alcohol. Really cheap. Local prices.
Grab a free copy of my Ebook. You will learn how to save and earn money living internationally.
Evora Facts and History
Click here or on the above map to zoom in or out on Google Maps. Here are some interesting facts about Evora from Wikipedia. I am in Evora now.
Evora is a UNESCO Worl Heritage Site. It is mostly enclosed by medieval walls, has a large number of monuments from various historical periods, and has a well-preserved old-town center, including a Roman Temple.
Evora was ranked the second most livable city in Portugal by the largest Portuguese weekly magazine, Expresso.
Five thousand years ago, Evora was the capital of a Celtici tribal confederacy, that even the Greeks considered civilized.
Romans were in charge from the first century BC until Rome fell and Barbarians took over in the late 6th century AD.
At the beginning of the 7th century, Evora was conquered by the Moors and hed until the Christian Reconquest in the 12th century.
Evora was taken from the Moors by Gerald the Fearless in 1165. Gerald had a stealth technique that involved a small team of climbers. They would scale the walls quietly on the coldest most miserable night of the year. They would then kill the guards and open the gate. Gerald's larger army, who had also arrived in silence and waited near the gates, would enter and take control quickly, once the gate was open. Gerald's technique was much more effective than the siege technique others were using at the time. The technique was darkness, cold, silence, speed, and silence at a strategic choke point.
Under King Afonso I, the town flourished as one of the most influential towns in Portugal. During the Kingdom of Portugal, the court of the first and second dynasties resided here for long periods constructing palaces, monuments, and religious buildings.
The University was founded by Jesuits in 1559. The city flourished as many great European masters taught here during the 16th through the 18th century. The University was closed in 1759 by a politician, the Marquis of Pombal, who held great anonymous for the Jesuits. The city was in decline until the University was reopened in 1973.
The variety of Architectural styles, the monuments, the palaces, and the narrow streets showcase what some call Evora, a Museum-city.
Evora Flights, Buses, Trains
Buses and Trains: In Portugal, Google Maps is getting pretty good at finding buses and trains to move around Portugal. Eurail is also a great resource.
We took the train to Evora from Sintra with a connection in Lisbon (Sete Rios Station) for about 15 Euros. You can also get a train from Lisbon (Sete Rios Station) to Evora for about 12 Euros. Once at the train station in Evora, grab a local taxi to your accommodations. The taxi will cost 6-7 Euros inside the walled city. They are metered and regulated so no need to negotiate. There is no Uber in Evora. I have provided suggested places to stay above. If no taxis are waiting when you arrive in Evora, try calling local Radio Taxi at 266-735-735, the country code is +351.
Lisbon International Airport: You can fly into Lisbon and take Uber to the (Sete Rios) train station. It takes about 15 minutes in an Uber to get to the train station and costs about 8 Euros.
Best Flight Deals (International or Domestic): I always use Skyscanner to book domestic and international flights. If you allow a range of dates to fly and return, you can sometimes save hundreds of dollars.
Smartphone: Get a local SIM card for your smartphone when you land in Portugal. We bought our prepaid SIM card while we were in Hungary about a month ago. We just renewed it for another month with the 5GB Internet for 17 Euros. US Citizens, get your phone unlocked before leaving your home country.
Thanks for watching our video. Contact us if you would like to collaborate on social media with me
I started living internationally over 11 years ago. If you would like to learn how to make money online, or how to live internationally possibly with less money than you spend at home, please subscribe to Vagabond Buddha, our YouTube Channel or get a free copy of my Ebook.
If you are interested in the subject of present moment awareness, my new videos on that subject are now being posted at my new Present with Vagabond Buddha Youtube Channel. The older videos are on the Vagabond Buddha Channel's Presence Playlist.
This is Dan of Vagabond Buddha. Thank you for stopping by. The world is your home. What time will you be home for dinner?
Warning: I am not offering you these prices.  These are just my notes and estimates from the time of my visit and this post.  Your costs will likely be drastically different if significant inflation or deflation occurs or the market changes after this post.  I will not update these numbers until I am on the ground again here, if ever.