Today, we are talking about the cost of living in a beautiful beach community in Oaxaca Mexico called Puerto Escondido. Right now we are touring the beaches in the State of Oaxaca, Mexico.
I slow travel the world and report on the best places to retire early for cheap, 65 countries so far. My retire-early-cheap reports are located at VagabondBuddha.com. I first came to Mexico over 50 years ago. Here I am with my mother and sisters in Mazatlan in the late 60s.
–
Some people do not have the money they expected to have as they approach retirement. Others will be trying to retire on social security or pension alone. Some people are working at retirement age to pay their living expenses. We report on places that will help you live on less.
If you would like to learn how to live in a paradise location for possibly less money than you are spending at home, or the various ways people make money online, grab a free copy of my EBook: How to Fire Your Boss and Travel The World.
Puerto Escondido Cost of Living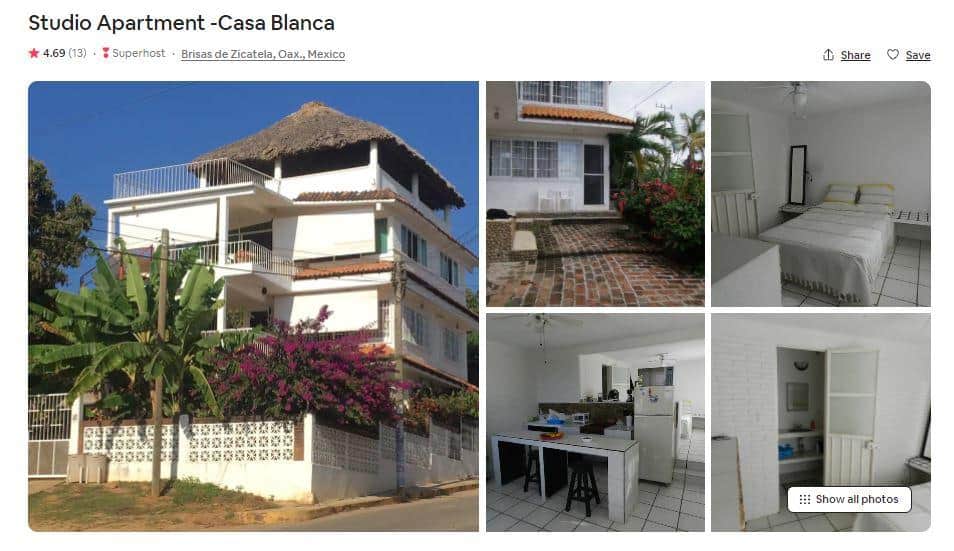 Here is an Airbnb studio for about $400 USD month at the time of this post. Of course, you should be able to beat this price if you live like a local, with the locals, in and around the central market in Puerto Escondido. Just walk that area and look for rent signs. You could also pay double or triple depending on where you decided to live and how much space you would like.
We stayed in Puerto Escondido for about a month at Hotel Casa Dan. We really loved the place and it costs us 11,700 Pesos ($585 USD) per month in Unit 3, which is about $20 a night. There were hostels in Puerto Escondido starting at around $15 USD per night.
The high-end restaurants in Puerto Escondido average around 180 pesos ($9 USD) for an entree, a local family-owned restaurants starts around 80 Pesos ($4 USD), and you will see food cart type vendors starting for about 50 Pesos ($2.50 USD) in the street corners around central market.
With regard to local transportation, collectivos are about 15 Pesos around town, taxis are about 35 Pesos, and there is no other practical transportation within the city.   Thus, a bare-bones cost of living estimate that includes only rent, 2 meals a day, and local transportation is shown in the below table.
Estimated Cost of Living Table (Puerto Escondido)
| | | | | |
| --- | --- | --- | --- | --- |
| Expense | Cost | Low | Medium | High |
| Airbnb (month) | $13.33 | 0 | 14 | 30 |
| Hotel (Casa Dan) | $20.00 | 0 | 12 | 0 |
| Hostel/per day | $15.00 | 30 | 3 | 0 |
| High-End Restaurant | $8.00 | 1 | 4 | 8 |
| Neighborhood Restaurant | $4.00 | 30 | 44 | 48 |
| Food Cart | $2.50 | 30 | 12 | 4 |
| Subway (none) | $0.00 | 20 | 26 | 8 |
| Bus (Collectivo) | $0.75 | 20 | 10 | 0 |
| Taxi (No Grab or Uber) | $1.75 | 16 | 10 | 20 |
| Total | Per Month | $678.50 | $734.62 | $700.90 |
| Total | Per Day | $22.62 | $24.49 | $23.36 |
Here is a free report explaining, "How The Cost of Living Table Works."
The above table of estimated cost of living is for one month, for one person, as a temporary visitor. It only includes rent, 2 meals per day, and local transportation. For a full understanding of what it would cost you to live here, visit Numbeo for Puerto Escondido and add anything you spend money on in your home country that is not mentioned in the table.
Never move anywhere until you have visited first personally to verify the living costs for your lifestyle and needs. I am not guaranteeing these prices. These are just my notes and estimates from the time of my visit and this post. Your costs will likely be drastically different depending on lifestyle and the time since this post.
Please book using our links to recommended flights, tours, or accommodations. You will pay nothing extra, but we will earn a small commission. Your kindness will encourage us to keep making these travel guides and videos.
Best Area to Stay in Puerto Escondido
People come to Puerto Escondido for the beach. So you will want to spend at least some time at the beach. I show you all of the Best Beaches of Puerto Escondido in my beach tour, but my favorites are Playa Carrizalillo and Playa Bacocho.
There are four areas I think you should consider staying.
Playa Zicatela: This is where you want to stay if you are an experienced to expert level surfer. These are consistently the largest waves on Puerto Escondido. Conversely, if you want to swim and snorkel, the water is too rough and dangerous here. This is also the biggest party scene if that is your thing. This area feels very touristy and commercial, though not approaching Cancun level or Playa del Carmen level touristy.
La Punta: This is where you stay if you are learning to surf or are a beginner to moderate level surfer. The waves can be too big here at times for beginners but rarely as big as Zicatela. At first, I was thinking this was sort of a hippie community, but after reflection, I would call it more of a hipster area. See Hippies versus Hipsters. This is a fun place to people-watch at sunset on the beach.
Bacocho: This would be called an upper middle-class neighborhood in the USA. But if you hunt around you may be able to find a small apartment on the fringes for $400 to $500 per month. It is near beaches that you can swim and snorkel. Plus, you can walk to the central market from here and there are a bunch of great restaurants and coffee shops along Benito Juarez Ave. This area doesn't feel so touristy. It will feel like you live here but not as a local, more as an ex-pat or a wealthy Mexican.
Central: This is where you go to live like a local among the locals. This is not a tourist area so the foods you buy in stores and restaurants and the rent you pay will not be artificially high due to the tourist industry. Plus, you are within walking distance to both the central market, my favorite beaches, and the restaurants of Bacocho, when you want to splurge.
We stayed in Playa Zicatela at Casa Dan's Hotel (which we loved), because I wanted to be near a coworking space called Selina in Zicatela. I had read how bad the Internet was in Puerto Escondido and thought I could rely on Selina for fast Internet. But when I bought a day pass at Selina, it took over 3 hours to upload a 3GB YouTube video. That was not worth the cost of the day pass. After that, I just started uploading videos over my hotel WIFI at night while I slept.
So next time, I will look for a cheap place somewhere in Bacocho, Central, or the area between them. Then much of what I enjoy most would be nearby.
Here are my suggestions for each.
Airbnb: This apartment was $594 USD per month including fees and taxes on the day I checked. If you are new to Airbnb use this code http://www.airbnb.com/c/dbell50 at checkout to get a big discount.
Playa Zicatela: Stay at Hotel Casa Dan.
Digital Nomads: Digital Nomads wanting to stay in a coworking hostel around other people running online businesses or trying to start one.
Cheapest Flights to Puerto Escondido
We almost always get our cheapest flights on this Skyscanner. They have a web crawler that is constantly looking for the cheapest prices all over the world. As usual, we found the cheapest flight to Puerto Escondido on Skyscanner.
Our Cost of Living October 2020
Dan and Qiang's Expenses for the month of October 2020. This is for 2 people.
| | |
| --- | --- |
| Expense | USD |
| Rent | 557 |
| Taxi | 59 |
| Restaurants | 195 |
| Groceries | 390 |
| Snacks | 15 |
| Laundry | 13 |
| SIM/Data | 26 |
| Tour | 10 |
| Tips | 32 |
| | |
| Sub Total | 1297 |
| | |
| Alcohol | 157 |
| | |
| Total | 1454 |
Also, I mentioned in the video that if you only went to restaurants to eat 10 times per month instead of 20 times per month you would save about $100 on your restaurant bill. But since you would need to cook at home for those meals you would have to add about $40 more dollars to your grocery bill. That would net an additional savings of about $60 USD per month.
cost of Living Single Mom
Puerto Escondido Livability Factors
Here are some of the factors I think about when I consider each place for retirement potential. I call these my livability factors. I rank each one high, medium, or low. If the factors are ranked mainly high it is a good indication that I could live somewhere.
After I assign a value to each factor, I assign an overall score to a place.
Walkability: High. My favorite area to live in Puerto Escondido is called Bacocho. If you lived in Bacocho you would be able to walk to the beach, restaurants, and the public market in centro. If you have too many groceries to walk home you could get a taxi for 35 Pesos ($1.75 USD).
Internet: Low. The Internet is an issue in Puerto Escondido. Most routers produce about 3 MBPS down and 0.5 MBPS upload speeds. It takes 6 to 8 hours to upload a YouTube video. We survived by saving our videos in lower quality which is not a long-term solution. Even the coworking space Selina took 3 hours to upload a Youtube video. In addition, the Internet went down completely for 2 to 3 hours at a time three times in the month we stayed here.
Food: Medium. There are a few really tasty restaurants in Puerto Escondido but they are on the high side price-wise, starting around 120 Pesos ($6 USD). I cover those in my food section. Of course, you will also find some cheaper options in and around the public market in centro. These are more traditional family-owned restaurants starting around 60 Pesos ($3 USD).
Weather: High. The average temperatures year-round don't fluctuate all that much. The cold season is Jan-Dec when nighttime lows average 72F/22C and daytime highs average 83F/29C. The warm season is May-Aug when nighttime lows average 77F/25C and daytime highs average 86F/30C. The rainy season is April through November.
Things to Do: Medium. If you enjoy the beach and water sports, you should be fine. If you are a cultural lover I would say medium or even low.
Social Considerations: Medium. Puerto Escondido is not the best place in the world to be single. Life here is pretty much centered around the beach, tourism, and surfing. You will want to learn Spanish if you decide to settle here.
Expats: Medium. If you like hanging out with ex-pats, you will find them through various Facebook pages: 1, 2, 3. That is where to go if you have a very specific or odd question I have not answered here.
Real Estate: The homes for sale here start around $80k but you can easily spend $200k USD. I never recommend buying until you have lived somewhere at least 3 years.
Puerto Escondido Desirability Score: Medium. This would be a great place for people that are most comfortable in a medium-sized town with a life centered around the beach. If you are a surfer then this place is highly desirable.
Puerto Escondido Facts and History
Puerto Escondido is a small port and fishing village on the Pacific Ocean in the State of Oaxaca Mexico.
The Nahuatl indigenous people lived in this part of Oaxaca when the Spanish showed up. The Nahuatl word for this area was Zicatela. Today, the most famous surfing beach in Mexico is here in Puerto Escondido called Playa Zicatela.
The area has been inhabited by the Nahuatl people for centuries before the Spanish arrived, but no permanent town structures were believed to be in this area until the 1930s since there was no permanent water supply.
A sociopathic pirate named Andres Drake, the brother of Sir Frances Drake, kidnapped a local indigenous girl and she was raped repeatedly until she was able to escape and swim to shore. They searched for her in the jungle but were never able to find her so they named the area "La Escondida," the "hidden one."
When the town was eventually created in the 1930s, it was given the name Puerto Escondido or hidden port so people would remember how the indigenous people were treated.
By the 1960s, the church was completed and wells had found the clean water below to support the growing city. In the late 60s, surfers and other tourists began to find the village and the town began to grow. By 2009, the population had grown to over 20,000 year-round residents.
The main tourist area of Puerto Escondido includes restaurants, nightclubs, coffee shops, souvenir shops, and a night market with Oaxacan handicrafts when the street is closed to vehicles for pedestrian-only traffic after about 6 pm at night along Perez Gazga Avenue.
Puerto Escondido is one of the most important tourist attractions in the State of Oaxaca along with Huatulco. Puerto Escondido serves more eclectic tourists such as backpackers, surfers, and Canadian snowbirds.
Please subscribe to VagabondBuddha.com or our Youtube Channel to watch us move around the world. 65 countries so far.
Thank you for stopping by. The world is your home. What time will you be home for dinner?