Below are the Google Map and Video for the Puerto Vallarta Romantic Zone Walking Tour.
These links are everything we have on Puerta Vallarta!
Retire Early $981 Per Month in Puerto Vallarta Mexico
Puerto Vallarta Mexico Low Cost of Living
Puerto Vallarta Mexico Retire Cheap in Paradise
Puerto Vallarta Waterfront Bronze Sculpture Walking Tour
Puerto Vallarta Bar Hopping Tour
Cheap Puerto Vallarta Accommodations Restaurants and Transportation
Best Travel or Retire Cheap to Paradise Locations in the World
If you are a more sophisticated traveler or considering Puerto Vallarta for a second home or a retirement destination, you will likely be interested in what international tourists call the romantic zone of Puerto Vallarta.
The romantic area is the charming authentic area of Puerto Vallarta.  Even if you are just here as a tourist to drink and have fun, you should spend at least a day in the romantic area of Puerto Vallarta, so you will understand what Mexico is really about. If I am right, I think you'll want to spend your entire time in the romantic zone of Puerto Vallarta.
Here is a free Google Map of our Best Romantic Puerto Vallarta Walking Tour and Map:
Click ==>>this link<<== on your smartphone to get started on your free Google Maps walking map of the Romantic Zone in Puerto Vallarta, Mexico. Here is the first stop:
Malecon (Waterfront Walk): It is a beautiful walk along Puerto Vallarta's Malecon. If you love bronze sculptures, make sure to watch my below video of the below Free Puerto Vallarta Waterfront Sculpture Tour (link below). The sculpture tour explains who each artist is and what each particular sculpture means, from my perspective. You can also just enjoy the walk without knowing the background on these sculptures. Begin Escultura Los Milenios and head south until you see the dancing dolphins sculpture. Then head away from the beach towards the church steeple. Click ==>this link<== if you would like to be guided by my free Google Maps on your smartphone.
Plaza de Armas: This is the main square in the Romantic Zone of Puerto Vallarta. Both the Pacific Ocean and the crowned tower of Our Lady Of Guadalupe Church is visible from this plaza. Plus there is a beautiful Gazebo in the center you will need to take a selfie with to prove you were in Puerto Vallarta. Like all towns in former Spanish colonies, you need to visit the main square and Church.
Our Lady of Guadalupe Parish (Church): This Church was over 50 years in the making when it was finally completed in 1952. But its famous crown was not added until 15 years later in 1965. Because it took so long to build the construction was influenced by many schools of architecture, such as neoclassical, baroque, and renaissance. The cultural heart of Puerto Vallarta centers around this church and it serves as ground zero for the "Our Lady of Guadalupe Festival," December 1-12th each year, which is attended by thousands of people.
Casa Kimberley: Casa Kimberly in Gringo Gulch became famous when American film stars Richard Burton and Elizabeth Taylor had an extra marital affair during the filming of Night of the Iguana.
If you are enjoying this, could you please like it, share on social media, comment below, or subscribe? Your approval will rank us higher in search engines.
Gringo Gulch: This is the area that many American writers and artists lived to escape from the conservative McCarthyism era in 1950s US politics. Make sure to cross the Gringo Gulch Bridge and look at the beautiful homes along the river. Gringo Gulch is also where Casa Kimberley is located which became famous when American film stars Richard Burton and Elizabeth Taylor lived together during the filming of Night of the Iguana.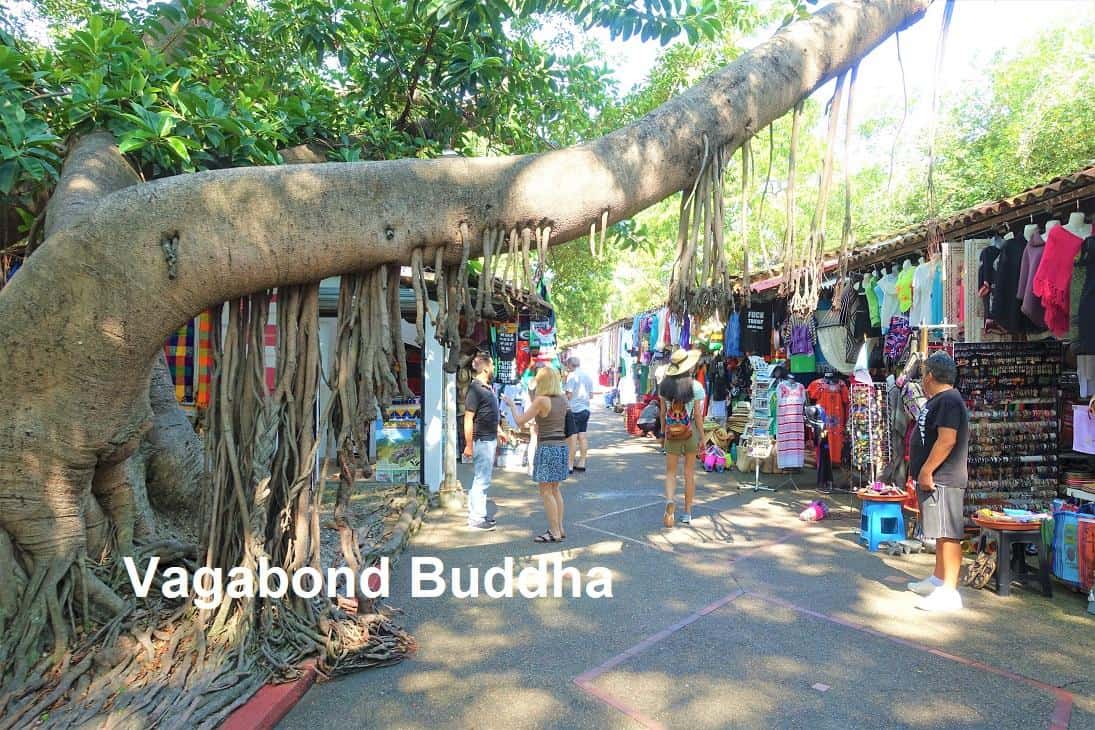 Cuale River Island: This is just a charming little tree-shaded island that you have to see that also happens to have a flea market if you need to buy souvenirs to take home with you. Make sure to walk all the way east (away from the ocean) to get deep into Gringo Gulch, and then walk all the way west back to the Pacific Ocean.
Playa Los Muertos Pier This pier is the last stop on the Puerto Vallarta Romantic Zone Free Walking Tour. This tour will give you a really great idea of why Puerto Vallarta is one of the best places to live or retire cheap in paradise. If you are hungry when your tour ends, click this link and walk a few blocks more to our favorite restaurant in Puerto Vallarta, called Salud Super Foods.
If you book my recommended flights, tours or accommodations, you will pay nothing extra, but we will earn a small commission. If you would like to learn how to live internationally possibly with less money than you spend at home, please subscribe to Vagabond Buddha or get a free copy of my Ebook.