–>Chiang Rai Thailand Livability Factors
–>Chiang Rai Thailand Cost of Living
–>Chiang Rai Best Area Stay, Cheapest Flights
–>Chiang Rai Old Town Walking Tour
–>Chiang Rai Famous Temples Scooter Tour
–>Chiang Rai Golden Triangle and Tea Plantation Tour
–>Chiang Rai Nightlife
–>Chiang Rai Life and Food
–>Chiang Rai Facts and History
Best Retire Cheap in Paradise Locations in the World
This is Dan from Vagabond Buddha. This is my Retire Abroad Chiang Rai Thailand Guide.
We are just finishing 2 months in Thailand and are heading to Vietnam on Thursday. We have 8 stops in Vietnam planned.
I visit and compare the best international places where people can retire for much less than their home country.
You didn't really pick the country where you were born. Some of us get to pick which country we retire. Others get to live or migrate to other countries even before they retire. There are also people like me that have lived all over the world, but keep moving forward.
I guess you could call us perpetual long term travelers. Some of us, like me, don't even keep an empty bed at home. I have a property manager that watches my real estate and he keeps the rents flowing into my account.
I have lived in or visited 65 countries so far. I work on my computer so I can go wherever the wind blows. Because of that unique perspective, I know of some of the best places to retire for much less than you may have thought possible.
I write reports about the best places to live in the world for both value and lifestyle. I was born in the USA, but I consider myself more as a world citizen.
I love the whole world. But I love some places more than others. I am also a minimalist and I love to save money. I have one checked bag and one carry on.
Being a minimalist in present moment awareness is my first passion. The other passion is travel. I love to move forward and live experientially in the world.
I buy a one-way ticket to a region of the world. Then I move about that region slowly for weeks or months. If I am in SE Asia, why would I want to fly back after seeing one or two countries? Why not see them all? Take a month (or three) in each country.
As I slowly make my way around the world. I share lifestyle and cost of living information.
You can find my retire cheap reports all over the world here at Vagabond Buddha.
If you would like to learn how to live in a paradise location for possibly less money than you are spending at home, grab a free copy of my EBook:
How to Fire Your Boss and Travel The World
This post is about Chiang Rai Thailand. Here it goes.
Chiang Rai Livability Factors
There are certain things I look for when I arrive in a new place. I call these my desirability factors. I rate them High, Medium, or Low. I will be adding new desirability factors soon. My Beta-Promotion test members are helping me identify the most important factors. More on that later.
Walkability: I like living in self-contained neighborhoods. Places where everything I need is walkable from my home. The old town area of Chiang Rai is walkable. But it is a fairly rural town with lots of surrounding greenery, so you are probably going to want to get out and enjoy nature when you are here. In that regard, it is more like a small town that has surrounding interesting things to do. So you are probably going to want to get a scooter, bicycle, or small car to fully enjoy the surrounding areas. Medium.
Internet: High.
Food: Medium. There is great Thai food here reasonably priced. There is also many international type foods around but not the same quality or selection as you would find in Chiang Mai or Bangkok. If you are a foodie, and like food diversity, this might even be a low for you. If you love to cook, like me, then Medium.
Weather: Medium. Average highs range seasonally from 81F/27C in December to 95F/35C in April. Average lows (at night) range seasonally from 55F/13C in January to 75F/24C in June. The rainy season is May through September when at least some rain falls in 15/more days of the month. The rain turns on and off like a faucet but can ruin an entire day from time to time.
Things to Do: Medium. If you enjoy the mountains, hiking, fishing, nature, and night markets, you should be fine. If you are a cultural lover I would say low.
Social Considerations: Medium. This is a bit of a sleepy town. The night markets seem to be where many people are out and about. Check out my night market video to get a feel for the nightlife. You will see the locals dancing together. It looks almost like a line dance in the USA. The temples are another place where people congregate and meditate with Buddha. There are movie theatres (yes, some English), cooking schools, Thai Boxing, yoga and meditation, and language classes. You will find other ideas on various Facebook pages.
Expats: High. There are 14000 members averaging 20 posts per day on the Chiang Rai Facebook Expats. That is a good sign and a great resources for you to pose odd questions.
Real Estate: Apartment and condo rentals run start around 8000 Baht ($250 USD) per month and condos start around 2 million Baht ($60,000 USD). Source 1. Source 2. There are even cheaper places, but you should wait until you are on the ground there to rent. Just get an Airbnb for the first few weeks while you verify feasibility, rents, and other conditions. Then walk the area you want and look for rental signs. I never recommend buying until you have lived somewhere at least 2-3 years.
Chiang Rai Desirability Score: Medium for me as a cultural explorer. But it could be high for someone that is all about small towns and nature. Watch all the videos. Then also consider Pai Thailand if you would like something this rural and mountainous. We will be posting about Pai next week.
If you are finding any value here, could you please like it, comment, share or subscribe? Your simple act of kindness will move us up in the Google and Youtube search rankings so our business grows faster.
Chiang Rai Cost of Living
| | | | | |
| --- | --- | --- | --- | --- |
| Expense | Cost | Low | Medium | High |
| Airbnb/per month rate | $16.00 | 0 | 14 | 30 |
| 1 Br Apt w/lease | $12.00 | 0 | 12 | 0 |
| Hostel/per day | $8.00 | 30 | 3 | 0 |
| High-End Restaurant | $10.00 | 1 | 4 | 8 |
| Neighborhood Restaurant | $2.50 | 30 | 44 | 48 |
| Food Cart | $1.20 | 30 | 12 | 4 |
| Subway/Train/Metro | $0.50 | 20 | 26 | 8 |
| Bus | $0.50 | 20 | 10 | 0 |
| Taxi/Grab | $2.00 | 6 | 10 | 20 |
| Total | Per Month | $393.00 | $594.40 | $728.80 |
| Total | Per Day | $13.10 | $19.81 | $24.29 |
This estimated cost of living is for one month, for one person as a temporary visitor. It only includes rent, 2 meals per day, and local transportation. I usually have oatmeal for breakfast in my room, so I don't count that. For a full understanding of what it would cost you to live here, visit Numbeo.com (Chiang Rai) and add any items you spend money on.
Never move anywhere until you have visited first personally to verify the living costs for your lifestyle and needs.
I am not guaranteeing these prices. These are just my notes and estimates from the time of my visit and this post. Your costs will likely be drastically different depending on lifestyle and the time since this post.
The above numbers do not include alcohol, tours, or extras. For the free report, "How The Cost of Living Table Works," click the link and scroll to the bottom of the page.
Please book using our links to recommended flights, tours, or accommodations. You will pay nothing extra, but we will earn a small commission. Your kindness will encourage us to keep making these travel guides and videos.
Chiang Rai Best Area to Stay
If you love to be in the walkable central area … like I do … stay in the area shown on this map.
Click the map or ==>this link<==.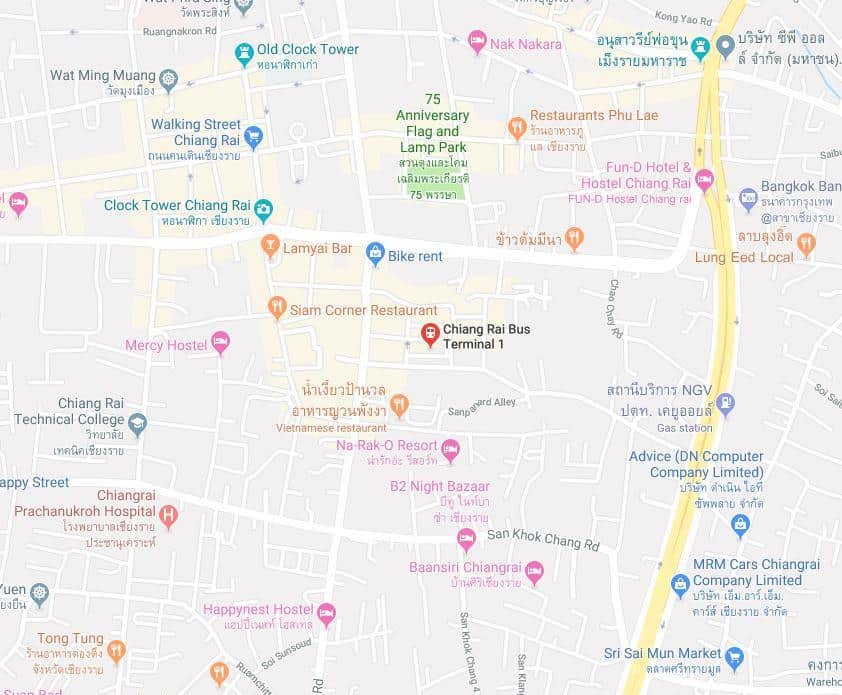 Here are my suggestions:
Kanlaya Place: Mid-range hotel, great location. $$
Guest House: Highly rated guesthouse. $
Highly rated hostel in a great location: $
Airbnb.com: This is where we stayed. You will see video of the inside in our life and food video above. If you are new to Airbnb use this code http://www.airbnb.com/c/dbell50 at checkout to get a big discount.
Cheapest Flights
We almost always get our cheapest flights on this Skyscanner. They have a web crawler that is constantly looking for the cheapest prices all over the world. As usual, we found the cheapest flight to Chiang Rai on Skyscanner.
Chiang Rai by Bus, Train, Taxi, or Songthaew
You can move around town using Grab car. But you can save even more money riding in a Songthaew (Red Trucks). That is like a shared local bus that travels along local routes that people jump on and off. Here are more details about local transportation. We took the overnight train to Chiang Rai from the Bangkok Train Station. Chiang Mai also has an international airport not far from the old town.
Chiang Rai Old Town Walking Tour
(9/9)
If the above video looks fun, click ==>this Google Map link<== or the below map to take the self-guided tour on your smartphone.
Here are the stops on this walking tour:
Chiang Rai Night Bazaar (All week)
Clock Tower Light Show (7PM nightly)
Walking Street Chiang Rai (Saturday Night)
Wat Klang Wiang (open Days)
Wat Phra Kaew (open Days)
Wat Ming Muang (open Days)
Sunday Night Market (open Days)
Chiang Rai Famous Temple Scooter Tour
(9/13)
(9/13)
If you enjoy our two temple videos, then click this ==>Google Map<== and start your tour. Rent your scooter at the first stop on the map (two doors down from this hostel), then head to the first temple.
White Temple: There is a bridge crossing over the cycle of rebirth of reincarnation. The hundreds of outreaching hands symbolize unrestrained desire, temptation, and greed. The gate of heaven is guarded by two creatures representing Death and Rahu. Rahu decides the fate of the dead. Are they reborn for another life of suffering or do they return to god?
Kinnaree: These are half-human, half-bird creatures from Buddhist mythology.
The Ubosot represents the mind. It is the all-white building with fragments of mirrored glass embedded in the building's exterior. The murals inside mix eastern and western culture, flames and demon faces, Michael Jackson, Neo from The Matrix, Freddy Krueger, the Terminator, nuclear war, terrorist attacks and environmental destruction brought upon the earth by humans. Murals also include unrestrained commercialism corrupting young people with desire.
The Gold which has no name (but is the toilet), represents the body, how people focus on worldly desires and money. The white building represents the idea to make merit and to focus on the mind, instead of material things and possessions.
Baandam Museum (Black House/Temple): This museum is the home and museum of a famous Thai artist and architect named Thawan Duchanee. It was his home while he was alive, but has remained a museum honoring his life and work since his death in 2014. While in college, his fine art's teacher told him he had no talent. Another example of an art teacher telling their student, they have no talent. If nothing else, an art teacher's job is to inspire. T cremation was bestowed by the Her Royal Highness Princess Maha Chakri Sirindhorn.
The Blue Temple (Wat Rong Seur Ten): The name translates into jumping tiger. This is where tigers used to jump over the river when they still dwelled here. This temple was built in 2016 on the grounds of a former temple of unknown age. People come to see this temple just because it is beautiful and colorful.
Chiang Rai Golden Triangle and Tea Plantation Tour
(9/11)
If you enjoy the above video, then click this ==>Google Map<== and start your tour. Rent your scooter two doors down from this hostel, then head to the first stop on the map. It is about 1.5 hours to the first stop and it is an all-day tour.
Golden Triangle: This is the first stop in the video where I point at Laos and the Mekong under the sign that says Golden Triangle.
212 House of Opium: This museum houses everything Opium old and new. The Golden Triangle has been the source of opium for hundreds of years. It has been difficult to police because growers are able to move back around the Golden Triangle area whenever one country tries to crack down on opium growers. This museum teaches all about the history of opium and the Golden Triangle.
Wat Phra That Pukhao: The temple next door to the opium museum.
Buddha's View: Buddha's view of the Golden Triangle. Just drive up the road further from the previous temple stop.
Board Boat: Short boat tour first takes you upstream and then visit the small market in Lao across the Mekong River.
Wat Pa Sak: This is a Buddhist temple was built in the 13th or 14th century. The name comes from the teak planted around the area when it was built. Many believe it was built while King Saen Phu ruled Chiang Saen from 1325 to 1334. There were significant enhancements in the 15th century.
Mountain Creek Vineyard
Choui Fong Tea Plantation
Chiang Rai Nightlife Tour
Walk this path and if anything fun is happening while you are there you are likely to find it.
Chiang Rai Life and Food
(9/16)
Here are a few of our favorite spots to eat cheap delicious food in Chiang Rai.
Full Moon: Vegan shish kabob $$
Lotus Leaf Restaurant: $ Pure vegetarian restaurant
Big C:  Food Carts inside on first floor $
Heaven Burger:  $$ Funky fun western foods
Vagabond Buddha's Kitchen: We has a beautiful kitchen during our stay in Chiang Rai. So we eating out some meals and cooking other meals at home. It was cheap and easy to find great food.
Grab a free copy of my Ebook. You will learn how to save and earn money living internationally.
Chiang Rai Facts and History
When I travel, reading about a new place brings the experience to life. I often start reading at Wikipedia.
Chiang Rai is the largest city in the most northern province of Thailand. Chiang Rai is also the name of the province.
Chiang Rai was established by King Mangrai in 1262 AD. Chiang Rai was the capital of the Mangrai Dynasty.
During the Mangrai Dynasty, in 1432 AD, the most revered statue of Buddha in all of Thailand was discovered, the Emerald Buddha. It was discovered when an earthquake split the Chedi at Wat Phra Kaeo in Chaing Rai city. Today the Emerald Buddha rests in the Grand Palace in Bangkok.
Subsequently, Chiang Rai was conquered by Burma and held by the Burmese until 1786, when Chiang Rai become under the rule of the Chiang Mai province. Chiang Mai and its protectorates were annexed into Siam (Thailand) in 1899. In 1933, the King of Thailand proclaimed Chiang Rai a separate province from Chiang Mai.
The Hill Tribes live mostly in the northwest of Chiang Rai.
The Golden Triangle is the area in northern Thailand where Thailand meets Burma (Myanmar) and Laos. The label "Golden Triangle" was assigned to the area by the Central Intelligence Agency of the USA. Most of the world's heroin came from the golden triangle until Afghanistan became the world's largest producer.
There are estimates that 167 square miles of this part of Myanmar are used to cultivate heroin. The majority of the heroin is said to end up on the streets of the USA. During the Vietnam War much of the heroin arriving in the USA was moved on US military planes.
It makes me stop and wonder why the last two wars of any duration that the US has been involved are in the two largest heroin producing areas of the world? Odd coincidence? Maybe.
If you are interested in the subject of present moment awareness, my new videos on that subject are now being posted at my new Present with Vagabond Buddha Youtube Channel. The older videos are on the Vagabond Buddha Channel's Presence Playlist.
Please subscribe to VagabondBuddha.com or our Youtube Channel to watch us move around the world. 65 countries so far.
This is Dan of Vagabond Buddha. Thank you for stopping by. The world is your home. What time will you be home for dinner?