–>Kep Cambodia Cost of Living
–>Kep Cambodia Livability Factors
–>Kep Cambodia Best Area to Stay, Cheapest Travel Deals
–>Must See in Kep Cambodia Tour
–>Kep Cambodia Cheap Rent and Food Choices
Best Retire Cheap in Paradise Locations in the World
This post describes how to retire early on $1000 month in Kep Cambodia.
I have created 50+ retire-early reports worldwide. According to the US Government, 21% of retired married people and 43% of retired unmarried people, rely on social security for 90% of their retirement income.
With an average social security check of less than $1400 month, people are looking for the best place in the world to live that provides the lifestyle they desire.
If you are looking for where you can get the biggest bang for your buck, check out our promotion for members-only access and start planning your dreams today.
Kep Cambodia Cost of Living
If you rented a 1 bedroom apartment by the month (once you are on the ground here), you would pay around $300 month plus $50 to $100 in utilities. If you were willing to prepare 2 meals per day at home, you could easily live here starting at around $800 month, depending on what else you decided to spend money on. If you add some alcohol, a few treats, and some entertainment you may be able to stay under $1000 per month.
| | | | | |
| --- | --- | --- | --- | --- |
| Expense | Cost | Low | Medium | High |
| Airbnb/per month rate | $25.00 | 0 | 14 | 30 |
| One Bedroom | $13.00 | 0 | 12 | 0 |
| Hostel/per day | $5.00 | 30 | 3 | 0 |
| High-End Restaurant | $12.00 | 1 | 4 | 8 |
| Neighborhood Restaurant | $3.00 | 30 | 44 | 48 |
| Food Cart | $2.00 | 30 | 12 | 4 |
| Subway/Train/Metro | $0.00 | 20 | 26 | 8 |
| Bus | $0.00 | 20 | 10 | 0 |
| Taxi/Pass Ap | $2.00 | 6 | 10 | 20 |
| Total | Per Month | $324.00 | $745.00 | $1,038.00 |
| Total | Per Day | $10.80 | $24.83 | $34.60 |
This estimated cost of living in the above table is for one month, for one person as a temporary visitor. It only includes rent, 2 meals per day, and local transportation. I usually have oatmeal for breakfast in my room, so I don't count that. For a full understanding of what it would cost you to live here, visit Numbeo.com and add any items you spend money on.
Never move anywhere until you have visited first personally to verify the living costs for your lifestyle and needs. I am not guaranteeing these prices. These are just my notes and estimates from the time of my visit and this post. Your costs will likely be drastically different depending on lifestyle and the time since this post.
The above numbers are for one person and do not include alcohol, tours, or extras. Here is a free report explaining, "How The Cost of Living Table Works."
If you buy anything using our links such as flights, tours, or accommodations, you will pay nothing extra, but we will earn a small commission. Your kindness will encourage us to keep making these travel guides and videos.
Kep Livability Factors
Here are my Kep livability factors.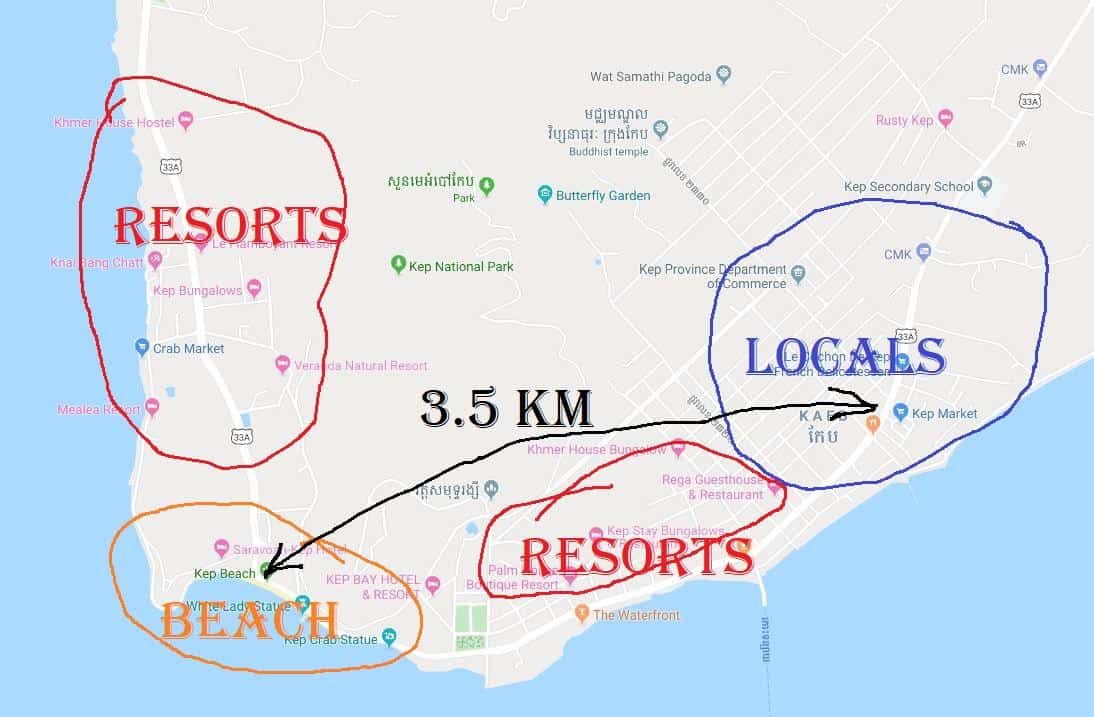 Kep Walkability: Low. Kep has a weird layout that ruins its walkability. You could live in one of the resorts they are so cheap. Ours was $10 USD per night. But then you wouldn't have a kitchen and the restaurants around the resorts are all at tourist prices. (Although the restaurant in our accommodations was the best in town and was only about 25% more expensive than local restaurants). Better to live with the locals where you could have a kitchen and you could walk to the Kep Market. But if you live with the locals (which I prefer) you would be 3.5 kilometers from the beach which is too far to walk. So you would need to get a bike or scooter if you decide to live in Kep.
Kep Internet: Medium. We had a few issues with the Internet when we were in Kep. But it was mostly based upon how far our room was from the router in our hotel. I recommend that you buy a 4G CellCard for $1 and add 20GB of data for $2 USD to your Android. That worked great as a hotspot for us when too many people jumped on the router or we were too far from the router. This was the key to working all over Cambodia when we were sharing routers and needed to control our bandwidth conditions. If you lived here you would have your own router in your apartment and there would be no issues.
Food: Medium. Kep has a population of about 36,000 people. As a fishing village with limited tourism, there is not much money outside the tourist resorts chasing diverse food tastes. Unless you eat at the expensive tourist resorts or love to cook at home, there will be very little diversity in your diet.
Weather: High. Average highs (days) range seasonally from a low of 84F/29C in January to a high of 90F/32C in May. Average lows (nights) range seasonally from a low of 75F/24C in January to a high of 82F/28C in May. The rainy season is June through October when about 12 inches or 300 millimeters of rainfall per month.
Things to Do: Medium if you are an ocean lover, low otherwise. Fishing, snorkeling, bike riding, motorcycles, yoga, scuba diving, sailing, wave runners, mountain biking, running in the national park, 20-minute boat ride to Rabbit Island.
Social Considerations: There is not much going on in Kep. You better be comfortable with peace and quiet. You may be able to make a friend or two along the way. If you are a hermit or you bring a friend with you, you may be okay. For cocktails, check out the Sailing Club at happy hour except on weekends.
Expats: Medium. There are more Expats in nearby Kampot which is 40 minutes northwest from Kep. There is an Expats Facebook page where you can go to ask questions that I have not answered here. Facebook 1. Personally, I would prefer to live in Kampot and visit Kep whenever I had the mood to see the beach.
Medical: Low. There is a hospital in nearby Kampot. Depending on what treatment is required, they may just stabilize you and transfer you to one of the two major hospitals in Phnom Peng (Royal Rattanak, Sen Sok International).
Visa Requirements: For your exploratory visit to Cambodia, you can obtain a visa upon arrival at the international airports in Phnom Penh and Siem Reap. If you use the eVisa program, it can only be used for entry through these two airports. If you intend to arrive through one of the land border crossings (like we did from Vietnam), the eVisa will not be accepted. At the land border crossings, you will need to fill out the forms again. In either case, bring the passport photo with you to immigration. There are 10 countries that must get a Visa in advance. The tourist Visa is $30 and the 30 day period can be extended for an additional 30 days for $50. If you are planning on staying longer than 60 days, then get an ordinary Visa from the start. If you are 55 or older and no longer working, I suggest getting a retirement Visa (ER Visa) for 6 or 12 months. The 6 or 12 month ER Visa is multi-entry. I haven't obtained the ER Visa myself yet, but I was told the requirements are minimal compared to other countries in SE Asia. There are also student Visas, Employment Visas, and Business Visas.
Real Estate: You should not buy real estate in Cambodia. If someone recommends that you buy in Cambodia, they probably have a conflict of interest with you. Just lease month to month. The rents are cheap and you can just hand the keys back to the landlord when you leave. If you want to own real estate, buy in a more economically safe country (i.e. USA) and live off the rents in a cheap country like Cambodia. Hire a property manager to manage your real estate at home.
Banking: Leave your money in your home country bank and take money out as needed at ATMs. When you are in a foreign country, it is much easier to get into a mess than to get out of one. If you want to store money outside your home country, don't put it in developing country banks. Put it somewhere safe, like Switzerland.
Pollution: There are single-use plastics on the ground in Cambodia, like most places in SE Asia. If you are older, you may remember when your home country had litter in public places? Some areas are cleaner than others, but almost nowhere is perfect anymore other than Japan and a few others. Don't swim in the ocean near where large rivers from populated areas flow into the sea. The government does not monitor water pollution to any significant degree in Cambodia. Also, don't swim in the ocean near large cities for the same reason. The air quality in Kep is generally moderate.
Kep Overall Desirability Score: Medium if you like small fishing villages on the ocean. Low otherwise. Personally, I prefer more food choices and more cultural opportunities around me. If I moved to this area of Cambodia, I would live in Kampot and visit Kep when I wanted to spend time near the ocean. Kampot is 40 minutes away. You can get a bus for $3 USD to and from Kampot.
You should consider your own livability factors before deciding if Kep is worth an exploratory visit. You will need to visit Kep first to verify whether or not you can retire on 1000 USD Month in Kep, Cambodia, based upon your lifestyle and needs.
If you are finding any value here, could you please like it, comment, share or subscribe? Your simple act of kindness will move us up in the Google and Youtube search rankings so our business grows faster.
If you would like to learn how to fire your boss and live in paradise for peanuts, grab a free copy of my EBook:
How to Fire Your Boss and Travel The World
Best Area to Stay in Kep
I talked about the best area to stay above in the "Kep Livability Factors" in the walkability paragraph. Read that first and then consider these suggestions. If you are good riding a scooter, you can get almost anywhere in Kep in about 10 minutes.
Hostel: Location and ratings.
Where we stayed: Older but cheap and clean … plus a great restaurant with decent prices on the top floor. See the cost of living video below for a video of the inside of our room.
Step Above: Amazing location and reviews. 9.6
Airbnb: If we returned for a month, we would want a kitchen. At the time of this writing, we would make offers in this neighborhood for $30 per night here for a 30-day rental. If you are new to Airbnb use this code http://www.airbnb.com/c/dbell50 at checkout to get a big discount. Stay in an Airbnb for a month to verify whether or not you could retire early on 1000 USD Month Kep Cambodia.
How to Get to Kep Cambodia
We almost always get our cheapest flights on this Skyscanner. They have a web crawler that is constantly looking for the cheapest prices all over the world.
After about 12 days in Phu Quoc Vietnam, we crossed over into Cambodia to continue our 1-year retirement investigation tour of SE Asia. In Phu Quoc, you can buy your transfer to anywhere in Cambodia from John's Tours in Phu Quoc.
The transfer included a ferry to mainland Vietnam, a minivan to the nearby Cambodian border, and a bus in Cambodia to our hotel in Kep for $18 USD.
You could also fly into Phnom Penh (Skyscanner) and take a bus to Kep.
Kep Cambodia Things to Do (Top 8)
Kep Main Market
Wat Samathi Pagoda:
Kep National Park:
Kep Crab Statue:
Kep White Lady Statue:
Kep Beach
Kep Crab Market
Kep Sailing Club (Happy Hour)
Watch the above video of the things you must see in Kep Cambodia.
If the above video looks fun, click ==>this link<== or the below Google Map and start walking.

These videos are meant to get you interested in the possibility that you may be able to retire early on 1000 USD Month in Kep Cambodia.
Kep Cambodia Cheap Rent and Food Choices
We only list restaurants here if we loved them.
Crab Market:
Sailing Club:
Deli's Kep:
Our Hotel Restaurant:
Grab a free copy of my Ebook.
Final Thoughts
If you are interested in the subject of present moment awareness, my new videos on that subject are now being posted here.
Please subscribe to VagabondBuddha.com or our Youtube Channel to watch us move around the world. 65 countries so far.
To find out about members-only prices and benefits, watch the following video.
This is Dan of Vagabond Buddha. Thank you for your interest in our Retire Early on 1000 USD Month in Kep Cambodia Guide. The world is your home. What time will you be home for dinner?