–>Da Nang Vietnam Livability Factors
–>Da Nang Vietnam Cost of Living
–>Da Nang Vietnam Best Area to Stay, Cheapest Flights
–>Da Nang Central Walking Tour
–>Da Nang Marble Mountain Tour
–>Da Nang Expat Beach Tour
–>Da Nang Expat Interview
–>Da Nang Vietnam Nightlife
–>Digital Nomads in Da Nang Life and Food
–>Da Nang Facts and History
Best Retire Cheap in Paradise Locations in the World
This is Dan from Vagabond Buddha. This is my Retire in Da Nang Vietnam post.
We are touring the world finding the best retire cheap in paradise destinations.
I left the USA in 2007 and have visited 65 countries so far. To learn the best places in the world where you can live for $1000 per month, check out our retire cheap reports at VagabondBuddha.com.
Even after you find your cheap retirement paradise, you will still want to travel to other parts of the world, won't you?
Our reports also teach you the best places to go in the world to visit, giving you the biggest bang for your buck.
Today we are talking about a really big bang for your buck, Da Nang, Vietnam. I have to tell you, I am falling deeply in love with the rhythm of life here in Vietnam.
Da Nang Livability Factors
Here is why you should retire in Da Nang for Cheap.
Walkability: High. Qiang Hui and I both fell in love with a little community about 15 minutes south of central Da Nang on the beach. The walkable streets we love (An Thuong) are in the red circle below in this (Google Map) area called My An. I would love to live here. Everything you need like restaurants, expensive and cheap, foreign and domestic foods, wet markets, and a gorgeous beach, would be extremely walkable. Plus, there is a bus (30k Dong, $1.30 USD) into central Da Nang that is 15-20 minutes away. Plus, one of my other favorite places in Vietnam, called Hoi An (I'll tell you about that next week), is only 30 minutes away by bus (same price). Watch my Expat Beach Tour video below to see videos of An Thuong.
Internet: High. Internet Wifi has not been an issue in Vietnam. It was 9 Mbps download speeds and 8 Mbps upload speeds (ATT Speedtest) at our studio in Da Nang central. Unlock your phone before exiting the USA (only the USA lets companies lock their citizen's smartphones, as far as I know). Pick up a Mobiphone SIM card ((4GB per Day) for just 200k D, $8.50 USD per month). Typical of SE Asia, you are allowed to use your Android as a Hotspot for your computer if you get a dud Wifi connection anywhere.
Food: High. I love Vietnamese food as you will see in my below Digital Nomads Food and Life Videos. We typically eat local food for 25k to 50k Dong ($1.10 to $2.20 USD) for entrees. If you eat all three meals per day in restaurants (like we have), you can easily stay under $6 per day, per person. But other Expats, like Roy Stevenson, reports budgeting $15 per day per person, eating 3 meals per day in restaurants. See the below Roy Stevenson video. That is probably because he eats in expat restaurants and we eat in more local restaurants.
Weather: High. We love the weather here. Average daily highs range seasonally from 77F/25C in December to 94F/C34 in July. Average nightly lows range seasonally from 66F/19C in January to 78F/26C in June. The rainy season is September through November when at least some rainfalls 15+ on more days of the month (20 days in October and November). We were here at the end of September and it rained a little each day but never really rained enough to change our plans. If the heat is ever too much, just take a trip up to Da Lat, Vietnam to cool down. It is 4500 feet above sea level and rooms start at around $10 per night.
Things to Do: Medium. Beaches, boats, fishing, hiking, biking, markets, learning to cook Vietnamese, join Expat groups (Internations, Facebook, etc), meditation, yoga, exploring restaurants, archaeological exploration, trips around Vietnam and SE Asia, snorkeling, scuba, coffee shops, dance classes, martial arts, museums, Monkey Mountain, Marble Mountain, bus to Han An, get drunk at Dirty Fingers, rent a scooter and explore backroads, check out the nightlife, grab the bus down to the Expat beach (video below), drink tea in a sidewalk cafe and people watch.
Expats: High. There are about 10k people that have joined the four main Da Nang Vietnam Facebook Expat Pages. Page 1, page 2, page 3, page 4. There are often local people that also join Expat pages, but there should be enough people here to live an entirely expat social life if that is your thing. Even if you are less expat oriented like me, these are still great resources to find odds and ends in Da Nang that you miss from home. They are also a great place to buy and sell things, find a place to live and find out things that only a foreigner that has lived in Da Nang for a few years would likely know about or be looking for locally.
Real Estate: High. A 700 square foot apartment (65 Square meters) would sell in the range of 650 million to 1.3 Billion Dong ($28,000 USD to $56,000 USD), according to Numbeo.com Da Nang. You will have to pay the higher end of that range as you approach the most expensive areas. Don't even consider buying until you have lived in a place for at least a year or two and are totally in love with. Even then, make sure you get very good legal advice. Land ownership is very limited for foreigners. Instead, I recommend you keep your house in the USA and rent that out. That will give you some inflation protection because rents tend to go up every year in the USA. Then just rent in Vietnam or where ever you are in the world.
Medical: Medium. Historically, wealthier Vietnamese would often travel to Bangkok, Kuala Lumpur, or Singapore for significant healthcare challenges. Source. But over the last decade, Vietnam has slowly been raising their game medically. Source. We met two American Expats while visiting Da Nang. One who has lived in Da Nang for a year had moved here from Saigon, where she had lived for 1.5 years. While in Saigon, she had surgery on her leg at the France-Vietnam (FV) Hospital which cost $1200 for everything. She paid for herself since she had no insurance. She said it felt more like a 5-star resort than a hospital. Although I have not been there myself, Google reviews indicate that there is a similar quality hospital here in Da Nang called Hospital Danang International Vinmec.
Visa Requirements: High. The two Americans we met living here do not bother with retirement visas. They just get a new one-year visa every year. There are companies that will pick you up at your house and take you to the border once a year to exit Vietnam and re-enter for another one year visa. You have to fill out paperwork and attached a photo. The cost is $75 including bus ride, lunch, and the new visa stamp. This is only available for Americans. Other countries only get a 3-month visa, so they have to do 4 visa runs per year, at $75 each. They didn't know why Americans have it easier in Vietnam. But both said that despite the Vietnam war, people love Americans here. I did not independently check the accuracy of this information. But we got a 3-month visa using the following process described by Qiang Hui of Hoboventures.com
Pollution: Medium or High. The air in Da Nang central is way better than Hanoi. And the air at the Expat Beach community in Da Nang is even cleaner than Da Nang central. You can check the air quality here. Today, even Da Nang central is rated good.
Da Nang Cheap Retirement Desirability Score: High. Vietnam is now clearly in my top 4 retire cheap in paradise countries: Thailand, Mexico, Vietnam, and Portugal. Da Nang in particular, and specifically, the An Thuong neighborhood is my number one spot in Vietnam. But we have 6 more stops before I have to make that final Vietnam country-wide determination for you. Stay tuned as we head south through Vietnam. We head to Hoi An next.
If you are finding any value here, could you please like it, comment, share or subscribe? Your simple act of kindness will move us up in the Google and Youtube search rankings so our business grows faster.
If you would like to learn how to fire your boss and live in paradise for peanuts, grab a free copy of my EBook:
How to Fire Your Boss and Travel The World
Da Nang Cost of Living
| | | | | |
| --- | --- | --- | --- | --- |
| Expense | Cost | Low | Medium | High |
| Airbnb/per month rate | $20.00 | 0 | 14 | 30 |
| 1 Br Apt w/lease | $15.00 | 0 | 12 | 0 |
| Hostel/per day | $5.00 | 30 | 3 | 0 |
| High-End Restaurant | $10.00 | 1 | 4 | 8 |
| Neighborhood Restaurant | $2.00 | 30 | 44 | 48 |
| Food Cart | $1.00 | 30 | 12 | 4 |
| Subway/Train/Metro | $0.70 | 20 | 26 | 8 |
| Bus | $0.70 | 20 | 10 | 0 |
| Taxi/(Grab is 30% more) | $3.00 | 6 | 10 | 20 |
| Total | Per Month | $296.00 | $670.20 | $845.60 |
| Total | Per Day | $9.87 | $22.34 | $28.19 |
This estimated cost of living for one month, for one person as a temporary visitor. It only includes rent, 2 meals per day, and local transportation. I usually have oatmeal for breakfast in my room, so I don't count that. For a full understanding of what it would cost you to live here, visit Numbeo.com Da Nang and add any items you spend money on.
If you retire in Da Nang for Cheap you will have an amazing life compared to the life you would have in the expensive world.
Never move anywhere until you have visited first personally to verify the living costs for your lifestyle and needs. I am not guaranteeing these prices. These are just my notes and estimates from the time of my visit and this post. Your costs will likely be drastically different depending on lifestyle and the time since this post.
The above numbers are for one person and do not include alcohol, tours, or extras. Here is a free report explaining, "How The Cost of Living Table Works."
If you buy anything using our links such as flights, tours, or accommodations, you will pay nothing extra, but we will earn a small commission. Your kindness will encourage us to keep making these travel guides and videos.
Best Area to Stay in Da Nang
We stayed in Central Da Nang. But I am suggesting places in the An Thuong area because I like that better now. Here are a few suggestions:
Hostel: Great price, location, ratings, and reviews. 2 blocks to the beach!
Cheap Hotel in the Expat Walking Tour Video Below: Great price, location, and ratings
Expensive but Fabulous Beach Front Hotel: Location and Ratings.
We stayed here in central Da Nang. Video of this one is in the Digital Nomads in Da Nang Life and Food video below.
Airbnb: Next time in Da Nang we will probably book an Airbnb like this one. If you are new to Airbnb use this code http://www.airbnb.com/c/dbell50 at checkout to get a big discount.
Cheapest Flights to Da Nang
We almost always get our cheapest flights on this Skyscanner. They have a web crawler that is constantly looking for the cheapest prices all over the world. As usual we found the cheapest flight to Vietnam on Skyscanner. We took a train (3 hours) from Hue to Da Nang for about $3 USD.
Da Nang Vietnam Walking Tour
Here are the things you must see in the central part of the city of Da Nang. Make sure to also my below Expat Beach Tour video.
If the above video looks fun, click ==>this link<== or the below Google Map and start walking.
Da Nang Cathedral: Da Nang Cathedral was built by the Roman Catholic Church in 1923.
Hàn Market: The largest market in Da Nang has clothing, silk, jewelry, flowers, food, coffee, tea and wine, including Vietnamese snake wine.
Long An Temple: Just a beautiful temple next door to the following museum.
Museum of Cham Sculpture: Contains statutes, sculptures, and reliefs recovered from My Sons dated 4th through 14th centuries.
Dragon Bridge: This suspension bridge is built artistically as a dragon. On Saturday and Sunday nights at 9PM the dragon breathes actual fire.
DHC Marina (Love Bridge): Great place for evening people watching.
My Khe Beach: The longest beach in Da Nang.
Da Nang Vietnam Marble Mountain Tour
If the above video looks fun, click ==>this link<== or the below Google Map. The first stop is the bus stop you get off assuming you are taking the bus from Da Nang Central to Marble Mountain. Once the bus leaves, you are there in 15 minutes. The bus runs every 20 minutes. Catch the bus in central Da Nang here. The bus will say "Da Nang to Hoi An" on the front windshield. Tell them you are going to Marble Mountain. They will tell you when to jump off. Or just jump off when the bus stops at the first stop on the below map, which is a bus stop.
Marble Mountains: Dramatic oceanside mountain with caves and temples. Limestone rock formations jutting out of the beach just south of Da Nang. Originally inhabited by Cham people with Pagodas added by the Nguyen Dynasty. Now home to various artists that at the mountain base at Non Nuoc Village. Non Nuoc has a white sandy beach that was a rest and relaxation site for American troops during the Vietnam War.
Da Nang Expat Beach Tour
Qiang Hui of Hoboventures has an American friend living in Da Nang. They met on Instagram. Her name is Kat. Kat is the founder of Girls Gone Working. Kat and her husband Rafael (a renaissance man from Bogota, Colombia) live in a beach community just outside of Da Nang called Ah Thuong. We had coconut coffee today at Brewman with Kat and Rafael. They recommended that we walk their neighborhood in Da Nang before we leave. So after coffee, we did just that. Our walking path is on the below map. The path squiggles through a few streets just so you see this cool neighborhood.
If the above video looks fun, click ==>this link<== or the below Google Map and start walking. The first stop is the bus stop you get off assuming you are taking the bus from Da Nang Central to this Expat Beach Community called An Thuong Beach. Catch the bus in central Da Nang here. The bus will say "Da Nang to Hoi An" on the front windshield. Tell them you are going to Ah Thuong Beach. They will tell you when to jump off. Or just jump off when the location blue dot reaches the first stop on the below map, which is a bus stop.
Quang Nhat Hotel: This is the hotel in the video with rooms starting at $13 USD per night.
Tam's Burgers and Pub: This is a restaurant we read about online. This is also where we just happened to meet the second American Expat Roy Stevenson. Roy is the most prolific travel writer in the world. Check out his web page: www.roy-stevenson.com.
Dirty Fingers: This is where we had delicious deep fried cheese sticks. They have live music and happy hour here nightly.
Da Nang Expat Interview (Roy Stevenson)
In this video you will see us run into one of the most prolific writers in the world, Roy Stevenson. We asked him all about Da Nang. He explains why he believes Da Nang is one of the best places to retire in the world.
Da Nang Nightlife
These are nightlife places within a few blocks of where we stayed in central Da Nang. The first two on the below map are the last two in the above video. Just walk this path until you find something interesting. You can also try Dirty Fingers in the Expat area. Dirty Fingers has live music at 9:30 PM 4 to 5 nights per week. Beers start at about $1.50 USD, but a half-price happy hour from 6 to 9 PM.
If the above video looks fun, click ==>this link<== or the below Google Map and start walking.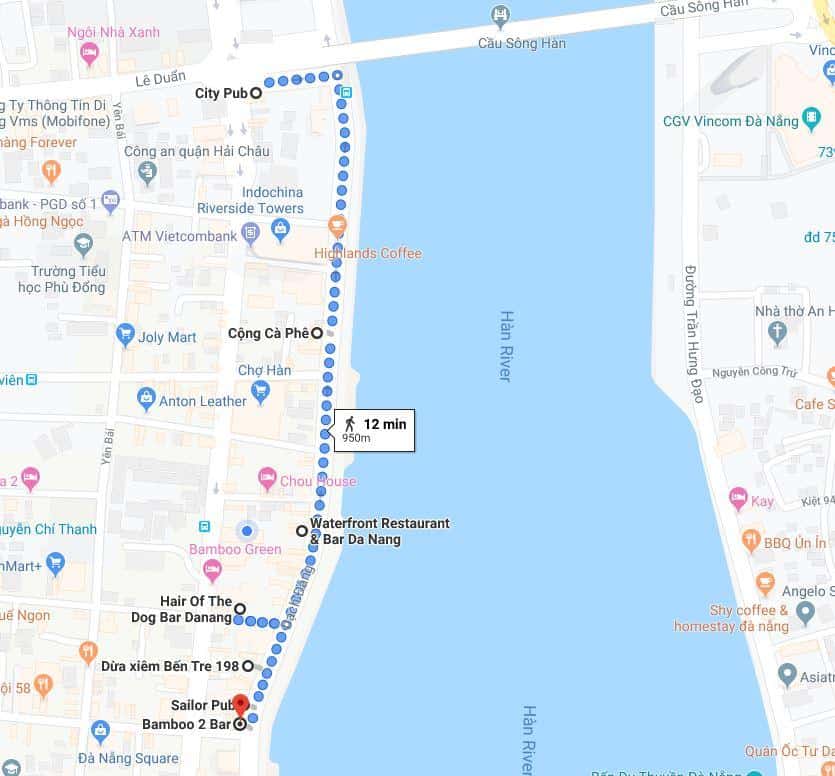 Waterfront Restaurant & Bar Da Nang: There was a jazz band playing when we walked by.
Hair of the Dog Bar: Great spot for people watching for people in their 20s.
Dừa xiêm Bến Tre 198: Coconut Ice Cream.
Sailor Pub: Techno and House. Another great spot for 20 to 30 somethings.
Bamboo 2 Bar: Beer bar for 30s to 60s year olds.
Cong Ca Phe: 20 to 40 somethings listening to local music sipping tea.
City Pub: 20 to 40 somethings listening to industrial house.
Digital Nomads in Da Nang Life and Food
Click ==>here<== or on the below Google Map to see if you are near our favorite restaurants in Da Nang.
Here are the restaurants on the above map ordered with favorites on top:
#1 Quán Chay Ngọc Chi: $ Beef Pho. Best food in Da Nang. 30k Dong, $1.30 USD.
#2 Nhà hàng Chay R.O.M (Revolution Of Mushroom): $$ Have the Mi Quang here. OMG!
Brewman: $$$ Have the coconut ice cream coffee here.
Wet Market: Fruits, Vegetables, Meats: $ Near our hotel (every neighborhood has a wet market like this).
Grocery Store: $$$ This is a western-style grocery store. Buy everything you can at the wet market.
Vagabond Buddha's Kitchen: I didn't cook a single meal here. The vegetarian restaurants were so good and cheap we just ate out every meal. In Vietnamese, the word "CHAY" means vegetarian. So even in a neighborhood restaurant, if you can't read the menu, just point at the menu and ask the server, Chay?
Grab a free copy of my Ebook. You will learn how to save money living internationally.
Da Nang Facts and History
Here are some interesting facts about Da Nang Vietnam according to Wikipedia.
Da Nang is the fifth largest population in Vietnam. Da Nang has about 1 million people, 50.7% are women.
The Da Nang municipality is under the direct control of the central government of Vietnam.
Da Nang is within 62 miles of Hue, Hoi An, and My Sons, all three being UNESCO World Heritage sites.
Da Nang was known Cửa Hàn and Vietnam was known as Đại Việt during the Ly Dynasty from 1054 to 1400 and 1428 to 1804. During French colonial rule Da Nang was known as Turon.
During the Nguyen Dynasty, starting in 1802, the city was known as Da Nang. Gia Long, the first Emperor of the Nguyen Dynasty, was able to defeat the Trinh Lords of the north with the help of French volunteers, training, and technology.
Da Nang originated in the 2nd century AD under the Champa Kingdom, which held land from Hue to Vung Tau. The Cham territories were annexed by the Ly Dynasty by 1500 AD.
The Portuguese explorer Antonio de Faria visited Da Nang in 1535. Portuguese, French, and Spanish traders and missionaries regularly visited Hoi An by the 17th century.
By the early 19th century, trade with ships of foreign nations was mostly shifted from Hoi An to Da Nang under orders of Emperor Minh Mang of Vietnam.
In 1847, French ships invaded Da Nang alledging religious prosecution of Roman Catholic missionaries. The French were pushed out of Da Nang in 1860 but were able to take Saigon in 1862. Southern Vietnam was eventually ceded to France as Cochinchina under the Treaty of Saigon.
By 1887, the French had firmly established the colony of Indochina, with Da Nang being one of the five major cities of Hanoi, Saigon, Haiphong, and Hue.
The Americans showed up in Da Nang in 1965 and built a large army and airforce base here. Da Nang served as the supply and attack base for the Americans. During the Vietnam War, Da Nang became one of the world's busiest airports averaging over 2500 flights per day.
The Viet Cong was able to push the Americans out of Vietnam by 1976. Da Nang was under complete Vietnamese control by March of 1975.
The Vietnamese were able to push out many very strong invading forces including the Chinese, the French, and the Americans. An amazing fact, no matter where you stand politically.
Vietnam issued the "Total Liberation" postage stamp in 1976.
Many companies worldwide think of Vietnam when developing offshore goods and services. Because of operational costs, Vietnam is a great place to source products and services as expenses increase and trade policy deteriorates with China.
If you are interested in the subject of present moment awareness, my new videos on that subject are now being posted at my new Present with Vagabond Buddha Youtube Channel.
Please subscribe to VagabondBuddha.com or our Youtube Channel to watch us move around the world. 65 countries so far.
Watch the below video to learn how to retire cheap in paradise for pennies.
This is Dan of Vagabond Buddha. Thank you for reading our retire in Da Nang for cheap guide. The world is your home. What time will you be home for dinner?