In this report, I share my estimated Tamarindo Costa Rica cost of living including rents, utilities, groceries, restaurants, transportation, and entertainment. But first, I will show you around town so you get a feel for whether or not you are interested in Tamarindo Costa Rica.
We are presently touring around Central America identifying the best places to retire cheap in Paradise. We completed tours of the Dominican Republic, Panama, Costa Rica, and Nicaragua and we will soon be ranking our favorite places in each country and our favorite places in all of Central America.
Please subscribe if you are interested in the best places to live a more interesting life on less money. That is what we do. I left the USA in 2007 and I have been all over the world writing reports about the best places to retire cheap in paradise.
We will discuss our general thoughts on Tamarindo while we show you around town. Then we will give you our estimated cost of living here.
Our first three stops in Costa Rica were Uvita, Quepos, and La Fortuna. We picked Tamarindo because it is on the other side of the spectrum from places like Quepos and La Fortuna. Tamarindo is one of the more expensive beach villages where people go that are interested in beach life, modern amenities, and being around other ex-pats.
Tamarindo has a higher concentration of both locals and foreigners that speak English. Plus, unlike Uvita, the beaches in Tamarindo are free.
Tamarindo is a small touristy beach town in the north of the Guanacaste Province of Costa Rica situated right on the Pacific Ocean as shown on the Google Map below.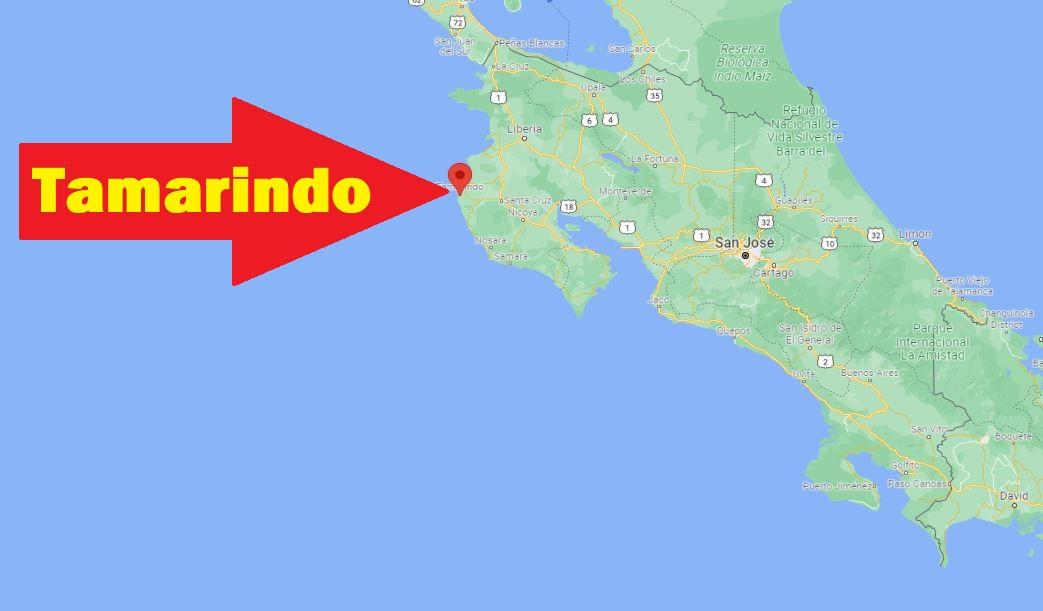 Tamarindo is mainly just a temporary expensive tourist stop in Costa Rica for beach lovers looking for a relaxing beach vibe, but there are also some ex-pats that live or have retired here.
First, I will share my estimated costs of living in Tamarindo, Costa Rica.
After that, I will show you a map of the beaches, our favorite restaurants and grocery stores, the Tamarindo Farmer's Market, Tamarindo Night Market, our livability factors, and where we stayed.
Cost of Living in Tamarindo Costa Rica
Here is my estimated cost of living if Qiang and I were to live in Tamarindo Costa Rica. But we are all different, so you will have to visit and do an exploratory visit in order to estimate your estimated cost of living here.
Rents: To rent an unfurnished 1 bedroom apartment, you will have to pay around $700-$1200 per month. I will use $900 per month for rent which does not include utilities. I also provide a link to my report about how to find perfect apartments around the world.
Utilities: This is at sea level so it would be difficult to avoid air conditioning completely. I estimate my electric bill would average around $150 per month which includes water and gas.
Groceries: Based upon our time here and the money we spent on groceries, we estimate about $475 USD per month on groceries for two people.
Restaurants: If we went out to eat twice per week, once for date night and once for a lunch somewhere, we would spend about $60 per week or $250 per month in restaurants for the two of us. There are not many mom-and-pop local restaurants like you will find elsewhere in Costa Rica.
Cell Phone Data: The cost to recharge prepaid service is about $20 USD per month for Claro Service. My android phone will act as a hotspot so we can both be on the internet at the same time when we are out of the house together.
Laundry: We could send our laundry out once per week for about $20 to wash, dry, and fold, so about $80 per month.
Water: We would spend about $20 per month on bottled water.
Internet: The Internet will be about $70 per month depending on how fast you need your service.
Transportation: Everything you would want in Tamarindo is fairly walkable. So we would pay about $60 per month in transportation since we would ride our bikes and local buses mostly, but would spend some money on taxis to get groceries home or in a hard rain.
Alcohol (Optional): Local beers in Tamarindo are about $1.50 USD in stores. If you watch and buy in bulk on sale you may save a little. But in bars and restaurants, beers run about $3 to $6 USD. So for two people, we estimate about $150 USD per month for alcohol since we would drink more at home.
Entertainment (Optional): There isn't much to do in Tamarindo for free except the beach. Many forms of entertainment require money. So we would budget about $300 per month for entertainment for the two of us.
| | |
| --- | --- |
| Tamarindo | Expense (USD) |
| Rent | 900 |
| Groceries | 475 |
| Utilities | 150 |
| Restaurants | 250 |
| Cell | 20 |
| Laundry | 80 |
| Water | 20 |
| Internet | 70 |
| Transportation | 60 |
| Recurring Total | $2025 |
| | |
| Alcohol (Optional) | 150 |
| Optional Total | $2175 |
| | |
| Entertainment (Optional) | 300 |
| Optional Total | $2475 |
The above cost of living is for 2 people but is just an estimate on the low end. For a full understanding of what it would cost you to live here, visit Numbeo Tamarindo and add anything you spend money on in your home country that is not mentioned in the table. Our costs of living are generally much lower than a new traveler's because we are great bargain hunters but there are a few people that live cheaper than we do.
One of our Youtube friends reported $500 USD rent for a small cottage.
Never move anywhere until you have visited first personally to verify the living costs for your lifestyle and needs. I am not guaranteeing these prices. These are just my notes and estimates from the time of my visit and this post. Your costs will likely be drastically different depending on your lifestyle and the time since this post.
More typical living costs in Tamarindo range from about $2000 to $5000 per month. But people spending that much also have higher incomes or pensions. They often report spending more on entertainment, eating out, and alcohol. Many also have more expensive cars, houses, or apartments.
If you are going to try to retire cheap offshore, make sure to read my report, the Two Biggest Risks of Retiring Early for Cheap Offshore, which explains why you should have emergency funds available for unexpected large expenses.
Best Beaches in Tamarinda Costa Rica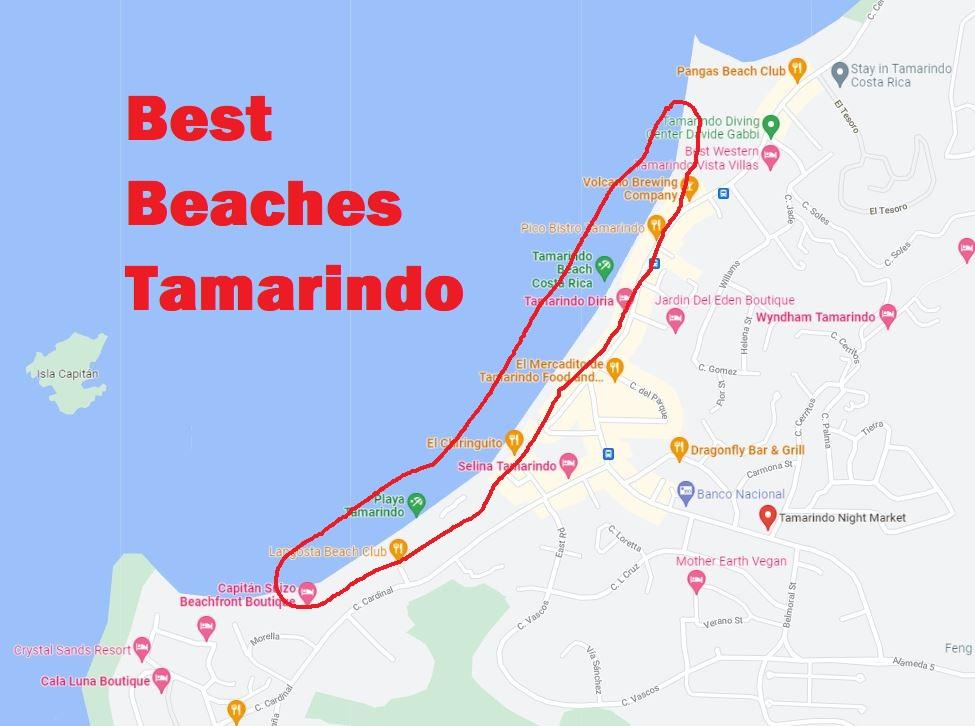 You will probably laugh at my map. Basically, the beach spans from one end of the town to the other. It will not be difficult to find you favorite spot. The whole thing is a beach, so just start walking in along the sand and pick your favorite places.
There are no white sand beaches in or around Tamarindo.  There seem to be more shaded areas and privacy as you move along to the south.
Tamarindo's Night Market and Farmer's Market
Above is our Google Map of the Tamarindo night market and farmers market. You should really see both not just for entertainment but to get a feel for who lives in Tamarindo and the various ways they interact and make money.
Don't expect the lower prices you will find in more local markets around Costa Rica like in San Jose and other less-touristy towns.
The hours of each has varied recently because of the pandemic but the Farmers market is normally open from 7 AM to 1 PM on Saturdays. The night market is normally open Thursdays from 6 to 9 PM.
Tamarindo's Food Court and Strip Mall
The food court has about 10 different restaurants and bars and is just one block off the beach as shown in the above clickable Google Map. There are places open in the food court from about 8 AM to 11 PM.
The strip mall in the above map is open from about 9 AM to 7 PM. If you walk to the back of the food court there is short cut into the strip mall area.
Tamarindo's Best Nightlife
There are two stops on the above nightlife suggestions Google Map. The first is a place on the beach that has 2 for 1 happy hour drinks. The second is a beer brewery that has live music and great beer.
Tamarindo's Best Restaurants and Grocery Stores
Here are links below to our favorite local restaurants in Tamarindo. In Costa Rica, the local restaurants are called "Sodas." The meal of the day is called a Casada. They usually come in pork, chicken, beef, or vegetarian and run from $4 to $5 USD. But we did not see many here in Tamarindo. Tamarindo seems to be catering mostly to people with higher budgets and less interest in local Costa Rican food and culture.
Best Breakfast: Nogui's Restaurant: On the beach.
Best Nachos: Papagayo Bar (Happy Hour). Not on Google Maps but is next door to this restaurant.
Delicious Healthy Food: Pico Bistro Tamarindo. Great wifi!
Here is where we shopped in Tamarindo for groceries.
Vindi Tamarindo: This grocery store seemed expensive to us but had a nice selection.
Super Compro Tamarindo: This grocery seemed to have better prices overall.
Fresh Fruits and Vegetables: You may prefer the prices and quality of fruits and vegetables at the Tamarindo Farmers Market (Map above).
Tamarindo Livability Factors and Retirement Desirability Score
Here are some of the factors I think about when I consider a place for early retirement potential. After I discuss each factor I will assign an overall retirement desirability score to Tamarindo.
Walkability: High Desirability I love living in walkable areas of the world where you can walk to restaurants, grocery stores, nightlife, parks, and other interesting things to do. Tamarindo is completely walkable. We would probably just purchase bicycles if we lived here.
Internet: High. The Att Speed Test in our apartment WIFI was 8 Mbps download speeds and 5 Mbps upload speeds. So the Internet speeds were all we needed for our purposes.
Food: Medium. There is a fairly good selection of international restaurants. The prices seem very high to us compared to other parts of Costa Rica so we are only giving a medium score. We had really begun to enjoy the local restaurants for $4 to $5 USD per entree in other parts of Costa Rica, but that didn't seem to be an option here in Tamarindo. the international foods seem pricey with most meals starting at $10 to $20 USD.
Weather: Medium. The best time to visit Tamarindo is late May through October. The warmest months are January through April when daytimes average around 30C, 86 F, and nights average around 23C, 73F. The other months are just a little cooler with average daytime highs around 25C, 78F, and night lows average around 18C, 65F. The rain falls mainly from mid-December through mid-April but is fairly dry compared to other cities in Costa Rica. Make sure to visit during both seasons before deciding to live here.
Things to Do: Medium. Surfing, kayaking, standup paddleboarding, fishing, swimming, canopy, biking, live music (some), cooking, gym, yoga, restaurants, running, shopping, coffee shops, dirt biking, quads, and hiking. Although there is some kitesurfing in Tamarindo it is not as good as surfing.
Healthcare: Low. There is only rudimentary medical services in Tamarindo. If health is an ongoing concern for you, you will want to live closer to San Jose, Costa Rica, which is about 5 hours away by car. The bus to San Jose costs about $10 USD. Once you become a resident of Costa Rica, you can sign up for public healthcare which costs 7 to 11% of your income or pension if you are retired. Healthcare is one of the major reasons many retirees move to Costa Rica.
Social Considerations: High. If you decide to retire in Tamarindo, you will want to learn some Spanish. You will find many people in day-to-day life that speak some English in Tamarindo, but your life will be more full if you are able to communicate meaningfully with everyone around you.
Expats: Medium. There are several Facebook groups for ex-pats living in Costa Rica. Search fr "Tamarindo Expats" on Facebook. I suggest people join these groups to ask questions and get answers to questions that only an ex-pat would know. But make sure to make friends with both locals and ex-pats for a richer experience living here. I explain why in my report, The Top 10 Mistakes International Retirees Make.
Real Estate: High. On the day I wrote this report, I was curious how much a small house or Condo would cost in or near Tamarindo. So, I used Google to translate "Homes for sale in Tamarindo Costa Rica" into Spanish, "Casas en venta Tamarindo Costa Rica" and the only thing for sale I could find under $150,000 was a condo in Santa Cruz. Santa Cruz is about 20 minutes drive inland from Tamarindo.
But I never recommend buying real estate until you have lived somewhere for at least 2 to 3 years. In fact, I have a report explaining Why Retired Expats Should not Buy Real Estate Overseas for the first 2 to 3 years of living somewhere new overseas. Make sure to read that before deciding to buy real estate overseas.
Visa: High. Citizens of many countries are given a 90-day visa-free tourist stamp upon arrival in Costa Rica. If you fall in love with Costa Rica during your exploratory visit and decide to stay you will need to apply for your retirement visa. The retiree residence status has no minimum age requirement but you must show a permanent income from pension, retirement funds, or social security of $1,000.00 USD per month along with police clearance.
Safety: High. Costa Rica is generally one of the safer countries to live or travel to in Central and South America. Costa Rica was ranked 39th in safety on the Global Peace Index for 2021. But make sure to read my report on how to travel the world safely, including in your home country. I provide all of my tips and tricks that have kept me safe for 14+ years traveling the world.
Tamarindo Costa Rica Overall Retirement Desirability Score: Low. Tamarindo is not that interesting to me personally. I understand why people like to vacation here but it is just too touristy and expensive for most people to retire. But if you have the money and are looking for a modern beach community with not much else to do but enjoy the beach and international restaurants, then Tamarindo would be high for you. There is not much in the way of Costa Rican culture here.
Where We Stayed
We stayed in this Airbnb in Tamarindo. We enjoyed the place but it is just not a sustainable budget for us long term at $75 USD per night. So rent something just for the first week or so and then read my report about how to find perfect apartments around the world. You will almost never find the best long-term deals on Airbnb.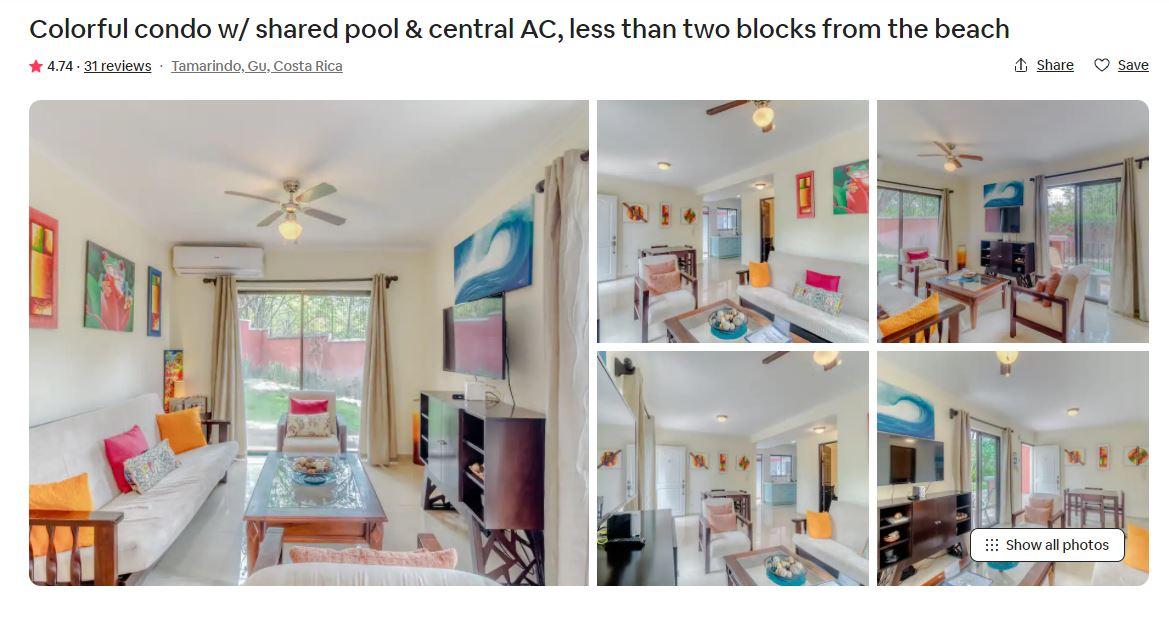 Thanks for reviewing our report, Tamarindo Costa Rica Cost of Living.
Please subscribe to VagabondBuddha.com or our Youtube Channel to watch us move around the world, 14 years and 67 countries so far.
This is Dan of Vagabond Awake, the Youtube channel for VagabondBuddha.com. Thank you for stopping by. The world is your home. What time will you be home for dinner?