–>Tangier Morocco Free Walking Tour Video and Map
–>Tangier Best Area to Stay
–>Digital Nomads in Tangier
–>Tangier Facts and History
Best Travel or Retire Cheap in Paradise Locations in the World
[kkstarratings]This is Dan from Vagabond Buddha. This is my things to do in Tangier Morocco guide.
Things to do in Tangier Morocco
Tangier Morocco Free Walking Tour Video and Map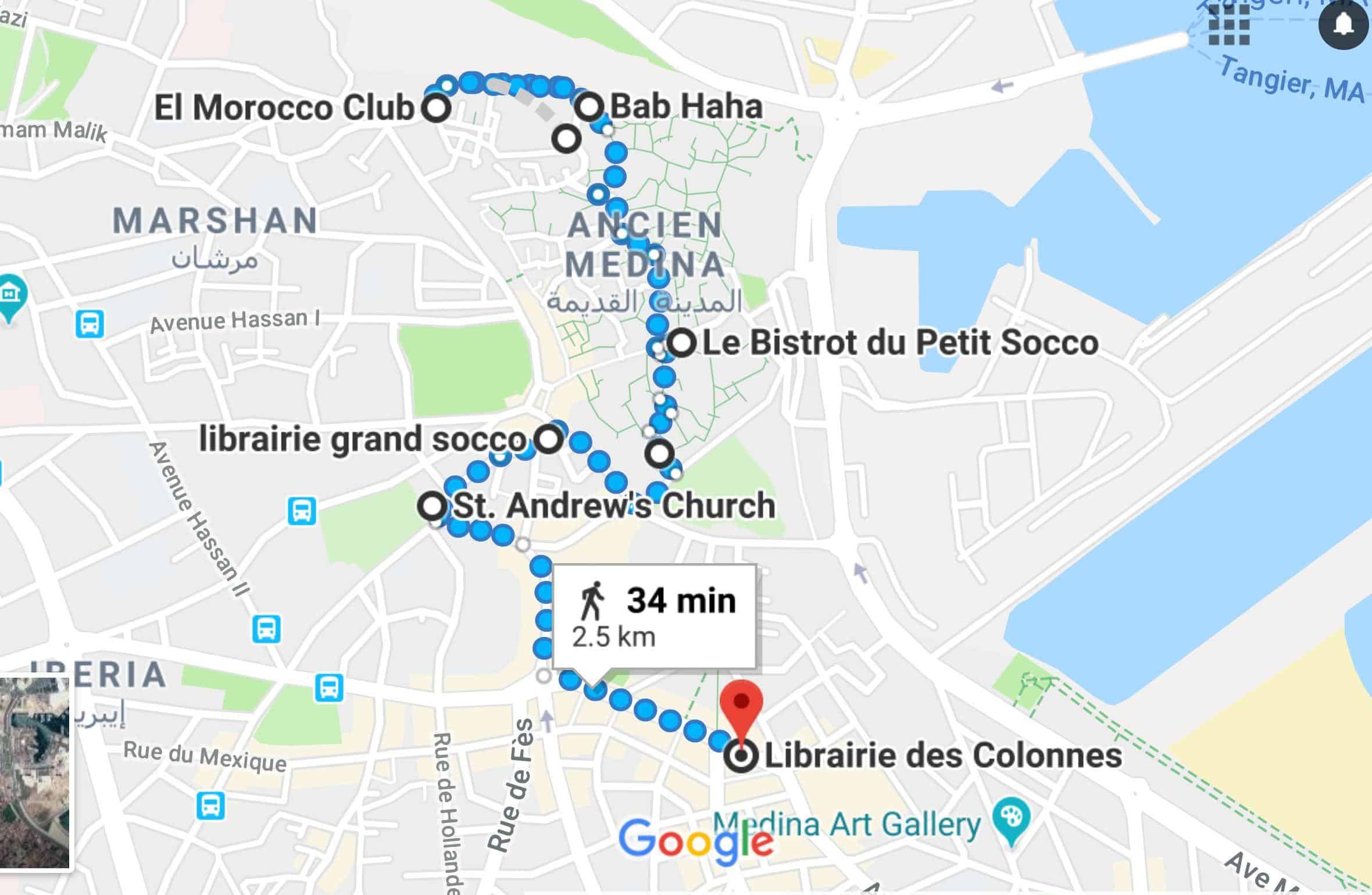 Here is my free Tangier old medina walking tour. The video and map are free. Click the interactive Google Map on your smartphone to be guided on this tour.
Librairie des Colonnes: The city of Tangier has hosted a few generations of famous authors and artists and political idealists who were finding their place in the world. This books store was a social hub for many of them such as Paul Bowles, Mohamed Choukri, Tennessee Willams, Paul Morand, and Jean Genet.
St Andrews Church: Hassan I of Morocco donated land to British community of Tangier in 1880 to build a church. The church grew rapidly and a larger church was built in 1905, called Saint Andrews.
Grand Socco: Central market in the oldest part of the city.
Tangier American Legation Museum: Morocco was the first nation to recognize the United States as a sovereign nation when we broke from England. This property was given to the American government by the Sultan at that time in 1777.
Petit Socco:
Grande Mosquee of Tangier:
17th Century Palace (in the Kasbah): Located on the Place du Menchoar, now a museum, with artifcat from the stone age until the 20th century,
The Kasbah of Tangier: Enter through the Bab Haha gate. If you get lost suble uphill until you find one of the other gates, or babs.
Please book using our links to recommended flights, tours or accommodations. You will pay nothing extra, but we will earn a small commission. Your kindness in return for our shared knowledge is greatly appreciated.
Here are the tours available in Tangier company 1, company 2, from really expensive to really cheap.
Tangier Best Area to Stay
You should stay in a Riad inside the Old Medina walls while you are in Tangier. Here is the area I recommend staying.
I recommend the following places at each price point: High, Medium, or Low.
We stayed for 7 days in an Asilah about 40 minutes south of Tangier stayed. We had already stayed in several large cities in Morocco and we were ready for a colorful small beach community, so we stayed in Asilah. While in Asilah, we did a day trip to Tangier by shared taxi. It cost 20 Dms ($2 USD) per person to catch a shared taxi to Tangier. You can catch a taxi back to Asilah in the same spot they drop you in Tangiers. It is a large taxi hub with the names of each town shared taxis go to. It is the same price to go back to Asilah, 20 Dms. Here is the place in Asilah where you catch the taxi to Tangier. If you wanted to see where we stayed in Asilah just Google "Vagabond Buddha Asilah."
If you are enjoying this, could you please like it, share it, comment below, or subscribe? That will rank us higher in search engines so we can keep making these travel guides.
Digital Nomads in Tangier: Food, Experiences
We spent about 4 hours in Tangier. This video is of what we did other than the walking tour.
Grab a free copy of my Ebook. You will learn how to save and earn money living internationally.
Tangier Facts and History
Here is the Google Map of Tangier. Here are some interesting facts about Tangier from Wikipedia. I am in Tangier now.
Tangier is a large city in northern Morocco on the of the Strait Of Gibraltar across the water from Southern Spain. The Strait of Gibraltar is the water access to the Mediterranean from the Atlantic Ocean,
Tangier was a Phoenician colony in the 10th century BC. Berber tombs in the area around Tangier had Carthaginians jewelry as early as the 6th century BC signaling trade between the Berbers and the Carthaginians. By the 5th century BC, the Carthaginians were developing Tangier as an important port.
Augustus coins with Augustus heads and Latin script have been found in Tangier. Even Greek writings include reference to Tingis and its Berber origins. Tingis was occupied by Rome in the 1st century BC and was later Rome's provincial capital.
In the 8th century AD, the Shia Arab Idris I arrived in Tangier and moved south marrying into various Berber tribes and accumulating power. Idris' descendants ascended to power in Morocco over the next few centuries.
The Portuguese took Tangiers in the 15th century AD. The Portuguese possessions in Morocco passed into Spanish control after Portugal fell under Spanish control in a debt crisis in the 16th century.
Iberian rule of Tangier lasted until it was given to England's King Charles II as part of a Portuguese dowry of Catherine of Portugal.
English control of Tangier lasted until 1679 when 400 of their soldiers suffered from Gonorrhea from a "mighty pretty" whore. The English destroyed the city before surrendering the city to Morocco in 1684.
In 1828, the English had to blockade Tangier port in retaliation for piracy.
Tangier was an international protectorate for much of the early 20th century but was returned to Moroccan control in 1956. By the 1960s, Tangier was part of the hippie trail into Morocco. Since that time increased investment in Tangier has upgraded the international tourism.
I started living internationally over 11 years ago. If you would like to learn how to make money online, or how to live internationally possibly with less money than you spend at home, please subscribe to Vagabond Buddha, our YouTube Channel or get a free copy of my Ebook.
If you are interested in the subject of present moment awareness, my new videos on that subject are now being posted at my new Present with Vagabond Buddha Youtube Channel. The older videos are on the Vagabond Buddha Channel's Presence Playlist.
This is Dan of Vagabond Buddha. Thank you for stopping by. The world is your home. What time will you be home for dinner?
I am not offering you any of the above prices. These are just my notes and estimates from the time of my visit and this post. Your costs will likely be drastically different if significant inflation or deflation occurs or the market changes after this post. I will not update these numbers until I am on the ground again here, if ever.