–>Marrakech Free Walking Tour Video and Map
–>Marrakech Best Area to Stay
–>Marrakech Nightlife
–>Digital Nomads in Marrakech
–>Marrakech Facts and History
–>Tourist Scams in Marrakech: How to Avoid Them
–>Best Sahara Desert Tour from Marrakech
Best Travel or Retire Cheap in Paradise Locations in the World
This is Dan from Vagabond Buddha. This is my Best Sahara Desert Tour from Marrakech video, tour, and map.
Everywhere you go in Marrakech you will meet ambitious tour sellers offering a 3 day, 2-night tour to the Sahara Desert from Marrakech. You absolutely must go. The Sahara Desert and The Blue City (Chefchaouen) were the highlights of our trip to Morocco, so far. But we are still here as I write, so it is too early to tell the whole story.
Luckily, before we booked our tour we had read online that one day in the desert was not enough. I had spent almost a decade in the desert when I attended Arizona State University for my software and law school studies, so I knew about the magic of the sand. There is a serenity in the desert that defies description.
So we booked an extra night in a luxury tent at the end of the tour before we made our transfer to Fez. That turned out to be an amazing decision. I am not a tour operator. I am not guaranteeing you this experience. This is just what happened during our tour.
Here is the interactive Google Map of the tour destinations: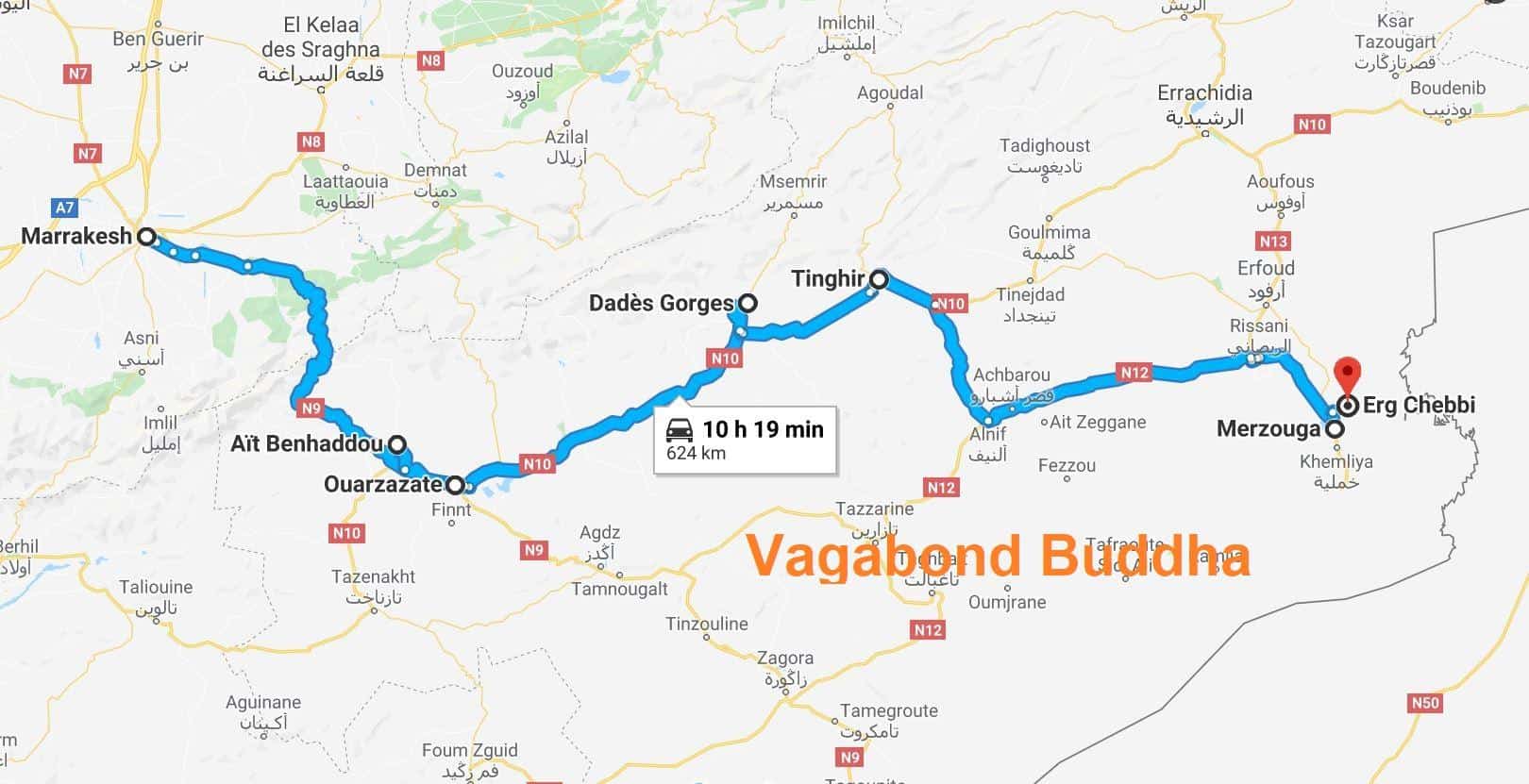 Day 1
You will be picked up from your accommodations in Marrakech around 7:30 AM. There is no formal breakfast, but there are frequent stops along the way and bathroom breaks. There is food for sale everywhere in Morocco. Our Airbnb host made us a simple breakfast at 6:30 AM.
Kasbah Ait Benhaddou: This UNESCO world heritage site has been here since the 12th century AD. For that reason, it provides a nice backdrop for such movies as The Mummy, The Gladiator, and Game of Thrones. The site of the tip-top of the hill is a grain silo that dates to the 5th century AD.
Ouarzazate: This is a city focused around filmmaking. It is where the hotels are where the actors sleep when they are filming movie/shows in Ait Benhaddou and other natural sites around the area. There a bunch of film studios here, but our tour guide said that most tourists say it is boring compared to film sets in California. So when we parked there, the tourists on our bus voted to skip a visit here in order to spend more time at other more at the following places.
Tinghir: We spent the night in Tinghir. Our hotel was rudimentary but we had hot showers and a private room to pass out. From what we heard, people in the other hotels had no hot water. The accommodations included dinner and breakfast.
Day 2
Villages east of Tinghir: We stopped at a village where a local guide told us about the village customs of the Berber people. The Berber people and the Nomad people were here in the 7th century when the Arabs showed up and brought Islam. Our Berber guide explained how the Berbers help keep the Nomad people in the surrounding mountains alive during the cold winters. The Nomads return the favor by giving sheep wool to the Berbers that are used to make the Berber carpets that are famous worldwide. Our Berber guide also told us about the marriage traditions of the Berber village people. After visiting a nearby gorge and having a $12 USD lunch, we headed east. It is likely that the guides get a free lunch and possibly a commission for bringing you to these expensive tourist restaurants. The local restaurants are less than half the tourist prices.
Merzouga: We arrived in Merzouga desert village and road our camels into the desert. Yes, the picture above is the shadow of our camels on the Sahara Desert dunes headed to our camp for the night.
Erg Chebbi: Upon arrival at the desert camp, we were served dinner and then we enjoyed an evening around the campfire listening to traditional Berber and Nomad songs. In the morning, we rode our camels back to Merzouga for Day 3.
Day 3
On day 3, our travel mates returned to Marrakech on a 10-hour minivan ride. But we stayed for another day and then transferred to Fez. We had heard that the desert was magical, so Qiang Hu booked us another night in a luxury tent. The driver of the luxury campsite picked us up at 9:30 AM and drove us to the luxury campsite.
Desert Heart Luxury Camp: The third night was in a luxury desert camp where the tents all had heaters and hot showers. The surprising thing was the quality of the food was so good.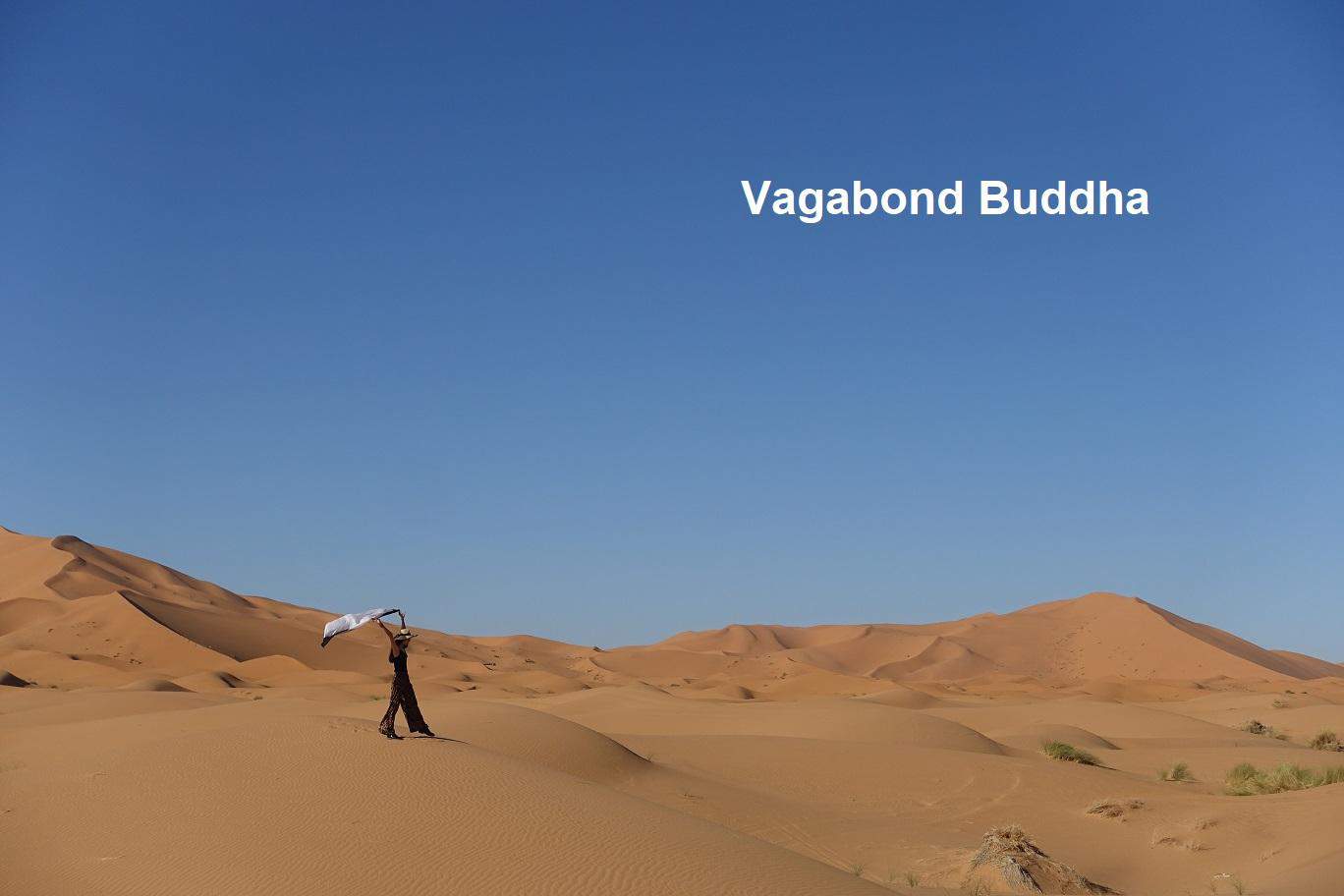 Instagram Pictures: We spent the third day enjoying the desert and taking pictures of Qiang Hui for Instagram (@qianghui). The next morning, we had a Berber omelet that was incredibly delicious.
Day 4
On day 4, we jumped into a shared taxi and headed to Fez. You can have your driver for the above 3-day tour set up your taxi transfer to Fez.
Please book using our links to our recommended 3 Day-2 Night Basic Tours and our 1 Day Luxury extension. You will pay nothing extra, but we will earn a small commission. Your kindness in return for our shared knowledge is greatly appreciated.
If you are enjoying this, could you please like it, share it, comment below, or subscribe? That will rank us higher in search engines so we can keep making these travel guides.