–>Fes Morocco Free Medina Walking Tour Video and Map
–>Fes Best Area to Stay
–>Digital Nomads in Fes
Best Travel or Retire Cheap in Paradise Locations in the World
[kkstarratings]This is Dan from Vagabond Buddha. Here is my things to do in Fes Morocco guide.
Things to Do in Fes Morocco
Fes Morocco Free Old Medina Walking Tour Video and Map
Here are the things to do in Fes Morocco. Above is the video of our Fes Morocco Free Old Medina Walking Tour Video and Map. This Fes video and map are free. Click the interactive Google Map on your smartphone to be guided on this tour.  Just so you know, Googe does a terrible job of getting you around Fez.  Normally, Google is amazing.
Andalusian Mosque: This is a 9th-century Mosque in the Old Medina of Fes that dates back to the 9th century.
Chouara Tannery: There were several tanneries on Google Maps. But our Airbnb host assured us this was the one to see. She was right. The local guide told us this was the oldest continuously operating tannery in the world.
Al Quaraouiyine (Karaouiyne) Mosque and University: Al Quaraouiyine was built in 859 AD and is believed to be one of the oldest universities. Most of the property is used as a Mosque now so non-Muslims cannot enter. However, the library was recently opened to the public so you can get an idea of the beauty of Moroccan workmanship. The library was closed when we were there and we are not sure why because there was no sign explaining why.
Al-Attarine Madrasa: This madrasa (religious school) was built in the 14th century. The door is located in the Al-Attarine Souk. You will not be able to enter unless you are Muslim This is a great souk to get your almost any Moroccan products.
Dar Batha: This former palace was t4urned into a cultural museum in 1915. It was one of the highlights of our walking tour because we were able to get inside and see the traditional craftsmanship and gardens, a water fountain, embroidery, carpets, ceramics, woodcarvings, and traditional mosaic tiles.
Bab Bou Jeloud: This is a known as the blue gate. It is called the Bab Abi al-Jounoud or Bab Bou Jeloud. It is an ornate city gate at the main (western) entrance to Fes el Bali, the old city of Fes, Morocco.
Dar el Makhzen This is the official palace of Fes where the royal family stays when they are in Fes. You can't go inside without an invitation from the royal family but many tourists visit the front door for selfies. The front doors are gigantic, made of brass and gold. They are surrounded by the traditional Moroccan tile and carved cedar wood.
Borj Nord: This ia a castle on the hill overlooking the old Medina of Fes. Borj Nord or Burj is a fort in the city of Fes, Morocco. It was built in 1582 by the Saadi dynasty, modeled after the Portuguese Forts built in the 16th century.
Please book using our links to recommended flights, tours (GetYourGuide, Viator Tours) or accommodations. You will pay nothing extra, but we will earn a small commission. Your kindness in return for our shared knowledge is greatly appreciated.
Fes Best Area to Stay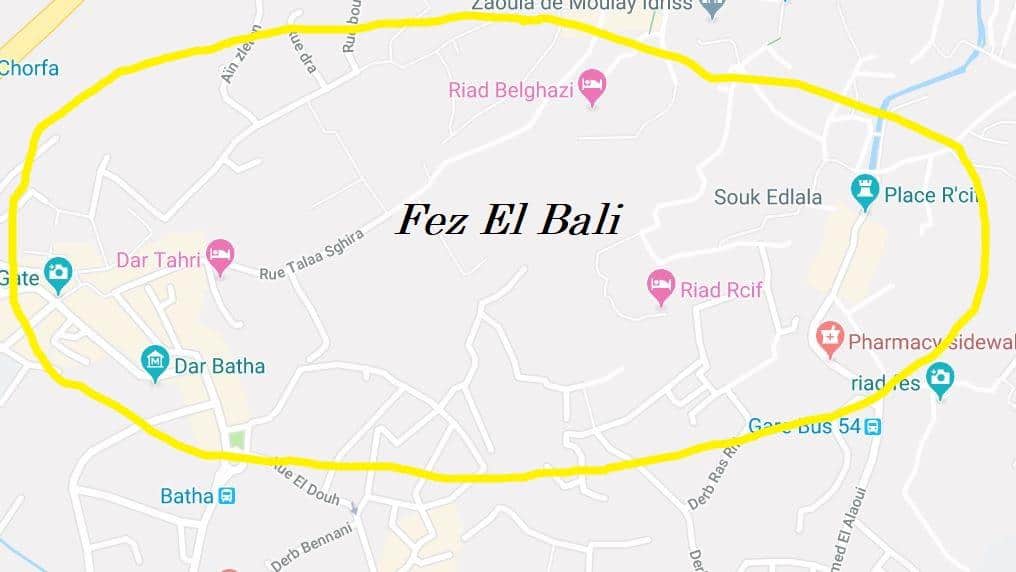 You should stay inside the Old Medina walls inside or very near the Fes El Bali area, if possible. Hopefully, you can stay in a traditional Riad and experience Fes like a Moroccan. When in Rome?
I recommend the following places at each price point: High, Medium, or Low
If you are enjoying this, could you please like it, share it, comment below, or subscribe? That will rank us higher in search engines so we can keep making these travel guides.
Digital Nomads in Fes: Best Food, Experiences
Fassie Délecie: We had a Morocco Salad and soup here and loved both. It was about 80 Dh for a full meal including tea for 2 people.
Berrarda Restaurant: Here is the restaurant featured in the above digital nomad video. This one is a nice experience because they take you in the kitchen and let you try various dishes until you pick what you want. This one was about 100 Dh for two people.
I started living internationally over 11 years ago. If you would like to learn how to make money online, or how to live internationally possibly with less money than you spend at home, please subscribe to Vagabond Buddha, our YouTube Channel or get a free copy of my Ebook.
If you are interested in the subject of present moment awareness, my new videos on that subject are now being posted here (older ones here).
This is Dan of Vagabond Buddha. Thank you for stopping by. The world is your home. What time will you be home for dinner?
I am not offering you any of the above prices. These are just my notes from the time of my visit and this post. Your costs will likely be drastically different if significant inflation or deflation occurs or the market changes after this post. I will not update these numbers until I am on the ground again here, if ever.