This Huatulco Mexico Cost of Living report includes livability factors, cost of living, and desirability score for early retirement.
I first came to Huatulco in 1984. I was living in San Diego, California and a friend asked me if I wanted to join him for a week at the Club Med in Huatulco. We had heard that it was a great place to meet single women vacationing from around the World. I said yes.
We had an amazing time. All the rumors about Club Med being a nice place for single people to have fun turned out to be true. Back then, I had a small business that required my presence and I was lucky to get a week or two off per year. So, I spent money like a drunken sailor on shore leave when I went on vacation.
Back then, nobody I knew was talking about working remotely around the or slow traveling the world. There were no digital nomads, no online businesses, or remote jobs. The Internet was invented in 1983, but nobody I knew had even heard of it back then.
Two weeks per year was all the time I got away from work back then. I was determined to light my head on fire and have a good time, and I did. Only a few of my buddies valued travel back then. So once per year or so, we would meet somewhere cheap and fun and try to cram a year of fun into a one week all-inclusive.
Then we would fly home and brag about it for 6 months before we started planning the next trip.
Fast-forward 36 years and things have changed. I have no home to go back to. My property is rented out to a tenant. Instead of traveling 2 weeks per year, I go home to see my family 2 weeks per year, if at all. I am outside my home country for 50 weeks per year. I communicate with people in 10 different time zones all over the world.
I no longer need to cram a year of fun into 7 days. I am living a permanent slow traveling semi-retirement. This month I am reporting on the Huatulco Mexico Cost of Living. You see, in addition to having fun, I also report on the best places to retire cheap in the world. You will find my reports on VagabondBuddha.com.
Huatulco Mexico Cost of Living
Here is an example Airbnb apartment for about $520 USD per month at the time of this post. Of course, you should be able to beat this price if you live like a local, with the locals, in and around La Crucecita area of Huatulco north of El Zócalo. Just walk that area and look for rent signs. You could also pay double or triple depending on where you decided to live and how much space you would like.
The hotels around the world have begun to heavily lobby politicians to enforce taxes on Airbnb landlords. This means you are going to have to rent whatever you can for a few days and then walk around the neighborhoods you like and deal directly with landlords to get rates as we pay. We dealt directly with a landlord and were able to get a comfortable 1 Bedroom apartment just 3 blocks from the Zocalo for $400 a month total including everything (electricity, Internet, water, etc.) That breaks down to $13.33 USD per night for everything. I will use that as my 1 Bedroom apartment rate in the estimate below. But don't expect to get that rate online.
Maybe you'll get lucky and the place we found will be vacant.  Send her an email to check availability:  mmolina28@hotmail.com.
The high-end restaurants in Huatulco average around 180 pesos ($9 USD) for an entree, local family-owned restaurants start around 80 Pesos ($4 USD), and you will see food cart type vendors starting for about 60 Pesos ($3.00 USD) in the streets north of the Zocalo.
With regard to local transportation, we didn't see collectivos here.  Taxis are about 35 Pesos ($1.75 USD), and there is no other practical transportation within the city. Since two of our favorite beaches are walkable from the Zocalo, we will compute just 20 taxi rides per month for low, medium, and high budget retirees.
Thus, a bare-bones cost of living estimate that includes only rent, 2 meals a day, and (Taxis as) local transportation is shown in the below table.
Estimated Cost of Living Table (Huatulco, Mexico)
| | | | | |
| --- | --- | --- | --- | --- |
| Expense | Cost | Low | Medium | High |
| Airbnb (month) | $13.33 | 0 | 14 | 30 |
| Hotel | $28.00 | 0 | 12 | 0 |
| Hostel (none) | $20.00 | 30 | 3 | 0 |
| High-End Restaurant | $9.00 | 1 | 4 | 8 |
| Neighborhood Restaurant | $4.00 | 30 | 44 | 48 |
| Food Cart | $3.00 | 30 | 12 | 4 |
| Subway (none) | $0.00 | 20 | 26 | 8 |
| Bus (Collectivo) | $0.00 | 20 | 10 | 0 |
| Taxi (No Grab or Uber) | $1.75 | 20 | 20 | 20 |
| Total | Per Month | $854.00 | $885.62 | $710.90 |
| Total | Per Day | $28.47 | $29.52 | $23.70 |
Here is a free report explaining, "How The Cost of Living Table Works."
The above table is for one month, for one person, as a temporary visitor. It only includes rent, 2 meals per day, and local transportation. For a full understanding of what it would cost you to live here, visit Numbeo for Puerto Escondido and add anything you spend money on in your home country that is not mentioned in the table. We are providing a Numbeo link for nearby Puerto Escondido because there is no data on Numbeo for Huatulco yet.
Never move anywhere until you have visited first personally to verify the living costs for your lifestyle and needs. I am not guaranteeing these prices. These are just my notes and estimates from the time of my visit and this post. Your costs will likely be drastically different depending on lifestyle and the time since this post.
Please book using our links to recommended flights, tours, or accommodations. You will pay nothing extra, but we will earn a small commission. Your kindness will encourage us to keep making these travel guides and videos.
Best Area to Stay in Huatulco
I like being in Mexico when I am in Mexico. So even if I could afford to retire at a beach-side resort, I wouldn't. There are very few Mexicans there, almost no family restaurants, and no family-owned fresh fruits and vegetables stands and stores. So, my favorite area of Huatulco is called La Crucecita. But within La Crucecita I have circled (in red) my favorite areas on this Google Map.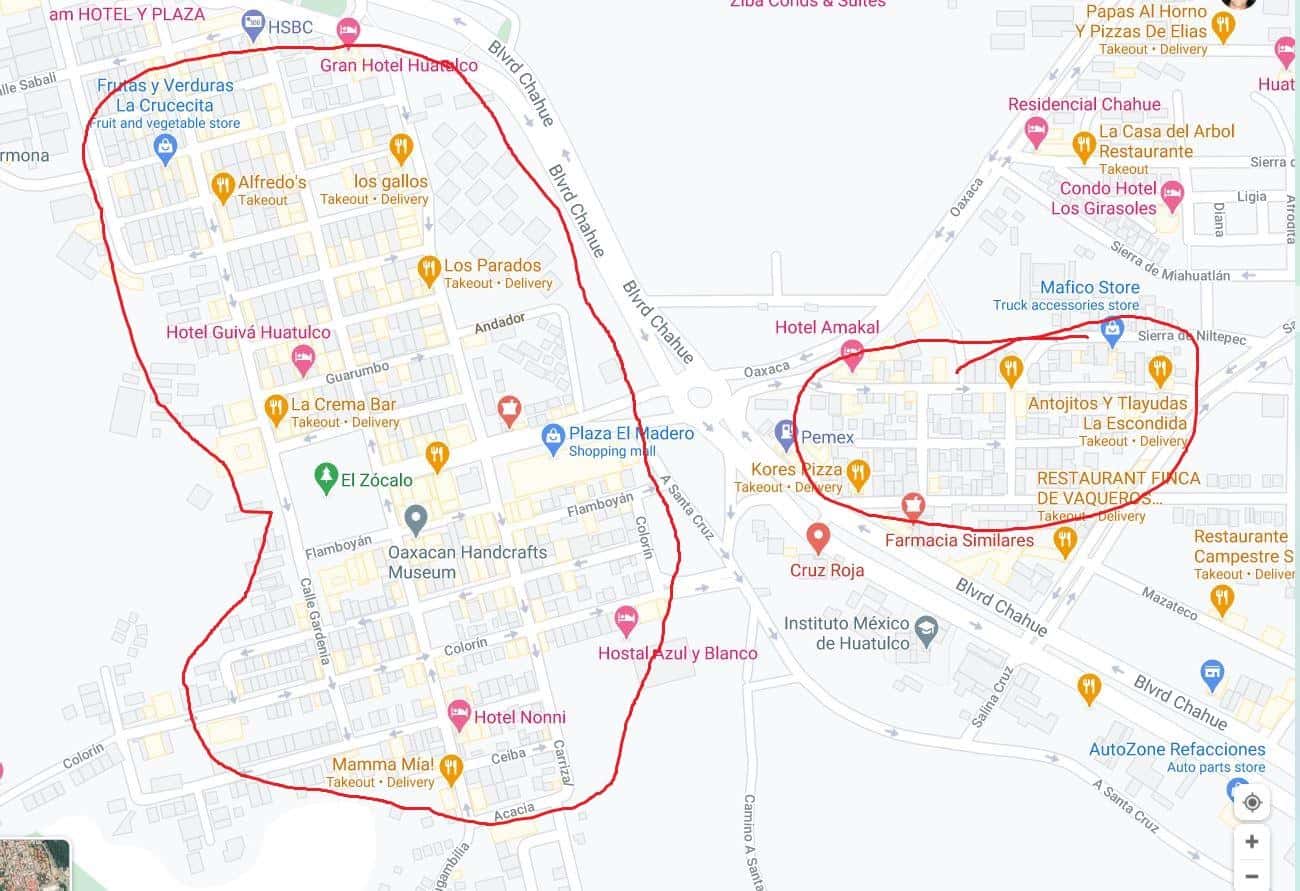 People come to Huatulco for the beaches. But in these more traditional Mexican neighborhoods circled in red above, you are only a 15-minute walk to two great beaches, Playa Santa Cruz and Playa Chehué. In Playa Santa Cruz, there are a bunch of fun restaurants and great people watching. Playa Chahue is a great place to bring your own food and drink and have a more intimate picnic. We walked everywhere in this area and felt safe day and night. But if you get tired or have had too much to drink, you can get a taxi all around this area of Huatulco for 35 Pesos ($1.75).
Cheapest Flights to Huatulco
We almost always get our cheapest flights on this Skyscanner. They have a web crawler that is constantly looking for the cheapest prices all over the world. As usual, we found the cheapest flight on Skyscanner. We started at the airport in Puerto Escondido and moved south through the coastal cities of Oaxaca.
Huatulco Livability Factors
Here are some of the factors I think about when I consider each place for retirement potential. After I discuss each factor I will assign an overall desirability score to Huatulco.
Walkability: High. My favorite area to live in is called La Crucecita. If you lived in La Crucecita you would be able to walk to the beach, restaurants, small fruit and vegetable markets, and the two large grocery stores, Chedraui and Sorianna. If you have too many groceries to walk home, grab a taxi for 35 Pesos ($1.75 USD).  Every taxi driver we encountered was honest about the pricing.  There was no gringo tax here.
Internet: Low. The Internet is an issue in the coastal areas of Oaxaca like Huatulco and the others. Most routers produce about 3 MBPS down and 0.5 MBPS upload speeds. It takes 6 to 8 hours to upload a YouTube video. We survived by saving our videos in lower quality which is not a long-term solution.
Food: Medium. There are a few really tasty restaurants in Huatulco but they are on the high side price-wise, starting around 180 Pesos ($9 USD). That is okay once and a while, but you better learn how to cook at home or get to know the family-owned restaurants (80 Pesos, $4 USD) around La Crucecita and the food carts (60 Pesos, $3 USD) if you want to maintain a low budget.
Weather: High. The average temperatures year-round don't fluctuate all that much. The cold season is Jan-Dec when nighttime lows average 72F/22C and daytime highs average 83F/29C. The warm season is May-Aug when nighttime lows average 77F/25C and daytime highs average 86F/30C. The rainy season is April through November.
Things to Do: Medium. If you enjoy the beach and water sports, you should be fine. If you are a cultural lover I would say medium or even low. Huatulco has golfing and more options for deep sea fishing as compared to other beach communities in Oaxaca. There also seems to be more private-ish beaches around Huatulco because they are harder to get to.
Social Considerations: Medium. Huatulco is not the best place in the world to be single, but you will be able to make friends. Life here is pretty much centered around the beach and is too transient in general for relationships to develop naturally. You will want to learn Spanish if you decide to settle here.
Expats: Medium. If you like hanging out with expats, you will find them through various Facebook pages: 1, 2. New FB pages pop-up all the time so search on Facebook for "Huatulco Expats." Facebook is a good place to go if you have a very specific or odd question I have not answered here.  Just join one of the pages and post your question.  You can do that before you even visit here.
Real Estate: Property starts here for around $80k but you can easily spend $200k USD. I never recommend buying until you have lived somewhere at least 3 years. Read this to better understand why I don't recommend buying outside your home country.
Huatulco Desirability Score: Medium. The reason I love Mexico so much is that it has one of the richest cultural histories of all countries in the Americas, both pre-and post-Spanish invasion. There doesn't seem to be as much of that in this part of Oaxaca as you will find near Oaxaca City. Instead, Huatulco would be a great place for people that are most comfortable in a smaller town with a life centered around the beach. Think of it more like a nice quiet oasis that you come to for a few months every year to recharge your batteries.
Huatulco Facts and History
Huatulco is on the Pacific Ocean in southern Mexico in the State of Oaxaca. Oaxaca City, the capital of Oaxaca State, is my favorite city in Mexico. The state has a high concentration of indigenous people which translates into a colorful pre-hispanic history, delicious distinct foods, and beautiful arts, crafts, customs, and music.
There is a 2500-year-old archaeological site and Museum preserved about 10 km (6 miles) east of Huatulco along the coast. It is the first stop on our Mud Bath Beach Tour though we were surprised to be turned away from the archaeological site and Museum, which were closed for visitors due to COVID 19 when we were here.
In modern times, this population of 50,000 people in Huatulco is where the foothills of the Sierra Madre which travel south from California dominating the Pacific Coast of Mexico, expire into the sea, with little fanfare.
Oral legends that survived with the indigenous people dictate that the Toltecs and the Quetzalcoatl people controlled this area in their respective millennia, including the Chatmos, the Zapotecs, and the Mexicas cultures.
Today, about 80% of the tourism in Huatulco is national and only about 20% is international. The international airport of Huatulco has helped popularize the backpacker tour of Oaxaca, including Huatulco, Zipolite, Mazunte, and Puerto Escondido.
Huatulco has nine bays and 36 beaches which keep tourists interested for weeks if not months.
West of one of the most frequented beaches, Playa Santa Cruz, is a national park, Parque Nacional Huatulco. There are 723 species of animals and fish live in the park and you can hike and scuba dive. Huatulco was the first sustainable tourist community in the Americas, and third in the entire world. Many of the protected beaches in the national park are only accessible by boat. We take you on our seven bays boat tours to show you this beautiful national park.
Please subscribe to VagabondBuddha.com or our Youtube Channel to watch us move around the world. 65 countries so far.
This is Dan of Vagabond Awake, the YouTube channel for VagabondBuddha.com. Thank you for stopping by. The world is your home. What time will you be home for dinner?