Click links to jump ahead:
–>Coimbra Livability Factors
–>Coimbra Cost of Living
–>Coimbra Best Area to Stay
–>Coimbra Best Tours
–>Coimbra Walking Tour Video and Map
–>Coimbra Nightlife (Bar Hopping) Tour
–>Digital Nomads in Coimbra: Best Food, Experiences
–>Coimbra Facts and History
Best Travel or Retire Cheap in Paradise Locations in the World
[kkstarratings]This is Dan from Vagabond Buddha. This is my retire in Coimbra Portugal guide.
I have visited or lived in 65 countries. I find and write about the best live or retire cheap in paradise locations in the world. Please subscribe to our Vagabond Buddha Youtube Channel to follow my travels. The present moment awareness videos are posted here now, or click the presence tab above.
Coimbra Livability Factors
These are the factors I consider when thinking about whether or not I could retire in Coimbra Portugal. I call them my livability factors.
This section reminds me to rank each livability factor before I leave a place. I rank each factor as low, medium, or high. Then I compile the scores and rank each destination as high, medium, or low. A destination ranking includes my gut feeling about a place.
From time to time, I also compare high desirability places to each other. Here is my analysis for Coimbra.
Walkability: High. Coimbra is very walkable.
Internet: Speed Test. The Internet is fast in Portugal. If you have trouble it may be because you are in a building made of stone. So make sure you are really close to the router or bring a cable with you to plug in.
Food: Medium. There are 150,000 people in Coimbra proper. There are some great restaurants but towns of this size generally don't provide as many international food choices. That is the case here.
Weather: High. August is the warmest month with an average high of 84F, 28C, and it cools down at night to an average low of 59F, 15C. Because the temperature often drops at night in the warmest months, you may not need your AC. The heat will surprise you from time to time. January is the coldest month with an average low at night of 41F, 5C but the daytime average in January is 57F, 15C. The rainy season is October through February when it rains 4-5 inches (100-130 mm) per month on average.
Things to Do: High. Coimbra is a university town (14% of the population) with a strong tourism influence. Those two factors provide a fairly high diversity of cultural arts for a town of this size. So I am calling Coimbra high for things to do. If you like smaller towns, it probably doesn't get any better than this. If you like larger downs, you might only rate Coimbra as a medium.
Social Considerations: High.
Expats Penetration: Medium. Most of the non-university visitors are more transient in nature, rather than being expats.
Real Estate: High. You can get fairly close to the old town area for under 100k Euros for a 1 bedroom apartment.
Coimbra Desirability Score: My retire in Coimbra Portugal desirability rating is High. Definitely a high for people that feel comfortable in a population of under 200k people. Personally, I view Coimbra more as a spot I would visit for a few weeks or months, rather than as a home base. I would prefer to live in one of the larger cities in Portugal. Subscribe to find which city in Portugal is our first choice. We have two more stops before we rank the cities in order of favorites.
Coimbra Cost of Living
In addition to having a high desirability score for places to retire, Coimbra Portugal also has a relatively moderate cost of living.
This table is a compilation of my own search and experience while I was in Coimbra along with some data shared by Numbeo. The data below is static. It isn't updated in real time. Significant inflation since my last visit would render this table inaccurate.
Monthly Cost of Living, Coimbra, Portugal ($USD)
| | | | | |
| --- | --- | --- | --- | --- |
| Expense | Cost | Low | Medium | High |
| Airbnb/1 Bedroom/per day | $30.00 | 0 | 14 | 30 |
| 1 Br Apt/Lease/per day* | $23.00 | 0 | 12 | 0 |
| Hostel/per day | $18.00 | 30 | 3 | 0 |
| High-End Restaurant | $12.00 | 1 | 4 | 8 |
| Neighborhood Restaurant | $10.00 | 30 | 44 | 48 |
| Food Cart | $7.00 | 30 | 12 | 4 |
| Subway/Train/Metro | $1.65 | 20 | 26 | 8 |
| Bus | $1.65 | 20 | 10 | 0 |
| Taxi/Uber | $6.00 | 6 | 10 | 20 |
| Total | Per Month | $1,164.00 | $1,441.40 | $1,637.20 |
| Total | Per Day | $38.80 | $48.05 | $54.57 |
The above numbers are for one person and do not include alcohol, tours, or extras. I do not guarantee these prices for anyone. Here is a link explaining how the table works.
*A 1 Bedroom apartment including a 12-month lease is estimated at $600 USD + $70 Utilities, or $26 per night. We saw a 1 Bedroom condo posted for sale in a real estate office window for just under 100k Euro. But we do not recommend buying until you are positive you will stay for at least 5 years.
Please book using our links to recommended flights, tours, or accommodations. You will pay nothing extra, but we will earn a small commission. That will encourage us to keep making these travel guides and videos for you.
Coimbra Best Area to Stay
You should stay within the Orange area if possible.  Streets are steep so be careful in the rain. If you are healthy and mobile and you can walk a little further, you can stay inside the red. The following recommendations go from most to least expensive. After that, we tell you where we stayed.
Here is a great boutique hotel just under the university. If you prefer to stay in a luxury suite at about this same price point, check out this place.
For the money, this one may blow your mind. Check out the ratings on this low priced guest house.  Here is a hostel that is right in the center.
We stayed in this Airbnb in the (above) redzone for crazy cheap and loved it. Check out our below Digital Nomad video for a video walkthrough of this place. (If you are new to Airbnb, use this code http://www.airbnb.com/c/dbell50 for a big discount).
If you are enjoying this, could you please like it, share it, comment below, or subscribe? That will rank us higher in search engines so we can keep making these travel guides.
Coimbra Best Tours
Guided Tours
If you just want to take a day tour from Porto that visits Coimbra and Fatima, then this one is a best seller. Here are many other choices for Coimbra.
Self-Guided Tours
Coimbra Old Town Walking Tour
Here is the Youtube video of our Coimbra Old Town Walking Tour.
Click the interactive Google Map on your smartphone to be guided on this tour.
Quinta das Lagrimas: This is a 30-acre estate with a place that has been converted into a luxury hotel. At one time it was a hunting ground for the royal family. It was later purchased by a wealthy family who built eh palace. The name translates into "estate of tears." It comes from a legend of a love affair between the son of King Alfonso IV and the son's mistress. The King had the mistress killed. When the son became King, he had her body exhumed and put on the throne next to him. The fountain, "Fonte Das Lagrimas," or Fonte do Amores, is where she was slain. The estate is reportedly haunted by her ghost.
Monastery of Santa Clara-a-Velha: This monastery was originally founded in the 14th century by Queen Elizabeth of Portugal. It was too close to the river and had to be abandoned in the 17th century. The monastery was built further up the hill. The ruins of the old convent were excavated this century and can be seen on the left bank of the river.
Camara Municipal (Praca 8 de Maio) (Main Square): The square is called May 8th because that was the day liberal troops entered the square liberating the city during the Portuguese Civile War ending in 1834. Town Hall is in this square.
Old Cathedral of Coimbra (Sé Velha de Coimbra): Construction of this church began after Afonso Henriques declared himself the King of Portugal in 1139. In 1185, King Sancho I, the second King of Portugal was declared King in this church. This is one of the few pre-Reconquista Portuguese cathedrals to survive intact until today.
Machado de Castro Museum: This national museum in Colimbra is named after the Portuguese sculptor Joaquim Machado de Castor. The museum is inside the former Bishop's palace. which was formerly the bishop's palace, which itself was built on top of the former Roman forum
Cathedral of Se Nova: The new cathedral of Coimbra is the current bishop's seat for the city of Coimbra. The new cathedral was built by the Jesuits in 1543. In 1772, the cathedral status transferred from the old cathedral to the new. The facade of the new cathedral has inspired cathedrals built in the Americas.
If you are enjoying this, could you please like it, share it, comment below, or subscribe? That will rank us higher in search engines so we can keep making these travel guides.
The University of Coimbra, founded in 1290. Coimbra is the city of students, 20,000, about 10% foreigners, from 70 different countries. Make sure to see the Baroque-era Library when you visit the university. It is one of the main tourist's attractions in Coimbra.
Aqueduct of San Sebastian: This 16th-century aqueduct was built on the same footing of a 3rd-century Roman aqueduct. It connected the hills where the Castle of Coimbra was located.
Botanical Garden of the University of Coimbra: This garden was established by the Marquis of Pombal in 1772 and has remained managed by the Botany Department of the University since its inception.
Your Homework: Wander aimlessly through the streets of Coimbra and share something in the notes below this post. It could be an experience, knowledge, food, or whatever you desire.
Coimbra Nightlife (Bar Hopping) Walking Tour and Map
Here is a beginners Coimbra Nightlife walking tour. Just click the below map or ==>this link<== on your smartphone. After you click the link, just explore the places shown below to find the music or crowd that you enjoy most. It's a small town so don't expect much. Feel free to go off the path and trust years ears above all else.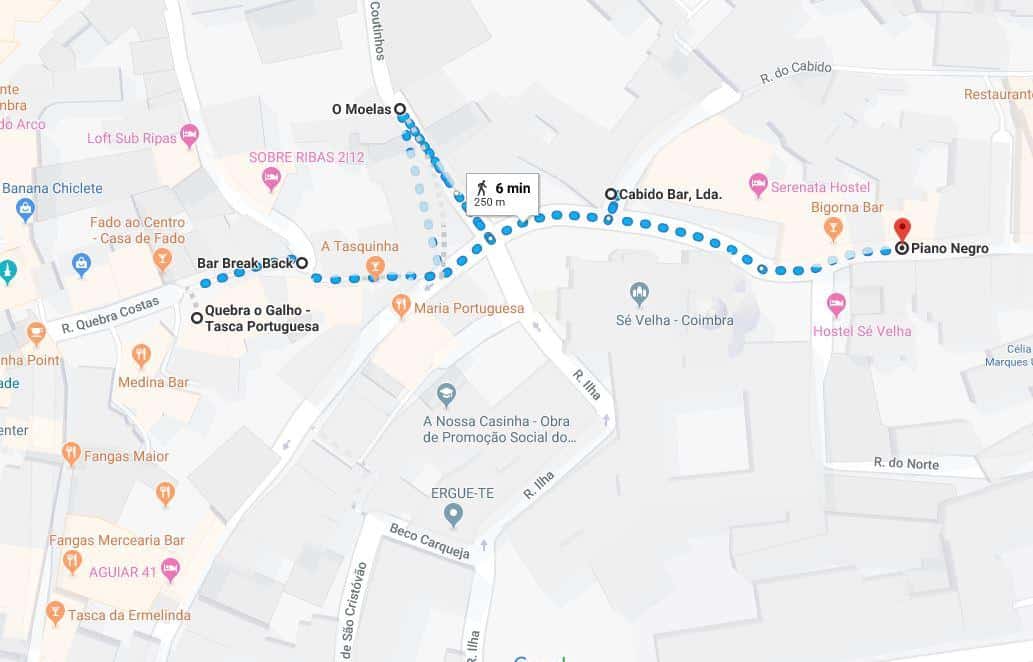 If you would like to learn how to make money online, or how to live internationally possibly with less money than you spend at home, please subscribe to Vagabond Buddha or get a free copy of my Ebook.
Digital Nomads in Coimbra: Best Food, Experiences
We were in Coimbra for three nights. We worked from our Airbnb room when it was raining outside. Qiang Hi was sick for one day and night. When the sun was out we explored the old town area.
Vagabond Buddha's Kitchen: We cooked most of our own meals in our Airbnb. See above Airbnb link. We were surprised how cheap and great the food was in this grocery store: LIDL. We walked there and took a taxi back. It cost 5 Euros to get a taxi back. We got the taxi's phone number from our Airbnb host.
The best experiences were just walking around and marveling at this magical place. In terms of specifics, I would say you must visit Taberna da Ti Ermelimda, Biblioteca Geral Da Universidade De Coimbra. and Quinta das Lagrimas.
Grab a free copy of my Ebook. You will learn how to save and earn money living internationally.
Coimbra Facts and History
Here are some interesting facts about Coimbra from Wikipedia. A place seems to come to life for me when I know its history. You can click on the below map and zoom into Coimbra.
Coimbra is the fourth largest urban center in Portugal with 150,000 people. There are about 460,000 people in the region (county) living in 19 cities.
Coimbra was known as Aeminium when it was founded by the Romans. There is an underground gallery of arched corridors built in the 1st century AD by the Romans that remains. The gallery is under the Machado de Castro Museum which was formerly the bishop's palace.
When the Romans fell in this region, a Germanic tribe called the Suebi razed a nearby town called Conimbriga in the 6th century. The survivors moved here and renamed it Coimbra.
The Moors took and held Coimbra mostly from the 711 AD through the beginning part of the 12th century.
By the end of the 12th century, Afonso Henriques had consolidated large areas of Portugal and is thus known historically as the first Portuguese Monarch.
Coimbra was the capital of Portugal from 1131 to 1255. Although Coimbra's political importance declined, its cultural importance has remained.
Coimbra became one of the main artistic centers of Portugal during the 15th and 16th centuries. King Manuel I supported the arts which help create some of the most important works of renaissance era art in town.
The University of Coimbra, founded in 1290 is the oldest Portuguese-speaking university in the world. The University is a favorite spot for tourists and was named a UNESCO World Heritage site in 2013. The Joanina Library is a notable Baroque landmark of the University. In the 18th century, the Marquis of Pombal reformed the university so that science would assume a central role in the curriculum.
Should you retire in Coimbra Portugal? I say yes. But you should also follow us and see what other towns we consider as high desirability to live or retire cheap. Then you should go live in your top picks for a few months each before making a final decision.
I started living internationally over 11 years ago. If you would like to learn how to make money online, or how to live internationally possibly with less money than you spend at home, please subscribe to Vagabond Buddha, our YouTube Channel or get a free copy of my Ebook.
If you are interested in the subject of present moment awareness, the new videos on that subject are now being posted at the Present with Vagabond Buddha Youtube Channel or click the presence menu option above.
This is Dan of Vagabond Buddha. Thank you for stopping by. The world is your home. What time will you be home for dinner?
Warning: I am not offering you these prices.  These are just my notes and estimates from the time of my visit and this post.  Your costs will likely be drastically different if significant inflation or deflation occurs or the market changes after this post.  I will not update these numbers until I am on the ground again here, if ever.