Here are my slow travel tips. These tips will save your money and give you a better overall experience as you slow travel the world.
What is the Slow Travel Mindset? Slow travel is a mindset with a travel purpose to educated yourself about the world. Your daily activities are generally more focused on learning local foods, architecture, history, natural beauty, and culture. You are entertained by the things you learn as you slow travel the world. You are generally traveling alone or with a few intimate friends and almost never join groups of strangers organized by a travel agency. You typically stay longer in each place and travel between places on local transportation where you can see the landscape of the country from the ground.
What is the Tourist Travel Mindset? The tourist travel mindset is more typically the pursuit of entertainment to blow off steam for a week or two before going home. Some are cultural tours with a local tour guide that describes the cultural information as people are moved by bus to multiple destinations. The main interest is visual exposure to the culture with very little immersion. Another tourist mindset is relaxation at a beach or mountain resort where tourists live on a gated community separate from the local culture with only superficial contacts with the culture if any.
Cost of Living for Tourist Mindset versus Slow Travel Mindset? The slow travel mindset is often less than half the cost of the tourist mindset. Here are our slow travel tips to save money and learn more about the culture you are visiting as you travel the world.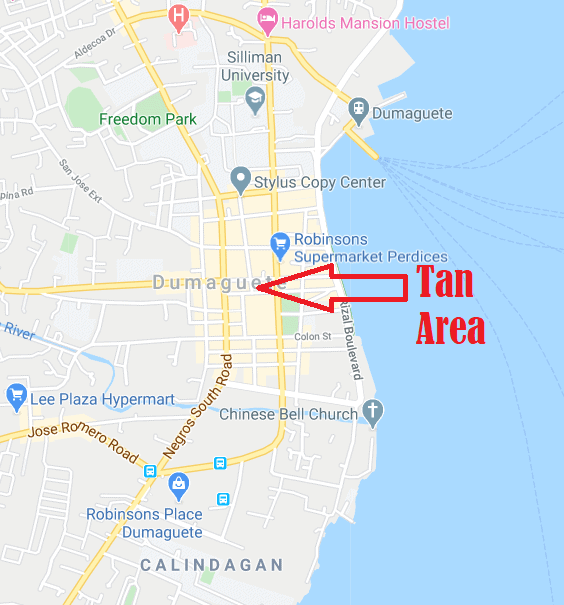 Stay in Tan Area of Google Maps: In this Google Map photo, you'll see a tan area. When you arrive at the bus station or ferry port of a new town, you want to already have the address of the first place you booked. Your first accommodations should be in the Tan area. The Tan Area is Google's way of telling you this is the high human density area of town. In the first few days, you can walk around and learn all about this new town from a locals perspective. Where is the main market? Where are the locally owned (non-franchise) restaurants? What do people do for fun? Where is the main square? Is there a bar-hopping area? What makes this town tick? Once you have learned all about the town, you can begin your exploration of more outlying areas and natural beauty. But start in the walkable areas first so you won't need to rent a scooter, car, or taxi during the first few days when you are figuring out the main area of the city. Then if you decide to move to the countryside in a few days, you'll know where everything is when you need to come to town.
Airbnb, Booking, Agoda, Facebook, and For Rent Signs: We start looking for a place to stay on Airbnb. We rarely find places that fit within our long term budget of around $20 per night. So, we pick 5 to 10 places within the tan area of Google Maps and we make offers. "Dear Susan, we will be in town for a week and really loved your place, but it is over our budget. Would you take $100 USD for the week? Check and you will see that we have only positive reviews from landlords and we will give you the best-detailed reviews you have ever received. Read my profile and you'll see what I mean. Thanks, Dan" We also check Booking.com and Agoda.com for great deals. We also leave a message on the Expat Facebook page for each town a few weeks before we arrive and leave a message asking for places to rent in the central area. We can easily save 30% on the first place we rent when we land in a new city. Once we are there, during that first week, we find our favorite area of the city. We then look for rental signs and Airbnb listings there. Like here in Dumaguete, we went from paying about $24 per night down to $14 per night for the second place we rented. It is easier to get the best deal possible when you have your feet on the ground in a new town. Also. don't ignore the weekly and monthly discounts on Airbnb. Those are a great money saver too. Also, don't be afraid to rent just a room on Airbnb or stay in a Hostel for a few nights. We have been pleasantly happy doing that when none of our other tricks have worked.
National, Regional, and World Transfers: When you slow travel the world, you should save as much money as possible on transfers between cities. Do your best to move linearly through the country without doubling back. Try to see everything of interest in a country before moving to an adjacent country. Try to see every country in a region of the world before moving to another region. Try to make transfers using cheap ground transportation whenever possible. As we travel across a country, we often create notes about how we moved cheaply to the next city in the country. Those notes often end up in our retire cheap reports, our country tour reports, and our regional travel reports. (Links Provided 1, 2). Here in the Philippines, we have been averaging $7 to $20 USD per person to transfer between cities on local buses, local ferries, and local minivans. Stay away from airports unless the flights are cheaper or you get an extended visa time for flying into a new country.
Skyscanner: When you decide to fly for any reason, you will find the cheapest flights on Skyscanner. (Affiliate–>Link provided). To save the most money, be flexible on the days you are willing to fly. You could easily save 30% by checking all flights within the month. I always buy a one-way flight ticket so I can change my travel plans at any time. Always verify whether you need a visa to visit enter a country. Google: "name of the country visa required?" Your country should appear on a list of countries. The embassy will list countries that need a visa for entry or other conditions for entry.
Onwardtickets.com: Even if no visa is required, always check immigration entry requirements and airline boarding requirements. Either may require that you have proof of onward flights before they let you enter the country or board the flight. But always show up at the airport 3 hours before your flight. I have had an airline request proof of onward flight without warning. If you come 3 hours early, you can step out of line and purchase an onward flight proof for $12 USD at onward tickets. I have had to do this twice and it worked both times.
Visa Tricks: About a month before flying to a new country, place a message in the Expat Facebook page for a popular ex-pat town in that country. I am only allowed X months tourist visa but I want to stay for X+2 months. Does anybody have an idea of a visa that would allow X+2 months (student, cultural, business, etc?). I am willing to fulfill all the legal requirements honestly, I just need a little guidance. Do you have any ideas? You may learn of an honest way to stay longer that someone has used before. Also, read the types of visas that are available. You may only be able to get a tourist visa for 30 to 90 days, but you may find you can study the local language, cooking, or history for a few months with a student visa. Your age may not matter. Then Google "school name visa" and send an email inquiry. Go to class though! You don't want to get blacklisted on any immigration lists.
Last Minute Flights: Don't assume that booking early saves you money. Just as often it costs more to book early. I rarely book more than 2 weeks before I fly. The airlines almost always drop the prices at the last minute on one or two flights to fill all the seats. Skyscanner's monthly view will easily help you find a dirt-cheap on-way flight.  (Affiliate–>Link provided).
Local Market: Buy your groceries in the main local market instead of the tourist mall grocery store.
Best Cheap Restaurants in "City Name": We often find our favorite local restaurants Googling this. We also ask locals in the main local market the name of their favorite cheap local restaurants "nearby." They often work near the market and have a few ideas where they eat almost every day on their break. If they don't understand you ask it a couple of different ways. Where do you go to eat around here when you are on your break? What is your favorite traditional local food? Is it served in a restaurant near here?   If you don't speak the local language, use Google Translate and let them read the translation on your phone.
Local SIM Card: Get a local SIM card when you first enter a new country so you are never paying international roaming rates.  Read my free Fire Your Boss and Travel the World eBook to learn all my other tips for traveling the world.
Cook Meals in Airbnb: Google "Traditional Dishes of County name." Once you know the name of the dish, go to Youtube and search, "How to cook traditional dish name." I save a bunch of money by cooking at home. Qiang and I also pack a lunch sometimes when we are going on day trips so we don't get stuck paying tourists prices when we are in an area we don't know well yet.
BackPack: Always carry a backpack with water, suntan lotions, some healthy snacks (and lunch), and mosquito repellant. It is always cheaper to buy this stuff in advance at large markets than to wait until you need them at small convenience stores. They don't always have them in smaller markets.
Self-Guided Tours: We do our own research and create our own self-guided tours. That is how we teach ourselves about the nuances of culture, foods, and architecture when we slow travel. Many of our retire cheap reports include videos of us taking our own self-guided tours and discussing the significance of places so you can watch the videos and decide which ones are worth a visit.
Buy Alcohol in Local Stores: If you buy imported alcohol it can easily cost 400% more. If you buy foreign alcohol in tourist bars, it can cost 800% more. The local alcohol usually has a story behind it. Learn the story and buy local to learn about the culture.
Picnics: Pack your lunch and a light blanket when you go on a self-guided tour. You will make a tour memorable by having a little picnic in a scenic place during your tour. Plus you will save buckets of money compared to eating in the tourist restaurants.
Local Buses: Google and ask others about the local buses rather than the tour buses. You can learn a lot about a culture watching the locals in their element. Plus, the prices can be 90% cheaper.
Watch "Youtube" cheap videos: You will almost always get a few tips that will make the tour more enjoyable and cheaper or add a dimension to the tour that nobody else got to see.
Move Less: The slower you travel the lower your daily costs will be. One week and one-month rates can be as much as 40% off. Your first few days getting to know a town will have a few cost surprises. But they will drop fast as you learn more tricks. That is why slow is better.
Travel with Spices: We travel with species, a can opener, a cutting knife, and a frying pan. If the kitchen in our Airbnb is poorly equipped, we are still ready to make a nice basic meal.
Always Keep Luggage Below Limits: Never pay extra for checked or carryon luggage. Most airlines will allow 7kg carry on (15 pounds) and 20 Kg checked (50 pounds).
Make Coffee at Home: We make coffee at home. We end up averaging about twenty cents a cup of coffee instead of $2 USD per cup. It adds up quickly!
Fly to Family Once Year: We do not fly willy nilly all over the world. We only get on planes to see family once per year and to move about regions of the world. We travel to see everything in a region of the world before we move on to another part of the world. The only roundtrip flights we take are when we interrupt our travels to go home and see family for a few weeks. All of this is in our Affordable World Tour Report (link provided).
My name is Dan. Thanks for listening to my slow travel tips. Click the "Slow Travel the World Cheap Playlist" that appears top right of your screen about now for more on this topic.
To see over 50 retire cheap reports all over the world visit VagabondBuddha.com. The world is your home, what time will you be home for dinner?