Retire on $800 Month in Dumaguete Philippines
Best Valencia Day Trip from Dumaguete Philippines
Best Cheap Food, Accommodations, Flights  
Cheapest Apo Island Turtle Tour 
Best Cheap Siquijor Island Tour Philippine  
Dumaguete Philippines Best Scenic Lake Tour
Escape from Dumaguete to Secret Beach Heaven
Cheap Dumaguete Waterfall Tour
Best Place for Hot Women and Cheap Living
Best Retire Cheap in Paradise Locations in the World
This Dumaguete Philippines Cost of Living information is intended to give you an idea of what daily life would cost you for eating in local restaurants, shopping and cooking at home, staying in local accommodations, and the costs to entertain yourself if you decided to live in Dumaguete for a few months or years.
But we have also created a number of videos and web pages that show you what living here feels like, day tours, white sand beaches, snorkeling, waterfalls, trekking, and life in general. We travel around the world and show you the best places to live or retire cheap and we make videos and write reports as we go to help focus your search.
The Dumaguete Philippines Cost of Living discussion focuses next on the costs of food.
Dumaguete Best Cheap Food and Life
We only list restaurants here if we loved them.
ROTI BOSS Curry House (Indian Food): We had the Veggie Biryani and Veggie Korma. It included a raita and two large roti. We drank free service water. The bill was 549 Pesos ($11 USD) for everything. It was 2 blocks from our Airbnb apartment.
Chop'd Lechon (Pork); Qiang had the 130 Pesos ($2.60 USD) pork without rice. She loved it.
BTJ's Food House (Local Pumpkin): Qiang picked out 4 dishes, 2 meat, 2 vegetarian, plus rice. We both enjoyed the meal, especially for the money. The bill was 110 Pesos ($2.20 USD) for everything, two people. Imagine that? Crazy cheap local experience in a restaurant rather than a food cart.
Tempura on Waterfront: Deep fried fish 20 Pesos $0.40 USD.
Honeycomb Tourist Inn (Grilled Squid): 190 Pesos, $3.80 USD.
McDonald's (American Food): We had cheesy egg breakfast sandwiches with hashbrowns and coffee. It was 180 pesos ($3.60 USD) total for both of us. This is where the retired Americans hang out (8:00 am) if you want to pick their brains about life, costs, or whatever. The four I spoke with said they would move here again today if they had the chance to make the choice all over again. The four of them had been here, 6, 8, 12, and 14 years. This is the McDonalds near the main park.
Groceries: We ate at least one home-cooked meal per day while here in Dumaguete. Here are the many places where we shopped: One (cheap) and Two (Expensive). The cheap one has a clothing store also (upstairs) where I bought Bill-a-Bong board shorts for 300 Pesos ($6 USD). You should consider buying fruits and vegetables for cheaper in the Public Market. When we moved to the second larger place to take a month of travel off for social distancing, we shopped here.
If you buy anything using our links such as flights, tours, or accommodations, you will pay nothing extra, but we will earn a small commission. Your kindness will encourage us to keep making these travel guides and videos.
Next, the Dumaguete Philippines Cost of Living information focuses on the costs of rents.
Dumaguete Best Cheap Accommodations
Here are a few suggestions:
Hostel: Amazing price, location, and ratings.
Mid-Range Hotel: The price and location here are amazing.
Step Above: Very nice place.
Airbnb: This is where we stayed. The above video films then inside. If you are new to Airbnb use this code http://www.airbnb.com/c/dbell50 at checkout to get a big discount. Stay in an Airbnb to verify whether or not your Dumaguete Philippines Cost of Living is on target for your budget.
Cheapest Flights to Dumaguete
We almost always get our cheapest flights on Skyscanner. They have a web crawler that is constantly looking for the cheapest prices all over the world. We found our flights from Penang to the Philippines for $200 USD per person, but that was over 4 weeks ago. The Philippines requires you to have an exit flight when you land. We booked on onwardticket.com flight for $12 per person. They confirm long enough for you to gain entry into the country.
Once we were in the Philippines, we traveled from island to island on ferries. We came to Dumaguete from Panglao Island. But you catch the ferry to Dumaguete here in nearby Tagbilaran or 700 Pesos ($14 USD/person). When you arrive at the port area just say you need the ferry to Dumaguete and the security guard will point. We took the tricycle shown from Panglao to the Tagbilaran for 400 Pesos ($8 USD). Our Airbnb host (link above) picked us up from the ferry port in Dumaguete for free but a tricycle would cost about 100 to 200 Pesos ($2-4 USD) anywhere in Dumaguete. There will be (multiple) motorized tricycles waiting when you exit ferry port area. Here is the interactive Google Map of the transfers we made.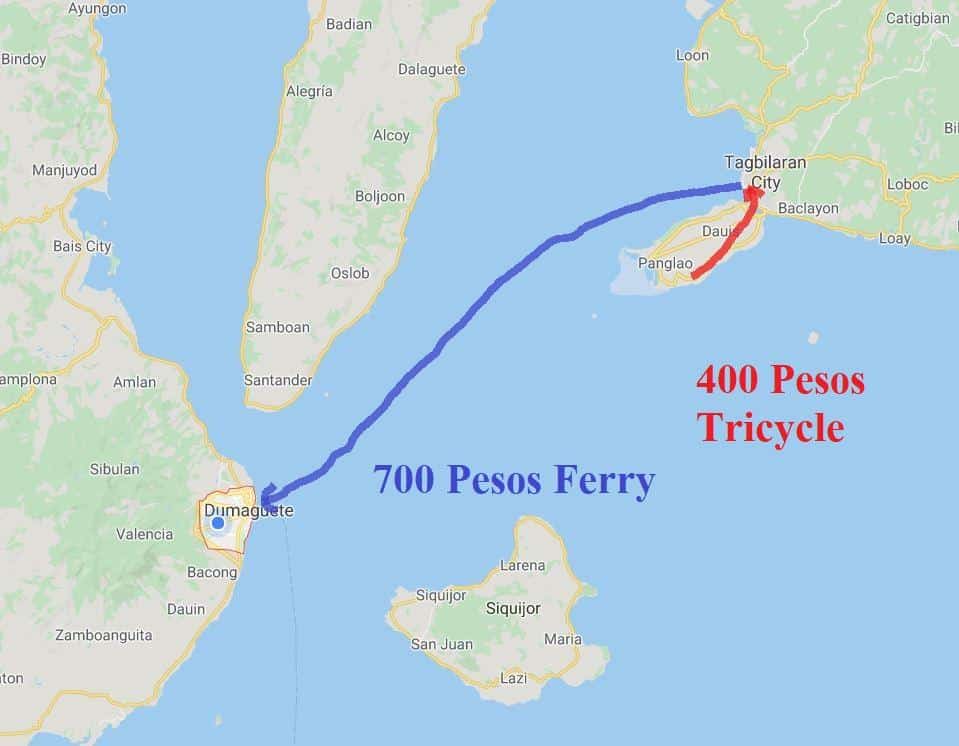 If you would like to learn how I was able to fire my boss and travel the world, grab a free copy of my EBook:
How to Fire Your Boss and Travel The World
If you are finding any value here, could you please like it, comment, share or subscribe? Your simple act of kindness will move us up in the Google and Youtube search rankings so our business grows faster.
Please subscribe to VagabondBuddha.com or our Youtube Channel to watch us move around the world. 65 countries so far.
To find out about retire cheap in paradise members-only benefits, watch the following video.
This is Dan of Vagabond Buddha. Thank you for your interest in our Dumaguete Philippines Cost of Living information. The world is your home. What time will you be home for dinner?